Social Media can be used in many ways. Dan Harris had a vision to help local restaurants get some attention to help their business and for us to get to sample some real goodies and to make some new friends.


Everything looked so wonderful!! It smelled great. The Suisse Shop is known for their Tortes and pastries. They normally sell them by the full torte. But for this week (and only one other during the year) they have their special, "Torte by the Slice". It gives us all a chance to taste any of the over 30 tortes they make. They only cost $3.50 per slice! And only $2.75 for the cheesecake. If you think what you would pay for this wonderful piece of dessert if you were in sit down restaurant you would probably be paying about $8.50 a slice.

The Suisse Shop has been in business for 26 years and is owned by a Swiss baker, Therese Whitfield. She and her family run the shop. They are are opened from 9am-7pm Tuesday through Friday. Mondays are from 9am-4pm and they are closed on Sundays.
They make fantastic wedding cakes and have made over 1500 in central Ohio.

Look at the plate I sampled!! I tried Black Forest torte, Buckeye cheesecake, Lemon torte, yellow torte, chocolate torte, german chocolate torte, coconut torte. They were all really good. I have to say that I did have a couple of favorites. I really liked the yellow, lemon and chocolate tortes. They had a very light buttery frosting. These were not "heavy" at all to me. I think the peanut butter cheesecake was the richest I tasted. Fantastic, but I wouldn't be able to eat more than one piece.
They use the same ingredients when they make their cupcakes. They looked really good too. They also have mini torte cakes. There are 5″ tortes, 8″ and 10″ tortes.
Doesn't everything look great? Guess what…it was!!
Make Your Own Household Cleaner
by Heather
Heather of Just Doing My Best has a great blog with all kinds of information and cost effective solutions. I saw this post and thought it was great. I didn't know you could make a cleaner this easy so I thought my readers would be interested too!
Thanks so much Heather for your blog and being gracious and sharing with us.
*************************************************************************************
Thank you to Sandy for asking me to guest post on her website. I know she is diligent and careful in the content and information she shares with her readers, so I have been honored.
How to Make a Powerful Cleaner From Your Pantry
If you are anything like me, when an item in my kitchen inherits a stubborn stain, I have a hard time putting it away with the stain still taunting me. At one time, it took quite a bit of elbow grease, time, and product to remove the stain. Even then sometimes, the stain remained. After a few years of fighting that losing battle, I learned that I already had the 2 ingredients in my kitchen that would take care of most of the stains that I would encounter.
Chances are, you probably have baking soda and lemon juice hiding in your fridge. Fresh lemon or bottled are both fine. Sprinkle a little baking soda into a bowl and enough lemon juice to make a paste. This powerful concoction has removed a myriad of stains from my white counter tops and even rust spots that would not budge, left on white dishes from a dishwasher. If the stain still will not budge after the initial cleaning, spread the paste over the item and let it sit for a bit. If it the stain still will not budge, cover it with paste and let it sit outside in the sunshine for a while.
Homemade cleaners are becoming increasingly popular due to their low cost and health benefits and this powerful concoction has become one of my favorite solutions to keeping a clean kitchen.
I own and write at Just Doing My Best where my mission is to help and inspire ladies to do their best in their own homes. I believe none of us are perfect but ideally, we are just doing our best and our best is all we have to offer.
Heather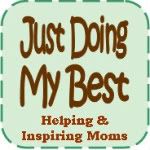 Organizing Kids Crafts

With triplets who are 8 years old you can imagine there is a lot of coloring, crafting and wanting to "make" things. I re-purposed this plastic cart to use for the kids crafts.
I use the different drawers for crayons and markers. There is a place for their drawing paper, flashcards, writing paper and other supplies.
I make sure they have their own scissors, tape, stapler and rulers. (Makes great stocking stuffers). Then they are not having to run all around taking your supplies when they have a project they want to work on.

This is the cubby system that I have in my front hallway. I have a different color cubby for each child. I use those cubbys for all the little things that you find around the house of the kids when you are cleaning up. We also use them for hats and gloves for the kids.
My husband has a charging station on top for his cell phones and keys.
The kids have to clean out their cubbys and put away their things every week or two.
This system might not work for everyone, or may work in another area of the house rather than the front hallway. Use your imagination!

have been using this FUMI pursehook for a couple of months and I love it!! This is really an awesome product. You can wear it as a bracelet and it looks wonderful. No one would think it was anything other than a bracelet. You do not have to put your purse on the ground to pick up all kinds of dirt and germs any longer.
The other think I love is that when I go into a bathroom and realize there is no hook I can use the FUMI that I always keep hooked to my purse handle and hang it on the door.



These run for $24.95 and I think they are worth every penny!!
Click on either of the above pictures to go to the FUMI site and see the different colors they have, plus check out the other pursehooks, charms and purse scarves.

Who doesn't love a good puzzle? Who can forget the Rubik's Cube?
This game takes you inside the Rubik'Cube to discover interactive Rubik's themed puzzles that are designed to challenge kids and adults of all ages.
There are 8 games that have increasing difficulty puzzles and activities including the classic cube solving game.


My 15 and 16 year old have spent many an hour playing!! The colors are bright and fun, there is a music puzzle game…lots of fun.
To purchase go to The Game Factory
THIS CONTEST IS NOW CLOSED

I thought these muffins looked so good and when I first saw the picture I was so hungry. I wanted one!!
Amy from The Finer Things In Life submitted this recipe.
Enjoy!!
Join along – Add your recipe onto the list with the link back to your blog. Pick up my Button and post it with your recipe. Click on the Share my Recipe Button above more more directions if needed. Thanks.
Yogurt Coffee Cake Muffins
* 1/2 c. butter
* 3/4 c. sugar
* 2 eggs
* 1 tsp. vanilla
* 1 1/2 c. plain yogurt
* 1 tsp. baking soda
* 1 tsp. baking powder
* 1 c. unbleached, all-purpose flour
* 1 c. whole wheat flour
Topping:
* 1/2 tsp. cinnamon
* 3 T. sugar
* 1 1/2 T. brown sugar
** sour cream is a nice substitute for plain yogurt
** the topping is also delicious with chopped pecans added
Cream butter and sugar. Add eggs, sour cream and vanilla. Mix well. Combine baking soda, baking powder and flours. Add to wet mixture. Scoop into greased muffin tins. Sprinkle topping over each muffin. Bake at 350° for 20-22 minutes. Yield: 2 dozen muffins

Espresso Yourself Music Cafe Review with TasteCasting
Last night I got to go to the cutest coffee house in Powell, OH. It was opened in an old church. There are bands that play and entertain you as you get to drink your coffee. They have a listing of bands and a menu at the web site Espresso Yourself Music Cafe.
The art work is all done by different artist and is for sale and changes regularly.

We were treated to a sample of a few different sandwiches. These were fantastic! I never really thought of a coffee house as having some really good food, but this one does! Eric who owns this coffee house and his daughter run it. He is very conscious of healthy food. His wife passed away 2 years ago of lung cancer and before she died they learned how to eat really healthy.

The smoothies have real fruit and antioxidants. I had the peach and it was wonderful!!! They also treated us to some (not as healthy..but hey, some of us still eat junk right?) warm chocolate chip cookies.
Thanks! I will for sure be back.

Time Management
Break down your day into 15 minute increments.
For instance: If you have to be at the school by 3:00 to pick up the kids, but you need to go to the bank and grocery store first then plan it this way:
3:00 – Be at School
2:45 – Leave for school. (It takes 10 min. to get there from school – but use 15)
1:45 – Be at grocery to do the shopping.
1:30 – Leave from bank to go to grocery. (It only takes 8 min. to get there, use 15)
1:15 – Leave for bank. (It only takes 10 min. but use 15)
So to get to the school by 3:00, you need to leave the house by 1:15. You will have an extra 17 minutes to play with if there is traffic, or if the grocery store is crowded. If you end up being early, just keep a book you are reading or a steno pad in your car to make a "to do" list.
Now make sure that 15 minutes before you get ready to leave the house you get your keys, grocery list, banking items ready and have stopped by the bathroom.
So if you need to, set your timer on your stove for 1:00. Once you get in the habit of using 15 minute increments to plan things out, it will become easy and natural and you won't have to worry about being late.
Because your clutter is now cleaned up off that kitchen counter, you can find those keys and bank book and grocery list and you can get out the door on time!
Time management is much easily accomplished when you do not have clutter blocking your path!
Spring Organizing Segment
I was asked to be on the NBC new segment with Ellie Merritt to give some tips on Spring cleaning and organizing.
We had planned it for a Thursday, but Ellie called me on Monday and asked if they could come in about 45 minutes. Of course I said yes, and then went into panic (but calm panic mode).
You see I had been sick all weekend and was still recovering. My house was a mess, I needed a shower.. talk about the worse time to be on TV for the first time!
But I pulled it together. I had a good idea of what I was going to do when she did come, although I didn't have it all ready like I had planned to do (when I thought she was coming three days later).
But this is what they got. They were awesome! They pieced it together, I don't think you could tell I was as nervous as I really was!

Ellie was super nice!
Thanks NBC 4!

Here are the 5 guidelines that I use to sort with!! Take each item and make a fast decision. Don't worry if Aunt Susie gave it to you and you don't want to hurt her feelings. Do YOU like it and does it add value to the space? If not, then it is alright to donate it, or give it to another family member who might really like it. Take that item and in 5 fast seconds say to yourself, "Do I love this, use it and want it?" Simple as that. (I know it isn't really that easy…but the more you do, the easier it gets.) I know there are the complicated items, I know there are the sentimental items.
But here are the basics:
Love It:
1) Love It
2) Use It
3) Want it or Can't live without it
Donate:
1) Won't Use
2) Don't Like
3) Doesn't Fit
Move It:
1) Wrong Room
Store It:
1) Seasonal
2) Can't give it up
3) Can't Use Now
Trash:
1) Broken
2) Torn
3) Can't Donate

I worked on a clients office a couple of weeks ago. There were several challenges including a very small space for her office, but the biggest issue was there were no drawers for her desk supplies. Budget was a big concern, so buying new furniture was not an option. We wanted to work with what she had. With my time at her home we worked on the bookshelf, looking around the house for things we could repurpose. I gave this clients some suggestions as to what could help her and how she could use it. She went on her own and followed her homework plan perfectly!!
I was trying to figure out what could work for her that would not be too expensive, but also where she could put it. I realized the nice space between her two windows could be utilized as the space just above her desk on the wall.


I suggested to her to use some magnetic strips that she could either make herself if she had the metal (making sure edges were not sharp) or buy them for relatively inexpensively with baskets she could put her pencils, pens etc in.


Because the sunlight comes in this window and back lit the picture she dropped her home made sheet curtains for picture purposes for me. You can use these magnetic strips for not only the baskets, but also the little round holders you see on the right that you can put paper clips, rubber bands or small things in. Great place for post it notes to stick or magnetics to hang recent notes. Love em! You can find them at The Container Store.
She sent these to me after she did the follow up work herself. People do not always have to have Professional Organizers do all the work for them. We can give the suggestions and you can do it on your own.
Behind the door there was also some empty space. My client had some paper work that she needed to have a place for her husband. I suggested to her either a small shelf unit behind the door with bins, or using some wall hanging slots.

She found these cute hanging canvas units at The Container Store. They look so cute and will serve her purposes for a small amount of money. She also has another fun window covering on her other window. (You don't have to buy expensive shades or curtains.)
There is a lot you can do to reorganize a space without having to complete "redo" it.
Happy Easter! Enjoy your family today.
The Culinary Table Review with Taste Casting

I was able to go to my first Taste Casting event tonight. It took place at The Culinary Table in Grandview, OH. This is a combination of three businesses that come together to create pure magic when it comes to social events, corporate events, wedding parties, receptions, cooking classes or catering. Wine and beer tastings are also on the upcoming venue. It is a "One Stop Shop for Everything" as Emily of Bellisari's catering said. It was a large room (can seat up to 60), but not too large and it felt very comfortable. The decorations were beautiful and done by Natural Designs, which design beautiful and original floral design and decorating. They were featured at The Decorator Show House.
It all tasted as good as it looked! If you live in the central Ohio area and are planning a graduation party, wedding reception or if you want to have a luncheon for business..you need to think about The Culinary Table.
Ali from Blessed Treehouse
Ali Hooper is a riot! I have been lucky enough to get to know her through this wonderful avenue we are working on right now..the internet. We went to Blissdom together even though we hadn't met in real life prior. Ali's writing will keep you laughing along with filling you with great info. She is the Editor of Homeschool Bliss  at Blissfully Domestic too! Ali is a great green advocate and gives some good tips concerning organizing. (seriously, she won't harm you if you don't save all your butter tubs…I will give you her address so you can mail them all to her though, because we don't believe in hoarding here on my site!! ROTFL! But seriously, donation would be wonderful if you have too many extra plastic tubs. ) I can say this cuz I luvs The Ali!

We visited the Rainforest Cafe on our trip to TN. I'm on the left, Ali on the right. We had a great time, learned alot and even got stuck on an elevator for 45 minutes with 11 other woman. We called it Elevator 13. Ali was the pregnant one on the elevator (don't you always have to have a pregnant woman in the mist of a crisis?
***************************************************************************************
So you already know Organizer Sandy, the genius organizing guru who is slightly Sleeping-With-The-Enemy (she knows exactly if something has been moved out of its place) (actually, I don't think she's that way at all. We shared a hotel room at Blissdom, and though I can confirm that she is super organized in real life, my psycho sensors weren't alarmed).
But you might not know me. I'm Ali of Blessed Treehouse. I blog and vlog and spill the beans on the not-so-sunny-side of motherhood. Oh, and I try (and often fail miserably) to live green-ish. It's more of a sour shade of green that I live, but heck, every bit counts, right?
So sweet Sandy asked me (me? me! of all people) to share with her readers a few tips about Green Organization. Though I'm far from an expert, I do have a big, puffy green heart, and I often pretend that I'm organized, so that's close enough, right?
Let me begin:
* Before you whip out the plastic (pun intended) to buy some new-fangled organizer, look around your home and turn on your creativity cap. If you don't have a creativity cap (let's face it, some people are so far from being creative it's painful), find a creative friend and borrow theirs. Either way, look around your home and find 'organizational' uses for things that you might not think could be used to stay organized. For instance, I use flower pots for storing office supplies. It's a fun and attractive way to keep my desk clutter free. And who am I kidding – I kill plants, so only God knows what I am doing with flower pots in the first place.
* Don't throw away containers of any kind! I'm serious. Next time you think of tossing that yogurt carton or butt wipe tub in the trash, think about how you can reuse it. I'm not kidding. I will sniff out your garbage, hunt you down, and hurt you if you dare throw away another plastic container. And if you are concerned that someone will judge you for reusing a butt wipe tub to hold cotton balls, get over it (I suggest investing in large sticky labels to smack on containers so that no one is alarmed when they are looking for butt wipes and they actually discover your Valium – seriously, a butt wipe tub is the perfect size for storing medications).
* Become an eBay, craigslist, and freestyle whore. Excuse my language, but seriously, sell your soul to these websites. DON'T buy new if you can buy used! Ebay now even has a local site allowing you to search for things in your area. Next time you are in the market for a book shelf or storage unit, PLEASE check these sites first. Again, I can smell 'new'. I will hunt you down and hurt you if you buy new when you could have easily found something gently used.
* Become "that neighbor." Seriously, be the one who the neighbors talk about, saying things like, "oh, there she goes again, digging through our garbage searching for reusable plastic containers." Save your neighbors the gossip by letting them know that you will gladly take any of their plastic containers off of their hands. Afraid they will think you are weird? Who cares! They are probably the same neighbors having scandalous affairs and scheduling their next liposuction.
* Finally, organizing IS green. The more organized you are, the less likely you are to buy yet another fabulous lip gloss (okay, so this is what I tell my husband when he catches me spending $20 on another shade of pink gloss, "but honey, I've searched the whole house and car, and I cannot find that gloss!" Seriously, ladies, can you blame me?)
Being organized and living green go together beautifully. And with the wealth of resources, awareness, and digital information available to us, there is no excuse not to live a bit more green.
Don't make me hurt you.

Heading out of town for spring break? Taking a vacation this summer? Once you get to your destination it is great, but the days before your vacation can be headache filled and stressful.
Break it down.
Give yourself a schedule of what you need to get done and by when.
Make sure your laundry is all clean the day before you need to start packing.
Make a list of what you need to pack. Make up individual list so the kids can help. Write them out a list of the clothing items they will need. Just have them lay it out in their rooms, so you can check to be sure they really have the 7 pair of underwear you told them to pack, not just their one favorite pair! Use the list yourself to help keep you on track as to what you will need.
If there is a washer/dryer where you are going. Take advantage of it. You won't need to pack nearly so many clothes.
Be sure to check out the forecast of your destination site for conditions so you know what to pack.
If you are driving and have to stop part way over night on your way there, pack one family overnight bag. This way you won't have to unload the entire car to get everyone's bags out for the one night.
If you are flying or driving with children, be sure to pack them activities. If they can have their own backpacks or bags with things that can keep them occupied, it is much easier. If there is room for a little basket for them with their things, that would be ideal to keep everything within reach.
If you have a DVD player in your vehicle, be sure to pack something with the videos in it so they aren't all over the car which of course would probably end up with broken DVD's.
Pack lunches so that you do not have to pay so much for meals along the way.
Keep a trash bag in the vehicle so that trash doesn't build up in the car. Empty each time you stop for gas.
The more prepared you are before you start packing with a list of what you need to remember will help you in the long run. You won't have to worry about forgetting the camera or directions to Aunt Kathy's house. Preparation is the key to less stress in the pre-vacation week.
Have a safe trip and start those lists.