Laundry Room Sorting Hampers
How many of you use sorting bins or laundry hampers in your laundry rooms?  This is something that I would have a hard time managing my laundry without.  I can understand for those of you who do not have the room to have them, but many times you can make the room, even when you don't think you have it.
Why use Sorting Bins?
Instead of bringing all your dirty clothes down and throwing them in one big pile, you can sort your clothes into color groups that you wash.  I have 7 hampers.  Whites, jeans, reds, light permapress, dark permapress, towels, and  extra (misc – like pillows or delicates).
I bring all the laundry down and sort it. Then spend the next day or so getting it completed.
I don't have the space.
My laundry room is not a very big room at all.  But I made room, by pushing my washer/dryer all the way up against one wall. That gives me the space to put 4 of them down one wall. Then the other 3 sit out into the middle of the room in front of the washer & dryer.  (I have changed it up just a bit from this pic. I did have 5 down the one wall, but when they worked on my washer/dryer I haven't been able to get them push over as far as they had been & I can only fit the 1 white one in the back).
Make the space
Basement – Some of the homes I have had I made it work.  I had one house with my washer & dryer in the basement.  In that house it was easy, I threw down a few rugs and used my laundry hampers as "boundry walls" of my laundry area.  This was a zone the kids stayed out of while playing and it made me feel like it was my own space.
Closet washer & dryer – I also had a house that had a washer and dryer in the upstairs hallway. It was just in a folding closet.  What I would do is to have my hampers & I would stack them when not in use. I had room in my bedroom closet to keep the several hampers stacked when not using. Then on laundry day I would get those out and use them in the hallway to sort my clothes. As the hamper was empty I would simply stack it inside another one & would reduce how many were out.
Another option would be to use the hampers in each person's bedrooms.  Just have them bring their laundry hamper out of their room full of their dirty clothes. Dump all the clothes out and you have your empty hampers to now use as sorting bins for the day.
There are folding hampers that can work but I don't like them for long term.  I think you need something sturdy that will hold up. I have also tried the ones that have like 3 netted sorting hampers that fit together with a PVC pipe kind of thing. I do not like these. They are always falling apart. If you want to use something like this, then I would suggest paying a little more and getting something made with sturdy metal that won't be falling apart.
I think using sorting bins will make your laundry day go much easier.
I linked this post to:
Organize that Front Coat Closet
By the time spring hits, the coat closet is usually a mess.  Winter hats, gloves that don't have matches, boots and coats that are stuffed in.  It is about time to get rid of the winter coats and hats and time to get out the spring jackets and raincoats.
This is a video I did last year for NBC 4 First at 4 with Ellie Merritt.

I had to get a picture with Ellie before she left my house. By the way, I there was a mix up in our times for this interview. She was supposed to come the following day and called me about 45 minutes before she arrived to ask if it was ok to do today. I had been ill and in the ER with diverticulitis for the 3 days before this & had planned to get ready that day. I knew what I wanted to do and had in my mind things ready. But with 45 minutes (thank goodness my son was home from school because he helped me get the house in shape too. – Remember I had been in bed for 3 days…so my house was a mess) Ellie was so sweet on the phone, she told me not to worry about it they could film around it. But of course I couldn't do that. So we were racing all over. I had to dumb my baskets of hats and just throw them up on the shelf to show what it might look like.
Then like 10 minutes before they got there I realized I hadn't done my hair, so I ran up and threw my head under the tub facet and did my hair and makeup like fast. LOL Anyway…it was probably a good thing that I didn't have time to be nervous!

**Congrats to the winner Karen Perea of this contest!!
Joy Berry has a line of books that are fantastic for children, and of all ages.  Most of them come with CD's and they start as young as ages 1-3 years. I love these kind of books.  They teach your child when they don't even realize they are being taught.  Books and pictures stay with them, when those situations come up….then they might remember back to what they heard their mom read to them at bedtime.  I had several different sets of books for my boys when they were young.  I can tell you that they would remember them if someone asked them today.
Here are the series in the Joy Berry line:
Teach me About – Ages 1-3
Let's Talk About – Ages 4-5
Help Me Be Good – Ages 5-7
A Fun and Easy Way – Ages 7-10
Winning Skills – Ages 11-12
Good Answers to Tough Questions – Ages 6-12
We got the Clean Your room book. Now what mom doesn't want that for her 9 year old triplets?  They are 9 years old and although they are pretty good about cleaning their room, they picked up some great tips.  My step daughter was funny, as she read the book she saw where Joy is teaching the kids to sort things in their room (like I do as an Organizer) and she said, "Hey..this is like you do it!"  LOL
I was a little disappointed that the CD did not read along with the book. There are a couple of songs and some brief discussion on the CD. I had to admit I don't think we got the value out of the CD for my kids. But, song is a great way for kids to remember and learn things, so I think the value in having songs related to the material is great.
But the book is fantastic. I love how it gives step by step instructions with verbal text to explain. My kids used to be confused when I would say top sheet and fitted sheet when explaining how to strip their beds or make them. It is all done in a colorful fun way that will interest kids too.
To Purchase Your Own:
Go to www.joyberrybooks.com and look over all the possible selections and purchase online.
To Win one of the Joy Berry Books:
Go to  Joy Berry Books.com and tell me which book you like the best and why. **Be sure to come back here and leave me a comment. Your e-mail needs to be either on your comment or easily accessible in your profile.
For Extra chances to Win:
**Each of these HAS to have a separate comment written please. (I know its a pain, but other wise you won't have as many chances if you don't)
You can find all the links in my right hand sidebar.
1) Subscribe to my Organizing with Sandy blog 5 extra chances to win. (leave 5 comments)
2) Subscribe to my NEW Blog Chat with Sandy for 5 chances. (leave 5 comments)
3) Follow me on Twitter
4) Follow me on Linked In
5) Tweet out this giveaway up to 3 times per day. Write a comment for each time you do with the link.
6) Add any of my 3 buttons (Organize with Sandy, Reviews, Chat with Sandy) to your sidebar and come back to let me know. Separate
entry for each one you add.
See….lots of ways to enter to win!
This contest will run until 11:59pm est on April 5, 2010   THIS CONTEST IS NOW CLOSED  *Any comment submitted after that time will be deleted*
This is open to US mailing addresses only. One person per mailing address only. Winner will be chosen by Random.org
You will have 48 hours to reply to my e-mail if you win to be eligible. If I don't hear back then I will go to the next winner.
Chat with Sandy – 1-800-FLOWERS –  Ends April 6, 2010
Disclosure policy
Spring Cleaning – The Garage
Spring is in the air and dirt is in your garage. I think garages tend to get very messy in the winter time at least in the cold weather states because it is too darn cold to stay out there and clean them!! So what happens, things get taken out of the cars and dumped, shovels are out, rock salt out, things just left on shelves and not put away. Tools left just set by the door and not put away on the workbench. But boy does it feel good to clean out that garage in the spring.
Steps to Clean and Organize your Garage:
1) Get your black (trash) and white (donate) trash bags. Most of your cleaning supplies are probably already in the garage.
2) Pick a nice sunny day and open your garage. You will need to clear everything out. If you have just too much to handle in one day, then work on one side of your garage at a time.
3) Once you have things out, start with cleaning the floor. Sweep out the dirt and dust. If you are able, hose down the floor or use a wet broom to clean it off.
4) Sort your things. If you haven't used it in years, then donate it. If those roller blades don't fit, donate them. If that bike that is hanging is from the 1980's and hasn't been riden, donate it.
5) Now that you have decided what you are going to keep, you need a system. Peg boards work great in garages. You need to think "up". Use your wall space, use your ceiling and or rafters. Get shelves and clear plastic bins (like in picture) and sort through your things. Be sure to label your bins!
6) Hang up those roller blades and store all those balls and bats.
7) Find a place for each thing you plan to keep. If you can't find a place then you have to evaluate if you really need it. If that has to stay..then maybe something else needs to go. Visualize what you want in your garage your garage to look like, and you can make it happen.
You will feel much better each time you pull into your garage. You also won't be embarrassed when your garage door is open and the neighbors can see in.
So Happy That Mark Won the Contest
Mark who won the Pepsi Refresh SXSW challenge wrote a post on his Hardly Normal Blog. Melissa and I saw for the first time near the end of the contest that he had moved out of 2nd place and into 1st. We wanted to help him stay there because we figured it must be a close race. We knew at that point that we didn't stand a chance to win against these power house social media guys!
He added us in his post …I thought that was really neat.
Thanks Mark!
Organizing Your Refrigerator
Do you open your refrigerator and see something like this? Or does it look worse? Old food, expired left overs that the lids have popped off of. Several containers of cream cheese because you forgot you had some in the back?
Your refrigerator can breed all kinds of things!  It is just like anything else….it needs to be kept up.
To Organize and Spring Clean your Refrigerator:
1) Take everything out of your refrigerator.
2) Pull out the shelves and wash them with warm soapy water.  Pull out the drawers and do the same. You can also use vinegar to clean.
3) Be sure to wipe down the walls of the inside of the refrigerator.
4) Go through all your food. Throw out anything expired.
5) You can adjust your shelves so that they work best for you. Maybe you need some shelves that taller items (milk, bottle of wine or pop) can fit in. Some others can be a smaller space between the shelves for things like eggs, cream cheese or dips.
6) I like to put my condiments, salad dressings, mustard, ketchup etc in the door.
7) Keep your lunch meats, cheese etc in drawer. Be sure to keep them covered with plastic bags or plastic ware to keep fresh.
8) Try to keep like items together.
9) Clean the outside and top of the refrigerator before you are finished.
10) If you like your children's pictures or artwork on the outside of your refrigerator…..I suggest one magnet with either a picture of them or one piece of their artwork only. It will seem much more special if there is one item per child and you notice it rather than a bunch of stuff that is all cluttered.
But I have Awesome Friends!
I turn 50 today.  I have very mixed emotions about it.  Most of them …not so good!
When I think of 50, I think of my mom.  I think of being a 20 year old and being in nursing school….2 years away from being married and having a child! Now that is ME at 50 years old – not my mom.  It just doesn't seem possible.  I have to admit that I have never had a problem with a birthday, never been upset in anyway.  40 wasn't that bad for me. But this is hitting me hard. I don't feel like what I think 50 should be!
But it is what it is.  I am thankful to still be here! I am thankful that I am healthy.  I have A LOT to be thankful for and I am….but that doesn't change the fact that this is a little hard. So….let's bring a little humor to it shall we? After all….I don't have to buy tampons any more…now that is big reason to be happy right!?
My Top 10 Reasons for saying 50 Sucks!
10) I have to color my hair – ok…so I've been doing that since I was 40.
9) I have to color in eye brows – what is with that!?  Before I had to worry about tweezing my eye brows!
8) I have creases on my ear lobes. (Like my dad does)
7) I have wrinkles lots of wrinkles. I like it best when I leave off my reading glasses & look in the mirror. It is like an instant face lift.
6) My hands are getting age spots – (picturing my Grandmothers hands)
5) I don't have to worry about trying to dry out my oiling skin….I have to use face cream to keep it from being dry
4) My feet swell – looks like my Grandmothers' feet at the end of a long day.
3) I sometimes pee when I sneeze! (not too often, don't worry if you are sitting next to me if I sneeze…LOL)
2) Things are drying up….will they fall off too?
And the number one reason that being 50 sucks:
#1 I have hair on my top lip now!!  OMG! Yuck!!  Jane is going to say I have to wax it!  ewwww….
Transportation around SXSW
We were loving all the bike carts that we saw riding all over the streets.  Melissa (the Consumer Queen) and I decided to take them a couple of times.  It was fun….but a little scary. These guys fly through traffic, between lines of traffic  – coming within inches of car mirrors. They work for tips only. There was no set rate.  These drivers all said the love sxsw because they do so well.  This was Armond. This is his full time job.
One of our drives ran a "hot pink" light. We were cracking up…."We're running red lights in a bike cart.
Spring Cleaning – Organizing those pesky plastic storage containers
I have to admit that even at my house these plastic storage containers end up messy.  I am usually good about putting them in their place…..but I have 7 other people in the house and although for the most part they do great…..there are times when that dishwasher is being emptied that it is easier to just "throw it in" instead of taking the time to stack it.
Here is the video that I did last year on organizing your plastics.  But the same with any organizing…it's all about the maintenance.

SXSW – Pepsi Refresh Contest. I was on Oprah Radio!
You can cast your votes on Twitter by using the hashtag #RefreshCQ every 2 hours until 11:59 pm on Monday night.
Melissa and I have gotten up and spoke up on the flash panel. Then we were interviewed by Derrick Ashong from the Oprah Radio network. Then CNN.com came to do a quick interview (only the campaign managers) so @consumerqueen (Melissa told about my idea….Oh thank goodness….she is good!)
Disclosure: Pepsi is not sponsoring me for this event.
Pepsi Refresh SXSW Project
Today starts the voting for the Pepsi Refresh SXSW Project. Pepsi decided to not do Superbowl ads this year, instead they are taking that 20 million dollars and depursing it over the year to charitable causes.
The winner of this event at the SXSW conference will receive $50,000 to carry out their idea. It has to be completed within a year and the winner will be responsible to complete their idea.
Melissa from Consumer Queen was sponsored by Pepsi to have entries on her blog to enter this. Melissa is my "campaign manager" for this. Thank goodness! She will be with me on the panel and interviews. We are going to be interviewed live after our panel tomorrow with Deric Ashong's radio show on the Oprah network.
Starting today at 12:30 cst (1:30 est) you can start voting for my idea on twitter. You can vote every 2 hours. Just use the #RefreshMelissa
Here is my video – but I will have some changes from this video. You can see more of that on my Chat with Sandy blog.

Disclosure: Pepsi is not sponsoring me on this trip. I have not been compensated in any way by Pepsi.
Spring Clean the Kitchen
The kitchen can be a big job to spring clean. You will want to allow several hours for this room, or break it into a couple days.
I start with the drawers.
1) Take out each drawer and all of it's contents Thoroughly clean the empty drawer. Get all those crumbs that gather in the corners out. Pick up the twist ties that seem to accumulate (at least at my house…do they ever get back on the loaf of bread when you have 5 kids?) Contact paper can work well to protect the inside of the drawers.
2) Go through the items that come out of that drawer.  Make sure if it is silverware….is it clean? Does it have any rough edges (from getting caught in the garbage disposal)  Do you use the item?  If it is something that has been in your drawers for years and you don't use it, or are not sure what it is or it is broken…or you don't like using it. Then get rid of it! Toss it!  (or donate of course if in good shape)
3) Make sure the outside of the drawer and all the tracks and edges are clean and then put the items you are keeping neatly back in the drawer.
4) Before you put the items back into the drawer – figure out a system. If it is silverware or gadgets, you can use something like the Rubbermaid Drawer Organizer that I am currently doing a review and giveaway on (until 3/15/10) I did like this one because of the rubber on the bottom & it doesn't slide around…but there are many different ones out there to choose from. You can use small baskets or even the lid to a shoe box.
5) Place the items back into the drawer neatly.  It is ok to label things in your kitchen.  You can label in your gadget drawer if you would like to and that system works for you.
It will feel so good the next time you open those drawers….to see how clean and how organized they are.
Be sure to check out my giveaway that is going on until 3/15/10 on my review site.  Rubbermaid Drawer Organizer
Spring Cleaning – Have you Started Yours?
The Sun is out, it is warming up…things are beginning to grow and you want to clean.  The spring brings new growth, new smells of flowers and grass.  The windows are open…the breezing blowing in – and you don't want it to blow papers all over your house and stir up pet hair and dust bunnies do you?
Where to Start?
To clean, you need to "put away". Many time there in lies the problem. There may be no place to "put away" to.  Clutter building up can increase the difficulty of cleaning.  So do you dust around the piles of "stuff", or do you just not dust because that just seems silly.
Start your cleaning much like you start your organizing.
1) Set aside a time to clean each room
2) Get cleaning supplies, bucket of cleaner or spray (I personally like Odo-ban). Rubber gloves (because it doesn't seem so gross to clean if you have on gloves). Trash bags – black for trash, white for donate.
3) Start in one place. This is a great time to sort through the clutter. Sort quick, clear off a surface and clean it well.
4) Be sure to clean your walls, inside drawers, baseboards, etc.
5) Have your family help you. Many hands can accomplish the task much quicker than just yours.
I reviewed a book last year called Mrs. Meyer's Clean Home Book . The contest is closed, but you can go look at the review.  She has some great tips for cleaning….anything you can imagine!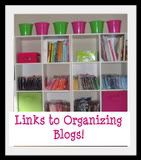 This starts my list for Organizing Blogs of Professional Organizers.  Feel free to link to this page on your blog. I would love to have more of you listed. Just let me know in the comments and I'll add you to my list!!  This a list I compiled to be on Guy Kawasaki's site AllTop.com. If you would like to be added to the All Top List you can contact Guy Kawasaki on Twitter and request to be added.
Thanks
1) Sandy Jenney – Organize with Sandy
2) Stephanie Calahan – Productive and Organized
3) NAPO – National Association of Professional Organizers
4) Monica Ricci – Monica Ricci
5) Aby Garvey – Simplify 101
6) Julie Morgenstern – Julie Morgenstern
7) Dorothy Breininger – Dorothy Breininger
8) Ramona Creel – Ramona Creel
9) Laura – I'm an Organizing Junkie
10) Martha Crouse – Organized for Life
11) Melanie Dennis – Neat Streak
12) Rubbermaid – Rubbermaid Blog
13) Molly Gold – Go Mom
14) Beth Flarida – Get Beth
15) Lisa Montanaro – Decide to be Organized
16) Elizabeth Hagen – Elizabeth Hagen Inspires
17) Robin Stephens – Your Life in Order
18) Ellen Daly – Daly Organizing
19) Laura Aridgides – Who is Laura?
20) Tracy Campbell – Simplicated
21) Ellen Hankes – Ellen Hankes
22) Nikki Kinzer – Take Control Organizing
23) Elaine Shannon – Elaine Shannon
24) Kim Eagles – Organizing Connection
25) Allison Carter – The Professional Organizer
26) Nancy Nino – Nancy Organizes
27) Julie Seibert – Healing Organization
28) Lurlene Anderson – Lurlene Anderson
29) Heidi DeCoux – Clear Simple Inspiration
30) Stacey Anderson – Organized innovations
31) Jacquie Ross – Baltimore Organized Families Examiner
32) Sheila McCurdy – Clutter Stop
33) Ann Bingley Gallop – Open Spaces Feng Shui
34) Lelah Baker-Rabe – Lelah with Anh
35) Kathi Burns – Add Space To Your Life
36) Grace Brooke – Grace Brooke
37) Margarita Ibbott – DownShifting Professional Organizing Solutions
38) Vicki Winterton – The Organized Woman
39) Maureen Nuccitelli – Harmonious Life Designs
40) Sue West – Organizing for the Next Chapter of Your Life
41) Iowa & Nebraska Organizers List – Ask an Organizer
42) Monticello Corporation & paper Tiger Productivity Experts – The Paper Tiger
43) Deb Lee – Organize to Revitalize
44) Sarah – All Buttoned Up
45) Scott Roewer – Declutter You
46) Melinda – Simple Home Organization
57) Erin Elizabeth Wells – Living Peace
58) Toni Hammersly  – A Bowl Full of Lemons
Disclosure: I compiled this list from Professional Organizers I talked to on Twitter who were interested in being on the All Top.com list. Many more names were given to me by Stephanie Callahan, off her list of Professional Organizers that she has on her blog.
I do not necessarily agree with everything that these bloggers have on their sites, just as they might not agree with everything I have on my site. This is a resource for you to find more information on organizers.
Please do not copy or take any information you find on any of our blogs without permission to do so by the blog owners.
If anyone finds themselves on this list and wishes to be removed, please contact me and I will do so.
Pepsi is having a contest called Pepsi Refresh Project –  for those who are attending SXSW (South by Southwest).  Since I just found out I am going to get to go to SXSW I entered the contest.  It would be so cool to see this come to fruition.  My friend Debbie is the one who works at a food pantry.  She has told me how important it is to give cash instead of cans for food drives. She is also in the process of developing a web site called "Set Another Place.org". It should up and running by the end of the month. It will focus on raising money for your local food pantries.
She has referred me to a site called Cash Feeds More that the guy has a funny rap to help you understand why.
You can enter to win on Consumer Queen if you are going to SXSW.  The Consumer Queen will pick one winner from her site of what she feels is the best idea. She will then represent that person at SXSW and campaign for them to win the Pepsi Refresh Project. Whoot Whoot…cheer me on!!
Here is my entry video.

Stay in your Target Zone
When you are trying to organize a room, what is one big stumbling block?  For many it is getting side tracked. You pick up a basketball that doesn't belong in the kitchen and walk it out to the garage where it does belong. Then what happens? Let me tell you…..
You see what a mess the garage is and get over whelmed and think you need to work on it.  You pick up the new package of toilet paper that got left in the garage to take it up to the bathroom.  You get to the bathroom and screek because it is such a mess and the tub has a ring around it and the kids left the toothpaste on the floor without a lid on it. So you grab your supplies to clean the tub….and so on and so forth.  Well, forget ever getting back to that kitchen today….and so your kitchen has made no progress.   So what is the solution to organizing without "drifting".  Stay in your Target Zone.
What is a Target Zone?
Your Target Zone is the area you are working in.  That room, or area or small space that you have designated "I'm going to organize THIS today".  Once you leave your target zone you are open to anything and everything that grabs you and pulls you away from your mission.  When you are in "organizing mode" usually you are ready to go and your mind is in …"Let's get this Done" gear.  So everywhere you look you see things that you need to work on.  We want to do it all Right Now.  But that isn't possible.
How Do I stay in my Target Zone?
It is actually easier said than done when you are organizing. Like I said there are going to be items that do not belong in the space you are working.  What you need to do before you start is set up a box or a  bin.  You have your sorting cards to help you sort your piles, but for your "move to another room" card…you will need a box, or two.  Rather than taking that basketball to the garage, simply put it in the box that goes somewhere else.  Then you are not leaving your Target Zone.  It will help you tackle the space you are working on.  Focus is the key. You are focusing on one space right now.
Results of staying in your Target Zone
The main result is that you will have an organized space in the place you have targeted to accomplish that day.  But you will end up having a box or pile of other items that you have to find homes for.  Allow yourself time at the end of your organizing of your Target Zone to take that box and drop off the items in the rooms or places that they belong.  An easy thing to do it to leave that box sitting full of stuff and you have another mess.  I just had someone recently leave me a comment that she had a similar box that she cleared out of one room and stuck in her laundry room (I think). She ended up leaving it there for 2 years and was saying she had to go back and go through it.  My comment to her was that if she has not missed the items in that box for 2 years….it is time to get rid of the entire box.
Think Target Zone
Think Target Zone when you go to organize your next area.  Even make yourself a sign that says it.  STAY IN THE TARGET ZONE!  You can even make it a little game with yourself. When you are tempted to go take something to another place…say to yourself, "Oh, I can't go out of my Target Zone!", and stay put.  Just put that item in your "move to another room" box.
Rubbermaid Drawer Organizer
Rubbermaid is hosting a Quick Organizing Adventure: the Junk Drawer. Yes!! Right up my alley!
Next step, find a drawer in my house that needs organizing. It isn't as hard as you might imagine. Remember, there are 6 other people in this house and not any of them have the passion for organizing (and staying organized) as I do.
Enter in: The kitchen gadget Junk Drawer:  What a mess!
This in all reality only took 15 minutes to turn this messy drawer into this!  Kitchen gadgets can be a hard one because they are all sized and shaped so differently. I would like another organizer in the back to have all the "not used very often" items in. To me, this drawer never looks as organized as I would like.
Step 1 – EMPTY
Empty everything out of the drawer and clean the drawer.
Step 2 – SORT
Sort what is in the drawer. Only keep what you use. Any papers, trash, broken pieces – get rid of. Any items that don't belong in that location (for instance you don't want your earrings in your office drawer)
Step 3 – SET UP
Take your Rubbermaid drawer organizer and configure it how you would like it in your drawer. The interlocking pieces make it fit together nicely if you choose to use it that way. You can use them in a couple smaller drawers too, if that is what you need.  The pieces are the following sizes. There are 3 small squares 3×3 inches. One rectangle 3×9 inch and one longer rectangle 3×12 inches. Then you have your larger retangle 6×9 inches. They are all 2.2 inches in height. There are a couple of other nice features that I liked. The inside has a rubberized bottom (so things aren't so noisy and they don't slide around. They they also are made so that they unit themselves don't slide around in the drawer when you open & shut. I have had some that do that, if they don't fit all the way back…you place it in front and when you open the drawer back up it has moved way back. I like that I won't have that problem with these.
I would say the only negative I have was that I wanted to configure it a little different but the lip was on the wrong side to do what I wanted to do. I bet if I had played with it enough (like a puzzle) I could have made it work…but the way I have it worked fine too)
Step 4 – RELOAD
Reload the drawer. Use the space towards the front for items you use most frequently. The items you don't use as often place towards the back of the drawer. As you can see in my picture, things like meat thermometers and egg white separator are in the far back of the drawer. Those are items I do want to keep, but I only use them a few times a year, so they do not need to be up front. Now my scissors, can openers and toast tongs we use almost daily – those need to be the most accessible.
Giveaway
To Purchase Your Own: Go to Rubbermaid.com and purchase, or find at any stores that carry Rubbermaid products. You can get a coupon for $1 off if you go to SmartSource Coupon Page
To Win:
Go to Rubbermaids blog called Junk Drawer Ingenuity and tell me something else you learned about junk drawer organization.
**Be sure to come back here and leave me a comment.
Your e-mail needs to be either on your comment or easily accessible in your profile.
For Extra chances to Win:
**Each of these HAS to have a separate comment written please. (I know its a pain, but other wise you won't have as many chances if you don't)
You can find all the links in my right hand sidebar.
1) Subscribe to my Organize with sandy Blog with feeder or e-mail. 5 extra chances.
2) Subscribe to my New Blog Chat with Sandy 5 extra chances
3) Follow me on Twitter (@OrganizerSandy)
4) Follow me on Linked In
5) Tweet out this giveaway up to 3 times per day. Write a comment for each time you do with the link.
6) Add any of my 3 buttons (Organize with Sandy, Reviews, Chat with Sandy) to your sidebar and come back to let me know. Separate entry for each one you add.
See….lots of ways to enter to win!
This contest will run until 11:59pm est on Monday March 15th, 2010 *THIS CONTEST IS CLOSED. ANY COMMENTS THAT COME IN AFTER THE DEADLINE WILL NOT BE COUNTED*
This is open to US & Canada mailing addresses only. One person per mailing address only. Winner will be chosen by Random.org
You will have 48 hours to reply to my e-mail if you win to be eligible. If I don't hear back then I will go to the next winner.
Disclosure policy – I did receive this drawer organizer from Rubbermaid at no cost. They did not require a review or giveaway but told us we were welcome to do one if we so desired. They also told us to please be honest about our thoughts on the product (that is easy because I always am).
Check Out my Other Giveaways Going on Now:
Twirly Hanger – Ends 3/4/10  Organize with Sandy
FUMI Pursehook – Ends 3/4/10 Chat with Sandy
Covergirl Smoky Eyes Kit – Ends 3/8/10 Chat with Sandy
The 12 Step Program for the Surface Abuser.
1) Admit that you have a problem.
2) Ask for help with your Surface Abuse problem. (Professional organizers are everywhere!)
3) Remove ALL surfaces in your home.  (Only kidding!)
4) Realize that this will take on going maintenance to maintain.
5) Visualize what you would LIKE this space to look like.
6) Start the process with one surface.
7) Get a black trash bag for trash and a White trash bag for donate.
8) Begin the Sorting process. Clear everything off your counter and clean it first.
9) Realize that clearing your counter will lead to some organizing in other areas of your house. (this is a Good thing)
10) Decide what to do with all the papers and clutter.
11) Plan daily to clear  off anything that might have accumulated in this "hot spot" zone and place it in the folders or cubbies you created.
12) Be sure to take before and after pictures so help remind yourself how you want to keep your new clear counter.
Disclosure: The above picture is not from my home (I WISH!) It was from a Parade of Homes model that boasted like the best family organizing center ever!!  But you can find these products at The Pottery Barn.