Married or Divorced? When does the ring come off?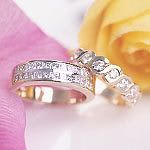 I was inspired by @DelightfulToni to write this post. She posted a tweet "Unless u have legal documents saying u are separated or divorced, YOU ARE MARRIED. Am I the only 1 who believes in being faithful anymore?"
It made me think back to my separation and divorce. To you @DelightfulToni – you just keep honoring the vow you took before God and He will honor you.
Here is my story and I'll try to keep it brief.
*Married for 17 years
*Try to work on it for 5 months.
*While he was away on a business trip he told me he wanted a separation.
* He left for 17 months.
* Called me at 2:30am after 17 months & wanted to talk.
* He came back.
* That was 3 months after he was back, renewed our wedding vows in front of 100 people.
* He left 2 months later, after a 10 day business trip to CA. Came home without his ring on.
This time I was ready to say it was over. I couldn't trust him any longer. He spent the last 6 months assuring me he would never leave me again. Telling me I was being dramatic when I started seeing the signs. Obviously I was right.
I still didn't take off my ring. Well…I did take off my engagement ring at that point, but not my wedding band.
I didn't date, I didn't even think of dating. I was still legally married.
The Divorce took 18 months. The ring stayed on. I was married and had taken my oath in front of and honoring God, and didn't want to break it. I wasn't going to willingly.
So funny, the night before my court hearing to finalize the divorce, my neighbors (as we all sat outside on one of their porches) told me I should take off my ring since it would be over in the morning. I told him (he was 78 years old) that until the judge pronouced it, I wasn't taking it off. Then I tried to wiggle it and it was no where near coming off my finger. Darn it…I had hoped to take it off as soon as the judge said it. My neighbor told me he would cut it off as soon as I got back to my house tomorrow. I thanked him and told him it was a deal.
Court day. We were up in front of the judge as she was saying all her stuff – then she spoke the words that we were legally divorced.  It was 2 months shy of being 20 years. As soon as she said it, I stood there (and without anyone knowing what I was doing) I tried to take off my ring thinking it wouldn't come off. It just slide effortly off my finger. I smiled and almost laughed out loud. To me it was a confirmation from the Lord that I had honored him in trying to keep my marriage together. I had been faithful to my wedding vows in everyway and HE released me in that moment, not the courts. It was truly a "God" moment for me.
As the 2 lawyers, my now ex husband and I walked away from the judge and kind of all stood together I told my lawyer thank you and made some little joke I think. I was almost elated at what had just happened. My ex looked at me and said that this was not a time to be so happy. I didn't say anything to him or anyone else at what had happened.
It was my little secret with God at that moment. It was almost a magical moment – that feeling I had.