Zip Line in Utah at Evo  
I think my husband was shocked the most to hear that I was going to go on a zip line adventure!  I was in Park City Utah and had the opportunity to do this Zip Rider and thought…."I'm going to go for it".
I had thought that I would go with some other Evo buddies….but I lost Zippy (she couldn't go up the zip line anyway….that would have been a good title though…Zippy does the Zip line!!) I heard there was an hour line at the top and my ticket said I had to do it between 6-7pm. So I thought…I better go!  Most of my concern or worry was over how I was going to go down this zip line cable ride holding my big purse, big camera and jacket!!??  I was able to fit my camera into my purse…got my little camera out so I could still take pictures…and of course my flip.  It got a little colder out of the sun, so I put my jacket on.  They just strapped my purse in with me.
Stood in line by myself – well..I mean not knowing anyone else in the line waiting to go on this "cloth seat hanging from a cable flying down a mountainside ride" LOL
You can see my purse in my lap…but it is all tied in.  It was the best view looking out over the gate!
I'm ready to go!!!  Watch my video…
More than Ever a family with a Special Needs Child need to be organized
If you think you have a lot of mail coming into our home….just try to see what the mail box of a special needs family is like! They have the same amount of mail and papers coming into the house that we do…..but then they have a massive non-ending incoming stream of insurance papers, medical bills and statements, home health insurance, letters from Doctors, physical and occupational therapist paperwork and bills…and it goes on and one…
Command Centers
The Command Central pictured above of course would be anyone's dream center. (This was from a Parade of Homes model home).
But you can make your own using this is a guideline. Here are some lower cost alternatives.
This is from Office Max…Peter Walsh inspired.  Love it.


This is sticky note/ dry erase organizer.  It is from PlanetSafe Planners.com.   I think this can be used in conjunction with other options.


This is my home made job board….grab a magnetic board and follow these instructions. I am thinking this could be used for medication time routines…G-tube feeding times, nurses schedules or just a job board.


Get a box of these magnets with the sticky back. I use old business cards and flip them to the blank side.


Peel off the back and put the business card or cut piece of paper/construction paper on the sticky part.


Then put whatever you want to on the front.
Having a place that everyone can see what needs to be done and when is essential in being able to run a smooth home. Calendar with Doctors appointment, sports schedules and adult commitments can help save many headaches in a very busy home.
I'm linking this post to: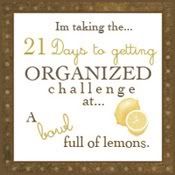 So you think you have trouble organizing your children?
Can you imagine if you had a child with special needs?  Think with me for a moment of some of the possibilities of the equipment some of these medically fragile children have. Then imagine where you would put all this medical equipment in your home.
*Wheel Chair
*Walker
*Lift (to lift them out of bed or tub)
*Oxygen tanks
*concentrator for the oxygen (about the size of a tall ottoman)
*Suction machine
*Hospital Bed
*Physical therapy or occupational equipment
*diapers for older kids
*IV pole to hang feeding bags on
*G-tube, catheters, dressing changes, tape, medications, syringes, trach equipment…
I could go on and on and on!  Now of course not all special needs children need all of this medical equipment.  A mentally challenged child may have autism or Down's syndrome and need some learning or PT or OT supplies…but they may not have all the physical needs of other physically handicapped children.
I have been a pediatric nurse for 28 years. I was a case manager for the Pediatric in home cases for 4 years…and have seen many families with situations they deal with daily…that you and I can't imagine. Funny thing is….most of them are organized. Maybe it is their nurses that help them to organize….but I think most of these families realize to survive and do the best for their special needs children (appts, medications etc..) they HAVE to be organized.
But please believe me when I say that these households have double the need to be and stay organized and less time to do it than you and I.
Over this next couple of days I am going to post some tips that can help the Special Needs family.
 At EVO 2010
But….I LOVE to see these high heels.  I walk around these conferences just googling at all the cute shoes.  So I thought I would share some of my shoe envy cute high heel shoes with you!!

What fun these yellow heels are!! They are so bright and looked great with her outfit.

Wow! These red spiked high heels were so hot!
You might wonder why I have Shoe Envy?  Being tall and not caring to be any taller has a lot to do with it! I don't wear high heels. Seeing these spike high heels and or stilettos …actually amaze me! Being able to walk in them is a skill I never learned!  Then to see woman dance in these high heel shoes seems to be an act of pure impossibilities to me!
So I will have fun watching these shoe fashions from a far! I had fun asking these ladies to take pictures of their shoes while at the evo conference.  I think they were all a bit surprised…and when I asked Andrea Wishom,  who is the supervising producer on the Oprah show,  I think she was more than surprised.  Can you guess which ones were hers?  (I bet you can!)
Feel free to claim your high heel shoes or if you know who they belong to….shout them out.  Enjoy…especially if you have shoe envy like I do!
I love how these spike high heels look on her tan foot…and they look so nice with the white pants.
OMG aren't these snake skin looking stilettos fun?  I just can't imagine walking in these.  LOL  I would fall with the first step.
This is the tiny foot that look so cute in a high heel shoe look!!  There is more of a heel to this shoe…but I think if they were on my foot I would look like I have a whole flower garden walking.
I have to admit that I had to look up that Christian Louboutin was the maker of these red soled high wedge shoes. I know …I know….I'm sure everyone knew but me. I knew that the red bottomed shoes were a coveted shoe for many…but I had no idea of  who made them. I tried to take the picture of these from my seat in the back of the room….but that didn't work. So I got brave and asked for a picture of them.  I LOVE the fact that these have worn places on the bottom. Why?  Because it means that she really wears these shoes.  Obviously she loves these fancy heels. I love the strap on her ankle (oh to have tiny ankles! lol)
I took this picture when we were at the Bush's Beans party on our last night.  There was a western theme and I thought these were such a fun high heeled boot. Oh yeah….and she was dancin in these….and pregnant….wow….such shoe envy I have!!
How Can Clutter Make you Late?
"What, do you mean by that?" you may say. But clutter and time management can go hand in hand as a problem.
"Where are my keys? I know I just laid them here, maybe they are under this stack of mail." "I just need to grab that report for the meeting, but where is it?" "Mom, where did my red jacket go? I'm going to be late for school!"
Do any of these sound like your house?
When you have extra clutter sitting around choking up the "clean, clear, calm" space then you also have clutter sitting in your head…choking up your "clean, clear and calm" space of your brain. When you do not have a clear brain to think with, you are going to have too many thoughts…too many things jumbled in your head and lose track not only of what needs to be done, but in what time frame it needs to be done in. Simply put, Too much stuff in your house + Too much stuff in your head = Being Late.
Being late out the door, being late to pick up the kids, being late with reports due, being late paying bills, being late to the meeting – sound familiar?
So what do you do? Clearing out the clutter from your home will result in clearing out the clutter from your head which will in turn help you to focus and plan your day more productively which will then lead to being on time.
Sounds simple doesn't it….NOT!
How Do I Clear out the Clutter?
Use your 5 signs to designate your piles to sort.
Get white trash bags for your donate and black for trash (so you don't mix them out when you take them out of your house.
I prefer clear plastic storage bins for long term storage.
Make sure you have some form of labels to label your bins.
Give yourself 2 hours of time if you are able. Do not think you will get an entire room done, just start out with a smaller goal.
Pick up each item, look at it fast and think:
1) Do I use this?
2) Do I need this?
3) Do I like this?
4) What is the worse thing that can happen if I don't have this?
Don't spend more than about 5-10 sec. on each item, otherwise memories start popping in and you "personalize" that item. You want to keep it "depersonalized", otherwise it can be too hard to get rid of.
Does it drive you Crazy?
Does this look familiar to you?  Piles of things all over. The floor littered with things because you don't know where they should go?  Your life is so busy it is easier to just "throw and go"?
I understand.  Life can get crazy.  But if your home constantly looks this way…it has to be causing you more stress…on top of the stress you already have.
It if is to a point that you can't walk into rooms, or you have no where to sit down…and you can't throw things away – then you might have more than just a clutter problem. You might have a hoarding problem.
For clutter you have to make THAT DECISION to correct the problem.  It is just like losing weight or stopping any bad habit….it isn't fun. But the results of clearing out the "stuff" is live changing. It will free up your space, free up your home and free up your mind.
Here are a few other related posts that I have written:
Clutter in your Home = Clutter in your Head
The 12 Step Program for Surface Abusers
Which is your house?
A) Clutter – Your counters have stacks of stuff. You have to move stacks to prepare a meal. You can't take your wash cloth and wipe from one end of the counter to the other because there are stacks of things in the way.  You can't vacuum the floors without major pick up.  You don't vacuum often because you don't have places to put all the stuff that comes off the floor. Things are out of control.
B ) Clean – A place for everything. You can bring people into your home without notice.  You have clear counters and surfaces.  You vacuum several times a week if not everyday.
C) Middle of the Road – Of course there is somewhere in between.  Not a cluttered mess all the time, but you might need more than 5 minutes to put things away. Some days are better than others…but on the whole your house is decent looking and people aren't falling over things as they walk in the house. The sinks might not sparkle all the time though. Vacuuming is not a problem, maybe picking up a dog toy or two before you start.
I think we always want to be "Clean" and have the perfect houses. We all know our friends who have homes like those. The ones that look like a model home ….ALL THE TIME!  And they have kids!
But realistically…I would bet that most of us are "Middle of the Road".  I would have to put myself in this category too.  My house is not a showcase. I do have a place for everything and in my perfect world all of my other 6 family members would be as passionate as I was about making sure things make it back to those places.  But….right now there are 2 basketballs that they kids left just outside the back door.  I have my book bag sitting on the floor beside the couch that I have to pack up for my trip this week.  I have the mail sitting on the couch beside me to go through. My floor needs vacuuming! (Dog is shedding like you wouldn't believe!…vacuuming is on my list for this afternoon).
So ….which are you?
Winner!!
Random.org #59 was Rachel Higgs.  Congrats!!
A visual timer!
I walked past this booth when I was at the National Association of Professional Organizers several times and each time wanted to stop and see what it was all about.  I finally had time near the end of the conference and stopped…and was glad I did.
The Time Timer is a simple product that can be used in SO many different ways.  It is simply a timer. That is it.  But what makes it different is that it shows the time left in red.  Some reasons that might be good:
*Someone who is visually impaired might be able to see this when they can't see a smaller timer.
*A very young child who can't tell time yet…can get a visual idea of how much time is left
*A classroom of children
*A car full of kids wanting to know.."Are we there yet?"
*When you are exercising, reading or doing chores that you need a timer on for. So many great uses.
This is the 8″ size Time Timer.
The timer is silent. When we first put the AA battery in and moved the timer hand…there was no ticking…no humming…nothing.  I didn't know it was working for sure until I saw that the hand had moved!
There is a switch on the back that you can turn on a tone when the alarm goes off ….or you can have that off. (We have to have it off because it reminds my one dog of the tone from our old electric fence. We can't have digital watches in the house either! LOL)
The triplets have been using it for their 20 minutes of reading each morning. Of course they think it is cool so they are trying to find all kinds of things they can time!
It is a great tool and can be used in many many situations.
To ENTER to win your own Time Timer 8″ size
Go to Time Timer.com and click on How it works.  Watch the short video on their products.  Tell me 2 other timer products (sizes or kinds) they carry. **Be sure to come back here and leave me your answer in your comment. Your e-mail has to either in your comment or on your profile.
FOR EXTRA CHANCES TO WIN:
**Each of these HAS to have a separate comment to win. The winner is picked using Random.org. It just goes the number of comments….not by what you say.
1) Subscribe to my Organize with Sandy blog This is for 5 chances to win! (use 5 separate comments)
2) Subscribe to my Chat with Sandy blog This is for 5 chances to win! (use 5 separate comments)
3) Follow me on Twitter. Leave me your twitter id in your comment
4) Follow me on Linked In
5) Tweet this out up to 3 times a day. (one comment for each tweet) Pls leave your link
6) Add any of my 3 blog buttons to your sidebar for 1 comment on each one you add.
See lots of way to enter!!
This contest will run until 11:59pm est on Monday July 5th, 2010  *THIS CONTEST IS NOW CLOSED*
Any comment that comes in after the above time will be deleted. This is open to US mailing addresses only. One person per mailing  address only.  Winner will be chosen by Random.org
You will have 48 hours to reply to my e-mail if you are picked as the winner, or else I will go on to the next winning number.
You can see my other giveaways going on here:
Hanes Review & Giveaway – Win any one product from Hanes.com free  (ends 6/28)
Disclosure: I received the 8″ Time Timer at no cost to review.  The thoughts are completely my own.
It's Ok to save a little
You can tell your teen (or yourself) that it is ok to keep a few keepsakes.  Keep in mind however that if they are really special, they should be on display somewhere so you can enjoy them.  But to display things – do it in small numbers.
However, if you would like to have a great way to give your teens some freedom to keep some things (thus making it easier to purge other things) – the easiest way is to have a defined limit on how much can be saved.
Keepsake Box
Find a container. It can be a box – from shoebox to larger box.  Be sure it is not too big to fit on a shelf in your basement or closet. I would suggest a clear box, so you can see what is inside.
The Limit – They can keep no more than what can fit into their keepsake box (you can make up your own name for it). One of my clients and I named it her "Happy Box".  If they have more than one box…then they have to make decisions.  Which item is it that is really worth saving?
Remind them that they can take pictures of items they give up.
Keep the goal in mind: To clear out the clutter. To have a room that is peaceful and calm – a place to think and getaway.
Once you have sorted and have decreased the clutter, then you need to find a place to put it.
Here are some examples of products you can purchase to not only have storage in your teens room, but can use to decorate also.
This is actually a closet organizer. I used it under his loft bed to organize "stuff".  But there are shoe slots, net baskets on the side (see notebook) and I bought the drawers to put in it.  I think this is so cool. It comes in different colors. I got it a Walmart.
I added some baskets under the desk for extra storage.  There is the lime green plastic drawers for all that little stuff.  Be sure to have a waste basket in their room along with a laundry hamper. (Not that all the dirty clothes make it into the hamper or trash into the trash can….but at least it makes it much easier to clean up!)  These items including the desk were all purchased from Walmart
Another item from Walmart that helps with places to put stuff.
You can find all kinds of solutions for storage – the green hamper on the left is his laundry hamper.  (This is the room in the unfinished basement)
Here is a shoe organizer that can go on the back of a door.
You can find many different solutions for storage for their room.  If they have a very small room…be sure to use the wall space for shelves and baskets.  Utilize all of that closet.  You can get under the bed storage containers to help too.
Try to keep the storage items usable (they don't want to have to open a drawer and open a lid to put something in….or else there will be no chance of that item getting in! LOL
Disclosure: The first few pictures were items I got from WM when I did the room makeover. I am was not asked to do this post for them and I am not receiving any kind of compensation for mentioning them. I just thought you might want to know where I got the items.
Usually the first step is to find the floor!
Usually teens (like most of us) have too much "stuff". There is more stuff than places to put the stuff – so it is easier to just throw it on the floor. Keep in mind this isn't always the case. My oldest son (at home) has plenty of storage space…but stuff is still on the floor – but he could still stand to declutter again.
Starting at the Beginning means starting with Sorting
Be armed with Black trash bags (trash) and white trash bags (donate).
Then remember your sorting basics.  Don't spend more time on each item than about 5-10 seconds.  You don't want to start reminiscing or you will never get the job done.  If they still have all kinds of stuffed animals or toys from their childhood (and they are teens)..help them pick out a couple special ones to keep (if they want to keep any). Take pictures of others if they are having a hard time deciding or not sure about getting rid of things.
If there are clothes that you need to keep to pass down to other children in your family. I suggest clear bins (so you can see what is in them) and be sure to label them well.
Work with them and have them decide: Make paper sorting cards to help remember what to do with their things.
1) Keep – Do I LOVE it? Do I WEAR it? Do I USE it? Does it FIT?
2) Donate – I DON'T like it and will not wear it, It DOESN'T fit, I DON'T use it.
3) Move – It doesn't BELONG in my Bedroom
4) Storage – This can be season sports supplies or things they need to keep but don't use but once or twice a year.
5) Trash – It is trash, broken, torn or worn out
Let them just make piles (they love piles anyway right?)  on the floor for the different categories.  If there is not floor space to begin with. I suggest piling everything in one big pile and then going through it.
Oklahoma Flooding – Consumer Queen's house flooded
We see something like this…and we CAN help.
I just read this post that Monica – Mommy Brain Reports wrote about her (and my) dear friend Melissa – Consumer Queen . I couldn't believe it. You can read her post from earlier today as she is just learning the news. This is what us bloggers do. If something it out of our control….writing helps us deal with it.
This all happened today. She had over 2 feet of water in her house. Everything is ruined. She called the insurance company to find out that nothing is going to be covered. This is the house that they just moved into a couple of months ago. Her mother needed help and they needed to move them in with them. So they had to find a bigger house. Her husband @ConsumerKing has Ankylosing Spondylitis which is a degenerative disease that causes much pain and can be debilitaing. He isn't able to work and because of this she has to work full time in order to get medical insurance for the family. He just had a hip replacement a couple of months ago and has to walk with a cane. That is him out in the water. He just recused a woman and her daughter from the flood waters. Unbelivable!
They are Safe
Thank goodness they are all safe. That is the most important thing. Monica told me that she got a call while she was at work with her kids screaming and crying that the water was rushing into the house from everywhere. Her boss drove her home to find the firemen getting her family and animals out. They are staying with her mother in law….but realizing everything is gone…and no money to replace it. Devastating!!! The house will have to be gutted. Everything replaced. Can't even imagine.
Donations
We can help. Even if you could donate $5 or $10…it will add up. Monica started this campaign and I can assure you that it is completely up and up. I know them both personally and it is no scam. Promise!!


This is Melissa and I at SXSW this year.
Thanks for anything you can do to help her!
What is it with Teenagers and the need to have a messy Room?
I decided to go take my camera and take a completely candid picture (I just opened the door and shot the pictures…I didn't move a thing – oh believe me….it was difficult for me to do!) of all 5 kids bedrooms.
I have to admit – I used to go spastic on my 4 boys growing up with their rooms.  I would come in the morning to either wake them up or say good morning…I would open that door and instantly get mad.  Who likes to be woken up with "This room is a mess! You need to pick up your clothes, put trash in the trash can and clean off that dresser!!".  Nope….not a nice way to start their day and would instantly put me in a bad mood.
So….once I was a single mom of 4 boys (in 1999) I decided at some point to let it go.  I had to discipline them in so many other ways…they had chores to do around the house and their rooms were just a constant source of irritation to me (and them).  I had a friend tell me that I need to pick my battles. That hit home. I decided that I didn't need to make their room MY battle.   So for the most part I try to avoid the teens bedrooms.  I will let it go a week (maybe even 2 sometimes) before I get on them and really make them clean it. I don't insist that their beds be made every day (although they know that I want them to do that), and I don't hang them by their toes if they don't put their dirty clothes in their dirty clothes hamper …right in their room).
Today I will show you the "Messy" Teen rooms….and over the next few days we are going to talk about teen bedrooms.  (I'd love your pictures of your candid teen bedrooms!!)

The oldest we have living at home (17 years old boy)   Note how the futon is down. He sleeps there.  We were lucky enough last year to get a Bedroom Makeover From Walmart & Your Zone. (you can see what the room should look like in the video) At the time he picked the loft bed. I thought he would get real tired of climbing up there because if he really had his way, he would sleep on the floor over the heater/air conditioning vent. (Yes…really)  But he thought the bed  was cool. I told him that if he got the loft bed…he had to sleep in it. The futon that we had and moved in here was to sit on.  "Mom..I will sleep in the bed…it is cool. I promise!!".  LOL ….yeah..sure.
Example #2.  My step son is 16.  He chose to have his bedroom in the basement when we got the room make over. They used to share a room. We gave the older of the two – first pick. Did he want the basement room (unfinished basement) or the room makeover. He said he was fine with either and let his step brother pick.  "D" (step brother)  picked the basement.  He loves his "man cave".  I'll do a post this week on how we made this room over.  But…note here – no pillow cases on the pillows! Ewww….!  why?  That just seems so yucky to me.  I have a whole basket of pillow cases that he could pick from if for some reason when his sheets got washed….he couldn't find his pillow cases.  Bed is not made (its hard to tell in this shot)…here, I'll give you another look from a different angle.  You can see the unmade bed…and the stuff all over his dresser in this shot. But over all the room is not too bad.  Keep in mind this is after his Dad told him to clean his room yesterday.
I also got pictures of the triplets rooms.  They aren't teens, they are 9 1/2 years old, but I thought I'd show you anyway.
The boys A&Z share a room.  It's not too bad. But we do try to stay on them more to keep it clean.  A is great about cleaning his portion of the room (most days). Z really could care less.  You frequently hear A saying, "Z your stuff is a mess in here. You need to clean it up." LOL  So if A wasn't in the room with him and if we didn't have them pick up their room daily…I'm sure Z will certainly turn into the typical "messy room" teen.  I'm not so sure with A.  I think he will keep his room clean on his own….like his sister.
Now…my step daughters "E" room almost always looks clean.  She gets up and makes her bed (as does A – but Z rarely does) every morning.  She keeps things picked up. Don't you love the fish pillow?  Her pick when we went shopping at Cabelas last year!
So – I have "bared all" in my kid's bedrooms to you. See..I always say my house is far from perfect…I'm human just like you guys!!  But I want you to show me some of your teens rooms.  Tell me what the hardest thing for you is?
Do you "stay on them" like I used to do with my kids? Or do you just "chill" and try not to get worked up over their rooms?   (at least for 1-2 weeks..I just can't take more than that).  Do you ever make the really clean them?
Please share!
Need some ideas to Organize your room? Send me your Pictures!
This is a photo I got from a friend on Facebook. She said she was having a terrible time organizing her master bathroom.  This is a metal unit that goes over her toilet.  You can also see a little bit of the wooden corner shelf.  She sent me some other pictures too, so I had an over all view of the bathroom…and the wall space that was open.
When I give suggestions…I don't go the "extreme makeover" way. I try to think very conservative in what I'm asking you to do. I am not saying….call a carpenter and completely over haul your bathroom. I try to work with what you have and suggest items that are very reasonable.
These are the suggestions I gave her:
Wall over toilet paper holder –
Take down your corner shelf.  Use shelves on this wall instead.  You can go up close to the ceiling for storage. Utilize as much of that wall as you are able.  I would use adjustable shelves…you can find them at Lowes or some place like that. Just board and bracket shelves, or you can go a little fancier like these at The Container Store.  You can get the white or black ones …or you can get wood and paint them. Just keep in mind they will be in a humid environment. Be sure to measure well. Be aware to not get your shelves too wide – you don't have to worry about hitting your head or shoulder when you go potty!   LOL
Use small baskets on these shelves to store and separate your supplies. t
Use a Slim Cabinet beside your toilet if you have the space.   I use one similar to this and love it.
Option for under your sink.
Over the toilet – I don't know if that storage rack is doing as good a job as separate shelves could do.  I think I would suggest more board and bracket shelves rather than what you are using now. You can adjust them to fit more things.  There is a lot of wasted space on that wire rack..in between the shelves.  But if you want to keep using it…then I would see if you can find something to make a 2nd level on the middle shelf to utilize more of that space.  Or you can use something like the option I showed for under your sink and have a couple slide out drawers.  If you watch my vlog below on the pantry..you will see where I had a wire shelf  but wanted to have more space. So I added another wire shelf by creating a solid surface on the bottom wire rack so that my top wire rack could sit on something. (This is the money saving way to do things)
Another option if it wasn't too wide would be to use something like this cubby unit on your wall.  You can hang it and roll towels to store in the cubbies. Or put baskets and dress it up where you can store hair supplies, bathroom cleaners, toilet paper etc.. Here is an example of how I used cubbies in my office.
Behind the door:
I would use some kind of over the door organizer like this.  It can be great to hold all kinds of supplies….shampoo, conditioners, blow dryer etc.  Here is a vlog I did on my pantry. I know it doesn't seem to make sense….but I want you to see the over the door unit that holds cans. I also want you to note the wire on wire shelf "fix" I came up with.   My only concern with that would be if the items are too tall and you close the bathroom door…things might fall out.  So you would have to either find one with higher sides or use it for shorter items like creams and hair supplies. It could work great to clip bracelets or necklaces too …just thinking.
On the wall behind the door – You could remove that towel bar and hang another clear over the door organizer. Or you could hang hooks for multiple towels or robes.  Or you could arrange several towel racks and store clean towels on them that would look neat.
I bet if you take out that corner cabinet ..you can find another space to use it. I think you will get much more function our of that wall space.
So here is the deal. I'd love to help you!  If you have a room or place you would like some advice on. E-mail me pictures….I want to see all of the room….the wall space, the floor space too.  Tell me what your trying to accomplish in this space…and maybe you can get some ideas for your home too.  What I'd really LOVE to see..would be the after pictures.
Papers need to be handled! Peter has an idea!
Handling paper clutter can be done in many different ways. That is why I do not recommend just one way to do it. People are wired different. A solution for one person..might not be the right thing for another.  ( I apologize..I should have taken all those things off the lid…they look really messy!)
This "in Place System" by Peter Walsh is interchangeable with his whole line. There are some great products and I love how they all work together!  You all know I love Peter Walsh and I'm a fan of his products.
I am using this portable file box (which you can purchase a pack of 6 at Office Max for $11.99.) in my family room. That is where I do most of my work with my laptop. So it is nice to have something portable and small…but yet has a great file system.
Do I like it….yes. My thoughts are this:
If I were designing it…I would have not used a cardboard box.(or if I used cardboard…I would make them in fun colors).  I would have done a plastic colorful box. But of course then you lose the price point. They also did a lot of research based on feedback and this is why they came up with that. So this might serve the majority better.
Are you all set for Your Summer Vacation?  I'm not!
I have to admit that we actually are not set ourselves! I know….you are probably surprised with that coming from an organizer….a planner.  But we are not stressing about a vacation this year.  We decided to go simple and save some money so that we can possibly take the kids to Disney next year. (fingers and toes crossed on that one).
We have a farm about 45 minutes from our home that we may use for home base. Staying there and taking day trips. We are also talking about going to Kelly's Island in Ohio for an over night. Dave would love to take the kids on a fishing charter on Lake Erie…but still checking on pricing. (that would be pretty steep).
Plus I am starting a new Blog called Explore Ohio with Sandy (hopefully in the next few weeks) and I want to be able to highlight some fun places to go in Ohio.  So I am keeping the doors open if I get contacted to visit some fun places that I hadn't thought about!
Normally we plan early in the year (if not the year before). Have our reservations made, have a route mapped out and look for places to stop and visit along the way. This year is the exception.
We have never flown with all 5 kids (just so expensive). We had a flight and vacation planned 2 years ago with $10 plane tickets from that airline that went under a few months later (can't think of the name right now). We were going to go to North Carolina and see the mountains and the ocean (both of which his kids had never seen…or flown for that matter).  But my step kids mom was in a car accident literally hours before we were set to leave on our 6am flight and we had to cancel. She ended up being ok, but since we weren't sure we didn't feel we could take them away from her.  But we did plan a vacation later that year and took them to Gaitlinburg & Myrtle Beach (picture above from that vacation 2 years ago). We drove, but they did get to experience the mountains and the ocean…just not the airplane!
So have you planned out your vacation for this year?  If you aren't able to afford a full vacation (not unusal especially with this economy) are you able to plan day trips?
What and where do you like to go for vacations?  Share….I'd love to see your pictures!
Here are a couple links of articles that I have done on planning for your vacations:
I got to review this file system from Smead.  I am always up to try new ways to organize all those papers we constantly have flowing in. This is one of the areas I find that SO many of my clients have issues with also.  I tend to try different methods myself…I want to keep myself open so that I can find something that can work for everyone.  Different systems work better for different people.
This system has a unit called a Stadium File that can sit on your desk or counter.  I placed some empty folders in here so you can see the different colors in this pack of file folders and see that they have the 3 different tab positions.
There are file folders – Smead SuperTab File folders –  that you can get to go in the Stadium file. They have the 3 tabs (one left, one right, one middle) in different colors. I was sent a sample pack of pastel colors- pink, purple, blue, brown and green.  I have to admit when I reviewed this file system I primarily used the folders I already had labeled and loaded the Stadium file. I did change over these 3 folders that I hand labeled so that I could try the SuperTab File Folders sent to me. I did not find any difference from the ones I currently used – these work just fine.
I was also sent these labels – the Color Coded Labeling System Viewables Starter Kit that can be used to really make this look very professional.  They are color coded and you can print them on your computer.  I did not do this myself, but love the looks of them.  They look much better than just hand writing like I did.
I have been using this system for a couple of weeks now.
I liked it because it was very accessible…I sat it on the corner of my desk. So instead of taking papers that go in the files and putting them in a pile to file later (when I'm in a rush) it was easy to just slip the papers in this system quickly.  No drawer to open, nothing to pull out.
The only issues I have with it would be that if the folder is a little full…papers don't just slip down easy…you have to pull the folder out a little bit and then place the paper in, so it doesn't stick out.  It is also a little big and bulky.  I have a large desk so I was able to make a place for it.  I like it in my "Zone A" area of my desk (used frequently and daily). So for me it worked just fine. In a small location it might not be as easy to use. But on the other hand, it might work better for some who might not have room for a whole file cabinet in a small space – but could use this instead. So just a matter of how someone wants to use it.
Would I recommend this?  Yes…I have no problem recommending this to someone. If you have the space for it and like a system that is easily accessible.  I would not recommend this for long term storage, as there is a limit in space allowed for the file folder. But for current files and an "inbox" this is a great system. Will I continue to use it? Yes…I plan to leave it on my desk and use it!
Places to purchase:
1. Stadium File $18.29
–Office Depot
–Franklin Covey
–Amazon.com
2. Viewables $20.99
–Buy Online Now
–Office Depot
–Staples
3. Supertab $19.99
–Office Depot
–Staples
–Buy Online Now
Disclosure: I will receive a $20 Target gift card for doing this review.  Did that influence my thoughts?  Nope..I'll tell it like I see it. The thoughts are my own, the pictures are my own.  The list of locations to purchase the merchandise I did get from Buttoned Up.
Don't Forget The Learning!

We all know that summer is about fun with your kids. There are many things to do, vacactions, riding bikes, playing with friends, swimming and picnics.
But one of the big issues with summer and kids being out for such a long period of time, can be that they forget so much of what they have learned. Three months for us seems like nothing (you know…each year seems to go by faster? The older I get …the truer that statement is!) But 3 months to a 9 year old is a long time!
Learning can be fun?  Yes…it can!
Make learning fun. You can make a pretend classroom. Let them be teachers.
Most libraries have fun programs that encourage kids to read for prizes. The triplets signed up 4 days ago. I can't even tell you how much reading my one step son has done. I had to shoo him outside! LOL I think he had down 8 hours in 3 days yesterday. You may think, "Yeah, but some kids are just bookworms." Funny thing is, he never has been. Doing their 20 minutes each morning during school is a chore normally. So something as simple as getting tattoos or stickers at the different "marks" on their little reading map are enough to encourage kids to read.


Computer games The kids have Study Island at school and know how to use it. They are continuing at home. But with Study Island I guess it "passes" them at 60%. Yeah….I don't think so! I told them it has to be 90% before they move on. If they only get a 60% they obviously do not have the concept down. They are working on math right now, but there is reading and other subjects too. The one in the picture above is from Jump Start. There are many different learning computer games out there.
The other thing I just started them on this week is with a free typing program called Free Typing Games The kids knew of another one called Tux Type that they had at school, but it had to be downloaded. It wasn't working on 2 of my computers, so I found this.
I like the Free Typing Games better anyway. Tux Type it seemed it was all just games. I wanted one that worked with "home row" and making sure they were using proper fingering. The #1 lesson is the letters "F" and "J". It just goes through fffj jjf ffff jjf etc… Three things. The 2 letters and the "space" key. Just like my mom's old typing book that I used to use when I was a kid. Lesson #2 will move on to "D" and "K". It then progresses after you have learned all the placement of the letters to words and there are also games. Love it!!
Typing is SO imporant in this word of computers. My husband is a "hunter and pecker" when it comes to typing. He never learned and he uses 2 fingers to do his typing.
I want them to learn properly. I won't let them look at their fingers either. So I took a top of a cardboard box and made a cover to cover up the keyboard so they can't see their hand.


Journal writing
I let the kids each pick out their own spiral notebook and we made that their journal for the summer. We are picking a subject each day and they have to write a half page story or their thoughts on that subject. They ask me what the subject for the day is going to be. Yesterday was, "Being Nice". Today's is "Boats".


So here is the learning line up that we have done this week. The kids are not complaining. My Step daughter has said, "This is fun, it is summer and we are still learning!". Gotta lov her!
The computer picture of my s-daughter was from another time. The other 3 pictures I just took this am while they were working on their morning routine.  I didn't pose them…that is why 2 of them are working on their journals and no one was using the typing program. LOL
What things do you do with your kids to make their summer learning fun.
Having Fun With My Camera
I am trying to work on my photography skills.  Kim from Crafty Mama of 4 inspired me when she was here.  Heck…we had to stop the car near my home so she could get that unobstructed sunset view. LOL
I dusted off my Canon D20 (now outdated….but great when I got it about 4 yrs ago) and got it working.  Now I am trying to figure out how to take pictures in modes other than automatic.  But that is easier said than done. I had taken a photography class several years back…but have always had trouble figuring out what settings to use….unless I have lots of time to set and play with it.  But how do you know when you want that "fast shot" or that animal is going to move and you just want to "snap" it?
Dave and I went driving around near his farm since it was rainy…and I got a few pictures.  My guess is that most of these are in automatic. I took bunches and tried all kinds of settings…but it seemed the automatic always had better settings than I did. ugghhh…..but I'll keep trying.  I've been reading some of the tuitorials on The Pioneer Woman's blog. She also inspires me to try and go beyond the automatic settings. Wow…her stuff is awe inspiring.
I've been trying to look at things differently. Trying to see things through a lens and what might make a neat picture….instead of the "expected" picture.
Kids need routine – even in the summer
I believe this.  I think kids do better if they  know what to expect and what is expected of them.  I'm not saying that summer shouldn't be fun.  I'm not saying that it has to be completely rigid without any give.  But I think there should be things that are done daily. (I don't think this is only for the summer…but there is more free time during the summer).
Chores
I've said several times that I think kids should have chores.  But in the summer my kids have extra jobs.  I've done this post called, 1) "How Do you Get Your Child To do their Jobs?"  2)  "Should Kids Help in the House?" 3) "Kids Chores – Cleaning Buckets can Help" and 4)  Kids Chore Boards – Make Your Own."
Here is an example of the Chores my kids have:
Normal routine:
Make Bed  –  Clean Room  and 1 other chore (set table, clear table, help in kitchen)
In the Summer
I will add 2 more jobs to their lists:
Vacuum, clean bathroom  (either sink, toilet or tub), dust, playroom in basement
My thoughts are this. It is our responsibility as parents to train our children so that they can be self sufficient when they are on their own.  I have 3 boys on their own now. They have thanked me. That says it all.
We do the jobs in the morning and get them over with.
What jobs do your kids do?