Gift Wrapping Station
December 22, 2010 by Sandy
Have Your Supplies In One Location
When it comes to time to wrap a gift.. do you have to go in 10 different places in the house to get the supplies you need… if you can even find them all.  Organizing your gift wrapping supplies does not have to be hard at all – or expensive.
There are a zillion different ways you could do it and about as many organizing solutions. I'm going to show you what I do.
Nothing fancy or Martha Stewart worthy here.  I have an unfinished basement and I keep this nestled in between some shelves. I have a wrapping paper holder and then I have 2 small craft carts stacked on top of each other.
I prefer to buy my wrapping paper in the rolls instead of the sheets.  I guess I have never liked the creases in the folded paper. (Actually I have never really about it before I wrote this post.. lol)
I also like to get the wider (or in this picture  – taller) wrapping paper to wrap bigger boxes without having to piece-meal them together. The plastic storage container that I probably got from either Target or Walmart has a white tall lid. It would work for the shorter rolls, but not the bigger ones. After keeping it around for awhile, and realizing I was never going to use it.. I pitched it awhile back.
The plastic cart is a 3 drawer (2 shallow and 1 deeper drawers) and 1 open space cart. I have the wheels off these and stacked 2 on top of each other when we had to reorganize our basement to move Dave's Man Cave down.
I just have the ribbon on top of the cart. I am not a big ribbon user (hangs head in shame…no big fancy packages here) so have just 3 rolls on top is not a problem while wrapping for Christmas. I'll put them in one of the lower storage areas after Christmas.  These green clips are actually designed for wrapping paper rolls, but they are for a bigger roll of paper than I have right now. They are holding that loose end of ribbon from dangling.
In the top drawer I have gift tags and greeting cards.  Keeping all the cards and labels in one place makes it real easy.
Tissue paper is in the bigger drawer. Right now it looks neat, but you know when you get a gift bag with all that tissue paper in it? It is all crumpley and can tend to take up a lot of space, so I use the deeper drawer.
Making sure you have the correct supplies handy all the time is important.  When we are wrapping a boat load of gifts like at Christmas it's easy to do. But, get an extra set of supplies to keep in your gift wrap cart all the time. It makes it so easy if you have to wrap a quick gift to have everything you need, right at your fingertips.
Gift bags can be a pain to organize.  I use the lower open part of the cart for gift bags.  With this unit you could possibly fashion a hook of some sort on the waffle grid like side of this craft cart.
Since I have 2 carts together, I used the bigger drawer on the 2nd cart and keep my bows there. When they are this full they can tend to pop out when you open the drawer, but for the most part it isn't a problem.  We just refilled this in anticipation of all the wrapping.
I usually sit on the floor (I do have carpet on my unfinished basement floor) but you can put up a table for bigger wrapping jobs. But both of these units are very easy to transport. So for my Christmas wrapping I usually just carry them upstairs and use the dining room table.
If you have a cool – well.. it doesn't have to be cool (mine isn't cool , it is practical) gift wrapping station, please link it to my "Organizing Mission Monday" link party! I'd love to see it!
Link Parties I posted This To – Check Them Out!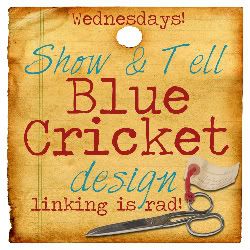 3)
Seven Thirty Three – Sugar and Spice