What Would Sandy Suggest? Week 3 – Office
Does Your Room Need Some Organizing?
I had only 2 readers from last week that need some help. Wow… I'm amazed.. you all have it together.  lol
I offered help via random.org to 1 person who linked up on my linky last week.  Since there were only 2… they both had 50% chance of winning!
But the winner according to random.org was #2. Handy Man Crafty Woman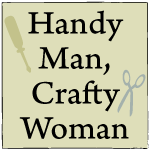 So Crafty Woman… let me have it!  Send me a space that you need some help organizing and I'll give you my suggestions.
But for this week – I am going to show you some before and after shots of one of the first offices I organized for a client.  They were my guinea pigs when I was just going  into organizing as a business.
This room used to be one of their kids bedrooms.  Jerry began a business building houses and ended up turning this old bedroom into an office and his business took off.  So fast that he didn't have time to really make it work.  He brought in extra pieces from homes he was building thinking they would help his office.
They were really neat kitchen pieces… but the way they were, they were not providing what he needed for his office.
He had his desk positioned by the closet to utilize it.  Not a bad idea, but again, it wasn't really working for him.
Part of the problem.. the office wasn't entirely his.  There were still kids books on the shelves, his wife had wrapping paper and supplies left from Christmas still all over the floor and in the closet. There were still clothes in the 2nd closet. 
His wife was also requesting to still have a table set up in here so that she could do her son's scrapbook for his up coming graduation in 6 months.  I polity but firmly told her, "No… this is going to be Jerry's office, and only Jerry's office.  When we do your office downstairs next… I will provide you a wrapping and scrap booking  space." She was good with that.
Notice the kind of shelf to the left. It is more like an open box… there is a bottom shelf, but really not serving much purpose.. I'll show you how we used it in upcoming pics.
What the problems were:
1) It wasn't Jerry's office. There was clutter from other family members that weren't business oriented in his space.
2) The nice kitchen cabinets were not functional for what he needed.  It seemed a shame not to use them, but without the proper shelves in them they were actually just taking up space.
3) The layout wasn't working for Jerry.
4) Because of the mess he couldn't bring clients into this office, and even if it were cleaned up he didn't have the space to spread out house plans to show them.
What Jerry requested:
1) Have a surface that he can spread out plans and have clients be able to go over with him.
2) Clean it up of course
3) He wanted storage that he could lay his house plans out flat for the ones he was currently working on. He didn't want to have to roll them all up.
4) He wanted older plans within reach
5) He didn't mind going out and buying all new furniture.
What I suggested:
1) We take out all the big kitchen cabinets
2) We rearrange the desk so he can see who is coming in the door.
3) We either buy or make a conference table
4) We get out all the "non-Jerry office" items out of this office.
5) I'll figure out storage for his house plans
6) We put up some shelves above the desk and move him away from the closet.
7) We bring up the credenza from his wives office downstairs (which was way too big for her office) and utilize it in this office.
Check out the office "After" Pictures
What we did: (I am pretty sure they pained the room
1) We cleared all the clutter out.  Took everything that didn't' belong in his office out. No more kids books, wrapping paper, clothes, kitchen cabinets.
2) We brought up the credenza from his wives office (see the far wall underneath the house plans)
It fit perfect in this space and made a good table for the house plan system I created.  I was frustrated with this because it wasn't deep enough for the plans.  I would have loved to have gotten him this drawer system to lay plans flat.  But he didn't like that idea. He didn't want to have to open the drawers to get to plans he was working on frequently.  I showed him this idea and he loved it.  The rolled plans are ones that are in the works, but he isn't' working on at the moment.  The bottom shelves were measured so that the could lay his plans flat like he wanted.
The closet is being used for storage of office materials and older house plans.  Check out how what those plans are in.  They are boxes that we stacked… Great solution… no cost!  His wife actually came up with this one!  It worked great.
Jerry decided he wanted his desk against the wall… not facing out like I suggested. And that is ok.. this is his space.. he works her everyday – not me.   But we put shelves up on the wall for him to utilize.
Remember that shelf I told you to pay attention to?  See it?  Jerry used it to build this conference table (remember he is a builder) He used it as his base.  It is long enough and wide enough for him to spread his plans out on.  Also 2 chairs will go on the opposite side so he can have clients view the plans with him.
This is the same shot where I showed you the piled high kitchen cabinet? The very first picture.  We cleared off the book shelves. Got magazine holders for all his building magazines.  He was going to frame his house pictures on the wall, but just tacked them up to figure out where he was going to put them.
So what do you think?  I was very pleased with it.  It is officially his office.  I'll show you his wife's office on another post. Hers came out great too.
Since the link party didn't seem like a popular thing to do… if you leave a comment that you would like help with a space, I'll still do a random drawing for those who asked for help to be featured.
I am Linking This Post to: