Odwalla + Champions For Kids Simple Service Project
by Amy Trauntvein
I am a member of the Collective Bias®  Social Fabric® Community.  This shop has been compensated as part of a social shopper insights study for Collective Bias®, Odwalla, and Champions for Kids.  However, all opinions are my own. #cbias #SocialFabric #Odwalla4Kids
Too many kids (and families) are hungry in America.  When school is out for the summer, many children lose access to the school breakfasts, lunches and after-school snacks they receive during the regular school year.  Low-income families with children face even more challenges during the summer when they stretch their food budget to provide additional meals for their children.
These wholesome snack bars taste great and are an easy way to fill kids' hungry bellies while giving them the nutrition they need.
Along with the Odwalla bars, we donated  several other food & non-food items that we had in surplus at our home.
With the couponing I do, I also have plenty of non-food items that I purchase for donations and since our local food pantry also accepts these things, we gathered them up as well.  If someone doesn't have to buy shampoo, soap or other toiletries, then they can have more money to purchase food for their families.
Here are our donations packed up and ready to be given to those in need.
When I arrived at our Community Food Pantry, I noticed how empty their shelves were.
After talking with Ruth, the coordinator, and Angela, her assistant, they said that the need keeps rising and also with summer coming, the need will be even greater with kids not getting school breakfasts and lunches.  This small pantry helped over 129 families in April and are tracking to help even more this month.  They receive no funding or government assistance, they only rely on the goodness and generosity of the community.
Angela and Ruth of the Johnstown Community Food Pantry
Ways YOU Can Help! -by Champions For Kids Simple Service Project
GATHER your friends, family and co-workers to fight hunger in the summer by hosting a food drive in your community.  Nutritious snacks like Odwalla Kids Bars and Juice Boxes would be great to give!  Consider giving out prizes to the person who donates the most food at you office or community organization!
LEARN about the needs of children in your community by asking a food pantry volunteer, school nurse, or social worker to talk with your group about their experiences.
GIVE the food items that you collect to a food bank in your community so that children and families will have enough to eat this summer.
SHARE your story with us at www.championsforkids.org/share so that we can celebrate your participation!  How many people were involved, and how many items did you collect?  Please let us know that you are ONE of Millions who helped reach our goal to mobilize 20 Million people by 2020 to become Champions For Kids!
Be sure to check out Odwalla on Facebook, Twitter and Odwalla.com!
Love To All! ~Amy

I have been married for 23 years to my awesome hubby, Todd and we have 4 equally awesome kids who keep me young! Our favorite thing to do together is travel. I enjoy gardening, yoga, walking and saving money! I am very active in my church and am currently serving the children, and I love volunteering at my kids' schools doing whatever I can to help the teachers and staff.
Pin It
But We Have A Bazillion Pens In The House!
Why is That? Pencils and pens accumulate, we put them away, but then don't use the ones put away – we buy more.  Right? We also get them from all over. Trade shows, expos, conferences or company reps give them away freely. Of course there are always those who use them at work and walk home with them in their pockets. (Tell me it isn't so!)
So what is the solution? Clean them out, organize and disperse them in locations where they will be used and needed.
You first want to gather up the pens, you might be cleaning out a desk drawer, or kitchen junk drawer – but try to gather up as many around the house as you can fine.
You want to test all the pens to see what ones work and which ones don't. There's nothing more irritating than grabbing something to write with and having it be out of ink, dried up or with broken lead.
Only keep the ones that write nicely. If you wouldn't want to write a letter to someone with it, then you need to get rid of it. Why keep it if when you grab to use it, you don't like it? You'll just put it back and go look for another one? I'm right aren't I?
Make 3 piles
1) Keep – Keep what you need. You don't have to keep ALL of them, if you have oodles.
2) Donate – Pens, markers that work well, but you don't like them or you have over flow. You can donate them to underprivileged school districts, or underprivileged countries.
3) Trash / Recycle – For the ones that don't work, you can trash/recycle them. I had a reader, Vicki; comment on my other post on organizing your pens, say that you can donate your pens to  http://www.penguyart.com/ (even ones that are broken or don't work). This guy makes artwork with used pens.
 Disperse Them. 
You don't have to have fancy pencil/pen holders. You can use baskets, check book boxes, plastic containers from food items, etc.

Put them in places you will utilize them.
Purse
Desk Drawer
On top of the desk
Kitchen counter
Near your home phone
By your couch or chair
By your bed
In your car
In your workshop
You can also bag some up to give to someone, donate, or keep in your car, or keep for your kids for school.
I did another post, Pens & Pencil Clean Out a couple years ago. You can find some more info concerning this, there.
Pin It
Small Town Johnstown, Ohio Big Red Band Needs Your Vote!
                                                           (photo used from NBC4 Voting contest site)
The Johnstown Big Red Band was entered into a contest with our local TV station NBC Channel 4 for a chance to win $10,000 to improve/maintain our Band.  We just need YOUR VOTES!!
The Make a Difference NBC4 School Grant consist of four different categories:
Think – Academic programs
Serve- Programs where children serve
Shine- Sports, Arts & Music
Connect- Technology
Our school is in the "Shine" Category.  You would think, by looking at the above picture with over 200 students in the band, that we have a huge school. The opposite is true. Our school is a smaller school in a small town.  Most of the bands with high schools we play sports against, have bands of around 25-50 members. Then out marches our band. We call our band "The Pride of Johnstown" – and it is too!
What makes our band so special? The kids LOVE it?  It isn't like a band, from when I was in high school. You think of just those kids who are not "jocks" in band. The "nerds" or "kids that don't fit in". Isn't that sad.. that bands so often have that reputation?  But this is not how it is here. The kids WANT to be in the band. We've had a few football players who are actually in the band. Yes.. they march in their football uniform and preform in the half time show.
Our band is what they call a "dance band".  They preform popular songs and get to really perform!  I found a good video on Youtube that one of the parents took.
You can see one of the cadences (dances, I call them) they do if you go into minute 3:47 of the video.
We have had our band program threatened by levies that haven't passed. The students have to pay to be in the band, and speaking as a parent of two who have been in the band, it isn't very cheap!!  But it is an awesome program. They have preformed at the Chic-Filet Bowl, and last year preformed at Disney World, along with a lot of local events.
Please VOTE for our Johnstown Big Red Band!  You can vote once per day until March 7th! 
If you get onto the main page, just do a search for Johnstown Big Red Band and it will bring us up. Look for the picture above on the contest entry.
You can also help if you are on twitter or Facebook by tweeting for us!!  Thanks!
Please vote for the Johnstown Big Red Band in the NBC4 Make a Difference Contest! Vote once per day until 3/7/13.
#NBC4Grant
Thanks so much!!
Pin It
Donating Clothes & Toys After Christmas
You house just became a crazy place again didn't it?  Now you have all these NEW things to find places for!  I will be many of you still have new clothes sitting in boxes full of tissue paper, still not put away. The drawers are full, closet is full… where will they go?
Toys sitting on the floor because the toy box or shelf is already over flowing with toys. Right?
Now.. I want you to be totally honest with yourself here.  I want you to go look at that closet, those drawers, those toys.  How many of those things have been sitting there, untouched for months? Maybe even years.  We all do it. We hold onto things.  That dress that looked so awesome, 50 pounds ago; that baby toy that we got and loved for your son that is now 10 years old. You know what I mean. It's difficult to give things up.
Now, I want you to think about that family that has a father who lost his job, or that single mom who is working two jobs to help feed her three kids, that family that had a fire (probably in the news in the last week huh?) and lost everything.
                                                             (picture from google picasa)
Look again at your closet…. think about those who can really use those things…. look at those toys…. think about those kids who got absolutely nothing for Christmas.  Can't you make some room in your house?
Selling Them?
I know of many people and hear many people who plan to sell everything.  I understand that, I get it – but… how long has that plan been in place? Have you ever executed it? Have you gotten that ebay store going like you keep saying you will?  When can you have the garage sale? In the summer… 6 months away?
Garage Sales – I have had garage sales in the past, I think they can be great. I can always use the money too. If the time of year is right, you have the motivation and time to do it… great – great… get 'er done! If you can't have one for months, then forget it.
I say – donate it and take the tax write off.  Help others and clear your house NOW!
Where do you donate?
Good Will
Local Shelters
Check with your Church or a local church
Check with your local Food Pantry
Check online for many resources
This is a food pantry that isn't far from me.  I had a friend who used to work here. Most donate their time.  They had food that they gave out to those in need.
They also have a clothing thrift shop.  As I remember anyone could come in and purchase the donated clothing & toys at very low cost and for families in need, things were free.
Here was the pile of clothing and items that people had donated that the staff had yet to go through for the day.  You can't see, but that pile was up to about my waist. Awesome!
When Donating 
Please don't give them broken toys or toys missing pieces
No torn or damaged clothing (if you can't wear it because of damage, others can't either)
Donate and feel good, knowing you have just helped yourself and your family (by creating needed space, teaching valuable lessons to your children, helping with taxes, doing the right thing) and also knowing you are helping those in need.
What a Cool Halloween Surprise!
The kids and I got home from running some errands this morning and I found this box had been delivered!

The kids were saying, "Open it.. I think someone has Boo'd us!"  They were practically jumping up and down with excitement!  I knew we had were had some Boo's going on at Collective Bias called Don't Be The Dark House–  but I had NO idea I would get one!!  (I was excited too… just sayin)

Look how cute!  Then there was a bit of a thank you from my "Boo-er" .   I'm pretty sure I know who it is from the last name on the return label…
Now to see what is!
Oh look… there are five boo bags!!!  Plenty for the kids!
When I actually told them to sit down and handed them each one you would have thought it was Christmas morning!  They were SO excited.  I just realized looking at this picture that 2 of them don't even have their coats off yet from when we came in the door.

Then they went to it…
Mini Snickers and Snickers Peanut Butter, MilkyWay and 3 Musketeers bars!

There were also little decorations in each bag..

and some mini pumpkins.
I was going to leave the other two bags for my teenagers…. but the dogs were driving me crazy. They kept sniffing one of the bags left in the box…
Look what we found… the dogs got a Boo bag too!!!  lol  Love it!!
I had a hard time getting any good pictures of them.  Sadie (the one in this picture) is scared of my new camera.  When I first got it, it was programmed with the "beep" when I took a picture. She is scared of that tone due to a shock collar for an invisible fence we had when she was younger. Anytime she hears it she gets scared. Even though I immediately reprogrammed my camera without the beep… the damage has been done.  So I had to get a couple quick ones when she was almost more enticed by the food than her fears.
 I have to tell you this… in total honesty. I asked Alex to bring me out the candy so I could see exactly what was in there for this post. I heard Zach saying, be careful Alex. I said.. why do you have to be careful bringing me in the bowl of candy?
"Because… look what we did with it!!!" he said… I was shocked!! Absolutly no lie I had NO idea they had arranged it like this. Isn't this cool?

Thank you much Lisa from East Texas Saver – I know for sure it is you after I just found your post!!!  You totally made our day!!!
Helping Others With Things You Don't Use
I tend to donate most of my unused or unwanted things to the Good Will store in our town.  I have to admit it is the easy way out, but I got the most enjoyment when the kids and I went to our local nursing home and took them stuff animals we had.
Dave gets me stuff animals (I love to get them!) usually once a year or so for different occasions.  I  display one, maybe two of them on my dresser in my room and then store the others in a trunk at the end of my bed.
Elise, like many young girls had many stuffed animals that she was ready to give up.  We called the nursing home first and asked permission, and then took over several animals to hand out around Valentine's Day.

It was a little uncomfortable for the kids and myself.  But it was a good uncomfortable. We were stepping out of our comfort zone, doing something we weren't used to.  We had someone who walked us around and helped us decide which residences to give the stuffed animals to. I specifically asked for residents who did not have many vistors.
We had two different residents start crying. One kept saying… "Oh, this can't be for me! This is too nice for me!" She began to cry and just hugged that stuffed animal.  I had a very difficult time not crying myself.
Wow…  the power in giving.
Think of all the things you have boxed up, packed up and hidden away.  Have you asked yourself why you are keeping it?
Keeping it for your kids?
Keeping it for memories?
Keeping it because you feel guilt?
Keeping it because you might use it one day?
I'm not saying to get rid of everything you have stored.  But I do want you to think about it.
Ask yourself these questions:
When was the last time you used it?
Is it something you can live without?
Is it something you think you will use each year? (holiday decorations, camping gear, skiing equipment)
Do you really need to keep it?
Could it benefit and help someone else, instead of being packed away in your house?
So you decide that you do need to get rid of some things, but how do you do it and who do you give it to?
First step it to go through and sort the items.  Decide what you need to keep and what you can give up.
Then decide where you can donate it.  Please only donate things that are in good shape.  No one wants your stained, torn or broken items.  When you take these items to a donation facility, they have to go through them. Guess what? They dispose of them. So help to save them some work.
Here are several suggestions:
Donate to a local shelter
Donate to a larger donation facility (Good Will, Kidney foundation etc)
Donate to your church or a local church that takes donations
Call your nursing home to see if they can use donations
Check the internet to see if there are any disaster areas that still need donations (tornado ravaged, or hurricane, earthquake areas)
Check with your local firehouse or city hall to ask if they know of any local residents who can use help.
If you feel that you can donate some things, but other things you can use some income for, here are a couple other ideas.
Have a garage sale
Take to a resale shop
Sell on eBay
I have had several people tell me that they have parents who have aged and have either a home that needs to be cleared out or  a storage facility that needs to be cleared out and they have no idea where to start.
You can start with a local Professional Organizer in your area.  They might have resources, or know of someone else that helps to take care of those kinds of situations.
Think of others
Think of the good that your item (that hasn't been used, seen or thought about in years) might do for someone else
Donate your clutter! It will do a body good (yours and someone else's!)
Some of you may recognize the pictures. I have done a previous post on donating to this nursing home.
Organizing Tip #2
Use black trash bags for trash and white trash bags for donate.
When you are sorting through a room, you will end up with a big mess on the floor of your room.  One way to keep things from getting mixed up, or taking a whole bag of trash to the store to donate and throwing away that donate bag… is to color code your bags.
Buy black and white trash bags.  Keep your system consistent.  If you already use white trash bags in your house for your trash… then switch the colors.  Keep using the white ones for trash and use black for donate. You get the picture.
Great Way To Off-Load Junk without Trashing The Planet
by: Janice Hill
Clearing out the clutter in your home and in your life can have a major impact on how much you enjoy the life you lead. If you and your family feel like your clutter is taking over your lives, it's time to fight back.
Armed with a broom, a few handy-dandy trash bags, and an iron will there is nothing you can't accomplish – at least not when it comes to the task of off-loading your junk without trashing the planet, that is.
You have to Crawl Before You Walk
Getting started is the hardest part by far. Depending on how long the problem has been building in your life, the task at hand can feel completely overwhelming. Now it's time to take a few baby steps so that you can divide and conquer your clutter problems.
Don't tackle the top of the mountain just yet. Instead, start at the bottom, one item at a time. Clear off enough space to create 3 piles: keep, toss, donate. There are plenty of great charities like Habitat for Humanity Stores, Goodwill, and Kars4kids that are all too happy to take your donations. Even animal shelters will be glad to receive things like old towels and blankets to line their cages.
You may need to get a few boxes to label so that you know what's what. The things that are going to be tossed are generally in no shape to salvage at all. Recycle what can be recycled and carry the rest straight to your garbage container so that they do not find their way back into the clutter pile somehow.
Divide the room into grids and take one grid at a time, with frequent breaks in between, so that you aren't completely overwhelmed and give up in frustration.
Take Time to Enjoy the New View
Once you finish cleaning one room – that is you have everything out that is going and everything put completely away that is staying – take a moment and enjoy the new view of your room before moving on to the next room. This little moment will help you sustain your momentum long enough to get the job done. It will also allow you a moment to appreciate the fruits of your labor.
When you do move on to the next room, remember all the things that got you through the first room. This new room represents a new beginning and a new opportunity to use what you've learned. Break it down into bite-sized pieces so you can enjoy small boosts throughout the cleaning process as you accomplish each and every one of your smaller goals. You'll be surprised by how much faster the job seems to go when you do something like that.
BOTTOM LINE:
In the end, it isn't the major changes that you've made to the cleanliness of your home that matters most. It's the small changes in how you approach cleaning and getting rid of the clutter that matters. These are small steps that are sure to get you going in the right direction.
Janice Hill describes herself as a dedicated Mom who is determined to find her way without losing her hair.
Feel free to link up or just visit my Organizing Mission Monday Link Party!

I would love it if you could vote for my blog! You can vote up to once per day. Just click the button. Thank you!
I LOVE your comments!!
Organizing The McGhee Sextuplets
by Melanie Dennis
Ohio Professional Organizers Organize the McGhee Sextuplets Storage Space for GO Month!
Melanie Dennis,  from the Columbus branch of NAPO (National Association of Professional Organizers) got to experience some fun when she and five other organizers  helped the McGhee family organize a room over their garage.  She offered to write a post for my blog telling of their experience.  See how these six organizers made life just a little bit easier for this instant family of eight!
The McGhee family is scheduled to be on Oprah Show today February 21 in a show called Miracle Births, Miracle Babies so be sure to watch it! You can also visit the McGhee family on the McGhee Sextuplets Facebook Page.
Sandy

GO Month – The McGhee Sextuplets
by Melanie Dennis, CPO®
Every January, members of the National Association of Professional Organizers (NAPO) raise awareness in a celebration of Get Organized (GO) Month. In the past, the NAPO-Ohio chapter members have gotten together to done Messy Space contests, an organizing lecture series, and decluttered non-profit businesses like the Waste Not Center and Susan G. Komen- Race for the Cure offices. This year a request came from the McGhee family in Gahanna, Ohio who needed help in a new home. Mia and Rozonno McGhee became instant Columbus celebrities after the birth of their sextuplets in June of 2010. Friends, strangers, church members, and family have blessed the family, helping them with the never ending daily needs of six babies.
They estimate they are using around 40 diapers per day at this point. This means they need lots of supplies on hand. The initial assessment of the family's organizing needs and budget for the project was done by Ellen Limes .
Five other organizers, Susan Sugar, Terry Cowans, Mary Donovan, Debbie McRae, and I, volunteered to help on a very chilly January day to build shelves and sort baby clothes and supplies in an over the garage storage area.
"Before" Photos of the Space above the Garage
There were diapers, diapers, diapers everywhere
People had donated clothes for the sextuplets that had not yet been organized
After sextuplets and moving to a new house, the McGhee's just didn't have the time to organize this space above the garage.

The "After" Pictures
The clothes were sorted by age and sex. Everything was labeled for easy identification later.

Just by adding these shelves and getting things off the floor, the transformation was amazing!

Mia McGhee is one happy camper!!!

When we finished, the family invited us in to see the little ones and take some photos. Reluctant to enter with dusty shoes and boots, Mr. McGhee reminded us that he owns a carpet cleaning business so it wasn't a problem. We posed around their custom built high chair for six. It is always a lot of fun to work on GO month projects with my colleagues, and even more so when the recipients are so darn cute!
Melanie Dennis, CPO®
Certified Professional Organizer
Neat Streak Professional Organizing
Blog: Room-inations
I'm linking this post to:
Keeping It Simple – Motivate Me Monday
Kibbles 'n Bits Bistro Dog Food to the rescue
I had the opportunity to purchase some dog food for my dogs to try and also to donate a bag to a local dog shelter. The timing couldn't have been any better.  E has been talking about wanting to be a vet for some time. She is in 4th grade now.  She has also talked about volunteering at a dog shelter or vets office at some point.
Evidently the Second Chance Humane Shelter came and talked to the  kids at their school.  She decided that she wanted to go and help out.  Dave got the phone number for her and she wanted him to make the call.  Dave told her no, that he thought it was best if she made the call on her own.  She made the call and discussed it with the woman, and then they of course asked to talk to Dave to verify it.
They were all set for this last Sunday.  The perfect timing came in when last week I got the chance to go to Walmart and purchase a 16 pound bag of Kibbles 'n Bits Bistro Dog Food to donate to a shelter. I was also supposed to buy one for my dogs, any size I wanted.
So off I went to Walmart.  I had some other shopping to do also, but didn't have any trouble finding the dog section. I had been there many times before… so I should hope not. But there are hanging signs to make it easier.
The Kibbles 'n Bits Bistro Dog food in the small 3 pound bags was on the end cap.  It was $4.95 and I decided to get that bag for my dogs.  We had an experience with changing their dog food once a year or so ago.  They both got sick and that isn't something I want repeated! I figured I would let them have one bowl full and see how their systems handled it. Then if that went well… they could finish off the bag.
I had to find the bigger 16 pound bag also.  I went down a couple aisles. Found the dog toys, leashes, bowls etc… and the smaller bags of dry food.  But I didn't see this brand in the small bags other than this end cap display at first.
I went down the aisle with the large bags and then I spotted them.. up near the front of the aisle (of course)
I knew I wanted to buy the new Bistro Meal dog food. I have to say that I was impressed with the picture on the bag.  Looked like  a really nice meal!!  lol
I then saw that there was a $2 off coupon right on the bag.  Coolio!!  So I grabbed one 16 pound bag and figured I'd be on my way. Then I spotted the other end cap (not sure how I missed it coming in!) with the big bags!  It was $12.  Of course then you take off the instant coupon of $2 and now I'm down to $10.  To make the pot even sweeter I printed off a $3 coupon at home.. so now I am down to $7 per bag.
Now I am no math wiz.. but I am smart enough to know that here I am with a 3 lb bag of food in my cart for $4.95. I could get a second bag 16 lb bag of food for $10 (I only had one of the $3 off coupons).  It was kind of a new brainer.  So I put the small bag back and got a 2nd big bag (that had a $2 coupon on it.. not all the bags did)
I did the rest of my shopping, and then checked out with a total of 3 coupons (two of the $2 instant and one $3 off).  Another fun surprise was that the big bags rang up as $11.48 instead of $12!   Wonder why they didn't have that on the signs?  Just makes sense that the lower price would attract even more people to buy right?
Home to check out what my girls think of it. Sadie is 8 years old.. and she is checking out the picture of good food! Gizzy is my food hog, she is 6 years old.  She also was very excited.
According to everything that it says on the bag… this stuff looks really good.  There are vitamins, antioxidants and protein.  We buy our dog food primarily on cost.  I would like to say we get our food at the vets office (I used to years ago when money wasn't so tight) but we have 5 kids at home and 8 total.  We just don't have the money in the budget to spend on the best food for the dogs.  They are both happy, healthy, and in good shape.
I let them both try it first.. and then I used it for some tricks.  Sadie is the pickier of the two when it comes to food.. and she was ready to do about any trick after she first tasted it…. so that was a good sign.
Then the big test.  I cleared out their other food from their other food.  I washed the bowl out… and then put the Kibbles 'n Bits Bistro Dog food in.
Instant run for the food.  You would have thought these girls had not eaten in a week.  Seriously!  They had food in their bowl before I switched them out…. and they hadn't been hungry!.
These dogs ate for like 20 minutes! I cleaned the kitchen and folded clothes and put in another load in the laundry and they were still eating. This is what the bowl looked like after their "dinner"
I think it was a success.  And a bigger success in that I can say two days later that neither dog has gotten sick from it.
Now for the rest of the adventure.  On Sunday we went over to the shelter in Johnstown where E was volunteering.
I told them what I was doing and asked if I could take some pictures. They were fine with that.  It was a house, actually Holly's house and her sister Paula was there working.  There were also 3 girls (including E) and the one girls father helping out.
I don't remember all the dogs names or who had what name.. so I won't even try. lol
She said that they had about 50 dogs there presently and that the cats were in the other part of the house. We didn't go in to see them. Paula was wonderful with all the dogs.
The place wasn't in the best of shape… there was nothing fancy about it.  Repairs were needed, but the dogs were all clean, they all had beds up off the floor with blankets.  They had clean paper on the floor and their play yard was clean.
The cages were full walk in cages.. not small little ones that can only hold one dog.  They all had assigned cages and they knew which ones were theirs. They got to come out in groups to eat and play outside. Can you imagine the food that 50 dogs go through?
Or all the work involved with taking care of them?
This is a shelter that is supported by donations only.
They had the smaller dogs inside and the larger ones out back.
E is getting ready to go out to show us the play area.
Someone was getting their belly rubbed…. ahhhh…
I went out to the back area.  Holly was back there with the bigger dogs.  She brought a couple out to show me… they had their own little house back there with heat.  There were cages inside and ones outside so they could play.
Each dog had a story attached to it. The reason they were there. These two brothers had been indoor dogs since they were pups. Then a new baby came into the house and suddenly they were outdoors only.  A neighbor turned them in when the yellow lab got caught under a fence and torn his back open.  Holly said she'd never separate these two.
This pit bull was the funniest thing. He came running out to see me.. all excited and smiling.  She said that he had been in a home with one other pit bull.  The law evidently says you can't have more than one. This guy had two.  They were going to put this dog down, even though he had never hurt anyone.  Holly said he was the sweetest thing ever.
The biggest problem they were having when we were there was the fact that they had no water.  They were trying to figure out if it was the pump on the well that went bad.  Holly was saying she was probably going to have to go and buy water at the store, but wasn't looking forward to the cost involved.
I suggested they put the girls to work while they had them here and have them collect snow in these buckets.  There was a whole big yard of untouched snow they could let melt for water.  Holly was concerned about the snow and what was in it.
I have to admit that I chucked a bit on that one only because.. heck, the dogs eat their poop! Snow wouldn't be that bad would it? But, it also shows the concern that they have for the well being of these dogs doesn't it?
It was a good experience.  I dropped off the bag of food and got to learn about a new place. I know E is going to go back. I am thinking of the extra blankets I have that I can donate.  A 16 lb bag of food is like nothing compared to what all they need.
I got home to see my girls.. and realized how lucky they were.  Sadie had been a rescue dog. She was 11 weeks old when I got her. But her litter of 7 pups had Parvo and were going to be put down.  The vet at the Annhurst Animal clinic in Westerville wanted to save them. He treated them and only lost 1 of the 7.  Thank goodness because Sadie has been an awesome dog.
Disclosure: I was compensated for this post by Del Monteto but the pictures and thoughts and opinions are my own.  Sadie and Gizzy's opinions are pretty obvious too.
See The Joy You Can Spread!
I LOVE getting stuffed animals and my husband knows it.  But how many stuffed animals do I need?  I keep one on my dresser and then I end up putting the rest of them in a chest at the end of my bed.  I do donate them every few years, but I had six that were just sitting shut up in the chest, not doing anyone any good.
What about my memories?  I have them!  I took pictures of them when I got them and I have the feeling of love that I got when my husband gave them to me.  TIME TO PASS IT ON!!
I got in my chest today, because I knew I had at least two from Valentines day. What better time to give them away?
I actually had three of them.. and three from Easter.  We have a small nursing home right here in town.  I called them first thing this morning to ask if it would be alright if we stopped by this afternoon after school.  I told her we would have six stuffed animals and could she find six residents that do not normally get any visitors that we could give them to.  She was very helpful and told me to ask for her when we got there.
Do you think any of them would care that the foot says 2010 on it?  I don't think so.
So I bagged them all up to get them ready to go.
I picked up the kids after school and we stopped by the nursing home.
The kids were all excited and each picked out the two they wanted to donate.
The residents had just finished their Valentines party. There were balloons and decorations on the walls.  I didn't take many pictures inside because I wanted to protect their privacy.
The nurse took us around to six different residents that do not receive visitors.  The black dog went to a man who was almost blind. The big purple bunny went to a woman who started crying and kept saying, "It's so beautiful!"
This woman said we could take her picture (I didn't ask all of them). I just missed her little smile.  But she had a hold of that bear.
Do you think she cared that it said 2010 on it's foot?
Then the last resident we gave a stuffed animal to was a hoot.  She wanted the kids to come over to her bed. She talked to them and asked them questions. Found out they were triplets.  I asked if I could take her picture and she loved it.  She wanted to know when I was printing them out.  I told her I normally don't anymore but asked if she would like a copy. She said she would love it! So we will take her back a copy of it.
This was an awesome experience for my kids!  They were talking about it all the way home.   They were uncomfortable in the nursing home, I was too.. and that is ok.  We talked about it.  We talked about what it would feel like to never get a gift or have anyone visit you.
I think they realized all on their own… just seeing these faces and the smiles and how every one of the residents hugged those stuffed animals as soon as they got it!
So next time you go into your child's room (or look in your own chest if you have some stuffed animals yourself) think if that stuffed animals would be doing more good where it is… or if it would be good to donate it to someone who could really use a pick me up!
I would love it if you could vote for my blog! You can vote up to once per day. Just click the button. Thank you!
I linked this Post Up To:
Do You Save All Your Christmas Cards?
If the answer is yes…. may I ask why?
Guilt?
Because you thought you were supposed to?
Because you want to remember who sent you a card?
Because you enjoy going back and looking at them?
There are many reasons people save cards. But think to where you are storing them.
Do you have plenty of room for them?
How often do you actually go through and enjoy them?
Are they neatly organized by year so that you can find cards you are looking for?
My guess is that most of those answers are "No".  More than likely they are scattered in a few different places, or thrown in a big box. They might even be musty smelling by now.  You haven't gone through them in years…. I'm I close?
I would like you to consider some options.
1) Donate your cards – There are several places that take card donations.
St Jude Hospital accepts card fronts.
Cancer Research Foundation also accepts card fronts.
Your local nursing home might have craft programs
Your child's art teacher or pre-school, church youth program, local recreation center or adult day care center. These are all places that use them for crafts.  They can recycle the fronts of the cards.  They might use them to make gift tags or other cards.
2) Recycle them instead of throwing them away
Be sure to put them in your recycle bin if you are going to throw them away. If you are in the mood that you just have to get them out of the house now, and you don't have the time to take them to a nursing home etc, and don't want to or have the funds to ship them to a donation center…. don't beat yourself up. It's ok. Just put them in the recycle bin. They will still go to good use.
3) Crafts
Please don't keep them yourself for crafts unless you KNOW you will use them within the next couple of months.  We are all good at saying, "Some day I will get to this, so I want to be sure to save it now".   Donate them instead.
4) Put only the special ones in a Card Memory Album
If there are some really special ones – maybe from your mother who has passed on, and she has written a personal note – then save it. But pick and choose the really meaningful ones. There are actually greeting card albums – called "Card Memories". I did a review on one awhile back. Heather who created this album designed it so that the card slips in and is in an "open" position. So that you can read the insides.  I would suggest for those cards that you feel you have to keep – purchase something like this and place those special cards someplace that they seem special. Then you can enjoy them.
5) Take pictures of them
If you want to remember them and have some guilt pangs about donating them, then take some pictures of them. Put them in groups and you will have digital memories – more than likely you will see the digital pictures much more often than you looked in that box anyway.
6) If you keep the cards to remember who sent you cards the previous year
That is an easy one. Just either make your own list of who you sent them to and who sent them to you on your computer. Or they have little card address books that have places to mark that down in.
7) They have pictures on them or in them. I can't throw it out.
Again, think about those pictures. If they are pictures of people that you really think you need, then keep only the pictures.  But if you are keeping those pictures – plan to get them into an album.  If you have good intentions, but you still have Christmas pictures of families from 1982 that you "plan" to get into albums… well, you get the idea.
Here is an idea – for those families that you get pictures from each year and you want to watch them "grow" up in the pictures?  Then put 2 or 3 of them together…in order of the years – snap a picture to keep digitally of them… and then discard the actual picture. You have it saved…it's ok to throw out (recycle) a picture.
Getting rid of your clutter in those boxes of old cards is one way that you can help others.  Donate….
I linked this post to these Great Link Parties
1) Keeping it Simple
2) Making the World Cuter Mondays
3) House of Grace
4) The Gypsy Corner – Three or More Tuesday
Special Needs Kids can have some Special Need Supplies
I have worked as a pediatric nurse for 28 years and had 4 years working as a Nursing Case manager for Pediatric cases for In Home Nursing care. I speak from experience when I say ….."hats off to all of the families that have special needs children." I know that you have challenges that most families can't even dream of.
There are of course many levels of special needs or medically fragile children and care – from needing extra work books and tutoring to rearranging your entire house to accommodate wheelchairs, ventilators, lifts and IV poles.
Trying to organize your home may be tough…but can you imagine having to turn your family room in to a bedroom with a hospital bed, nursing care coming in and out, oxygen tanks, suction machines etc…. ? It can be an organizing nightmare.
Many of these families do not have the luxury of having outside help in taking care of their children.
The biggest tip I can give them in organizing their medical supplies are:
1) clear containers
2) Label ..label…label!
I particularly like using something like the above cart. I presently use it for a craft cart for my kids…but it is great for special needs supplies. It is on wheels and can be easily moved. The drawers are clear so it is easy to visualize what is inside..and it is plastic so it makes it very easy to label. There is also a surface on top. Great for being able to lay needed supplies for procedures like changing dressings.


These bins I am using for clothing….but it can be used for extra supplies. There might be attends, chux pads, dressing supplies etc. The key – label!!
Under the bed storage can be great for supplies that aren't used as often.
Also…use that wall space! It might be with shelves, or peg board or magnetic boards.
Working to Erase Teacher Funded Classrooms
I was thrilled to be included as a Max Mom in the Office Max campaign to help make a Day Better for a deserving teacher!  They realize that teachers have to spend a lot of their own money for classroom supplies – either because the school district can't afford to help or the actual students aren't able to purchase what they need.  They have a goal of erasing the teacher funded classrooms!
I was given an opportunity to either have a contest on my blog so that my readers could nominate a teacher they felt was deserving… or I could present it to a local teacher.  I knew immediately what I was going to do.  A teacher and a dear friend of mine deserved it more than any other teacher I could think of.  For what she has endured this year with a severe injury and her constant drive and determination to make things better for her students (many of which are disadvantaged) … this was a "no Brainer" for me.

I really wanted to present this to her in her classroom, but I just couldn't work it out.  Debbie had invited a big group of people over for a bonfire at her house and I took the opportunity along with a couple of the other ladies who came inside to present this to her at her home.
Disclosure:  Office Max provide the $100 gift card, T-shirt and rubber band balls for me to give to a teacher for the "A Day Made Better" campaign.  I chose to also give Debbie the Avery gift basket (that I added a Build a Bear, water bottle and some other odds and ends that I got a swag at conferences) that was sent to me to review on my blog.
Schedules are Important
Time Management is everything for a Special Needs Child
If you had medications every 1-2 hours, G-tube feeds every 4 hours, dressing changes everyday, physical therapy 3 times a week, occupational therapy 2 times a week, a tutor coming everyday, oh…wait don't forget you have an appointment with the neurologist and physical medicine this week…and you have to be sure to order supplies this week. I almost forgot the respiratory company is coming to check on the O2 concentrator on Wednesday.
That is just one piece of the puzzle that some families have to deal with – who have special needs children.  Just put that on top of your schedule and if you have other children who have ball games and play dates.  Can you imagine?  Until you are in the shoes of someone who has a medical fragile child ….you just have no idea how much they go through and how much they have to deal with.
Schedules?  Essential for survival in this situation.  Their children's lives revolve around schedules with medication, treatments and appointments. That is why a command center like I mentioned in my last post would be needed – or a centralized computer calendar or home calendar.
If you know of someone with a special needs child – if you are able, reach out to them…see if they need some help or just a supportive ear. They are carrying the weight of the world on their shoulders.
More than Ever a family with a Special Needs Child need to be organized
If you think you have a lot of mail coming into our home….just try to see what the mail box of a special needs family is like! They have the same amount of mail and papers coming into the house that we do…..but then they have a massive non-ending incoming stream of insurance papers, medical bills and statements, home health insurance, letters from Doctors, physical and occupational therapist paperwork and bills…and it goes on and one…
Command Centers
The Command Central pictured above of course would be anyone's dream center. (This was from a Parade of Homes model home).
But you can make your own using this is a guideline. Here are some lower cost alternatives.
This is from Office Max…Peter Walsh inspired.  Love it.


This is sticky note/ dry erase organizer.  It is from PlanetSafe Planners.com.   I think this can be used in conjunction with other options.


This is my home made job board….grab a magnetic board and follow these instructions. I am thinking this could be used for medication time routines…G-tube feeding times, nurses schedules or just a job board.


Get a box of these magnets with the sticky back. I use old business cards and flip them to the blank side.


Peel off the back and put the business card or cut piece of paper/construction paper on the sticky part.


Then put whatever you want to on the front.
Having a place that everyone can see what needs to be done and when is essential in being able to run a smooth home. Calendar with Doctors appointment, sports schedules and adult commitments can help save many headaches in a very busy home.
I'm linking this post to: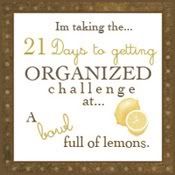 So you think you have trouble organizing your children?
Can you imagine if you had a child with special needs?  Think with me for a moment of some of the possibilities of the equipment some of these medically fragile children have. Then imagine where you would put all this medical equipment in your home.
*Wheel Chair
*Walker
*Lift (to lift them out of bed or tub)
*Oxygen tanks
*concentrator for the oxygen (about the size of a tall ottoman)
*Suction machine
*Hospital Bed
*Physical therapy or occupational equipment
*diapers for older kids
*IV pole to hang feeding bags on
*G-tube, catheters, dressing changes, tape, medications, syringes, trach equipment…
I could go on and on and on!  Now of course not all special needs children need all of this medical equipment.  A mentally challenged child may have autism or Down's syndrome and need some learning or PT or OT supplies…but they may not have all the physical needs of other physically handicapped children.
I have been a pediatric nurse for 28 years. I was a case manager for the Pediatric in home cases for 4 years…and have seen many families with situations they deal with daily…that you and I can't imagine. Funny thing is….most of them are organized. Maybe it is their nurses that help them to organize….but I think most of these families realize to survive and do the best for their special needs children (appts, medications etc..) they HAVE to be organized.
But please believe me when I say that these households have double the need to be and stay organized and less time to do it than you and I.
Over this next couple of days I am going to post some tips that can help the Special Needs family.
Oklahoma Flooding – Consumer Queen's house flooded
We see something like this…and we CAN help.
I just read this post that Monica – Mommy Brain Reports wrote about her (and my) dear friend Melissa – Consumer Queen . I couldn't believe it. You can read her post from earlier today as she is just learning the news. This is what us bloggers do. If something it out of our control….writing helps us deal with it.
This all happened today. She had over 2 feet of water in her house. Everything is ruined. She called the insurance company to find out that nothing is going to be covered. This is the house that they just moved into a couple of months ago. Her mother needed help and they needed to move them in with them. So they had to find a bigger house. Her husband @ConsumerKing has Ankylosing Spondylitis which is a degenerative disease that causes much pain and can be debilitaing. He isn't able to work and because of this she has to work full time in order to get medical insurance for the family. He just had a hip replacement a couple of months ago and has to walk with a cane. That is him out in the water. He just recused a woman and her daughter from the flood waters. Unbelivable!
They are Safe
Thank goodness they are all safe. That is the most important thing. Monica told me that she got a call while she was at work with her kids screaming and crying that the water was rushing into the house from everywhere. Her boss drove her home to find the firemen getting her family and animals out. They are staying with her mother in law….but realizing everything is gone…and no money to replace it. Devastating!!! The house will have to be gutted. Everything replaced. Can't even imagine.
Donations
We can help. Even if you could donate $5 or $10…it will add up. Monica started this campaign and I can assure you that it is completely up and up. I know them both personally and it is no scam. Promise!!


This is Melissa and I at SXSW this year.
Thanks for anything you can do to help her!
Fairy Tales, Princesses & White Horses
Today was a trip to Build a Bear for my Step Daughter.  It was courtesy of Maxine Clark (founder of Build a Bear).  You see a couple of months ago I heard about a family that had several terrible things happen all at once.
The mother had been battling a kidney disease. She was on dialysis several times a week. While they were waiting for her to get a new kidney, they found out that she has pancreatic and intestinal pcancer.  Then their house burnt down…they lost everything (other than their lives).
There are 4 children, three girls and a boy.  Toni (@totallytoni) told us about this family in the Collective Bias Community.  I talked to my s-daughter and said I was going to pack up a box of her clothes for these girls.  She came up to help me. We packed up a box of clothes and then I suggested that maybe she had some toys that she didn't use as much and might like to donate.  She picked several very nice things ….and then handed me her Build a Bear.  She only had two of them.  I asked her if she really wanted to give it up (it was in perfect condition with a cute outfit on it). She said, "Those girls need it more than I do."
I was so proud of her.  So we packed up the boxes and sent them off.
I then told @buildabear and also @ChiefExecBear (Maxine Clark) on Twitter.  They were so sweet.  They sent the children who lost their home and have a very ill mother all their own Build a Bears.  They also sent my s-daughter a gift certificate so she could pick out a new one.
Thank you so much!! Here is a video of her day today.

I realized that I put 3 kids instead of 4 in the video. Maxine sent them all a bear.