How Do You Deal with All the Daily Papers?
I have my daily paper command center, but it needed a bit of an overhaul now that I have my new office set up.
I have tried several different solutions for paper command centers.  Several I have used because I have reviewed them.  You can see them at the end of this post.
I use this Paper command file to deal with daily papers coming in.  This is not for my bills.  This is not for all the drawings that Johnnie and Suzie bring home from school.  (I only keep 1 or 2 of those and they go into the file drawer in their folders) This is for all those papers that you need to follow up on, do immediately or need to reference quickly.
For the other papers
But I have a cubby by my chair in my office that I have plans to put my paper command center.  So I had to have a system that would fit and also would be easy to file papers in.
I went down to my basement where I have some organizing supplies that I have used in the past or plan to use.  Here I found the back plastic filer that has drop in separate file hangers.  These all fit into a file box, but I'm not using it that way now.
I got it all cleaned up.
I also cleaned the individual files boxes that fit down in. Each one of these has a specific function
1) Home
2) Business
3) Medical
I went through each file and decluttered it.  I made the following decisions when I sorted
1) Keep
2) File
3) Toss (recycle)
Then I made new labels using my label maker.  I'm not one who makes labels for every little thing in my house, I'm not teasing when I say the label maker tape can get expensive – but I do think it really makes the file tabs look awesome!
I color coded the labels.  Blue is for home.  Yellow is for work.  Green is for Medical / expenses for step kids
I already had everything, but didn't have enough of the same color file folders to do them all purple, or red etc.  I did have enough to do the ugly old green..and I had to use those in the last section.. but I at least got to use the purple ones up front where I'll see them.
I do suggest that you put the file tabs on the front part of the file folder.  I also suggest that you put them all lined up in a row. It is easier to see them lined up rather than darting all back and forth if they are spaced out.
Here is how I broke them down.  Of course we all have different needs and priorities in our homes, so more than likely my system won't be your system.
This is my Family section of my Paper Command Center
Keep in mind these are not for long term paper storage. That would be the file cabinet.  This is for
1) Home Business – anything pertinent to the home, but not designated to a specific person.
2) I grouped the triplets together because most of what they get pertains to school or karate and it is all the same anyway
3) Each other family member has their own file, including Dave and I
Now for the medical.  For me this includes insurance, dealing with 2 ex's and the kids medical and other expenses that have to be split.
The last folders are the ones I use most often. They will go in the front of my command center.  It is for my business.
In the very front I have a "To Do" folder.  This is the place that I will put papers that have immediate need.  This is not for bills (that is in a separate location that I will go over in another post). Then I have broken down the areas of my business that I need.  This might include for you
1) To Do
2) Projects
3) Banking
4) Specific projects might get their own folder
5) Income/Expenses (mine are separate, I'll show you in another post)
Then each of these 3 separate drop in sections fit down in the main one.
I place the "home section" in the back.  The "medical" section in the middle and the "business section" up front – so it looks like this when it is complete.
Then it fits right beside my chair where I can have instant access to it.
I just pull it out a bit and can slip papers in very easily.
So what do I do with all those other papers that need to be filed and go into the file drawers?  Like receipts for bills that were paid, or that special paper that Johnnie or Suzie brought home that I don't have time to run over to my file drawer and file right now.
Those go into my general file bin that I will sort and file at the end of each month.  At my old desk set up it was a stackable plastic tray.   So I just put them right down below in this pink cubby.
From this pink bin.. they go straight to my file cabinet.
Just to refresh your memory:
Paper Command Center "Before"
Paper Command Center "After"
Here are a few other Paper Command centers that I have reviewed in the past and that might work better for you.  Remember, none of us are the same, we have different needs and we have different systems that might work better for us than others.  Don't ever think you have to fit into a cookie cutter mold and do something exactly like someone else.
One of these other systems that I have reviewed in the past might work better for you.
The "In Place System" by Peter Walsh
The PileSmart® Desktop Organizer Tray by Pendaflex
You might also like the Smead File System
Your Mission if you chose to take it is: Show me your Paper Command File!
Link up Your Office Mission Post
You can find the linky by clicking on the button above or going to my Organizing Mission Link Party. Feel free to keep linking up your different office projects that you accomplish during this Office Mission. I am ok with also linking up organizing projects that aren't office related. This link will be up until Feb. 24 so you will have time to add your office projects in.
I would love it if you could vote for my blog! You can vote up to once per day. Just click the button. Thank you!
I am linking this post to:
This is our family command center.
Toni from A Bowl Full of Lemons is having a weekly challenge that I saw.. and decided to add my post to.  I would love to revamp this, but haven't figured out how. This works for us, but I would love to have a place to sit and take off shoes, and have it look a little more sophisticated.  lol
Each family member has a different colored cubby.  They can use their cubby for hats, mittens, keys, mp3 player.  I also use it if I find little things around the house downstairs. I will put it in their cubby.
My husband has the phone charger and organizer on top. He has a place for his keys, his phones (work and personal) and a drawer for any other little things he may have.  I also have a pencil box beside for pens, pencils and I have a pair of scissors there for convenience.
We have the magnetic board/bulletin board to put any messages to each other, or post a note.  We usually keep the karate schedule posted because it changes every couple of months.
I then have the mirror… which happens to be magnetic too.  and use the mail slot for my husband's mail.
It works great for us for now.  But when I re-do it (which I plan to this year).. I'll be sure to let you know.
Just inside the hall closet I hung 3 hooks and put the triplets names on them. They hang their coats there. Their book bags used to go on the hooks too, but the older they got, the heavier the book bags got.  Now they go in a bin on the landing of the basement steps.
I still have the struggle with the shoes.  I don't have a place for the shoes.  They take them off at the rug by the door if they are wet, otherwise they come over to this closet and take them off here.  But it is a small closet, and if there is more than one pair of shoes per person, I make them take them up to their rooms.
I am going to be working on a "mud room" in my garage, once we get the shed up this spring.  We will then have the kids come in through the garage and have a shoe cubby out there.  Can't wait!
I would love it if you could vote for my blog! You can vote up to once per day. Just click the button. Thank you!
I am linking this up to: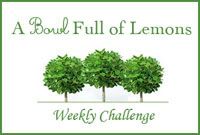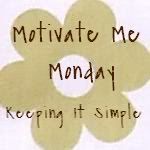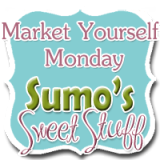 Check out My Mail System
My mail generally comes around 10:15 am.  I don't always rush right out to get it, but at some point during a break in my day… I'll head out.
Isn't it kind of fun to open that box and see what you've gotten for the day? Usually it is just junk mail or bills, but every once in awhile you get that surprise letter or check that just makes your day
With the newly fallen snow (and more to come) I just thought this was fun… out to the box.. in to track in my house (not really…shoes off)
I sort out what is my husbands and what is mine.  He likes getting mail too… so I don't open his.. even though he wouldn't care if I did (unless its a bill…then I take it)
This is our command center by the front door. Below this area are the cubbys that the kids use. My hubby just moved his office down to the basement (his man cave) and we started using this mail slot that has previously gone unused for his mail.
It seems to work alright if he picks it up. But he tends to let it build up… which drives me a bit crazy to have to see when you first walk in the door.  I tried to talk him into a plastic slot that could go on the wall on the way down the basement steps, but he felt that people would hit it. So for now.. this will work.
My mail goes into my "in" box sitting on my desk.  I usually try to take care of it right when I get it, but if I am too busy or I'm not home, then it goes into this clear tray.
Now.. when I am home, what I normally do is to sort it right then.
The junk mail that has information that could be harmful to us.. ..goes into the shredder.
Then the envelops or any other junk mail goes into my trash can by my chair. I will then take it out to the recycle bin when it's full.
Then the bills and any other pertinent mail that I have to deal with, will go into my "bill box"
Which is a new section of my Ikea wall unit (that you will be seeing before long when you see my office make over.
I tab them with the date they are due and put them where I can work on them once they are due.
This system works for me.  I love the daily reminder bill files, but I don't have the space for one with the new office set up I did. That is fine for me… I like this system.
I was inspired to do this post because of Toni's A Bowl Full of Lemon's 21 day challenge. I haven't been participating in the actual daily challenge, but I've added a few links but sure love looking through them.
If you have a blog post on your mail system, I'd love for you to link it to my Organizing Mission Monday link party.  This link party will be left open for a month to go with the Mission – Office that I am working on with my link party.
I would love it if you could vote for me! You can vote up to once per day!
I'm linking this post to: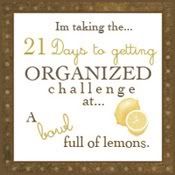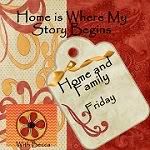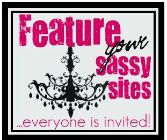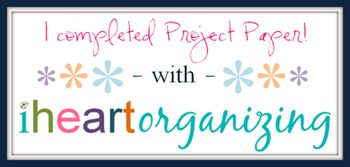 Organizing needs Maintenance.
I use these cubby's at our front entry way for a "drop zone". But they needed some organizing in a bad way.  I am in a cleaning and reorganizing mode… so I decided that instead of letting the kids go through them…. and leaving too much in them – they were getting a total dump and clean!
Each child has their own color cubby. They can use them from a drop zone (supposed to be temporary drop zone) for little things, hats, mittens etc. They routinely clean them out. But.. that has gotten a little lax lately and they were all stuffed to over flowing. Time to clean them out.
Look.. an empty pop bottle in my teenagers. I mean.. really?  I guess he decided this was his temporary trash can!
It must be contagious.. because my other teenager had one too.  ugh..
At least there is no trash in this one.
In come the trash bags…..
Don't worry… I am not doing what I felt like doing… and trashing it all.  That is why I used clear plastic bags. For one to tell who's bag is who's before I put it in their rooms. Also so that it didn't get thrown out by accident.
I just dumped the cubby content into it's own clear plastic bag.  Then I distributed them to their rooms… and when the kids got home, they went through them.
Ahhh… so much nicer.
Doesn't that look great?  The only thing in there right now are my shooting gloves in the purple bin.
Organizing requires maintenance. Just like most any task in the house…. once is not enough. It is best if you keep up on it and not let it get out of hand… and it's much easier to deal with.
If you let it go too long… it becomes this monster that you are scared to deal with… so it keeps growing and growing!
More than Ever a family with a Special Needs Child need to be organized
If you think you have a lot of mail coming into our home….just try to see what the mail box of a special needs family is like! They have the same amount of mail and papers coming into the house that we do…..but then they have a massive non-ending incoming stream of insurance papers, medical bills and statements, home health insurance, letters from Doctors, physical and occupational therapist paperwork and bills…and it goes on and one…
Command Centers
The Command Central pictured above of course would be anyone's dream center. (This was from a Parade of Homes model home).
But you can make your own using this is a guideline. Here are some lower cost alternatives.
This is from Office Max…Peter Walsh inspired.  Love it.


This is sticky note/ dry erase organizer.  It is from PlanetSafe Planners.com.   I think this can be used in conjunction with other options.


This is my home made job board….grab a magnetic board and follow these instructions. I am thinking this could be used for medication time routines…G-tube feeding times, nurses schedules or just a job board.


Get a box of these magnets with the sticky back. I use old business cards and flip them to the blank side.


Peel off the back and put the business card or cut piece of paper/construction paper on the sticky part.


Then put whatever you want to on the front.
Having a place that everyone can see what needs to be done and when is essential in being able to run a smooth home. Calendar with Doctors appointment, sports schedules and adult commitments can help save many headaches in a very busy home.
I'm linking this post to: