This is decorating I love. lol That is an organizer for you – right?
This wall organizer unit it from Pottery Barn. I love it.  White or black, but I have to say I will probably have to find an alternative, as this is out of my price range when you add all the pieces I want together.
Here is another piece that I really like.
These wall pockets are from Ballards. I actually found these after I saw a blog post from Nike from  Knock Off Decor about making them yourselves.  Ok, I'm not that talented!  She does an awesome job.
Actually I am planning on getting something very similar to these as I decorate the house.  The four pocket one from Ballards is a real possibility.  I'll let you know if I end up getting something like this.
Those Papers Coming Into The House – They are  never ending!
I discussed my mail system here, but I wanted to go into more detail with you today on how I handle the rest of the paper trail.
Over the next week I am going to go over how to handle in more detail, so be sure to follow along!
1) Bills
2) Files and how to Organize Them
3) Daily paper file or "Command Center"
4) Receipts /Income and how to handle that for a home business
5) Password Directory
Mail Comes in from the Mail Box or School Papers
You can see my post on "mail" here.
1) One Central Location For Mail
Have just one central location that the mail is to be places when it comes into your house. Make sure each family member that might bring mail into the house has 1 place to put it. That way it isn't left on the kitchen counter one day, dining room table another, couch – underneath the newspaper another day.. you get the point.

2) Sort It
Separate out your spouse's mail  or if you have another person in the household that routinely gets mail and have a specific spot that you place that when you sort it from the main "mail hot spot"

A) Bills To Be Paid
B) To Do
This will go into your Daily Files  or "command file center". School conferences, appointments, things you have to follow up on.
C) To File
Papers that you need to keep. There are no "pending actions" to be taken on these papers.

D) Junk Mail – To be Shredded
You can see my post on shredders here.
If you have a specific plan for your paper trail, it will make it run much more smoothly. If you don't have a plan, things will get lost, be late, appointments missed and life will be a bit more chaotic.
Your Mission if you chose to take it is: Track your Paper Trail!
Link up Your Office Mission Post
You can find the linky by clicking on the button above or going to my Organizing Mission Link Party. Feel free to keep linking up your different office projects that you accomplish during this Office Mission. I am ok with also linking up organizing projects that aren't office related. This link will be up until Feb. 24 so you will have time to add your office projects in.
I would love it if you could vote for my blog! You can vote up to once per day. Just click the button. Thank you!
Here Is How I am Using The Cubby Shelves In My Office
I already had these cubby units, so I was going to put them to use. I have the large Ikea Wall unit now, but these will still be used.
Top Shelves
I already had the pink and green cloth drawers also.  Top shelf I have a couple boxes with video equipment (green box) and business cards from conferences. I have them divided into separate conferences and labeled.  I do admit there have been very few times that I have gone back to them after I have done my initial contacts following the conference.  If at any point this box becomes full, I will have no problem purging them.
On the other side I have 2 baskets with computer DVD's and the other with photos backed up.
And the the photos in this one.  I have obviously had them in here for awhile. I do most of my back ups now on my external hard drive.
But I did label these with color coded (per year) labels.  The baskets I got at The Container Store several years ago.  The label on the front obviously isn't the best. Against the wire basket the label didn't stick, so I used tape. It's been on there awhile, and serves the purpose, but I'll fix it at some point.
I know.. these would look much nicer with labels from a label makers. But… I don't get in here very often, and that would be an expensive venture. These work just fine.
2nd Shelf Down
The 2 cubby baskets are on the next shelf down. I have padded envelops in each of them. The pink one has the larger ones and the green one has the smaller sizes. I used these to ship out my pouchees and card cubbys.
3rd Shelf Down
I have tried a couple things here. The first thing you can see in the above picture. I had stapler, pencils etc.. on the shelf, but it seemed to cluttered. Then I tried this but decided I didn't like it either.  I had a lazy-susan and thought it might work good to get to the things I would need to mail out my pouchees. I tried it for several days and decided I didn't like it. The labels were falling off, it just didn't work for me.
Sometimes you have to experiment.  Don't be afraid to say… this isn't working, I need to change it.   Currently I now have a picture of the kids and a pencil holder on the shelf. I'll show you what I did with the other supplies in another post.
On this other shelf I have a basket for scrape paper. The kids can use it for what ever they need, I can use it.  I like to cut it length-wise in half… get about 10 sheets thick .. staple the top and then I have this little note pad to take notes on.  Good way to recycle it.
I used this basket because I already had it.  I didn't want one of the cloth cubby drawers because I wanted the kids to see the paper easily so they would use it.  Again.. a cute label would be nice on this basket. I am going to have to check out some of those tutorials on making cute labels.
4th Shelf Down
This cubby is for anything that the kids leave sitting on the desk when they come in to use it.  I would like to say they never leave their things out. LOL  But let's get real.  I have told them, anything they leave on the desk… (CD's, papers, mp3 players etc..) will go into this bin.. and they can find it there.  Once it gets full, if they haven't claimed it.. it may get donated.. depending on what it is, or trashed. But I'll give them a chance to get it put away first.
Next shelf over is the "kids" shelf.  I put all the supplies they should need to do anything for school.  They have their own scissors and tapes on the desks in their room, but they are forever borrowing mine.  I have realized I am a bit of a "Archie Bunker" when it comes to my area.  I guess you would say I'm a bit territorial.  I think I have so few areas of the house that I can claim as just mine that when I have one… I like it.  I don't want to have to worry about coming in and not having my things where they should be when I need them because someone has used it and not put it away.
Yes.. I labeled everything.  I want to figure out something better than this arrangement. But I had the clear shelf… and underneath is a red tray that has dividers in it … for like a desk drawer. As you can see I labeled most of it. So there is no question what they can use, and if it is left somewhere else in the house – we know exactly where it should belong.
There is:
1) Pencil sharpener
2) Tape
3) Tape Measure
4) Stapler
5) Hole Punch
6) Thumb Tacks
7) Eraser
8) Staple Remover
9) Calculator
10) Ruler
5th Shelf Down
This post office scale I used to weigh things I'm shipping.  It is down below the level of the desk.  I don't use it real often and I do have an extension cord so that I have plenty of "give" to pull it out and put up on the desk to use it.
The other side of this level is school supplies.  I have notebook paper, spiral notebooks and envelops that the kids can get to.
Shelf 6 (below desk level)
Why waste the space right?  I have 4 more shelves under here.

The left top is more CD's and computer files that we won't use as often. The basket is one that I have had.
I have extra school supplies in here.  If I have them out where the kids can see them real visibly, they would be gone… and scattered all over the house.  When they need them… we can get them out.
7th Shelf Down  (Bottom Shelf)
The bottom shelves have my TomBoy Tools (tools that are high quality made especially for woman. Not like those cheap ones you can find at discount stores.)  Nice thing about them is that I don't have to worry about my husband or the boys taking them!  But I like having them at hand if I need to do something.  I don't go into the garage or basement much, so for me, even though they aren't "office" related, they work best for me in this space.
I actually sold them for just a little bit.  Although my friends evidently weren't into pink tools.
I have used them plenty to do little jobs around the house.
On the other side of the shelf is a bin of photos. I don't print photos out very often anymore and haven't scrap booked in several years, but these are more recent. The kids like getting them out and going through them, especially if they need one for something.
So… you have seen my shelf.. and what I have on each one of them.  This might not be something that will work for you.  But it didn't cost me anything to set this up. I already had everything.  I wanted to utilize that space between the wall and the desk. Because of the angled wall the desk could not go flush against the wall.
The cubby unit slid in the perfectly.
I don't expect anyone to do the exact same thing I am doing. I just hope that maybe I can give you some ideas to use in your space.
Your Mission if you chose to take it is: Utilize shelf space!
Link up Your Office Mission Post
You can find the linky by clicking on the button above. Feel free to keep linking up your different office projects that you accomplish during this Office Mission. I am ok with also linking up organizing projects that aren't office related. This link will be up until Feb. 24 so you will have time to add your office projects in
I would love it if you could vote for my blog! You can vote up to once per day. Just click the button. Thank you!
I am linking this post to: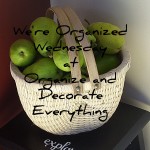 Paper Clutter… yuck!
I don't know of anyone that really likes all the paper clutter.  We have SO much coming into our house all the time. From the daily mail to the kids school work, things we need to print from the computer.  It is never ending and easy to get out of control.
I have recently reorganized my office and with that I finally went through and reorganized my files.  They were a mix match of file folders and hand printed labels.
I pulled together all my purple files that I purchased several years ago and decided to only use those (cuz their pretty! lol)
Before Files
Kind of all over there aren't they?


Here is another drawer

Some tabs and folders from my husbands files when we got married… came over to my file drawer.
The kids files were a mess too.
My husband recently made his own "man cave" in the basement for his projects and added an office space. So we were able to move him out of this main office upstairs. He took all the tax info and some other financial family info downstairs.  He had already started files for his 4 kids.. so we decided to merge those. So his kids files went downstairs with him.
Here is the file cabinet I mainly use. It goes with this big stinky cool desk I have.  It is a little worse for the wear.. but hey… it works great.
So I emptied everything out of it.. drawer by drawer
and of course had a bigger mess then I started with for a day
I was in the middle of the entire office reorganization in this picture… (see all the stuff in the back?)
I was also working on taxes.. that is what this picture is of.  But.. while I was reorganizing the files.. it looked much the same.
Got out my old but reliable labeler that I had the right color (and enough of it) label tape to complete the project.
I labeled the tabs.  I had several different kinds of tabs…. but I didn't want to go and purchase anymore of one specific thing.. so I had no problem that some look just a little different than the others.  I tend to be more practical than anal.
I went through and sorted.  I kept all tax info of course. Also major purchases, policy info, records for kids and dogs and the rest of us for medical purposes.
One thing I did get rid of was all the bill stubs from bills I paid.  I have kept them for years.. and the reason for that was because I went through a divorce. If they want to reconfigure child support… I have had to come up with things that go back 2 years.. in all my bills.  But, since my youngest will be graduating this year, I don't have to worry about that any more! (yippy!)  But I did keep the visa bills, just to follow up on if need be for a purchase or credit.

Here is the kids file drawer with only my boys and my file in it.
And look at this!!!
I have an empty drawer!!  Wow!!
So lets review…
Before File Drawer
After File Drawer
Tell me about your File Drawers!
If you have a blog post on your file system, I'd love for you to link it to my Organizing Mission Monday link party.  This link party will be left open for a month to go with the Mission – Office that I am working on with my link party.
I would love it if you could vote for my blog! You can vote up to once a day! Thanks so much!!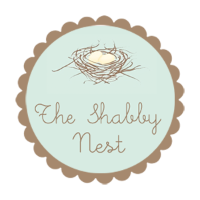 The Make over of Another office
I really am not the queen of office make overs.. lol  But I do want to share another one that I helped a client with. I shared with you last week Jerry's office.  This is his wife kathy's office. She has a small 10×10 office just off their family room.
The Before
The really dark blue walls, and heavy furniture made this small office, seem even smaller.  All the little pictures made the walls seem too busy
There didn't seem to be a system.  Where did the papers go?
Without a system, there wasn't specific places to put things, so things just kept getting piled.
This area behind the door became a catch all for supplies
There was hardly any place for her to actually work.
There was yet another big piece of furniture in front of the window.
What the Client wanted
1) She wanted a system for her paper 2) She wanted storage that looked nice 3) She wanted (and I promised her) a place to wrap her gifts and do her son's scrapbook for his graduation in 6 months.
My Suggestions
1) Move out the heavy furniture. 2) Paint it a lighter color 3) Sort and declutter 3) Buy or have Jerry build two long desks/tables 4) Put shelves up on the walls above the desks 5) Move the bookshelf to the other wall
They took most all of my suggestions.
1) They wanted the walls to match the living room and so they used the teal and tan paint to match. 2) Kathy and I went shopping for storage containers. Kathy picked out the styles and looks that she wanted for her office. 3) The credenza went upstairs and we used it in Jerry's office. 4) Jerry built two desks 5) We got shelves for above the desks (I would have liked several more) 6) We went through and decluttered 7) We got a magnetic strip and ribbon organizer for the wrapping station
Don't the desk look great?  We made them long enough to go from wall to wall.. so there was plenty of space for working
The basket hanging under the bulletin board was for incoming mail.  There were 2 shelves hung and cute boxes and baskets that Kathy picked out were used for storage. We labeled them so she would know what was in them.
I personally would have preferred clear containers, but she loved the look of these… and assured me she would know what was in them. lol
This was the gift wrapping area and also where she could work on her son's scrapbook. She wasn't a full time scrapbooker, she just wanted to finish this project.  Her supplies are in the "luggage styled" boxes on the shelf since she didn't need them all the time.
She did keep a couple of her very favorite things on the wall, but I was able to convince her that with all that she had up there before, none of it was really appreciated.
We turned the bookshelf on the other wall.  We went through and cleared out a lot of things that weren't being used to make space for things in the office that she wanted to keep there.
This was the space behind the door. We turned that shelf on the other wall. It then opened up space that we could put her wrapping paper bin behind the door.  We also later made a hanger on the wall behind the door for her gift bags.
So once again. The Before
And the After
What do you think ?  Look a little better?  I  think so. If you have an area of your home that you need help with, just leave a comment and I'll try and feature you in coming weeks.
I would love it if you could vote for my blog!!  You can vote up to once per day. Thanks!
I liked this blog post up to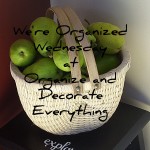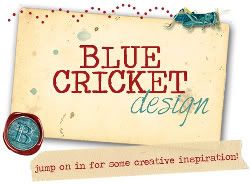 Re-purposing a bookshelf in a closet is thinking outside the box.
This picture is actually looking into a closet.  I had a challenge with a client. Organize all these office supplies.  There was a small closet in the room and a bar across it and a couple of little shelves that had been left by a previous owner. There was no need for clothes for this office….and I wanted to utilize this space.
The client had  this bookshelf that wasn't being used.  I did all the measurments before I had it moved into the room.  It was going to fit! I was So excited!
Now for the containers.  I wanted to use a clear plastic so that you could easily see what was in them.  I measured the shelf height and length to make sure I could get the most use out of the space…knowing I was buying the right size baskets or plastic boxes.
If you notice I have the lids off the boxes.  It would look very nice and neat to have them on, but would things get put back as easy if you had to lift a lid to do it?  This was a place that I could leave them open and easily accessible.  But….I did put the lid directly under the basket so that you don't have to worry about losing them…and they are there if you want to use them.
More Tips Directly from Peter Walsh
These Tips were given to me by Office Max to use if I wanted to.  The above picture is of the new line of products that Peter Walsh has coming out in the Office Max stores called you.organized.
Calendars: You might feel like multiple schedules lead to more confusion. For a little planning relief, combine home and work calendars. Simply choose various colors to mark important dates: one for professional tasks and meetings, one for personal appointments, one for social engagements, one for your children's activities, and so on. (Peter Walsh)
I'm with him on that one. I have tried to keep a calendar in my purse and one at home.  I like having my calendar with me.  I have solved that problem with using a google calendar on my computer and it syncs with my blackberry.  The google calendar does have color coding for events, so that helps.  It isn't my favorite calendar and I'm always looking for other options….but it has to sync with my phone so I have my calendar with me on the road.
Cork Boards & Sticky Boards: No need to hang lists, phone numbers and reminders all over your cubicle walls. Instead, create a one-stop message center with a cork or sticky board. Hang your daily to-do list, phone numbers, and a weekly calendar of events and meetings. That way, you'll have all your need-to-know information in front of you. (Peter Walsh)
If you give yourself the limit of a bulletin board or magnetic board…and it gets full – then that is a sign that too much is on there and you can clean it off.
Email: Stay on top of your electronic inbox. Check email when you arrive, and immediately sort each message into an appropriate folder. Even if you don't have time to deal with the contents of a message or even read it fully, sort it for later action. (Peter Walsh)
E-mail boxes are always a problem. It is easy for them to become very full very fast.  Do use the folders that you can create to sort e-mails you need to keep. Delete junk emails.  Here is a post I did on E-mail organizing.
Closing Thoughts: Remember that your desk sends a clear signal about who you are and how you approach your work. You should have an organized desk at the start and finish of every day! (Peter Walsh)
Disclosure: I was not paid or given anything to do this post. I was given the above info if I wanted to use it…and I did!
———————————————————————–
Peter Walsh Shares His Knowledge
·
More tips from Peter?  Here a a couple of thoughts directly from Peter Walsh. These were given to me from Office Max to use if I chose to.  I did decide to pass on this info..because I figured you would enjoy learning from him as much as I do.
Filing
: Use a vertical file organizer for "active" files. Reserve your desk inbox for items that need to be dealt with pronto. Name your file folders with nouns. Use the ones that first pop into your mind when you need the material. Banish the concept of a miscellaneous file from your life. If something is worth putting in a file folder, it's worth putting in a folder than has a specific label. (Peter Walsh)
My question for Peter on the video I did with him was about filing.  Paper work seems to be one of the biggest stumbling blocks for most clients.  How to make a file system work for you. So it is something that you will use.  A perfect system set up but unused is of no good to anyone.  Filing like anything needs to be maintained.
Binders: For travel, business and leisure create a different binder devoted to your important documents. For example, when creating a travel binder, include pocketed folders to store airline tickets and receipts, a contact section storing important phone numbers, and a location portion highlighting hot spots and destination details.
I love using binders.  I have one (color coded mind you) for different projects I am working on.  Depending on how big the project is, I can use just a folder with pockets too.  But bigger projects and for my different clients I do use binders and keep them in different colors for visiual quick identification.
Disclosure:  I was not paid to do this post. It was my decision and the information from Peter was given to me. The orange comments are my own.
Here are some Office  Organization Tips & Inspirations directly from Peter Walsh
These are some tips that were sent to me from Office Max that Peter Walsh gave them for us to use. I wanted to share them with you!!  I have added a couple of my own thoughts after each one…
Desktop Organization: There's no faster way to inspire an immediate change in attitude than with an uncluttered, clear and pristine desk. Think of your desk as a reflection of your head. No matter how creative and brilliant you are, you'll perform better with an organized desk. You shouldn't have anything on your desk that isn't "active," meaning it still needs to be dealt with.  (Peter Walsh)
Isn't that the truth?  I have said before, Clutter in your home = Clutter in your head.  Think how nice it would be to walk in to work in your office and see a nice clean desk to work out. Ahhhhh…. is the feeling you get rather than…..Gggrrrhhhh!!
To-Do Lists: When writing a to-do list, group alike tasks together such as making calls or running errands to increase efficiency. But avoid getting overwhelmed with your workload by breaking it into small, manageable tasks. Write to-do list items on individual sticky notes and put them on a wall calendar. Rearrange them as your priorities change. At the end of the day, review your checklist and cross off completed items. Move any pending items to a fresh list for tomorrow.  (Peter Walsh)
I like this idea.  I am hoping to try (hoping to review, but if not…I will probably buy myself) his new you.organized wall modular unit.  I think you could use this with his sticky note idea.
Paper Clutter: Deal with new papers first. No matter how high the old piles are, begin by devising a system for the new arrivals. Decide immediately what to do with each piece of paper that comes across your desk. Do not postpone these decisions. Paper piles are messy monuments to a long series of small procrastinations. Once you are faithfully dealing with new papers in a systematic way, haul out all unfiled older papers and take them through your new system. (Peter Walsh)
Reminds me of what I used to say when I sold Creative Memories scrapbooking supplies.  Start with the new pictures first. If you look at that huge back log of pictures, you will never do anything because it is too over whelming. You start at the present.  Works the same with the paper clutter.
The above picture is a picture of the line of products that Peter Walsh created and is being carried in the Office Max.
Disclosure:  I was not paid to do this post, I was offered the information to use if I would like to use it.  It was my decision to use the information because I think Peter Walsh rocks and love what he has to say.
Interviewing the King of Organizers!!
I was thrilled to be able to interview Peter Walsh today via web cam.  He could not see me (thank goodness because I was sitting with my sweatshirt on and no makeup!) but I was on the phone.
I was asked by Office Max if I wanted this opportunity. Heck yes!!
Peter is coming out with a new line (they are soooo cool) of organizers for the office called the you.organize series and we are lucky enough to get a preview here.  I am glad….I was sure hoping he would.  My favorite is the wall modular system! I love the look of it and it is so functional.
I asked him about filing though. That seems to be my biggest challenge when I work with clients. I wanted to see what his thoughts were. Also on the programs where you log all the information into your computer and each file folder gets a number. Then you put in a key word and it shows you where your file is.  They work great and I have used a version or one with one client. But….I do not like that you can't open the file drawer and find your file without logging onto your computer first.  *The client I had use this system, I still labeled the front of his files with the file name & the number.
Enjoy my interview (as nervous as I was…) with Peter Walsh. Plus the fact that I could see him in the video but was talking to him on the phone. Well when we were  making this…his voice didn't match his mouth! I felt like I was watching a foreign film. LOL  So I had to keep looking away from the screen because it was throwing me off. (You know as I get older it doesn't take as much to throw me off! ) Thank goodness on the final video he talks just fine!
Thank you SO Much Office Max and Peter for this opportunity!
You can follow Peter's Facebook Page to get answers to even more of your questions.
Tomorrow I am going to share some tips that are from Peter.
Disclosure:  I was not paid for this interview with money or products. I also did not have to pay them to have this interview.  My reward? I got to interview Peter Walsh!!!  yippee & squeels!
We all have an area of our house that gets messy just because we either can't stand to organize it ….or we don't know how?
I would say for me the area that I like the least is paper management. The file system! I have one that works for me. But what works for me certainly doesn't always work for my clients.
There are file systems that you can have your broad topics: Home management, Cars, Bills, Kids.
Then you can have those systems that people like to micro file: Business meeting Aug 7, 2009, Billy's monthly karate etc…
There are some that love the paperless concept: Neat receipts or a Snap Scan by Fujitsu that can scan all your receipts, business cards etc.. into your computer – thus ending most paper content.
There are those that are scared to throw out a single piece of paper. I had one client that has a huge amount of paper and files. I thought a Snap Scan (my sister recommended….she loves hers) would work well for him and he agreed. But I knew with him, it would only be for magazine articles and articles related to his profession. The volume of these things alone was immense. No one can MAKE someone throw something away if they aren't ready. We can encourage them to and try to get to the bottom of why they feel they can't part with it…but bottom line is…it is theirs and their decision.
But to get on with my story – After hours of scanning and several boxes of papers, magazines etc..that I was thrilled we were going to be able to get rid of since we had just scanned them….. You guessed it – he didn't want to throw them out…just yet. We did talk and I did convince him that he had all the information and as he backed everything up automatically every 30 minutes (I think) he wasn't losing any of that information.
So what do you hate to organize? Share your thoughts, your pictures….I'd love to help if I can.
Disclosure: I am not presently representing either the Neat Receipts or the Snap Scan, I have used them both in the past and did a past review on the Neat Receipts.

This is the "before" picture of my office. We have a very small office and have desk for my husband and I, file cabinets and a bookshelf. But I still needed some more space.
Think "up" is always what I tell my clients. Shelves right? But I wanted to do it on my own without having to have my husband help me and I love cubbies. I would have loved to have gone to Ikea and gotten one of their cubby units, but they are over an hour and half away. So I went to Target and got 2 of their 8 cubby units. They were on sale for $39.99 each and they worked great.
I turned my 4 drawer (2 side by side) file drawer perpendicular to the wall and moved the desk against the wall. I now have the wall to use for a large calendar and message board.
I also had a 3 drawer unit on the left of my desk. Since I moved the desk over to the wall, I put that on the right of my desk and brought the printer down so it is actually more accessible than it was up on the 5 drawer file cabinet. I know in these pictures it is hard to see the detail of what I did with the other furniture, but it did make it better and more accessible to wear I sit.
Here is the finished picture.


I have to admit that I am totally in love with the magnetic board that April made me to review. So much so that I don't even have it with me to do get pictures and do this review. Why you ask? Because I packed it yesterday and sent it to Blogher. I am going to use it on my table to sell my pouchees. I will use it to display the business cards of my sponsors!
I have a picture with it in it…not the greatest pic..but you can still see how cute it is!


You can get tins to put your paperclips, rubberbands etc… in to keep organized.


You can hang them or use them as a standing magnetic board with the cute wooden stand she includes (on standing models).


There are several variations as in this magnetic strips or the window pane

You can purchase this from Moore Magnets
Peter Walsh's Office Supplies in Office Max

Peter Walsh is a guru of organizing. You have probably seen him on the Oprah Show as her organizing consultant. He has teamed up with Office Max to bring his new organizing system to all of us. It is called "In Place System".


I got to take part in a web cast with him a few months ago and it was great. (You can see it here yourself)
This is a office organizing system that is designed to be simple, affordable and usable.
He makes folders clear so that you can easily see what is in them. He uses specially made sticky notes so that you can change labels as you need.
There are several components and you need to see them at your local Office Max.
I was also given some really fun and colorful folders and clips to use from Office Max. It is the DiVoga line of fun accessories. I love them. I use them for my children's files that I keep current information in. It is fun to have something different than you plan old cream color folders.
The plastic snap folders are great too. I am using one to put all my BlogHer paperwork in. I am dividing up the 3 days schedules, confirmations and party schedules into the clear folders from Peter Walsh with sticky note labels and then putting them all into the fun snap closure folder from Office Max. Great combo!
The paperclips are just so cute and fun. I use them in a clear magnetic tin that I display on my magnetic board.
Great stuff Peter Walsh and Office Max!

Colors are important to most of us. They can affect how you feel, how you think. You want your office to be fun to go into. Make you feel productive and happy. What colors make you feel good? What ones do you love?
If you notice in my office I have bright colors…but I didn't paint the walls, I didn't add expensive curtains or carpet. I got cubbies in the colors I liked and made my own "Ikea" tower with the cubby units from Target. (Love cubbies!!)
I also added pails that I found at a garage sale and the little ones from Target. I have a hot pink magnetic board on my desk (an upcoming review and giveaway by the way).
If I go into another color mode..I can change it up real easy.
But when I walk into my office it just makes me feel happy!

Organize your office with Zones
This is my office. I share it with my husband, his desk is just to the right of mine. The office is small…but I am still happy we do have it.
If you do not have an office or anywhere you can call your office but want to make one you need to consider a few things.
1) Usability/Accessibility – if it is in the back of the basement, will you actually use it? It needs to be some place you will use it.
2) Heating and cooling (if you are thinking of a basement, extra room or so forth).
3) Convenience – Does it work for you and your family?
You may consider these areas -
1) Kitchen – Is there a section of counter in the kitchen that you could call your own and set up a mini office?
2) Family room – Could you set up a mini office by your chair. (post on Thursday will show pictures of my mini office)
3) Corner of a room that you could put a small table or corner desk?
Zones
If you have an office, or an area in the family room that you do your paperwork, or a table in your bedroom….you need to make "Zones". Zones break down the office into what you need the most and use daily (Zone A) to items you don't use very often and can store elsewhere in the room. (Zone C)


Ok…so artist I am not! But this gives you the idea of what I am talking about.
You are in the center (of course….isn't it always about us?…LOL, sorry..goofy mood) and the circle closest to you is your Zone A.
Zone A - Things you use daily and need close at hand. You don't have to move to get these items.
1) In box for papers
2) Pencils/pens
3) Tape
4) Phone
5) Stapler/Scissors
6) Letter opener
7) Sticky notes
8) Paper
9) Trash can
10) Calculator
11) Computer
Zone B – Items that you may have to roll your chair around to, but are still close and accessible. You do not have to get up out of your chair.
1) File cabinet
2) Printer/copier/fax
3) Shredder
Zone C – In the office, but you have to get up and walk to.
1) Office supplies
2) Extra file cabinet – maybe files you don't access as often
3) Book shelf with reference books.
This gives you an idea of how I break it down. But you want to be efficient when you sit down to work in your office. You don't need to jumping up and down or you may not get anything accomplished.
More to come on Office organizing Thursday and Friday of this week. Stay tuned!

Have you ever looked at the magazine holders you can buy for your magazines and thought how plain they look? Well…no more. You can have the cutest shelves in town with Lisa's Vintage magazine holder. She has dressed up a basic magazine holder that can hold light weight magazines or catalogs with vintage fabrics and bows.


I think it looks so cute! She has added a place for a label to be added to it also. (Love labels!!)


She has many other items she makes and sells!! So you will need to check out her site! Pale and Pink Roses
To purchase go to Pale and Pink Roses 
THIS CONTEST IS CLOSED
Papers… Papers… Papers.. Everywhere! Tackle the Clutter
I did my momtv.com web cast last night on Paper Clutter. I am going to rerun the post that I did several months back, below.
Kristy asked in the comments about the family bringing in all the papers and how to handle that.
Have a "drop zone" for your mail. A basket or bin, some place that everyone in the family knows to put the mail. It may be children's papers (see this Thursday's post for Children's papers)from school too. Any papers coming into the house by anyone needs to go in this designated spot. Then you need to go through all these papers using the system below.
I mentioned last night in my web cast last night that Barbara Hemphill who wrote Taming The Paper Tiger has a basically the same system, but has made it very easy to remember the categories.
She says that every paper coming into the house goes into one of these categories.
F – File
A – Action
T – Trash
This is a real easy way to remember it. It gets broken down a little more than this and I go into it, but this helps you to realize that every paper has a place.
All of us have sooooo many papers coming into our homes everyday. We have bills, magazines, coupons, advertisements, newspapers, and many more. It can get completely over whelming!!! So what do you do with all of them? What do you keep? What do you throw away???
You would think that with the Internet and e-mail that our influx of paper would be greatly reduced, but it has decreased by very little.
Figuring out a way to manage the paper is the key. We have to control the paper and not let the paper control us!! I know that sound so silly, but it can be true.
You need to work out a sorting system for any paper that comes through your door. If you know what to do with it when it comes in..then it hopefully won't pile up.
Ok…its actually very basic.
You can do it all in 4 sorting bins.
1) Bills
2) Action
3) File
4) Pitch
The Bill bin could very well be in the Action bin, it is an action. But I like to keep them separated so that bills don't get lost in a pile of things that may not be as important or dated. It can be easy to get behind in your bill paying, and that can cause problems with your credit..not to mention your nerves.
The Action bin is anything that needs attention. Filling out a permission slip for your childs field trip, a form to order that book that you need for a class, a form that needs to be filled out for insurance, etc.
The File bin is any paper that you need to keep (notice I said "need") and will be filed in a hanging file of a file cabinet.
The Pitch bin should end up being your biggest pile. You do need to pay attention to what goes into the trash can. Having a shredder is important. You want to make sure that you shred anything that has any financial information on it, personal information on it or as some suggest even your name or address. With this age of someone being able to steal your identity, it's important to be careful.
So when you bring in your mail…take a minute and stand in front of your 4 bins (stackable plastic paper trays work great…and if you have the space, you don't need to stack them) and sort through it. Take each piece and quickly decide if its an ad and you don't plan to ever use it…pitch it! If its a bill thats easy. You don't have to take the time to open your bills at this point, unless you are unsure if it is or not. Take those zillions of credit card offers and put them in the pitch bin! Don't spend too much time on it. Any ads will come back again and you can always find information on the Internet.
If you take a few minutes each day to go through your papers and sort them then you soon can have a table that looks like this