Organization Tip #6
Look Up! Use Shelves
Use that wall space!  I have so often had clients feel they have no room at all to place items they plan to keep.  They say this as they have three to four nearly empty walls!
Shelves! They can be so useful. You can put baskets or cubby's on them to store items, you can use them for bookshelf space, memorabilia that is important, kitchen small appliances you may not have room for in your cabinets – there are a zillion uses!
They do not have to be free standing.  There are many varieties you can choose from.  Even if you live in an apartment or you are renting.
Organize with Style
I just think these wall unit cubby's look so nice.  You can use them in so many different ways.  I want to show you a couple different examples.
Wall Unit in a PlayRoom
at Jamie's House
This is a wall unit in my husbands niece's house. She has five children of her own and babysits several others while most of hers are at school.
She has all the little toys stored in the canvas bins.  I am pretty sure she told me the units were not from Ikea.  There are two of the cubby units on either side of a tall book shelf.  But it works great for her space and needs.
Wall Unit in a Spare Bedroom for Crafts
at Barb's House
I had one of my readers send this picture to me several weeks ago.  Barb has the Ikea Expedit in her spare bedroom.  It is the 4×4 size with the 2×4 extension on it she said.  She has used several of the drawer units and it works great for her crafts.
Organizing in an Office At Sandy's House
Most of you have seen the Ikea Expedit unit I recently bought and put up in my office. (I know… you've seen it a bunch.. but I'm just going to show what I did with a few of the cubby units)
I already had the hot pink and lime green theme going in my office.  For right now I'm sticking with it, until another color combination hits me.  I did purchase 3 of the Ikea clear drawers. They are really a light purple and after configuring them several different ways, I settled on them doing down the center.
I use my canvas cubby's along the bottom.  I have my books across the top shelf.  I have them organized by category
I have my organizing books in three of the cubby's.  I then have some books on blogging and photography in another section.
I'm personally not a fan of laying some of the books horizontally and some vertically.  To me that looks messy.  I know it is a "style" and many love it, and that is fine. But I find it hard to access the books when you have to pull them out from other each other. I also feel like it takes up more space.

The one thing I like about the size of these cubbys is that they are taller than the ones I have from Target. My taller books can fit just fine in here.

I also purchased the 4 way divider unit for the cubby from Ikea.  It was how I was able to make the smaller units by my chair for the little baskets and my bill area.
Then of course I have my "drink" area for my water or coffee.  Since I am sitting right there in my recliner working, I wanted some place to put my water.
Do you have any Wall Units in your home that help you out?  I would love for you to show and tell!!
Your Mission if you chose to take it is: Organize Your Wall Unit

Link up Your Office Mission Post
You can find the linky by clicking on the button above or going to my Organizing Mission Link Party. Feel free to keep linking up your different office projects that you accomplish during this Office Mission. I am ok with also linking up organizing projects that aren't office related. This link will be up until Feb. 24 so you will have time to add your office projects in. If you aren't sure how to link up to a link party, be sure to stop by and read my link party tutorial
I would love it if you could vote for my blog! You can vote up to once per day. Just click the button. Thank you!
Here Is How I am Using The Cubby Shelves In My Office
I already had these cubby units, so I was going to put them to use. I have the large Ikea Wall unit now, but these will still be used.
Top Shelves
I already had the pink and green cloth drawers also.  Top shelf I have a couple boxes with video equipment (green box) and business cards from conferences. I have them divided into separate conferences and labeled.  I do admit there have been very few times that I have gone back to them after I have done my initial contacts following the conference.  If at any point this box becomes full, I will have no problem purging them.
On the other side I have 2 baskets with computer DVD's and the other with photos backed up.
And the the photos in this one.  I have obviously had them in here for awhile. I do most of my back ups now on my external hard drive.
But I did label these with color coded (per year) labels.  The baskets I got at The Container Store several years ago.  The label on the front obviously isn't the best. Against the wire basket the label didn't stick, so I used tape. It's been on there awhile, and serves the purpose, but I'll fix it at some point.
I know.. these would look much nicer with labels from a label makers. But… I don't get in here very often, and that would be an expensive venture. These work just fine.
2nd Shelf Down
The 2 cubby baskets are on the next shelf down. I have padded envelops in each of them. The pink one has the larger ones and the green one has the smaller sizes. I used these to ship out my pouchees and card cubbys.
3rd Shelf Down
I have tried a couple things here. The first thing you can see in the above picture. I had stapler, pencils etc.. on the shelf, but it seemed to cluttered. Then I tried this but decided I didn't like it either.  I had a lazy-susan and thought it might work good to get to the things I would need to mail out my pouchees. I tried it for several days and decided I didn't like it. The labels were falling off, it just didn't work for me.
Sometimes you have to experiment.  Don't be afraid to say… this isn't working, I need to change it.   Currently I now have a picture of the kids and a pencil holder on the shelf. I'll show you what I did with the other supplies in another post.
On this other shelf I have a basket for scrape paper. The kids can use it for what ever they need, I can use it.  I like to cut it length-wise in half… get about 10 sheets thick .. staple the top and then I have this little note pad to take notes on.  Good way to recycle it.
I used this basket because I already had it.  I didn't want one of the cloth cubby drawers because I wanted the kids to see the paper easily so they would use it.  Again.. a cute label would be nice on this basket. I am going to have to check out some of those tutorials on making cute labels.
4th Shelf Down
This cubby is for anything that the kids leave sitting on the desk when they come in to use it.  I would like to say they never leave their things out. LOL  But let's get real.  I have told them, anything they leave on the desk… (CD's, papers, mp3 players etc..) will go into this bin.. and they can find it there.  Once it gets full, if they haven't claimed it.. it may get donated.. depending on what it is, or trashed. But I'll give them a chance to get it put away first.
Next shelf over is the "kids" shelf.  I put all the supplies they should need to do anything for school.  They have their own scissors and tapes on the desks in their room, but they are forever borrowing mine.  I have realized I am a bit of a "Archie Bunker" when it comes to my area.  I guess you would say I'm a bit territorial.  I think I have so few areas of the house that I can claim as just mine that when I have one… I like it.  I don't want to have to worry about coming in and not having my things where they should be when I need them because someone has used it and not put it away.
Yes.. I labeled everything.  I want to figure out something better than this arrangement. But I had the clear shelf… and underneath is a red tray that has dividers in it … for like a desk drawer. As you can see I labeled most of it. So there is no question what they can use, and if it is left somewhere else in the house – we know exactly where it should belong.
There is:
1) Pencil sharpener
2) Tape
3) Tape Measure
4) Stapler
5) Hole Punch
6) Thumb Tacks
7) Eraser
8) Staple Remover
9) Calculator
10) Ruler
5th Shelf Down
This post office scale I used to weigh things I'm shipping.  It is down below the level of the desk.  I don't use it real often and I do have an extension cord so that I have plenty of "give" to pull it out and put up on the desk to use it.
The other side of this level is school supplies.  I have notebook paper, spiral notebooks and envelops that the kids can get to.
Shelf 6 (below desk level)
Why waste the space right?  I have 4 more shelves under here.

The left top is more CD's and computer files that we won't use as often. The basket is one that I have had.
I have extra school supplies in here.  If I have them out where the kids can see them real visibly, they would be gone… and scattered all over the house.  When they need them… we can get them out.
7th Shelf Down  (Bottom Shelf)
The bottom shelves have my TomBoy Tools (tools that are high quality made especially for woman. Not like those cheap ones you can find at discount stores.)  Nice thing about them is that I don't have to worry about my husband or the boys taking them!  But I like having them at hand if I need to do something.  I don't go into the garage or basement much, so for me, even though they aren't "office" related, they work best for me in this space.
I actually sold them for just a little bit.  Although my friends evidently weren't into pink tools.
I have used them plenty to do little jobs around the house.
On the other side of the shelf is a bin of photos. I don't print photos out very often anymore and haven't scrap booked in several years, but these are more recent. The kids like getting them out and going through them, especially if they need one for something.
So… you have seen my shelf.. and what I have on each one of them.  This might not be something that will work for you.  But it didn't cost me anything to set this up. I already had everything.  I wanted to utilize that space between the wall and the desk. Because of the angled wall the desk could not go flush against the wall.
The cubby unit slid in the perfectly.
I don't expect anyone to do the exact same thing I am doing. I just hope that maybe I can give you some ideas to use in your space.
Your Mission if you chose to take it is: Utilize shelf space!
Link up Your Office Mission Post
You can find the linky by clicking on the button above. Feel free to keep linking up your different office projects that you accomplish during this Office Mission. I am ok with also linking up organizing projects that aren't office related. This link will be up until Feb. 24 so you will have time to add your office projects in
I would love it if you could vote for my blog! You can vote up to once per day. Just click the button. Thank you!
I am linking this post to: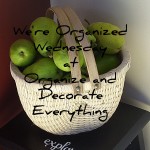 Toy Storage
So now that you have your toys sorted (well hopefully) you need to know where and how to put them.
My Guidelines and thoughts are Simple
I like a shelf rather than a toy box.  Toys get lost in toy boxes.  Kids don't want to dig down to the bottom. Pieces fall down into that dark hole of toy misfitness and are never seen again.
Be sure if you use a shelf that you anchor it to the wall.  Kids like to climb on things, especially if they see something up top that they want and can't reach.  You want to always be sure that shelf can not fall over on them.
Be sure to put the toys at age appropriate levels.  Put the toys where the young children can find them.  Put the older toys and games with small pieces up higher so the younger ones can't choke on small things.  This toy shelf I bought years ago when my boys were young.  It had been a coat rack in a daycare.  See the smaller cubbies on the right. That was their top cubby when it was turned on its side and their coats hung in the other longer part. I probably bought this about 25 years ago (wow that makes me feel old…I still remember how excited I was to find it…and it was cheap!)
I am all for the clear baskets or like these….where you can see what is in them.  They don't all have to match or be stylish (depending on where your playroom is). These are from the dollar store.
This one we use for the marbles. Yes…that is a big sock..filled with marbles. Don't ask me why we keep them in a sock. I just know that my Dad put mine in a sock years ago and these are still the marbles I used to have….(yes in a newer sock)….but it works.
Think outside the box.  I had to figure out some way to hang these guitars for guitar hero.  I had this hook already and it fit perfect….solution.
Our playroom is in our unfinished basement.  We have put down a rug and have a futon, some restaurant benches that my son got from a friend, several old TV's for the game systems.  So you can make due where you have the space.
We made a bedroom in the basement for one of our older boys (his choice). The kids used to use the "under the stairs" space for a fort. But since that was now made into his closet…we had to block the other side.  This was our solution.
Several bulletin boards did the trick. It blocked off the opening and provided a great place for the kids to display their art work.
I'll have a list of some other toy storage solutions that you can find tomorrow!
I am all about practicality.  Make it work….think outside the box.
Linking this post to:
Use those Walls!
If you are looking for space in your bathrooms, don't forget to use those walls.  It might be in the form of shelves, hooks, hangers or medicine cabinets…but do not neglect them.
Here are a few examples of how you can use wall space to your advantage.
This is in my downstairs bathroom. It is a small half bath with a pedestal sink ( so there is no cabinet storage there).  I can keep the essentials here with extra TP and hand towels. In this bathroom we don't need storage for toothbrushes etc.
Here is another option for a shelf for storage.
This of course could be used for many other items, but it serves this purpose in the master bathroom.
The kids have this shelf/cabinet in their bathroom:
This is also over top the toilet, although it does not go down to the floor like the other.  My oldest son uses this for his things.  The next oldest has the medicine cabinet. The triplets have a shelf on the colored pegboard wall…OK…I'll show you that too because it can make good use out of a wall.
When we got married and Dave's 4 kids moved in, there was only 1 towel rack on this wall. I knew that was not going to work for 5 children.  So I decided to get peg board and paint it.  Before I did that, I went online and found this colored plastic pegboard and the hooks and accessory trays too. (I just looked for the site and couldn't find it…so if anyone does go hunting and finds  - please leave a comment for others) I did a post on this early last year on solutions in the kids bathroom.
But each child has a tray and hooks for their towels and a robe. It works great!
The new year is underway and many of us are in our "I am going to get this house under control" mode. Going through our houses (or even one room that needs done) will end up with items that we do not want to donate or throw away. There might be clothes that the younger child can wear next year, or the cheer leading outfit that will still fit next year but it doesn't need to take up space in the closet until next fall. What ever it is, it needs some form of storage.

I believe very strongly in clear storage bins if at all possible. Can you tell me which bin the box of Ritz crackers is in? Yep…it was in both, but you didn't know it on the green ones did you? Point made. I love the colored CLEAR bins especially for holiday storage. The colors stands out immediately when you look at your shelf, but you can still can get a general idea of what is inside.


The other very important thing you need to do which takes a few extra minutes initially but will save you time in the future is to label all your bins with what is inside. You don't need necessary need to put down every little thing but get the big things and a general idea so that a year from now you can take a quick glance at the bin at the label to know what is in it. You can use sticky address labels. You do not have to have anything fancy. Then if you change what goes in that bin next season it is easy to peel off or just use another one on top of it.
Now that you have your bins full, you need to put them somewhere. The basement, garage or attic work great. There are many different styles and prices of shelves you can buy. I prefer the heavy duty plastic shelves. They have pieces that fit together easily without screws or nails. Be careful to purchase good ones though. If you buy plastic that is too cheap, it will not hold the bins well and may break. I do not care for the metal ones that may be cheaper for several reasons. They are a pain to put together, they tend to rust, they aren't very sturdy and the shelves dent. (Now there are metal ones with boards for support that are usually over $100 per shelf. That is not what I am talking about here…those are commercial grade and are very nice)


Decide how many shelves you have space for. You will need to measure your space. – width and height. (There may be pipes in basement or low ceiling that you need to account for). Next measure the bins you have. You need to make sure that you have shelves that are tall enough in between shelves for your bins. You also want to be able to get at least 2 bins across on a shelf. So measure the distance with the lids on the bins of 2 across to make sure your shelf will be wide enough.
If you have the shelves first…then measure those before going to buy your bins and buy your bins according to your available space.
MEASURING your shelves and bins and space is an important factor here. If you just go on "I thinks" then you will end up with shelves that don't fit the space, bins that don't fit the shelves and over all wasted space and wasted money.
Plan ahead and get the most out of your space and money for your storage. You will be glad you did.
Garage "After" Organizing
I spent about 7 hours today organizing my clients four car garage. We had already sorted through his things and gotten rid of a lot of things.
I purchased many plastic bins in 5 different sizes to work with. I knew that I would be able to get 2 across on the shelves and I messaged the height (hence the reason for several sizes).
I used bins where I could to keep things together and to be able to label things. I wasn't able to use the lids on all of the bins (example bug sprays and things that were taller). But I did make sure that I put the lids underneath the containers even if we didn't use them on top, just so they wouldn't get lost.
I did label the bins at the end, not as I went. There were times that I found out I had more than I thought or less than I thought and ended up changing the size of bin that I used.
I was very pleased with the result.
See the Garage "Before" Organizing