Schedules are Important
Time Management is everything for a Special Needs Child
If you had medications every 1-2 hours, G-tube feeds every 4 hours, dressing changes everyday, physical therapy 3 times a week, occupational therapy 2 times a week, a tutor coming everyday, oh…wait don't forget you have an appointment with the neurologist and physical medicine this week…and you have to be sure to order supplies this week. I almost forgot the respiratory company is coming to check on the O2 concentrator on Wednesday.
That is just one piece of the puzzle that some families have to deal with – who have special needs children.  Just put that on top of your schedule and if you have other children who have ball games and play dates.  Can you imagine?  Until you are in the shoes of someone who has a medical fragile child ….you just have no idea how much they go through and how much they have to deal with.
Schedules?  Essential for survival in this situation.  Their children's lives revolve around schedules with medication, treatments and appointments. That is why a command center like I mentioned in my last post would be needed – or a centralized computer calendar or home calendar.
If you know of someone with a special needs child – if you are able, reach out to them…see if they need some help or just a supportive ear. They are carrying the weight of the world on their shoulders.
More than Ever a family with a Special Needs Child need to be organized
If you think you have a lot of mail coming into our home….just try to see what the mail box of a special needs family is like! They have the same amount of mail and papers coming into the house that we do…..but then they have a massive non-ending incoming stream of insurance papers, medical bills and statements, home health insurance, letters from Doctors, physical and occupational therapist paperwork and bills…and it goes on and one…
Command Centers
The Command Central pictured above of course would be anyone's dream center. (This was from a Parade of Homes model home).
But you can make your own using this is a guideline. Here are some lower cost alternatives.
This is from Office Max…Peter Walsh inspired.  Love it.


This is sticky note/ dry erase organizer.  It is from PlanetSafe Planners.com.   I think this can be used in conjunction with other options.


This is my home made job board….grab a magnetic board and follow these instructions. I am thinking this could be used for medication time routines…G-tube feeding times, nurses schedules or just a job board.


Get a box of these magnets with the sticky back. I use old business cards and flip them to the blank side.


Peel off the back and put the business card or cut piece of paper/construction paper on the sticky part.


Then put whatever you want to on the front.
Having a place that everyone can see what needs to be done and when is essential in being able to run a smooth home. Calendar with Doctors appointment, sports schedules and adult commitments can help save many headaches in a very busy home.
I'm linking this post to: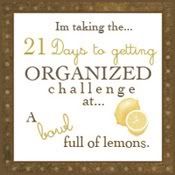 So you think you have trouble organizing your children?
Can you imagine if you had a child with special needs?  Think with me for a moment of some of the possibilities of the equipment some of these medically fragile children have. Then imagine where you would put all this medical equipment in your home.
*Wheel Chair
*Walker
*Lift (to lift them out of bed or tub)
*Oxygen tanks
*concentrator for the oxygen (about the size of a tall ottoman)
*Suction machine
*Hospital Bed
*Physical therapy or occupational equipment
*diapers for older kids
*IV pole to hang feeding bags on
*G-tube, catheters, dressing changes, tape, medications, syringes, trach equipment…
I could go on and on and on!  Now of course not all special needs children need all of this medical equipment.  A mentally challenged child may have autism or Down's syndrome and need some learning or PT or OT supplies…but they may not have all the physical needs of other physically handicapped children.
I have been a pediatric nurse for 28 years. I was a case manager for the Pediatric in home cases for 4 years…and have seen many families with situations they deal with daily…that you and I can't imagine. Funny thing is….most of them are organized. Maybe it is their nurses that help them to organize….but I think most of these families realize to survive and do the best for their special needs children (appts, medications etc..) they HAVE to be organized.
But please believe me when I say that these households have double the need to be and stay organized and less time to do it than you and I.
Over this next couple of days I am going to post some tips that can help the Special Needs family.