The modern world is a fast-paced, ever-changing place. It can be difficult to keep up with the trends and stay in style with your home decor, especially if you're constantly on the go! You will have to research thoroughly to find the perfect lights that brighten your space and add life to your home.
Modern lighting is one of those things that's worth investing in because it will always look good for years to come. But most of you might be confused about which lights will suit your decor and which designs will make them more appealing. So here are some things to consider before buying new lights for your home:
Size of your space: Consider the size of your space to know how many lights you will need. Lights can either be small or large, depending on what type and where they're going in your home. So, first, start measuring the space where you want to put up lights and then start hunting for them. After that, it will be convenient to buy lights that fit in your space.
The shape of your space: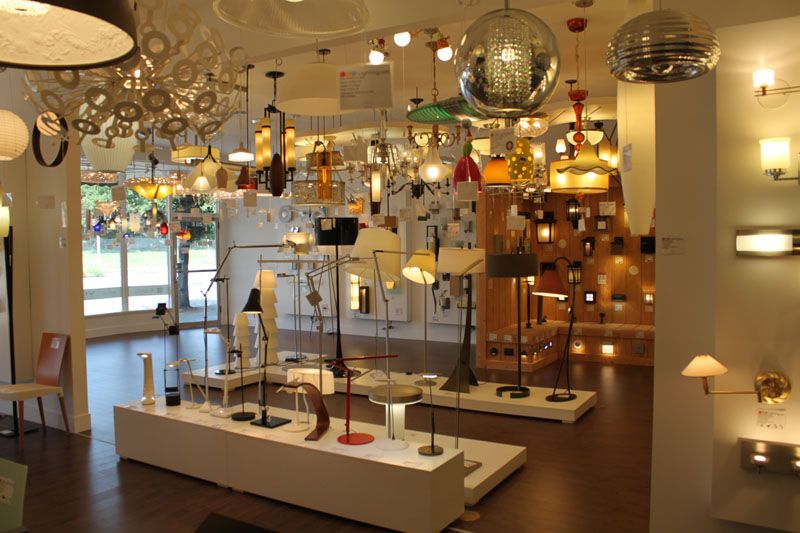 Lights come in many different shapes and sizes. If you're buying pendant lights, then make sure to buy one that will suit the shape of your space. For instance, if you have a square space, it would be best to buy square-shaped pendant lights.
Style of room: In order to make sure that your new modern lights will fit with the style of your room, first think about what kind of decor is on display in that particular place. For example, some people might have an ultra-modern living area, while others may want their bedroom to give off a more romantic vibe. You can find different lighting styles, such as a modern chandelier in the living area or a simple, classic bedside lamp for your bedroom.
Type: Designers have a wide range of modern lighting options to choose from now. So before buying any light fixture, be sure to research what suits your personal tastes best! You can also look for inspiration from websites like Pinterest or Houzz, curated by people who love design just as much as you do! You can also check Modern Place to see different types of lights best suited for luxurious and modern spaces.
Light colour: Another thing to remember is that there are many different coloured light bulbs these days! That means you're not limited to just buying one kind and calling it good. Instead, you have options like warm white lights, which emit an amber glow, cool blue lights–or even vintage-style Edison bulb style lighting if you want something more old school.
Make sure to find out what colour best suits the mood you're trying to create before settling on a final decision about new lights. If you're buying lights that are going to be in an area where the colour of your walls or furniture is important, then make sure they match before committing to anything. Some colours look nice together, and others clash- so do some research beforehand!
Wiring: Lastly, make sure that wiring is done properly when installing these modern lights into place. This way, they'll last longer! Remember to research thoroughly, so you don't end up making a mistake and using the wrong type of wiring.
A Detailed Look at Different Types of Lights:
Figuring out what type of lighting you want will be another consideration when buying new lights. It's important to note where you'll put them to get the perfect design and style that matches the theme already prevalent in your space. For instance, if it's on the ceiling, consider going for pendant lamps because they don't take much installation time, nor do they require bulb changing often, so great choice!
Ambient: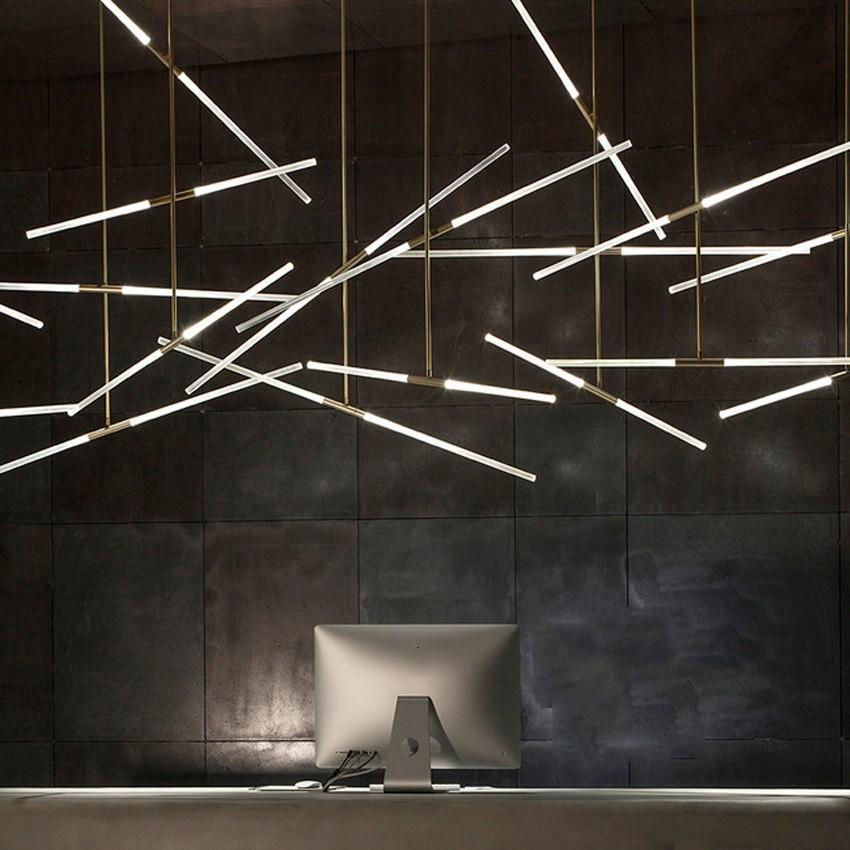 This is the prominently used type of modern lighting that's available. It also has a variety of options as to what style and design you want it to have, whether the lamp is flush against your ceiling or if it hangs lower, whether it can be turned on via remote control or just by using its switch on the cordless device itself. LED bulbs are often found in this category because they last longer than other types of bulbs.
Some examples include:
Pendant lamps.
Table lamp with a rich dark wood finish and thick linen shade to help soften the light.
Decorative Lights:
These are all about adding flair and personality–whether it's in your living room, kitchen area, bedroom or anywhere else! With this type of lighting, you can switch up what kind of energy vibe you want depending on your moods by changing out the bulbs or lamps. They're also great for creating a certain mood in your home.
Some examples for decorative lights include:
Metal lamps with glass covers that are shaped like houses, cats or stars.
A chandelier with delicate crystals dangling from the bottom and a bench underneath to put your feet up on while you do work at night (times when there's no natural light) or just sit and chat with friends over tea!
Accent lighting: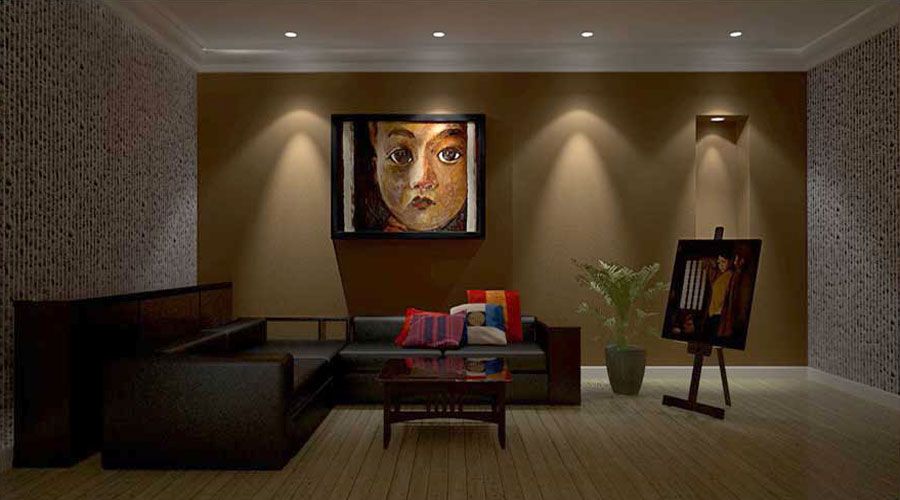 These are an excellent means to add some flair and personality without having too wild of an impact on the room. They're perfect for adding a little bit more light in places that need it, such as right next to your favourite reading chair or kitchen island, under cabinets where you store dishes and food, so they don't get dusty (or worse!), behind photographs hanging on walls, etc. Some examples include:
A set of chunky glass lamps with gold bases sitting on either side of your couch.
String lights draped over plants in your living room windowsill–perfect if you like keeping things really simple but still want to have some pops of colour!
Task lighting: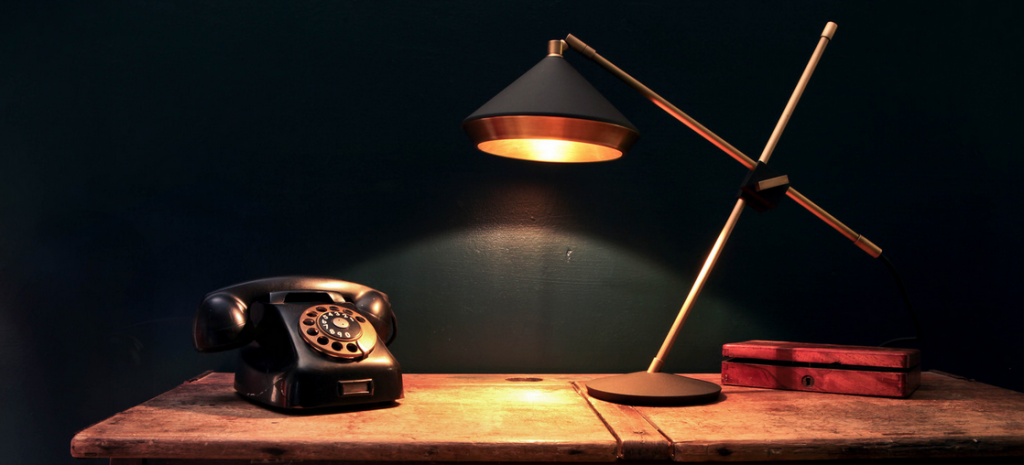 These types of lights are perfect for when you need a little bit more light in the darker corners of your home. You can use these types of lights to create specific areas and zones that are meant for different things like reading, cooking, crafting, and watching tv with the family.
Some examples include:
Reading lamps next to recliners or couches so no one has to strain their neck while they relax.
A chunky lamp on your nightstand, so it's easy to find what you're looking for if you wake up in the middle of the night. These lamps usually have adjustable shades, too, which is perfect because then everyone will be able to see themselves as they put their makeup on!
Conclusion:
It's always good to have a little more light, regardless of how well you have decorated your home. So ensure you understand your lighting requirements and follow this guide to choose the perfect modern lights for your home.