As winter approaches, we start making attempts to keep ourselves warm and comfortable. What about the plants in your garden? Cold can damage plants too.
It can kill plants' roots. Cold, windy, wet weather can damage all kinds of plants and trees. That is why it is essential to worry about winter plant protection. So, let's dive in.
Why Does Frost Affect Plants?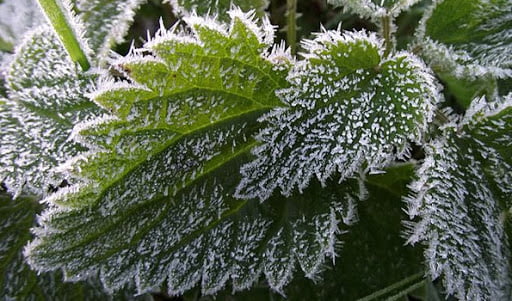 Frost causes ice crystals to form on the surface of leaves over the plant cells. This disrupts the movement of fluids as water cannot reach plant tissues.
Damaged leaves turn black-brown if affected by the frost. Plants can be divided into categories based on the minimum temperature they can tolerate.
For example, hardy plants can tolerate some freezing while tender plants cannot. Citrus and avocado are some of the tender plants.
It is essential to select the site before planting for winter plant protection carefully. Tender plants should not be planted in open areas or low spots as cold air settles there.
They should be planted near a west or south-facing wall so that the wall absorbs heat during the day and radiates it back at night.
Precautions
You can be successful in saving your plants from frost if you take some defensive measures. Here are a few things you can take care of:
Water the soil properly before winter approaches. Wet soil will hold heat and warm the air near the soil while protecting roots.
Make covers for the plants from blankets, plastic sheets, bedsheets etc. Measure the material and make sure it is not very light as it can blow away. Arrange some ropes to tie them down. When you feel the temperature rising the next day, remove the cover and let plants breathe properly.
If your region doesn't have a very long cold period, cover the soil with mulch. It can be removed once the danger passes.
Buy a 100-watt lamp and place it in the interior of a small tree. The lamp will emit warmth which in turn would reduce the damage caused by frost. Holiday lights can also be used. However, make sure the light does not touch any covering fabric.
You can buy an invisible polymer film and spray it over sensitive plants. This will coat the leaves with a protective layer.
Put all the plants with containers and pots together. More sensitive plants can be placed in the middle. Put them inside the house if possible or at a sheltered spot.
Winter Plant Protection for Tender Plants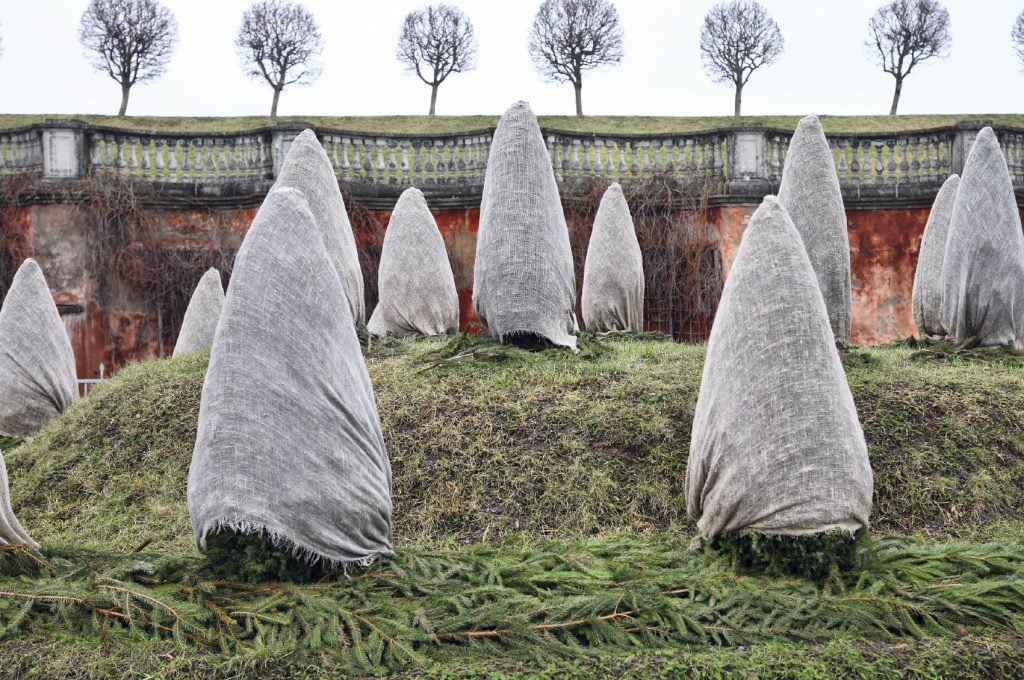 If the plant fails to endure the cold, it can die. Especially for the plants that are fragile and have weak roots. These plants should be tucked into a seasonal shelter long before the advent of winters, usually about late November. You can use overturned plastic pots, shredded leaves, or a paper bag to cover them.
One of the most efficient ways to protect tender plants is mulching.
What is Mulching?
Mulch can be thought of as a protective layer of material over the soil. It protects the soil from erosion, conserves moisture, and prevents compaction from heavy rains or snow.
Mulching reduces the freezing and thawing of soil, thus saving plants from damage and ensuring winter plant protection. Plant roots heave out of the soil during winters.
By preventing rapid fluctuations of temperature, mulching prevents heaving. It acts as an insulator to the soil.
Leave a centimeter of space around the stems to allow air circulation and prevent rot. Tender tree trunks can be wrapped with burlap or can be whitewashed. This is done to prevent winter sunscald.
Choose Plants that are Suitable for the Climate in your Region
This is the simplest way to avoid the problem we are addressing here. You need to plan. Study the average temperature of the area you live in and choose plants that can withstand that temperature.
This may limit your options, but then it will be worth it if the cold winds will not destroy them.
Some Ideas to Keep your Plants Warm
Bring plants with pots indoor. If you have a garage or a sunroom, they can be moved there as well. Plants can be used for decoration inside the house, so you do not have to provide extra space.
There are a few things you should keep in mind while placing plants inside the house. If it needs sun, place it near the window. Plants should not be kept near vents, or they will begin drying off.
It is a good idea to water the soil heavily at night before a cold day. Wet soil traps heat better than dry soil. However, if your area is expecting a hard freeze, this hack may backfire.
Cover the plants. Use a blanket or tarp if you have few plants and cover them a night before. This works better to protect from frost and not from cold temperatures. It would help if you also tied the cloth so that it does not blow away. Remember to take the cover off during the day.
You can also build a frame or a 'greenhouse.' This can be a DIY or can be bought ready-made from the market. A greenhouse retains heat and keeps frost out to help plants survive the harsh weather.
Arrange some metal rods and bend them to form the shape of a little 'house.' Stick the ends into the ground and place a cover fabric over it so that the plants get covered.
Leave spaces for ventilation for the plants to breathe. If you don't, you could overheat the plants.
Protect plants that are not very healthy first. Healthy plants are more likely to get through winters. But a plant that has diseases will be vulnerable.
For winter plant protection, you can also help your plants by supplying them with heat to tackle the cold. You will find heaters specially designed for outdoor use of greenhouses, but they can be used only in small areas.
The heat source should not be placed very close to the plants. Carefully follow all the safety instructions written in the manual.
Buy pieces of equipment like a burlap cover, landscape fabric, soil warmer, fleece jacket, or hoop house for winter plant protection. You will find these online.
Sale
Burlap Table Runner - 14 Inch Wide X 10 Yards Long Burlap Roll - Burlap Fabric Rolls. A No-Fray Burlap Runner with Overlocked and Sewn Edges for Rustic Weddings, Decorations and Crafts!
THICKER WEAVE: Our burlap roll is the one and only with a weave of 50 yarns per every 10 centimeters. This creates a tighter, no-gap weave for a more durable material and a sophisticated look at your event. Forget rougher, coarser burlap rolls. This roll of burlap has rows of neat, symmetrical stitching. Result: It's softer, smoother, suppler & easier to work with.
SEWN EDGES TO STOP FRAYING: No more raw, frazzled edges. Side edges are sewn and overlocked so your rolls of burlap and burlap table runners won't unravel or fall apart. This roll of burlap fabric is a seamless ten yards, not smaller pieces sewn together. Whether you use the whole 14 INCH WIDE by 10 yard roll at one time, or trim it into sections, the results will be beautiful - with a cleaner, classier look.
ENDLESS POSSIBILITES: Whether this burlap is impressing guests at your special event or adding that unique rustic look to your home décor, or even being used for gardening and landscaping, you'll be coming back for more!
GOLDEN BROWN COLOR: Forget washed-out, dull looking burlap. Your Designer Burlap is made with the finest jute fibers that produces a rich golden hue.
BUY WITH CONFIDENCE: Inspired by a breathtaking and unique wedding in the foothills of West Virginia, in 2006, our small family business was born. Sourcing the highest quality jute, and working with the finest and most experienced burlap craftsmen, we're proud to present to you the classiest, purest, and most beautiful burlap in the world. So relax at your special event, we got you covered!
ECOgardener Premium 5oz Pro Garden Weed Barrier Landscape Fabric Durable & Heavy-Duty Weed Block Gardening Mat, Easy Setup & Superior Weed Control, Eco-Friendly & Convenient Design, 4ft x 50ft
DISCOVER THE PROFESSIONAL GARDENING SOLUTION – The ECOgardener ultimate pro weed barrier landscape fabric is here to make your life easier and 100% hassle-free. Designed to provide unparalleled weed control, this premium weed barrier fabric will skyrocket your productivity and efficiency!
SUPER-EASY TO INSTALL & SET-UP – You don't have to be an expert or call in expensive professionals in order to set up the elite ECOgardener weed blocking fabric, since it is light enough so that you can carry and cut it and also heavy enough to protect your garden.
YOUR SOIL HAS VALUE & WE KNOW IT – Our exclusive garden weed control mat is designed to let air and water through, thus conserving your soil's moisture and preserving its value. The ECOgardener simple and easy gardening solution is going to keep weeds away without blocking air or water.
WEED BARRIER FABRIC MADE TO LAST – The heavy-duty, durable and sturdy design of the ECOgardener pro landscape weed barrier will provide you with premium weed protection for a very long time. Helping you to reduce chemicals so you can do your part for the environment too!
100% SATISFACTION OR YOUR MONEY BACK – We, at ECOgardener, believe that you deserve the most advanced, durable and professional solution for your home garden. That's why we confidently offer a 30-day, hassle-free, full refund guarantee on our stunning weed barrier fabric!
Sale
VIVOSUN Durable Waterproof Seedling Heat Mat Warm Hydroponic Heating Pad 10" x 20.75" MET Standard
RELIABLE RESULTS: VIVOSUN's professional heat mat maintains temperatures in the sweet spot of around 20-30℃(68-86℉)- perfect for seed starting and cutting propagation
STABLE, UNIFORM HEAT: VIVOSUN's strengthened heating film ensure this durable mat never scorches your roots and produces lots of revitalizing dew when used with a humidity dome
BUILT TO LAST: Supple, flexible and ultra-durable, VIVOSUN goes beyond stringent MET standards, water-resistance that enables safe scrubbing and a 1-year warranty;This product didn't specify any expiration date
BEST SAVINGS IN THE MARKET: This 10" x 20.75" mat is perfect for standard 1020 trays and slightly larger than comparable mats on the market; It also runs on only 18 Watts to help you save on electricity
INNOVATIVE HEATING: With radiate far-infrared light wave, making the heat source softer, and proving the seeds with enough heat, it can be heated up to 40 ℃(104℉)at an ambient temperature of 20-25 ℃(68-77℉)in minutes; Recommended for use with VIVOSUN's thermostat
MELLCOM 26' x 10' x 6.6' Greenhouse Large Gardening Plant Hot House Portable Walking in Tunnel Tent,Green
【12 ROLL-UP SIDE WINDOWS】-The green house eight roll-up windows have mesh netting to allow for cross ventilation and climate control.
【HEAVY DUTY STEEL FRAME】-Walk-in Garden Greenhouse solid steel construction with a galvanized finish, which is resistant to rust, chipping, and peeling.
【TRANSPARENT PLASTIC COVER】-The tough, durable and transparent PE plastic cover protects plants while allowing nourishing sunlight to pass through. The cover can be easily attached to the frame with the included tethers and single-sided tape.
【STABILITY】-Greenhouse equipped with 4 slant bracing tubes, a front cross bar, and middle reinforced tubes for enhanced stability.
【ROLL UP DOOR】-Plant hot house has a large zipped roll up door provides easy access to the inside and can be attached to the top in order to stay open.
If you find any plant (or a part) damaged, remove it instantly. This is because the damaged part will prevent the new growth of the plant.
Do not fertilize the plants unless very necessary. Fertilizers expose the plants to further damage.
Unfortunately, no matter how many precautions you take, a last-minute frost can ruin everything. But it would help if you did not lose hope.
Even if the leaves do not survive, and the stem is healthy, the plant will grow back again. You have many plant saving tools at your disposal, as mentioned before.
Most of the plants can do just fine in mild winter without needing extra care. If you have sensitive vegetation, mulching can do the work for you. If you are still afraid, you can buy burlaps or other protective shelters and secure the plants.
Winter plant protection becomes essential in the regions that experience extreme frost. A little knowledge would be enough for you.
Do not panic if your plants start showing signs of damage. In most cases, they will be alright soon.