Plants are more than just decoration. They're your mood-boosting, anxiety-ridding friends! Adding just a pot or two of these green friends in the bedroom may help you get better sleep. And that's backed by science! Read on to hear about the best plants for the bedroom.
How do the best plants for the bedroom help you with sleep, exactly? First of all, the color green has been known to calm people and potentially reduce anxiety. That's important for a good night's sleep! Caring for plants can also be a stress-relieving activity. If you're stressed, take a breather and hang out with your plants for 15 minutes or so. These are plants that help you sleep by distracting you enough so that you can come back refreshed!
We started out by saying that expensive plants aren't merely decor. And that's still as true as can be! However, you've got to take the time to plan out where you're going to put them. That's why we hope this simplified list can help you out!
We'll be going over three categories. One for plants that you can hang, one for plants that you can settle on top of your drawers or desks, and one for plants that can happily sit on the floor. Each one comes with its pros and cons and we'll be sure to mention them along the way. Keep reading to hear more about the best plants for your bedroom decor!
High-Hanging Plants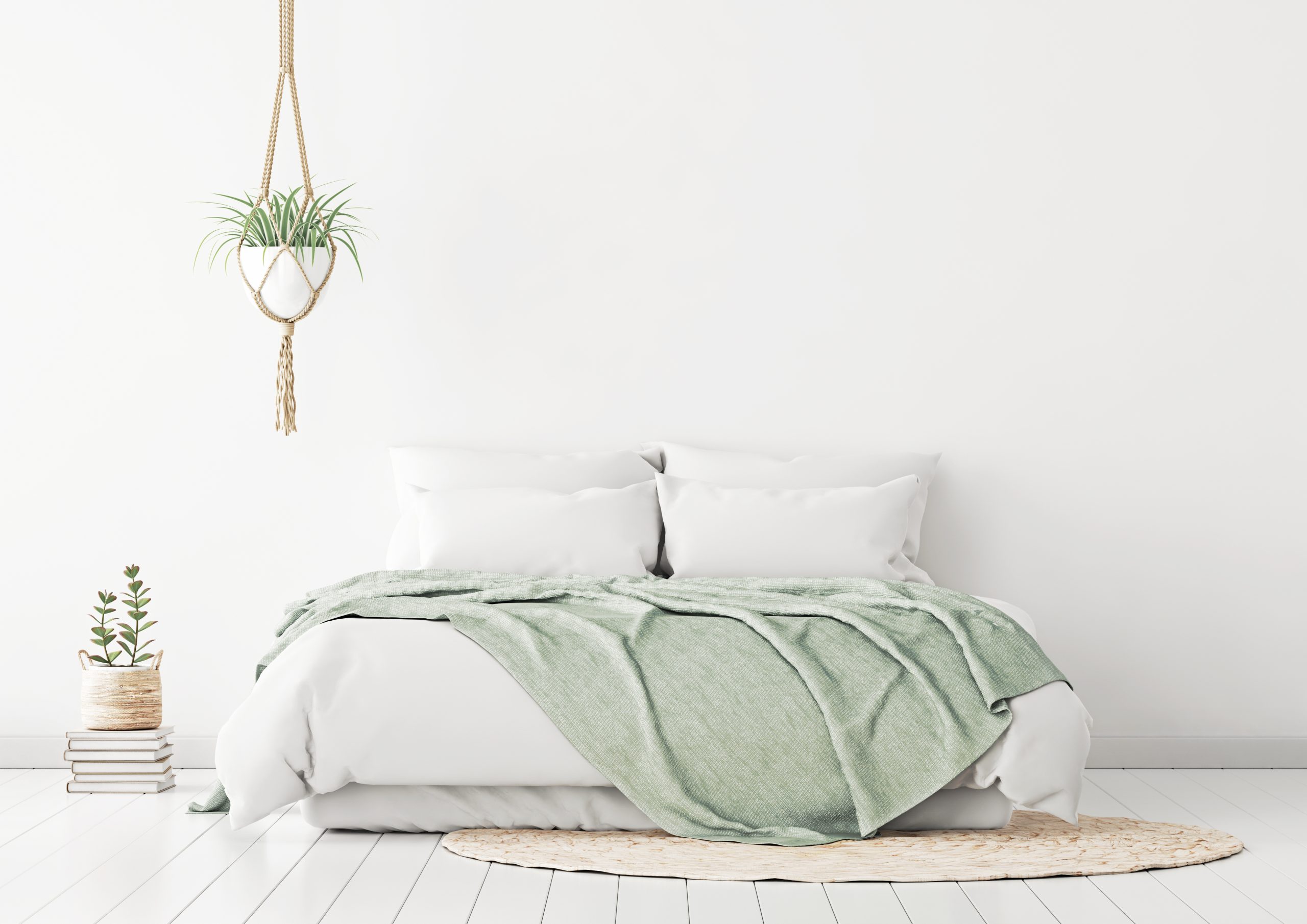 As far as plants that help you sleep go, high-hanging plants are fantastic! They are space savers and make an aesthetic addition to an otherwise empty corner or wall. Hanging your plants up high is also a great way to keep them out of reach of curious kids and pets!
Just remember to remove your plant from its decorative pot when it's time to water it – this way you'll avoid making a mess.Here are some of our favorite high-hanging plants.
Asparagus Emerald Fern 'Sprengeri' (Asparagus Densiflorus 'Sprengeri')
The Asparagus Emerald Fern is an easy plant to take care of. It looks great hanging high and it doesn't need as much light (just indirect light) so it's perfectly happy in the corner of your room.
And what a corner it will be! It's beautiful and the fine details of the leaves make it a great plant to look at. If you have pets, do keep them away from this plant as it's not good for them.
Mother Fern (Asplenium 'Parvati')
Another great hanging plant is the Mother Fern! Lush and vibrant, this will liven up any room it's in. If you have a bedroom that soaks up the sun, this plant will love that. But not too much sun! While this plant likes bright spots, it doesn't like direct sunlight. It's also low-maintenance, making it perfect for busybodies.
Lipstick Plant (Aeschynanthus Japhrolepis)
More seasoned plant parents will love the uniqueness of the Lipstick Plant. It's glossy leaves are incredibly unique, so you may think that it isn't real, but it is! Its leaves will also grow up to a meter if properly cared for.
Counter-Top and Table Plants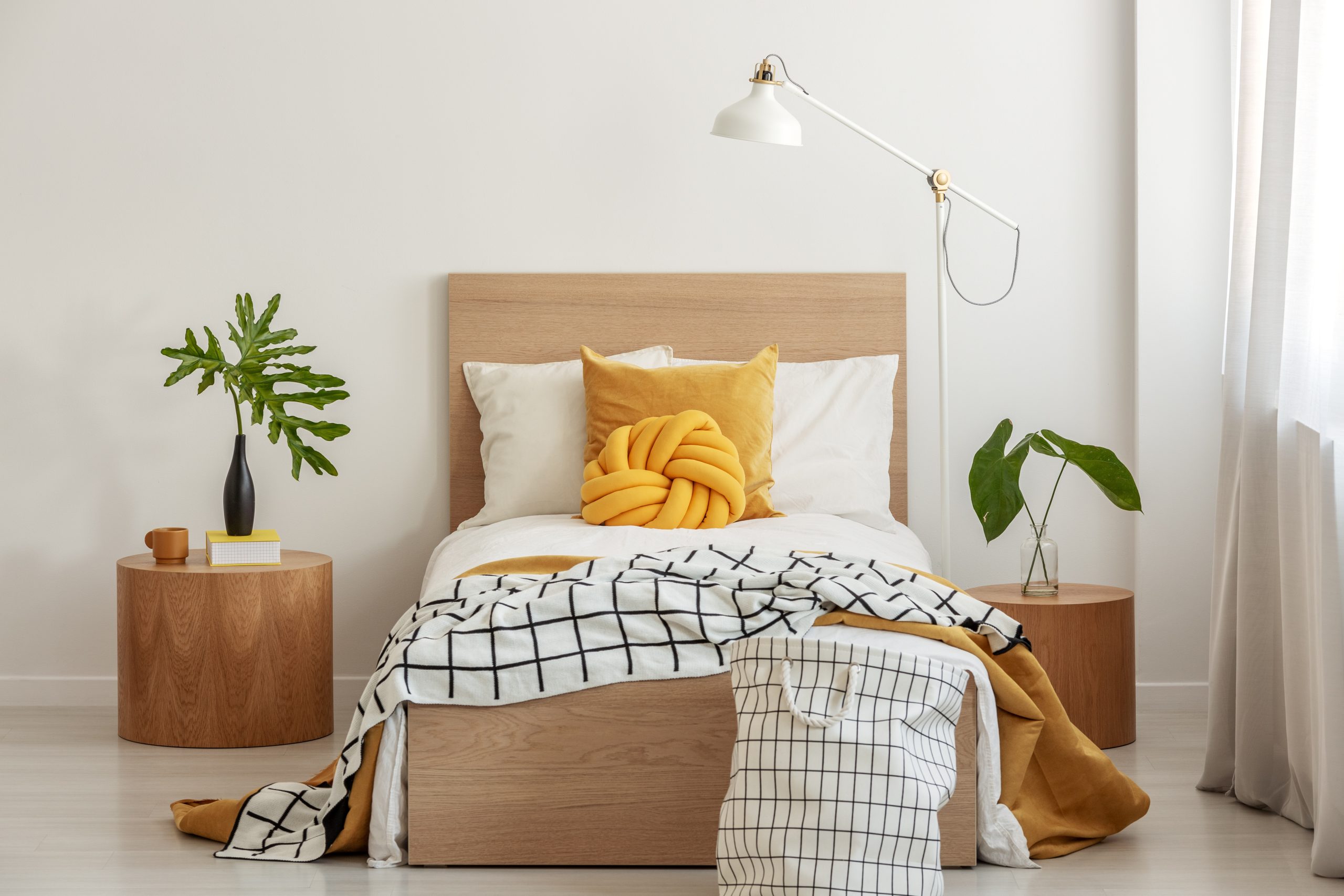 Here you'll find a few awesome plants for your bedroom that will happily sit on top of the drawers, bedside table, or desk. What better place to put your plants than the room you probably spend the most amount of time in?
Check out our favorites below.
Pleated Bird's Nest Fern (Asplenium Nidus Crispy Wave)
The Pleated Bird's Nest Fern is a welcome pop of color on any surface. Its textured, pleated leaves are beautiful. It's also a great plant for air-purifying. Table-jumping pets like cats can play with this little plant without worry.
Dwarf Weeping Fig Tree (Ficus Benjamina natasja)
Pretty and compact, the Dwarf Weeping Fig Tree is one of the best plants for bedroom decor. Great for average to cool room temperatures, it's a plant that gives you enough breathing space while clearing the air you breathe.
Routines can help us get into a restful mindset. If you give yourself time to prune or water this plant (it likes moist soil) on a regular basis, you can start your routine right.
Rubber Plant Belize (Ficus elastica 'Belize')
This one is perfect for intermediate-level plant parents. The Rubber Plant Belize does require a bit of care, but it's got benefits that make it worth your time. If you have respiratory issues or dry skin, this may be one of the best plants for your bedroom.
That's because, as well as being plants that help you sleep, Rubber Plants, are also known to be good for managing room humidity. You could place this one right beside your bed, away from direct sunlight.
Pilea 'Greysy' (Pilea Glauca 'Greysy')
This aesthetic little piece of greenery, the Pilea 'Greysy', is a great beginner plant. This low-maintenance and pet-safe option is pretty stress-free! Just keep it free from dust (a great plant to remind you to clean your room). After all, a clean environment is a peaceful environment. This clean and green plant will help you get a great night's sleep.
Philodendron 'Green Princess'
The Philodendron 'Green Princess' is a plant with large leaves and a bright green color. It's easy on the eyes and will help you breathe in dust-free air as you sleep!
How does it do that? Plants with big leaves, like the Philodendron, trap dust particles. That means the leaves gather them up, leaving less for you to breathe in whilst you sleep.
Snake Plant 'Fernwood Mikado' (Sansevieria 'Fernwood Mikado')
Tiny but very easy to care for, the Snake Plant 'Fernwood Mikado' is a perfect addition to your bedroom jungle. It's a plant that helps filter indoor air and remove toxic pollutants. It also brings natural humidity to the room.
Floor Plants
If you want bigger impact greenery, larger floor plants are the key especially when you have fence planters. They're easier to care for in terms of accessibility and moisture control. Floor plants are also some of the best plants for bedroom environments – check them out to find out more.
Golden Pothos (Epipremnum Aureum)
Big heart-shaped leaves make the Golden Pothos a fantastic plant to look at. Unique and a very helpful air purifier, this plant is very easy to care for. The only thing to note is that it isn't pet-friendly. But if you keep it out of reach of pets by placing it on a high shelf or in a hanging pot, there shouldn't a problem.
Aralia Fabian (Polyscias scutellaria 'Fabian')
If you have kids, make sure they give the Aralia Fabian some space! After all, both you and this plant deserve a stress-free environment. If you live alone and would like one in your dorm, then the Aralia Fabian is a great plant! It helps boost the humidity in rooms and reduce dust in the air. Perfect for the studious type lugging around dusty books!
Calathea Medallion (Calathea Roseopicta 'Medallion')
For something a little more pet friendly, why not check out the Calathea Medallion? If you want a plant that sleeps with you, this is the one for you. No, literally – the leaves of the Calathea Medallion actually fold up at night! It's one of the few plants that helps you sleep – literally. Think of it as your all-natural alarm clock. This tropical beauty also helps manage toxins and pollutants in the air.
Calathea Ornata (Pinstripe Calathea)
Another Calathea on the list is the Calathea Ornata. This pretty much does everything the Calathea Medallion does – folding leaves, managing humidity, and helping with air pollutants. The only difference is that the Calathea Ornata has deeper green leaves with light pink and white markings.
Cordyline 'Conga' (Cordyline fruticosa 'Conga')
If clean air is what you need for a good night's sleep, the Cordyline 'Conga' is for you! It's also a great dust-trapper. So you can drift off with the knowledge that the air you're breathing is as clean as can be. No two leaves are the same on this beauty.
Frozen Planet Plant (Xanthosoma sagittifolium 'Frozen Planet')
Sometimes, a key to a good night's sleep is a decluttered and beautiful space. The Frozen Planet Plant is simple but very beautiful. It's got long stems with big, vibrant leaves that look like they've been brushed with snow. This will fit in with any modern decor very nicely.
There you have it! Here are our top picks of the best plants for your bedroom. We always have to make space for the plants we bring home. They're our babies! Cleaner air and beautiful colors are always better for one's well-being. So, we hope you picked up a thing or two from this list of the best plants for the bedroom!