If you wish to have a backyard that looks polished and well furnished, you need to make sure that even the smallest part of it has structure and definition.
The most crucial factor will be the garden bed edging. Edging gives your garden a very nice finishing touch and makes it look more put together.
Now, you must be wondering what you can use to do the edging. Well, you have reached a perfect place where you can find the answer to this question.
Below are 18 Garden Bed Edging ideas that you need to see to give your garden that definite look.
Garden Bed Edging Ideas
1. Stone Edging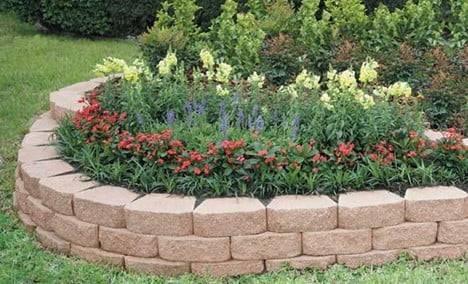 Stone edging is one way you could choose to outline gardens, walkaways, or any landscape elements. These are long-lasting, require low maintenance, and are the perfect complement to your flowers or plants.
A stone barrier not only looks beautiful but also helps you contain the grass. It helps you create a perfect, definite edge to your garden and gives you space to step while navigating the lawnmower.
Ensure you dig down below the grass-root level and then level out the ground where you want to lay your stones. This way, you will create an area to place the rocks and a barrier for the unwanted grassroots.
2. Woven Wood Edging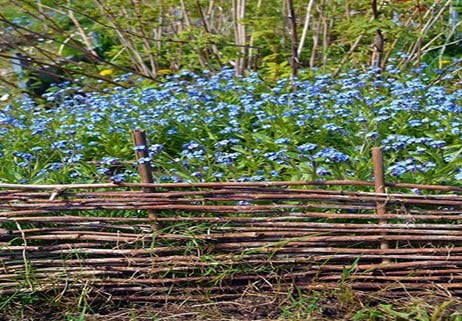 This is a beautiful way you can outline your garden or any landscape elements. For a vintage, old-fashioned appearance, you can choose natural logs and sticks for edging.
This is a real option if you have a vegetable garden. Although it can be more delicate, it is still natural enough to work well in a garden. It can help you restrict different growing areas for fruits and vegetables in your garden.
3. Bottle Edging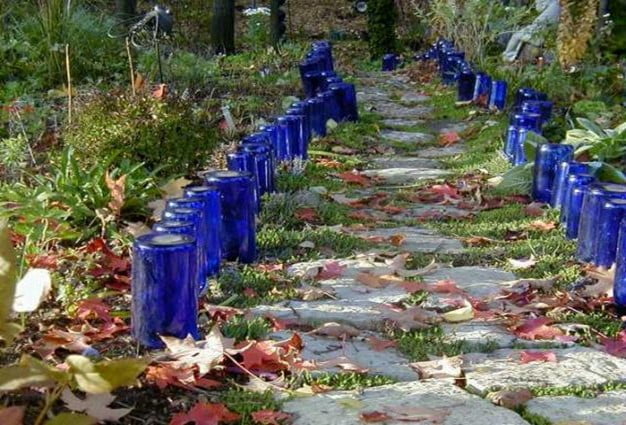 Want to reuse those plastic or wine bottles you once decided to throw away? Here is a way how you can do it. It is a low-cost and eco-friendly option you can choose to outline your garden and be a creative person.
Rinse the bottles you want to use with a small amount of water. Dig a trench of about 8 inches deep around your garden bed. Place the bottles facing down in the trench such that they are side by side to each other.
Fill the remaining gaps of the trench using the soil you removed while digging the trench. Paint the bottles with your favorite color, and that is it, you are done.
4. Glorious Overgrowth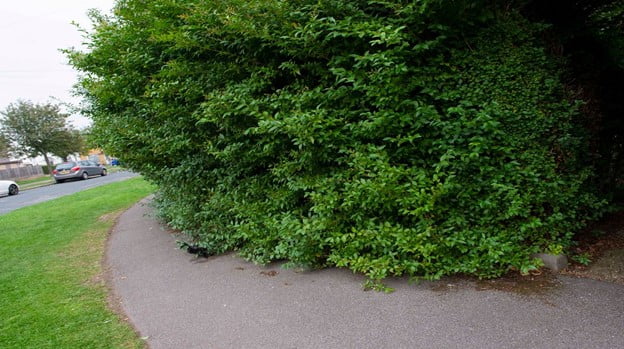 Here, the border is made from imperfectly cut stones. The stern look goes perfectly with large bushes and flowers that have foliage that will lean over the tri-leveled wall.
Keep your plants trimmed to see at least one layer of the edging. This looks beautiful from inside and outside. Plant colorful flowers to give a vibrant touch to your edge.
5. Small Rock Wall Design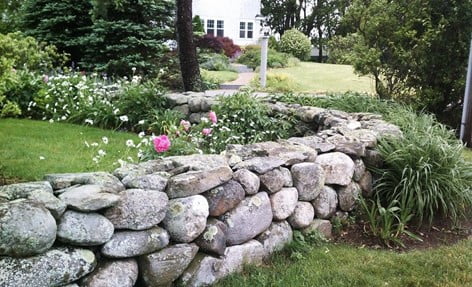 You can edge your garden by stacking rocks in two to three layers to create a small wall. This is perfect for a raised outdoor garden or backyard courtyard, and it allows you to curve the edging, which gives a specific shape to your garden.
You can use small stones to fill in the gaps in the wall. It also helps prevent erosion and adds a nice enclosure to your garden. Stick to rocks that look the same in texture, color, and form. A similar appearance throughout your wall will give a more natural look.
6. Forest Edging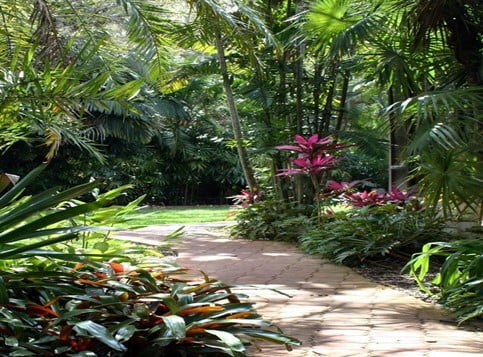 Here the bricks are embedded in the ground and the garden is covered in black mulch, the coloration of which resembles that of the bricks used. This method is eco-friendly, and it looks beautiful. It is used to outline the garden of evergreen trees and bushes.
7. Bamboo- like Edging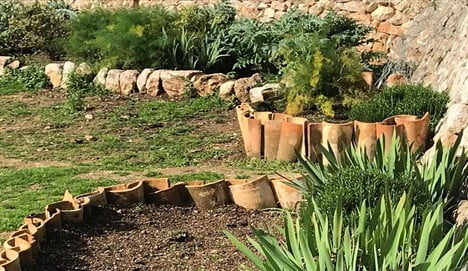 This idea is unique and is shaped and positioned to create a charming border that is perfect for high foliage like trees and succulent plants with two to three feet high foliage. It resembles large bamboo stems when positioned perfectly.
This adds a wooden aspect to your garden. It offers an organic look that fits right into any garden. It is a durable, versatile material that creates an attractive and functional border.
8. Log Edging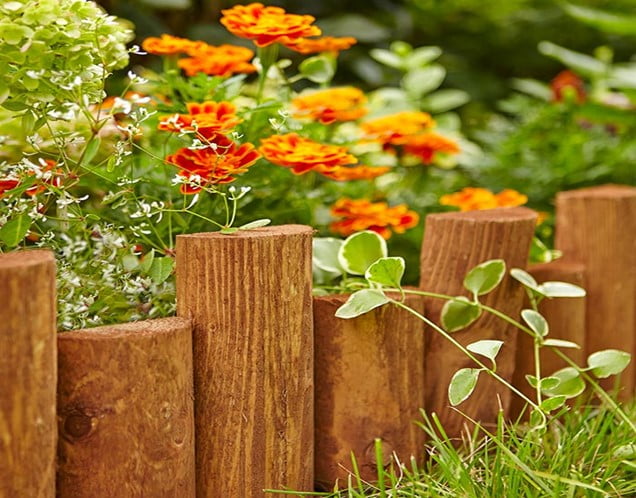 You can place cut logs between flowers and grass to distinguish between two different areas. It is entirely your choice to decide the logs' length and whether you wish them off the same sizes or different from creating a dynamic look—plant bright colored flowers that go perfect with this edging style.
9. Brick Edging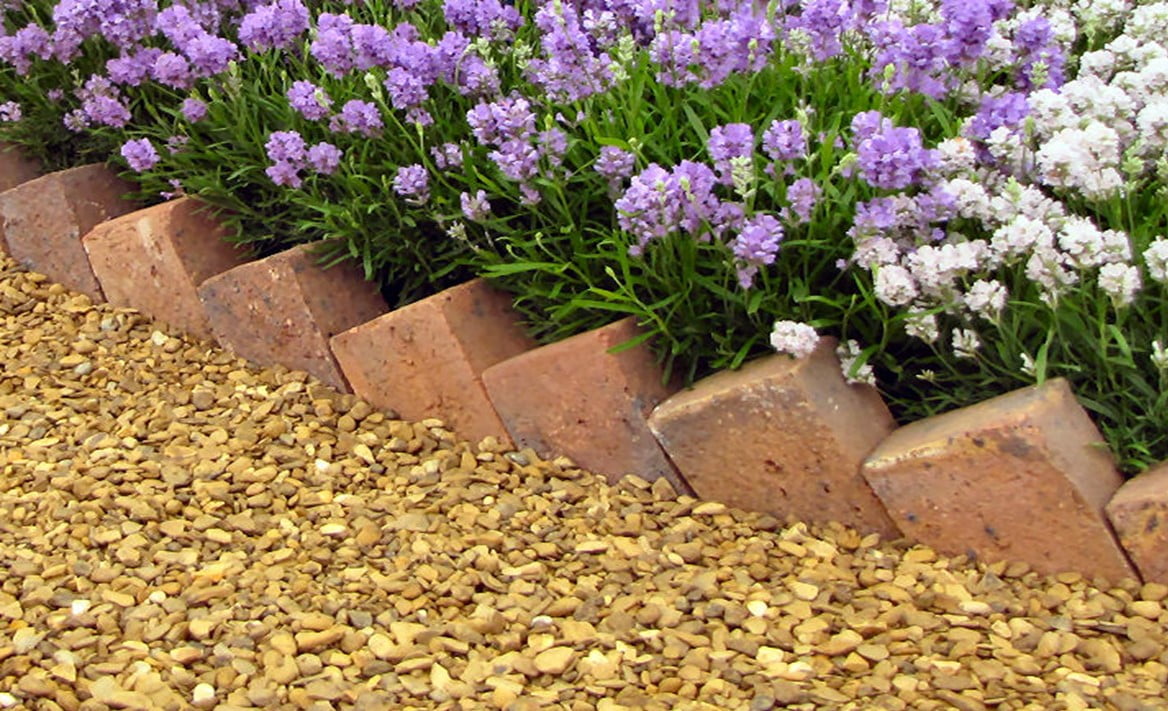 Bricks are a traditional edging option that is used today as well. They are strong, versatile, resistant materials that can outline the garden beds, lawns, and paths.
They are available in many colors, sizes, and textures. It looks good with any surrounding. The bricks may cost high, but they are easy to work with.
10. Seashell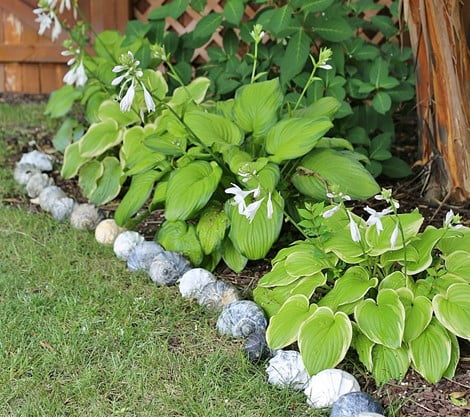 Like the quahog species, large seashells can be used to make an utterly unique and striking border in any garden. Seashells collected during any family vacation or trips can be used for design accents to add natural tropical grace and beauty to any space.
Stand large shells like conch shells and clamshells visible from a distance and end by burying the base of the clamshell in the garden soil. You can also lay them flat around the perimeter of the flower bed to make them more visible.
11. Gabion Wall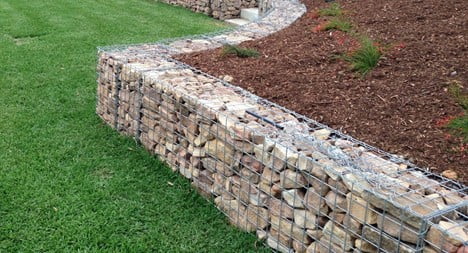 A gabion is a cage, cylinder, or box filled with rocks, concrete, or soil and can be used to outline the garden beds. It can be purchased at many gardening and home improvement stores, which allow you to fill the interior with your choice of material.
The most popular interior filling material stones, which gives a more modern look. However, filling with cut logs, shells, terracotta, among others, have also been found.
12. Rusty Pipes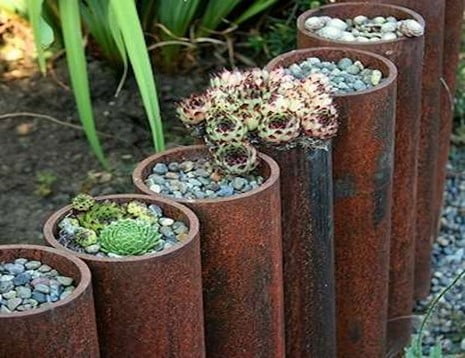 You can be as creative as you want when choosing the material you want to use for edging your gardens. Metals can be an attractive and robust choice for using them as a material for the edging. Old, rusty pipes can be an acceptable form of metal you can use for this purpose. Fill them with pebbles or jewels, and they will look amazing when you place them on the border of your garden beds for edging.
13. Wheel Edging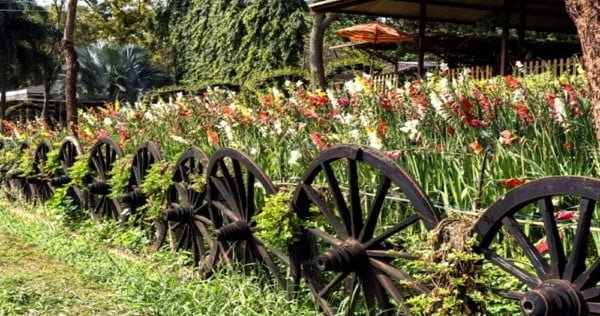 Again, metals in any shape or size can be used for edging your garden, and you need to be creative to use them.  Use old car hub caps to create a fascinating border between grass and ferns. Large plants are best to use this design with.
14. Concrete Blocks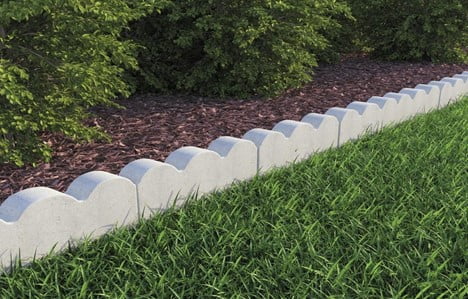 Concrete blocks are standard lawn edging materials. You require minimal effort to install them, and they establish clear borders and go well with most designs. These can be used to separate two areas of a garden and are good edging options.
15. Timber Trenches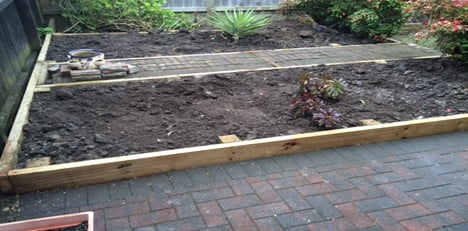 These can be used by installing them sideways to create flat edges or seeing them into pieces and installing them vertically to make mini pickets.
Flat timber flakes make a clean, straight edge. Plant long foliage and small blooms to complete the look. It makes it look like the garden is in the center of a forested area.
16. Railway Sleeper Wall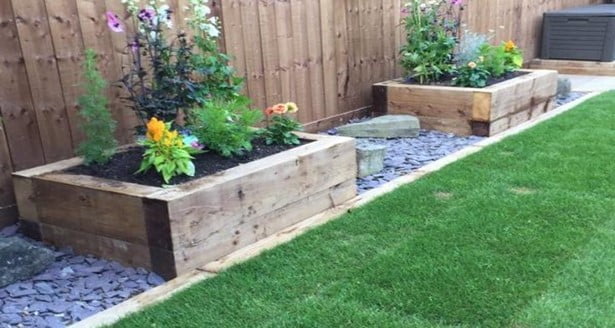 Use long wooden planks to create a unique edge that contrasts with the green grasses and foliage. They can be used either as flat planks or can be stacked to make a wall. Use it in a step pattern that is perfect for gardens or landscape elements located on hills.
17. Pad with pavers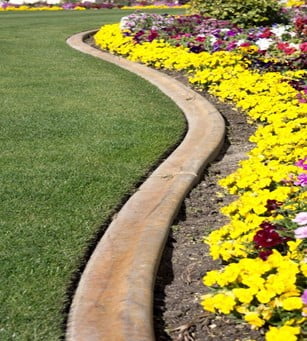 Poured concrete can be used to create a clean, distinct edge that can be used to break up a yard or draw attention to the foliage. This is more of a permanent option to be used, so make sure you know the layout before making them.
Mix and match colors to find a perfect combination to match your lawn. You can try to stamp patterns to create an attractive border.
18. Bowling Balls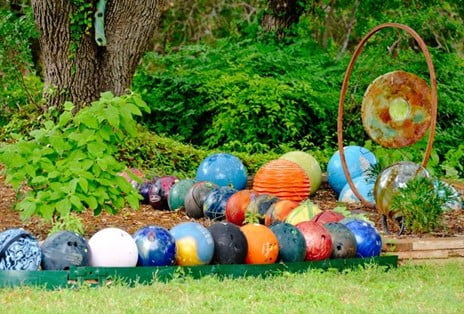 Bowling balls are available in a variety of colors and has an eye-catching spherical design. This unique property makes them an ideal candidate to be used as garden bed edging materials. 
They go perfectly well with the green plants and color of stone walkaways. This option may sound inappropriate to some as not all people have access to bowling balls, so for them, the alternative could be rounded stones or hollow plastic balls, which can be filled with soil, stones, or pebbles to give them weights and can be painted with the color of their choice.
We have reached the end of this article, and I am sure that you have by now decided your favorite idea that you will use for edging your garden.