What are the best floors to have in a house?
Some of the most frequently used floor types used in homes are;
Carpet – Thanks to its soft fluffy texture carpet is the most popular floor type for bedrooms. It is the softest underfoot which is why many people also consider it the best flooring for living room areas.
Luxury Vinyl Tile – Also known as LVT flooring, this floor type is extremely usable. It comes in click together rigid core planks and thinner glue down tiles. Both are totally waterproof and highly durable, suitable for all interior rooms.
Laminate – Laminate flooring is a great low cost option which can be used in all interior rooms except wet rooms, as it is not waterproof like LVT. It usually replicates real wood flooring for less cost. The best laminate flooring products tend to have the longest warranties.
Real Wood – Real wood flooring, such as solid and engineered wood flooring, is a natural product that provides a natural luxury that only real stone flooring comes close to matching. Real wood flooring however doesn't do well with moisture or extreme hot and cold.
Stone – Genuine natural stone flooring is a great option for homes, it's durable, waterproof and classy. The material stone is clearly hard so it's not ideal for bare feet. Stone flooring is perfect for kitchens and utility areas.
What is the most popular flooring for new homes?
LVT flooring is currently the most popular flooring in new homes. It's modern, well priced, durable, waterproof and often comes with 30+ year warranties.
The colours of lvt floors in new homes is usually natural oaks and greys.
The next most popular is carpet, which is used in most bedrooms of new homes due to the comfort provided by the softness of the flooring.
Real wood flooring can also be found in new homes, however this tends to be on larger more expensive homes rather than homes in large estates.
What is the easiest flooring to keep clean?
The easiest flooring to keep clean is vinyl flooring because it's waterproof, hard and relatively smooth. When cleaning laminate and wood flooring you have to clean with as little moisture as possible to avoid damaging the flooring.
The fact that vinyl is waterproof allows you to get the flooring wetter which generally helps with cleaning.
Staining liquids also don't get absorbed by vinyl flooring, the liquid simply sits on top until it is cleaned off. Vinyl is not totally impervious to staining, but it is much more difficult to stain than a porous material such as natural wood.
The best vinyl flooring products can often be found with lifetime residential warranties, which provides tremendous peace of mind.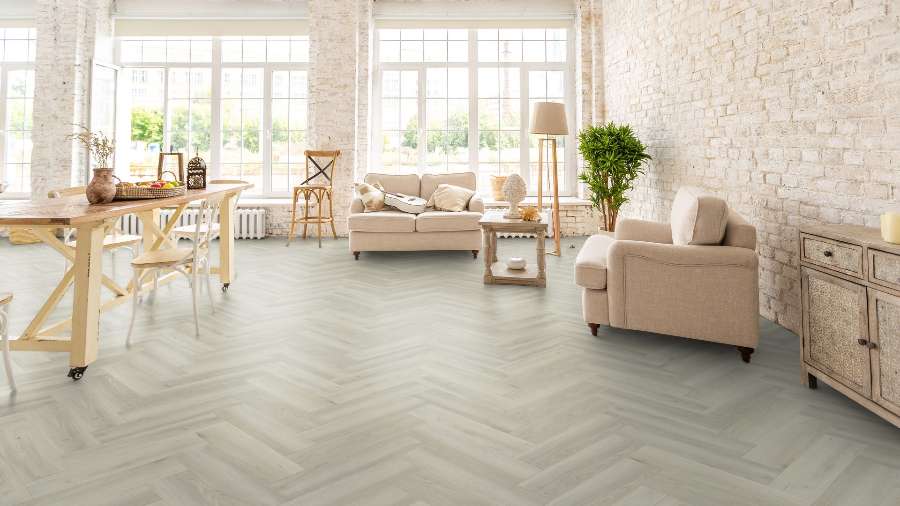 Which flooring is luxurious?
There are multiple floor types that are considered luxurious, a few include;
Real Wood Flooring – Solid and engineered wood flooring, especially high quality versions, look and feel very luxurious.
Real Stone Flooring – High Quality floors made out of natural materials such as wood and stone are often considered the most luxurious of all. Stone floors can look extremely luxurious.
Carpet – Whilst it doesn't have the same luxurious appeal as real wood or stone flooring, carpet is much more comfortable and many people simply don't want wood or stone in areas such as bedrooms and living rooms. Many carpets are extremely soft and feel amazing underfoot. A good looking and great feeling carpet can make a luxurious area feel even more luxurious.
What floors never go out of style?
The two floor types that have so far proved themselves to be the best at never going out of style is natural wood and natural stone flooring. It is because these materials are both produced naturally that they don't go out of fashion.
I bet you've never looked at a rock or a tree and thought they looked old fashioned!
So far at least, nature hasn't gone out of style.
Natural flooring is also often considered one of the best flooring for large areas in homes. The fact that they don't tend to go out of style makes natural flooring arguably the best flooring for the money.
What is the best flooring for a luxury kitchen?
The best flooring for a high end luxury kitchen is usually natural stone. These floors are timeless thanks to the natural material, waterproof and extremely durable.
You can spend more and more on natural materials when they become rarer and more unique. Wealthy people can have material brought to their properties from all over the world. The rarer the material is, the more people want it, and the more they are willing to pay for it.
High end luxury vinyl tile flooring can also be found in very expensive homes. LVT products offer greater variety than natural materials, they also tend to be a little softer to walk on than stone.