Gardens can be a beautiful addition to the aesthetic of your place. They can add many colors to your home, and gardens act as a fantastic tool to ensure the inflow of fresh air all day long. Some people use their gardens to grow kitchen ingredients, which adds many nutrients and freshness to their everyday meals. 
But, maintaining gardens is a long-term commitment, and it requires effort and resources. One of the easiest and the fastest way to ensure that your garden is safe and protected from destruction is by installing a garden fence.
Without a garden fence, your garden is always at risk of being tampered with by small animals or pets, passers-by, naughty children, and sometimes even vehicles. 
Benefits of a Garden Fence
There are a lot of benefits to having a garden fence. Apart from the security and overall protection of your premises, it also adds a lot of beauty to your place. The benefits of fencing your garden are listed below: 
Shelter: The garden fence can provide your house and garden shelter from various elements like the gusts of wind that can demolish your garden. A right garden fence can also provide shade to your plants and protect them from the scorching heat. 
Demarcation: Fences can help restrict a line of difference between your property and your neighbor's property. This can help in ensuring clear and safe boundaries exist between your house and someone else's property.
Security: As mentioned before, fences can help keep your plants and house safe from stray animals. Fences also provide your children and pets a sense of security and prevent them from facing any external abuse. It is also tough to trespass any property if a fence exists; your house will be safe from trespassers if you install a garden fence.
Beautification: Using straightforward tricks and hacks, you can add a lot of beauty and color to your garden fence easily by yourself. This can add a lot of beauty to your house and make it look aesthetically pleasing to a passer-by's eyes.
Minimal maintenance: Garden fences need minimal maintenance and do not take a lot of time or resources.
Prevention of noise: Garden fences also help diminish the sound that may come from the neighboring houses and ensure that your home is peaceful and free of unwanted noises.
These reasons make a garden fence a must-have if you have a garden to ensure your house's safety and well-being.
Super Easy Do It Yourself Ideas to install a Garden Fence at your place
A garden fence is a unique and inexpensive tool to ensure your garden is safe. Some may think that installing a garden fence is a professional's work, requiring a lot of work and money. But you are highly mistaken if you think this way. You can make your very own garden fence and add a professional touch to your garden with ease by using any of the twelve easy Do It Yourself ideas listed below! 
1. Outline Fence with a Door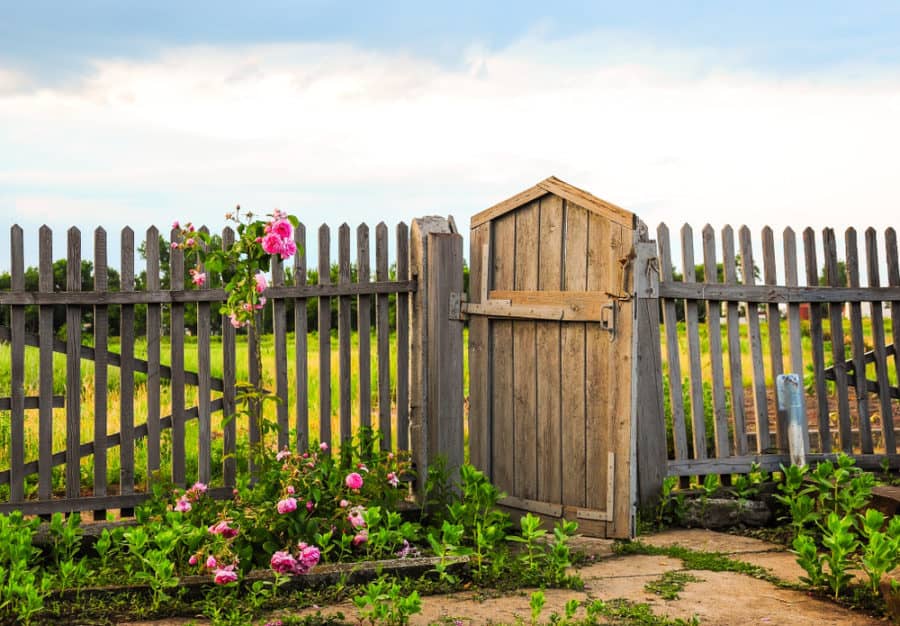 You can install a simple garden fence made of wood or metal that outlines your house's perimeter with your garden. You can keep a house entrance door that can be followed with a path that leads to the place from among the garden plants.
This requires straightforward tools and skills, but fences like these make your house look like it is straight out from a movie. Houses with fences like such are protected and safe while they look beautiful and elegant. With such a garden fence, you can be sure that no one will be able to trespass on your house. 
2. A Touch of Colour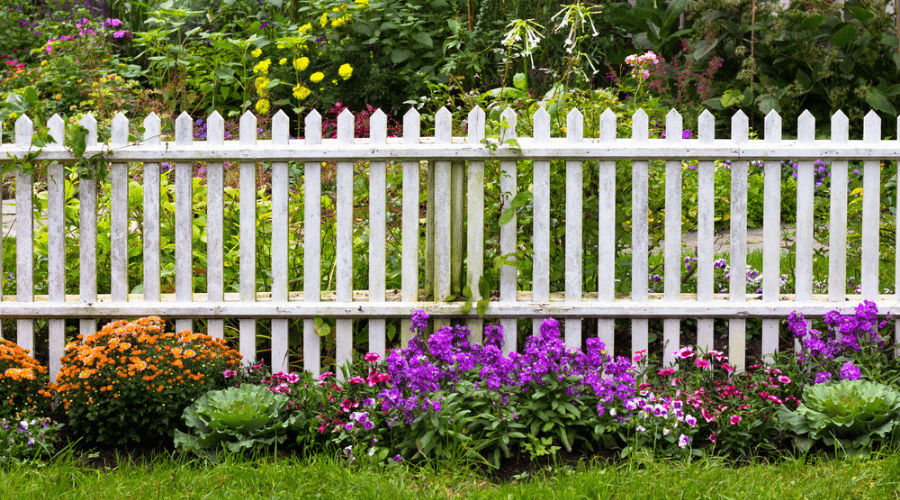 Depending on your house's decoration and aesthetic, you can add a touch of color to your home's fence. A few coats of paint on your wooden garden fence go a long way. This is a very cheap and inexpensive way to add beauty and charm to your necessary wooden wall.
You can do multiple coats of your favorite color, while you can also be a little more creative and add more elements to painting it. 
3. Add Creepers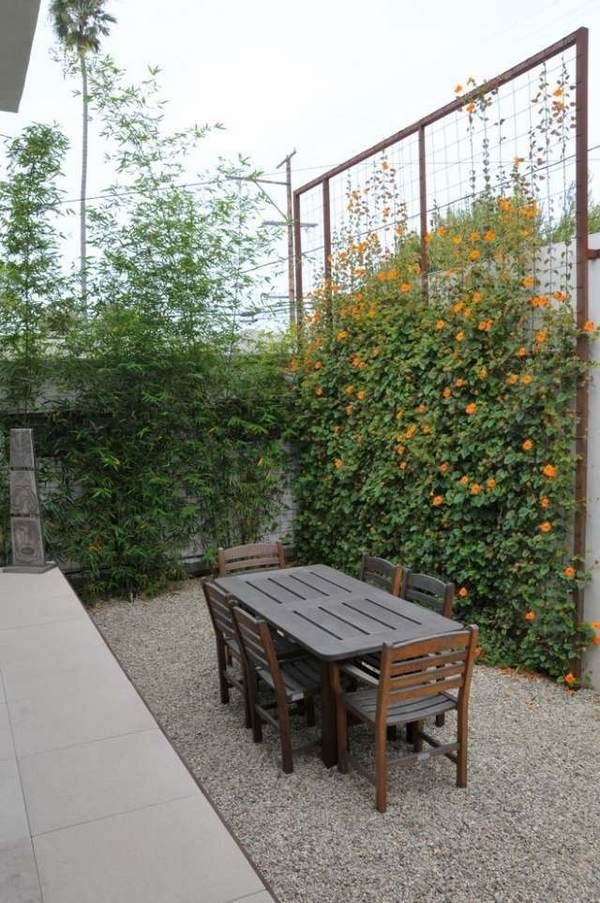 Creepers do not require a lot of maintenance and are easy to find and cheap. They can add a lot of beauty and elegance to your simple and basic wooden fence. You do not need to give any special care to it while it grows since it can grow easily o9n the fence's support by itself.
4. Recycled Timber Fence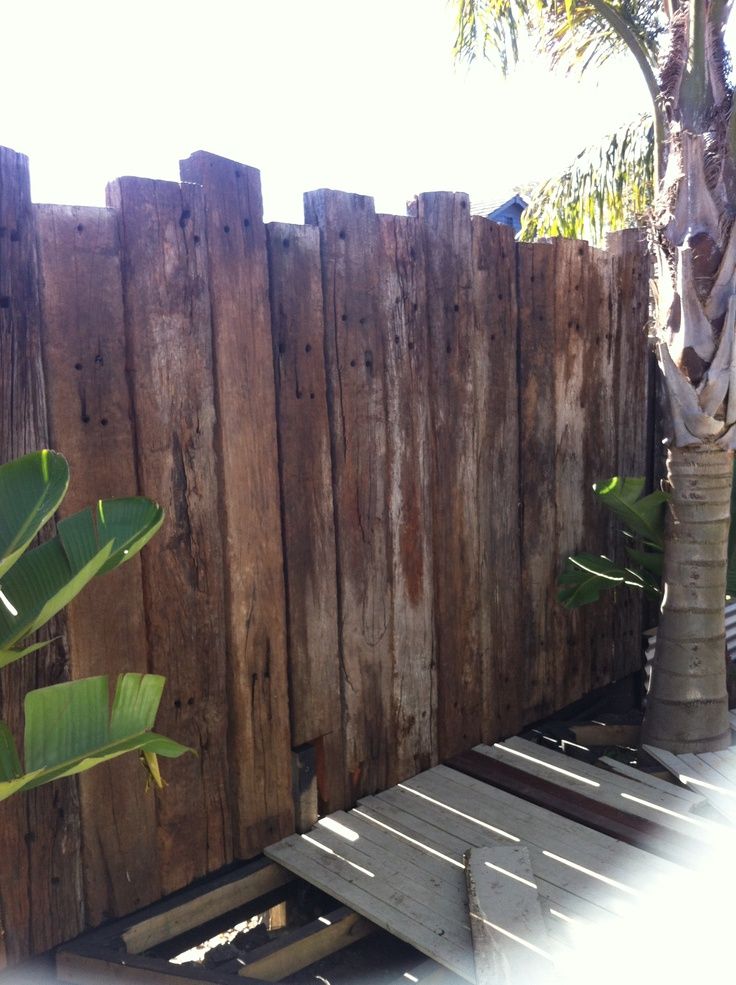 If you have various wood such as timber lying around from a project you may have undertaken earlier, do not throw it away. You can put all the pieces together vertically to form the fence of your house. It does not matter if the details of timber are unequal or asymmetrical. If you plan a little and arrange it correctly, you will end up with a magnificent looking garden fence. 
5. Log Style Fence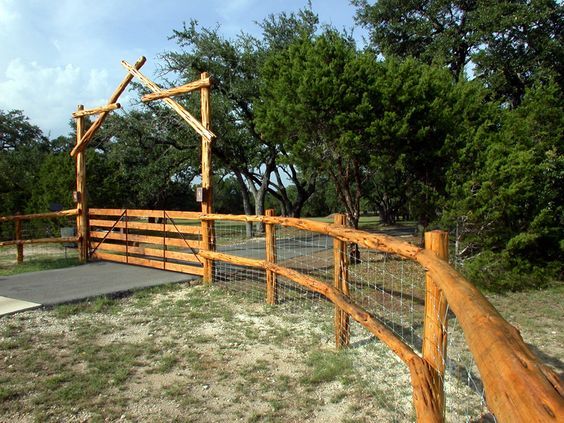 You can take some nails, hammer, and logs to put together a frame and compile a useful and professional-looking garden fence. This can sound very technical and difficult, but it is straightforward once you start to work on it. With short and necessary tools, you can end up with an elegant and professional-looking garden fence.
6. Stone Base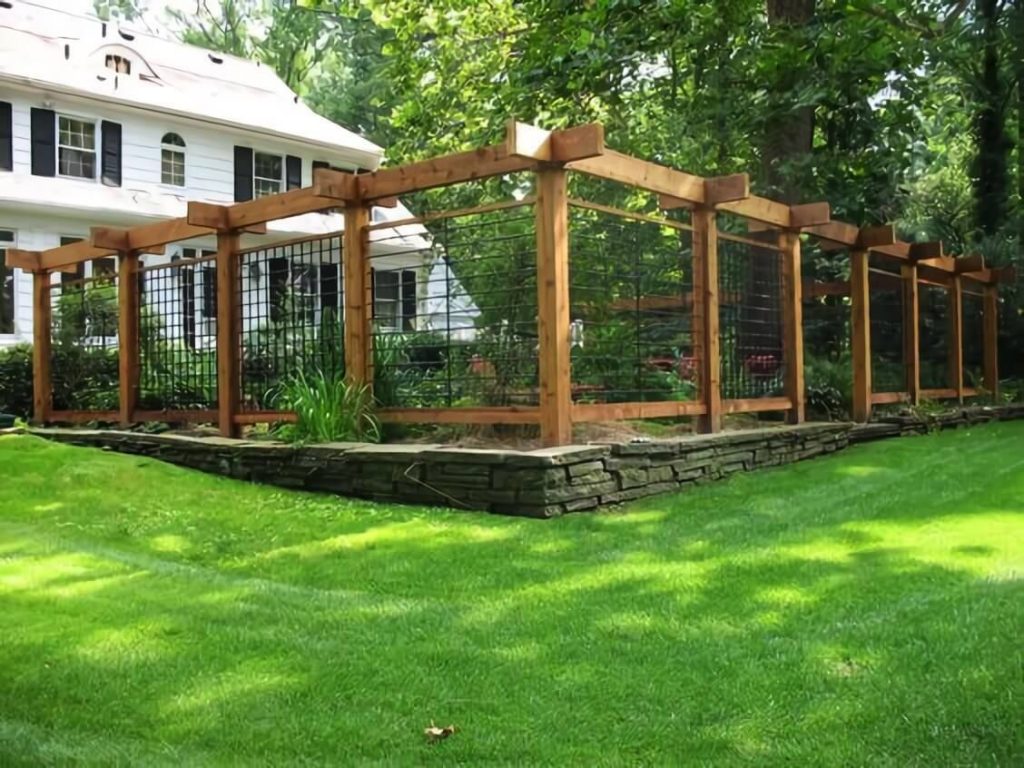 You can build a fence on top of a short, already existing stone fence. You can create a fence made of wood or metal or both. This whole set up can give a relaxed, elegant, modern, and chic look to your premises and garden. You can get this fence to look cool and eclectic by making the stone base a little uneven and adding chunky and beefy wood pieces on top of it. 
7. Hanging Potted Plants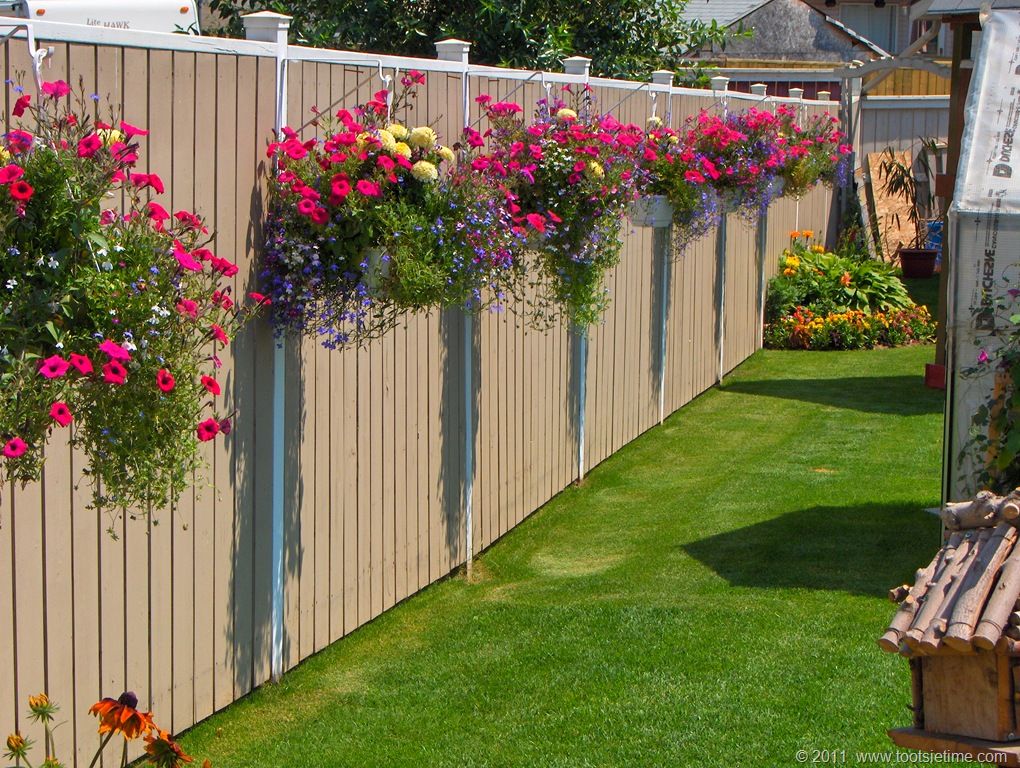 You can hang potted plants at equal distances on your garden fence. These add a lot of beauty and elegance to a bare fence. Ensure that the colors you chose to compliment the overall look of your place. Add a basic and inexpensive stain to your fence to ensure that it looks chic, elegant, and modest. You can use various colorful flowers to plant, too; it can add a lot of structure to the garden fence's overall look.
8. Stained Wooden Fence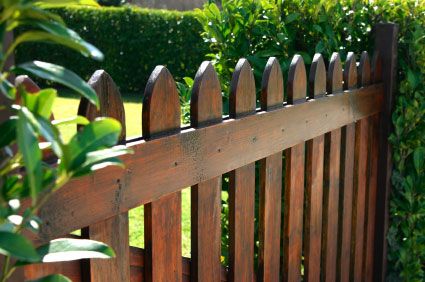 You can assemble a fence made of varying shapes according to what fits best according to your place's aesthetic and make it out of wood. If chosen correctly, such fences can lend a lot of body and structure to the garden fence.
Remember to choose a suitable wood stain to have a touch of color and is not pale. These fences look classy and do not require a lot of resources. Such garden fences much compliment houses that are classy and modern. 
9. Old and Basic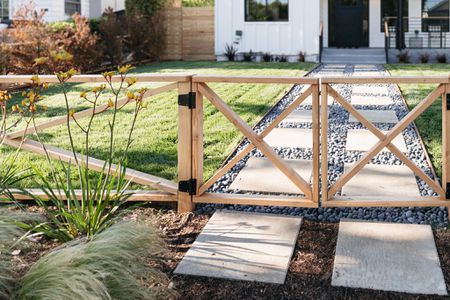 The old and basic fence made of beefy wood pieces and a wire mesh is not so outdated after all. You can install this basic fence and make it look useful and elegant by replacing the wood pieces with logs or staining the wood a suitable color. You can add a few plants to the base of this fence to make it look well-structured and classy, 
10. Weave Your Fence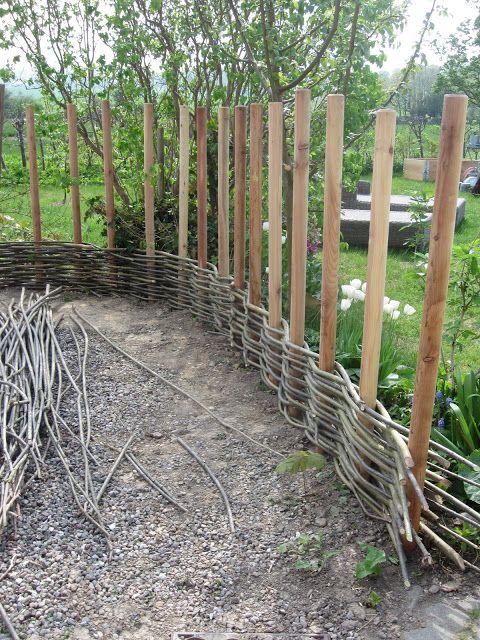 Use thin, long, and flexible branches and intertwine them in a pattern to create a look such that it looks like the branches are weaved together. You can incorporate a basket style fence and support it with some logs, wood, nails, and rope. This may require some effort, but it will end up looking very attractive. Since you cannot go wrong with this one, it will indeed look like a professionally done job.
11. Quilted Contender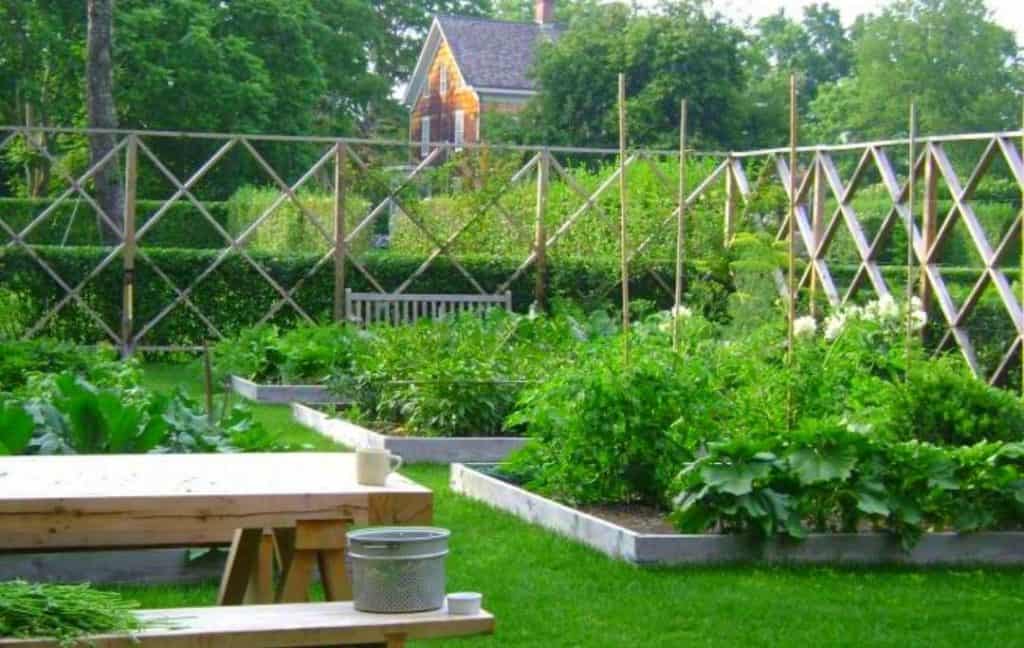 You can install a fence with a square layout. It looks beautiful and well kept, and it is easy to make, and it does not require a lot of maintenance.
12. Old Wooden Door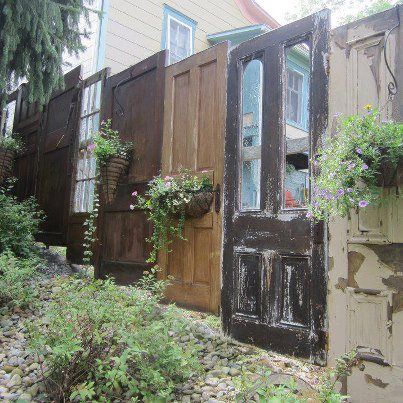 Add a wooden door to your fence through which one can enter your premises. It looks antique, classic, and clean. 
Final Words
These garden fence ideas can help you find the perfect garden fence for your place that you can assemble quickly, with minimal tools and efforts.
To conclude, garden fences are a fantastic way to customize and elevate the look of your house and your garden. You can add the perfect and the most fantastic touch to even your basic fence using these incredible garden fence ideas. 
You can add a lot of class and elegance to your premises. Even the tiny details that require little to no money, skills, and tools. You can put together a few garden fence ideas to create a garden fence that fits best for you.
These garden fence ideas not only make your house look more beautiful, but they also keep you and your family safe and free from any external destruction or trespassers.