Growing plants and trees that beautify your garden and give you fruits and veggies is legit a blessing.
After all, who does not want a fresh apple, that too homegrown? However, if you start growing the original huge version of an apple tree, you might have to wait for years to enjoy its apples.
It takes a lot of time, hard work, and patience to grow an apple tree. This is the reason many people prefer a bonsai apple tree to skip that difficulty and patience.
Though bonsai trees do not grow instantly and give you fresh food to eat, they do take less time. An apple bonsai not only gives you full-sized healthy apples but also looks extremely cute and attractive just anywhere in your house- balcony, porch, or your coffee table.
However, the most common question people have is how long it takes to grow a bonsai apple tree? How much patience is needed to get full-grown apples from a bonsai?
If you, too, are planning on an apple bonsai and want to get the answers to the above questions, here is a useful guide for you. From the requirements of this bonsai to the time it takes to grow, keep reading to know all of it.
What Do You Need?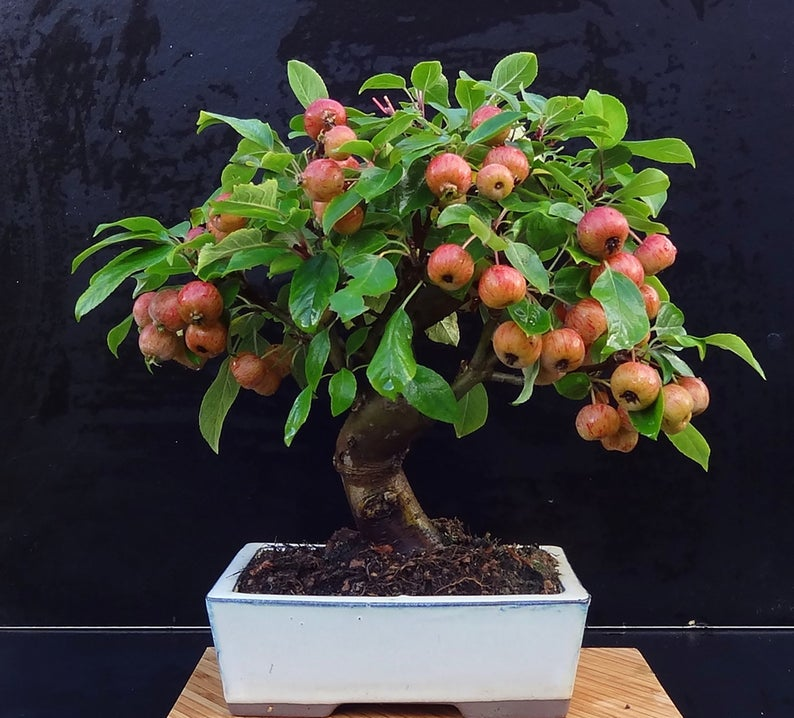 While bonsai trees do not demand too much quantity of anything, they do require quality. If you wish to have tasty apples, a little bit of hard work is important initially. Here are a few things you need to pay attention to.
Soil: The right soil must be the most important ingredient to consider before you plant anything. You can purchase bonsai mix from the market. This soil is specially made for bonsai trees.
You can also make your own by mixing Akadema with some important items. This Akadema soil gives easy drainage and avoids rot.
Container: For a fruit bonsai, deeper containers are advised. The depth of pots should be double what you expect your tree to be.
Seed or Seedling: Although both seeds and seedlings do not make any difference in the height of the plant, a decision is still needed to be made.
The only advantage of growing a bonsai by seed is- the plant can be easily pruned and shaped at its earliest age (5cm) and will not require much hard work.
After considering all the factors of growing an apple bonsai, it is time to consider the most important question- how long will it take for it to grow completely? As mentioned earlier, apple bonsai does take less time to grow, but this does not mean you would get apples in a few months.
While a big apple tree takes a good 6 to 8 years to grow, a bonsai apple tree takes around 5 years or less to look like a mature tree.
The time your apple bonsai takes to mature depends on various factors. One of the most important factors that affect growth is how you started. If you started with a seed, it would take good 5 years for growth. But if you start growing the bonsai by a seedling, it will take less time to grow.
Other factors that affect the growth and quality are the container you choose, soil type, and your caring methods and timings. Where you plant your bonsai, how you plant it makes a lot of difference. So, make sure that you choose the best possible place for your apple bonsai.
Final Word
No matter how long it takes to get those delicious big apples from your bonsai, it will all be worth the wait. Having an apple bonsai in your home will make it the center of attraction; the apples on it will be a plus point in that matter.
So, get started by keeping in mind the above things and give yourself a delightful visual as well as a delicious treat.