We all get annoyed when our fence planters start rotting. Rotten planters mean that we need to replace them now and then.
However, there are some precautionary steps that you can take to prevent your fence planter from rotting. We will look into them in detail. Let's dive in.
Why Are Fence Planters Used?
Planter boxes are attractive and make growing flowers on a patio or balcony very easy. They minimize bending, digging, weeding, and stooping that is needed in a flower garden.
Planters can do wonders if you do not have a space that you can decorate in your house. You can simply grow flowers in a small box and hang them on a fence, window ledges or patios.
How to Prevent Fence Planters from Rotting?
Wooden fence planters rot quickly because the things that plants need the wood does not. The bottom of the planters rots fast, shortening the life of the fence planter. There are many ways to prevent this.
Lining
One of the most effective methods is lining the fence planter. Lining prevents fungi and water from contacting the wood. After sunlight, water is the most important thing for plant health. So, it is inevitable that your fence planter will be filled with water. Fungi is important for soil health. The challenge here is to save the wood from rotting with water and fungi over it.
Liners separate the wood and from soil and water. This enables moist, healthy soil and dry wood to coexist. Here, your job is done!
So, out of all the options available, which liner to choose? The most economical liner for fence planters is a plastic liner. It is cheap (costs less than a dollar). It is also easier to install. If cost is a determining factor for you go for a plastic liner.
However, when it comes to durability, metal liners are the most durable. They will last the life of your deck or even longer.
Choose the Best Wood for Your Fence Planter
For a long-lasting wooden fence planter, you need to select the best wood which does not rot easily. Use oak to build your fence planter if looking for a durable and cost-effective option. Use a natural wood stain or a sealer with a plastic liner and you are good to go.
Untreated redwood or cedar contains natural oils that protect them against insects and rot for a significant amount of time. Though they are expensive, they can be a natural and long-lasting option.
Plastic can also be used to build a lightweight fence planter. It is easy to work with, comes in different colours and resists rot. However, a problem with plastic planters is that they don't hold up well against the weight of dead soil. They may also wear down or crack up from the heat.
Staining or Sealing
A wood stain aims to change the colour of the wood to protect it from damages. A wood sealer does the same thing, but without changing the wood color. There are some chemical and natural options to choose from. Make sure the wood is dry before you apply a stain or sealer. If not, moisture will get locked within the wood.
Pot-with-pot Method
To allow yourself to change the plants in your planter instantly and to keep it rot-free, you can first plant your flower or vegetable plants in smaller pots and set the pots in the planter box. Just ensure that the pots have drainage holes. You can use some kind of moss around the pots to hide them.
Air Circulation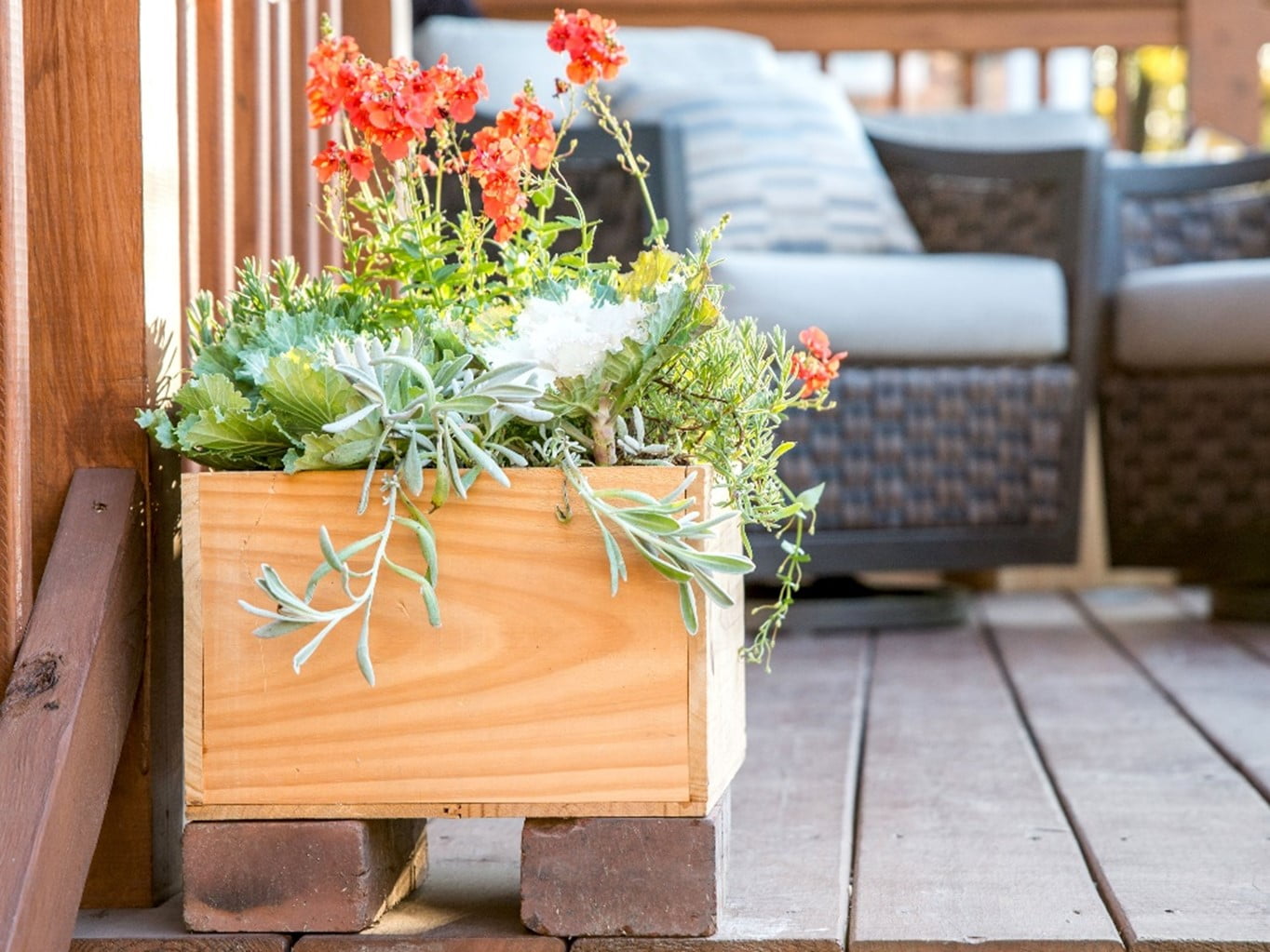 Providing air circulation can increase the life of a garden planter. Measure the front and back of your planter box and cut two pieces of lumber with the same measurement. Nail them to the bottom. You can also use bricks for this purpose.