Having lights outdoors is not something to be surprised at. To have everything visible in the lawn or the garden, in front of the front porch even after the sunset, is a good thing.
This allows enjoying outside, even when the sun is down. One can maybe sit there, do some gardening work after sunset, have a small barbecue party, or any other thing.
Floodlight is what one goes for the lighting up of their outdoor areas. It is a human-made light source that has a high lux value. This means it is mighty: it will light up the whole outdoor well.
Where Are They Commonly Used?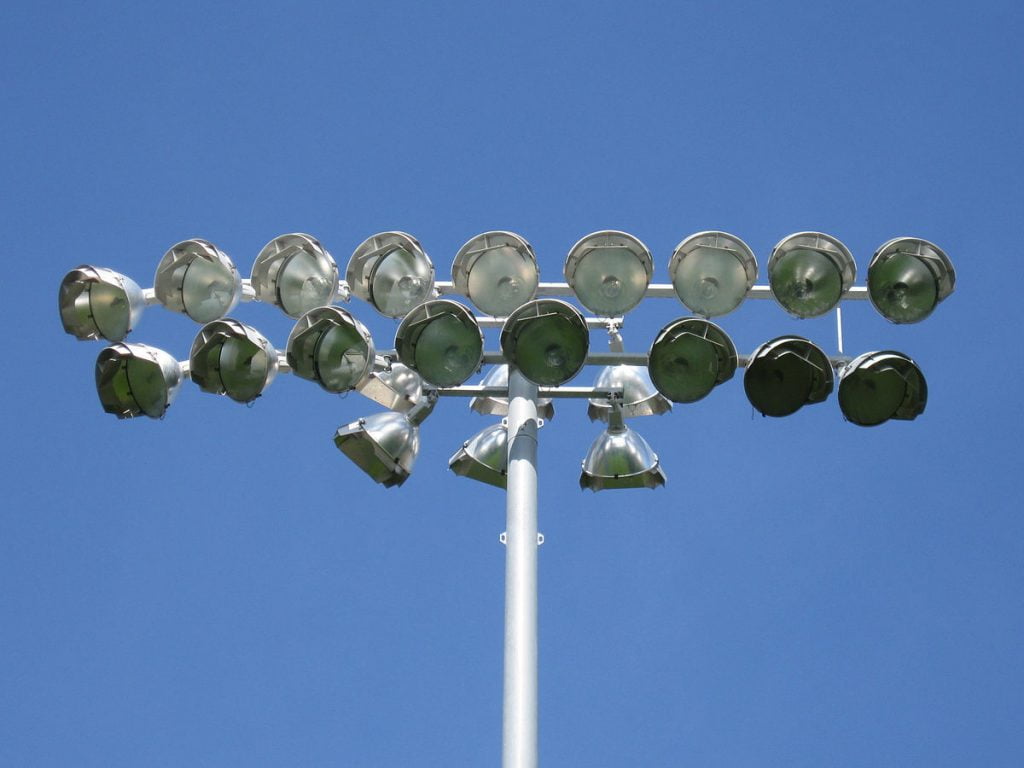 Floodlights are usually used to illuminate large fields, such as a playing field or sports field. These places need a lot of light to cover them, from one point of source of light.
Most of the time, a security camera is placed near them. This is to ensure the security of the fields.
Floodlight Bulb Types
There are LEDs, Halogen lights, and CFLs when it comes to floodlights for outdoor use. There are advantages and disadvantages to each type, based on their specifications.
LED Floodlight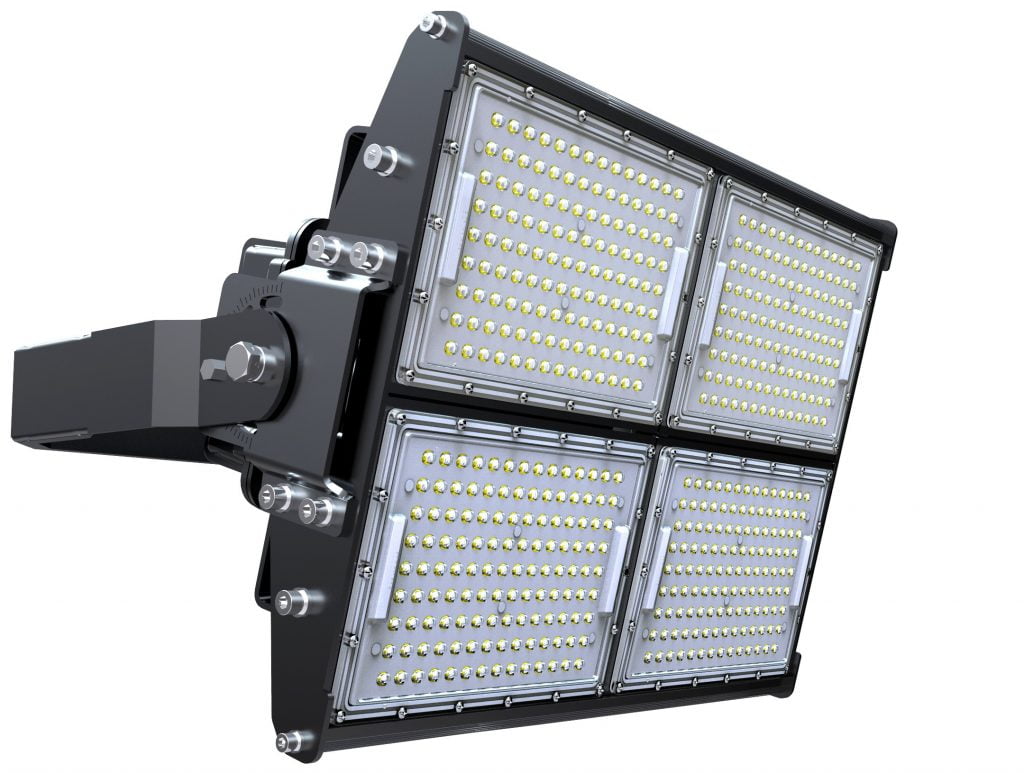 These are very famous among the masses nowadays. That is because they are usable not just outdoors but can be used indoors as well.
These last longer than the other types of bulbs available in the market. Not just in floodlights, but LEDs in general last long.
This makes them value for money because they need fewer replacements over a period when compared to CFLs and others.
To give an example, one LED can run for around 100 thousand hours before it will need any replacement.The LEDs are also energy efficient. The energy consumption in them is lower for the light they produce using that energy.
This means they need a lesser amount of electricity to generate the same amount of light energy than their alternatives.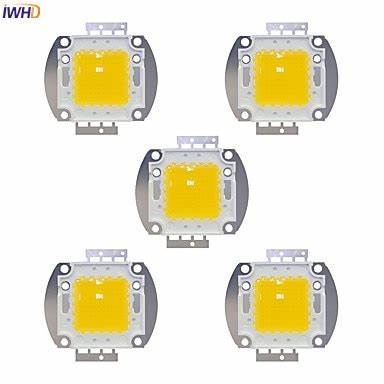 The amount of energy consumed for how much light has been generated is calculated in 'lumens per watt.' Lumens is the measurement of the amount of light, and watt is the measurement of energy or electricity.
They generate less heat. This is related to the energy efficiency of the LEDs. When something consumes less energy, it does not generate too much heat energy as a by-product.
There is a lesser waste of electrical energy, which otherwise could have been wasted on generating heat otherwise.
They have fewer toxic substances in them in comparison to CFLs. The mercury inside the CFLs is harmful to nature. However, LED floodlights are eco-friendly. They can be recycled as well.
They give symptoms when dying. The LEDs do not just go out, out of the blue. They start emitting lesser light and get dimmer and dimmer before totally dying.
Onforu 2 Pack 100W LED Flood Light Outdoor, 8900LM Super Bright Outdoor Security Lights, IP66...
【100W SUPER BRIGHT & ENERGY SAVING】 Each floodlight comes with 112 ultra-bright LEDs, producing...
【WIDE BEAM ANGLE & UPGRADED ANTI GLARE LENS】With high-quality reflective film, the beam angle...
【IP66 WATERPROOF】 Made of Die-cast aluminum housing, the LED flood light outdoor works well in...
【EFFICENT COOLING】The LED outdoor flood light is designed with a fin-type heat sink, which makes...
【EASY INSTALLATION】By a few simple wiring steps, The light can be installed on the ceiling,...
This can be an indication that one can notice to know that their light needs changing.
The LED floodlights come in different colors as well. They can be manually adjusted to emit dimmer light and brighter light as well. They do not lag when turning on and are small in comparison.
Some Disadvantages of LEDs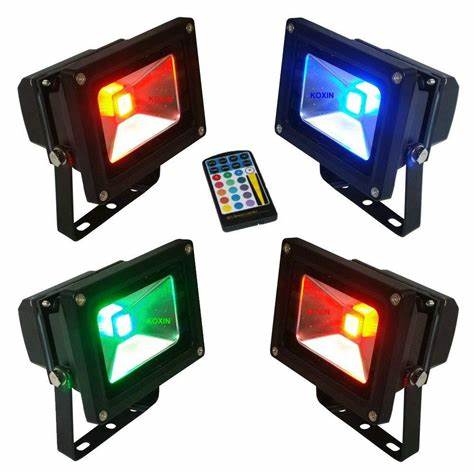 Nothing can be perfect, and that is true for LEDs as well. There are some negative points about them:
They cost more. They are energy-efficient and cost-efficient. However, they cost more upfront when buying one.
It is not necessary that one may have that extra money to buy an LED even after considering its cost-efficiency. That is why some people prefer to buy a cheaper CFL and replace it rather than buy an expensive LED.
To cover a big area, a higher output of light from the LEDs is required. That means an LED with lots of diodes or multiple LED lights will be required in such cases.
No matter how low heat a single diode produces, it will generate enough heat when used in a large quantity.
Compact Fluorescent Light (CFL)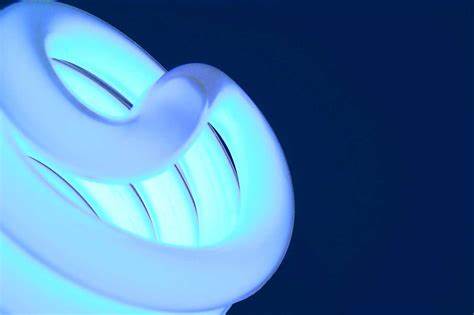 CFLs are not as standard as Halogen lights or LEDs for use in floodlights. Still, they are used sometimes because of several plus points that they have:
They are cheaper to buy in comparison to LEDs. Generally, they cost one-third of what a CFL would cost. This makes it easier to buy upfront if one does not have enough money.
They are more energy efficient in comparison to their counterpart incandescent light bulbs.
They last the longest, after LED light bulbs. On average, a CFL lasts for around 14 thousand hours before dying.
This is not a lot of hours compared to LED lights, which easily last 100 thousand hours. Still, it is a lot when compared to the other bulbs in its category.
However, CFLs have a lot of negative points, making them not suitable for outdoor purposes.
They contain It is harmful to not just humans but animals and plants as well. It is a toxic material. So, make sure the glass tube does not break and spill the mercury.
They cannot be recycled.
They do not illuminate in an instant. They need some time to lighten up to their brightest potential. This can become an issue if used outside and paired with a motion-sensing device.
Their lifespan goes down when they are switched on and switched off regularly.
The CFL Lights get affected by the surrounding temperature as well. This results in noticeable discrepancies in the brightness of the CFLs in winters and summers.
Halogen Floodlights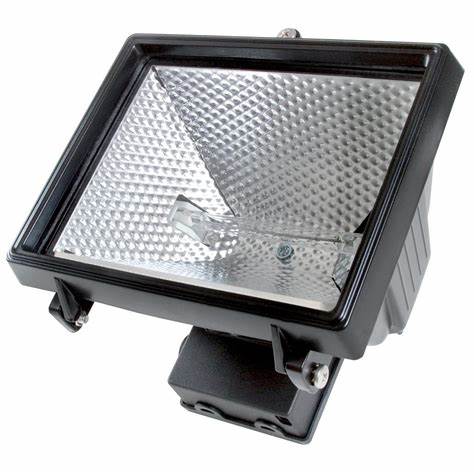 These are some of the most common ones. They were the best ones for outdoor use till LED light bulbs came.
However, if one does not consider LEDs, the halogen light bulbs for floodlights are the second-best for the following reasons:
These are very cheap. They can cost up to one-tenth of what an LED light can cost. When compared to CFLs, halogen lights are nearly half of what they cost or even less.
Halogen Lights produce a very bright
Their size is small, even as a floodlight or just for everyday indoor use. For their size, the light produced from it is very bright.
These switch on and reach their brightest potential without lag, like the LEDs. This gives them an edge over the CFL light bulbs.
They have adjustable luminance. Like LEDs, their light can be made dimmer and brighter. They pair well with motion sensors and do not have toxic substances such as mercury.
The drawback of Halogen Lights is that they are not energy efficient. They produce a lot of heat. Thus, they end up wasting much energy in that heat generation.
Their temperature goes so high that one cannot even touch them while on, even for a few minutes after being turned off.
They do not last that long as well. An average halogen light bulb will last ten times less than the amount of time an LED floodlight would last.
These bulbs are also oil sensitive. Touching barehanded can harm the halogen light bulbs. That is because these bulbs can get damaged by the oil that the skin produces.
Since they are too bright, looking at them directly can be harmful to the eyes. It can weaken the eyes or cause some injury as well.
Which One to Choose
The advantages and disadvantages of all the types of lights have been mentioned above.
For a floodlight, the light should be bright enough at the very least. For this reason, LEDs and Halogens surpass the CFLs. However, when it comes to durability, LEDs win over the standard Halogen lights for floodlights. However, LEDs are way expensive compared to Halogen lights, in which case even a CFL is a better option since it lasts longer than the halogens and is cheaper than the LEDs.
If we compare CFL with Halogen, the light intensity is more significant in Halogens, and their size is also small, making their times when someone needs brighter light to cover a more significant area.
All in all, it depends upon what one can afford, how much one is willing to pay, how big of an area they need to cover with their floodlight and which floodlight can serve their purpose.
Just going by the perks, LEDs are the best option that one can go for as a floodlight. However, other options can be considered.