In the era of video games, where children are more inclined towards video games and online gaming platforms, pogo stick games are some of the best ways to get them outdoors and burn off some energy and have actual fun.
Kids love jumping and bouncing, be it their beds or the ground. Considering this we have shared some of the best pogo stick games along with the pogo stick reviews in the article below, from which you can choose one to gift your child.
Why to Choose a Pogo Stick
A simple and obvious reason is the fact that they are simple games and much safer than other alternatives like trampolines. They are also pretty storable. Since they operate fairly close to the ground, a jumper can give you more control over it. To ensure further safety add a helmet.
Pogo stick games are very simple and easy to learn plus they provide some exercise as well. These are games are generally labeled with weight ranges, so choose the one that can be used by your child easily and can last at least for a few years. They can be great activities helping kids burn off some energy.
Pogo Stick Games
All the pogo stick games mentioned below are extremely simple and safe. All you will require is a pogo stick along with other basic items that you'll probably find easily at your home. Most of these are old-school kids' games with just a pogo stick as an addition to them.
Jump Rope Rhymes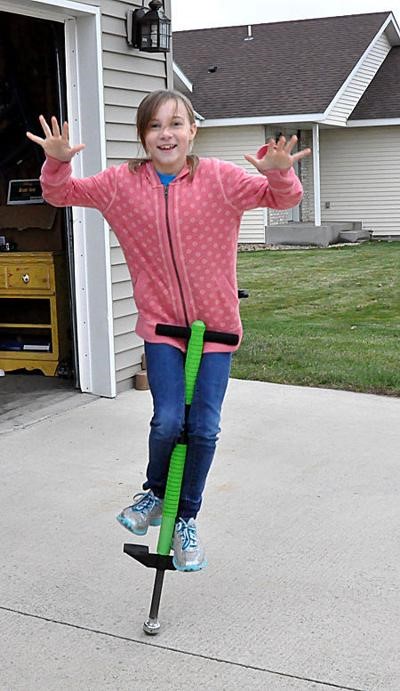 In this game, the jumper has to sing any jump rope rhyme song while the players keep bouncing on the pogo stick. Rules are just like in jumping rope games, the goal is to jump without failing to follow the rhythm of the song and make it till the end without stopping or missing a beat.
Copycat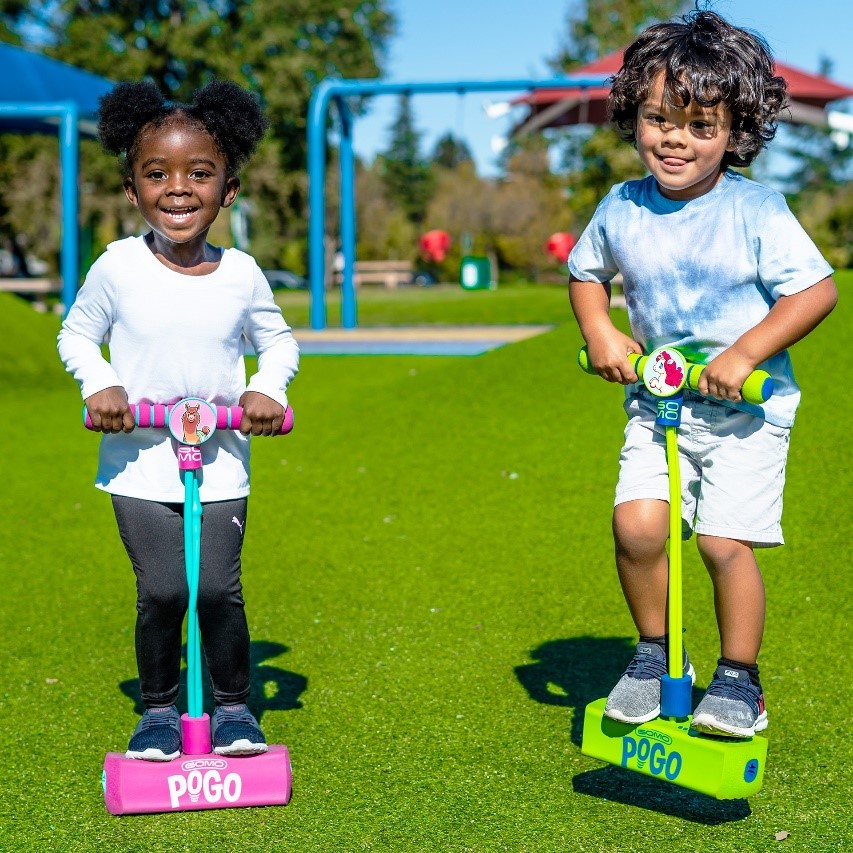 Wanna play with a team, this one is perfect for you. It involves multiple players. Basically, in this game, one person does a trick on the pogo stick and the other members have to copy or repeat the same thing. The next person if does the trick correctly, then it is their turn to do a trick.
The next person then copies the trick and if correct, does a new trick. The basic idea is, to begin with, a simple trick and continue by progressing with tougher tricks. The person who makes a mistake or forgets is out. The last person jumping, or hopping is declared as the winner.
Hopscotch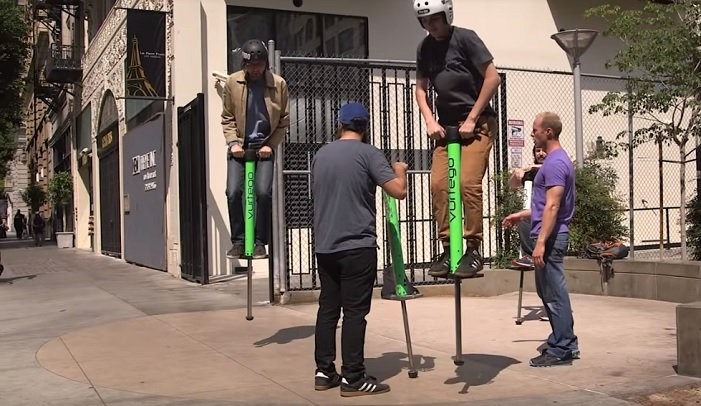 Now, in this game draws a classic hopscotch board on the sidewalks with chalk and number the squares. Toss a pebble or bean bag on the board. Use the pogo sticks and jump through the numbers skipping the square with the pebble on it, just like you do when you are jumping on the ground.
Simon Says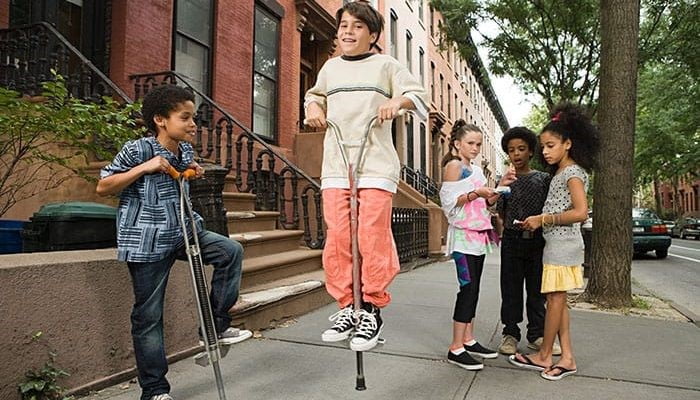 Confused what to play with just one pogo stick? We've got you covered. This is a 2 personal game that comes in handy when you have just one pogo stick. Here kids take turns being Simon and the pogo jumper.
Just like in the traditional version of the game, Simon gives the instruction. The jumper has to obey Simon's instructions and failing which loses a point. They have to perform the trick and remember to do only what Simon says like, Simon says to hop 5 times and count out loud. If Simon doesn't say "Simon says…" the jumper is out. This way when the jumper makes a mistake, the kids switch places.
Obstacle Course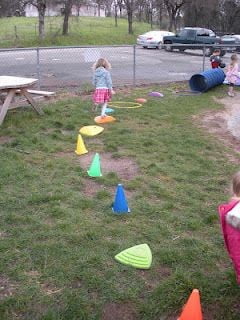 As the name suggests, here you need to add some obstacles in the route of the jumper. Once the jumper has gotten pretty good and bouncing for a while without falling off of it, set up an obstacle. This could be as simple as hopping down the sidewalk, around the tree, and back again to the home base.
Or you could do something more elaborative by setting up hula hoops or soccer cones, or by drawing a course using some chalk to add a bit more of the challenge to the game.
Best Pogo Stick Suggestions
Flybar Foam Maverick Pogo Stick
Special Features:
Great for entry level pogo learners.
Foam covered metal frame offering cool look and providing protection at the same time.
Nice, padded hand grips, making it easy to hold when you are flying high.
Textured foot pegs increasing stability and ensuring non-slip surface.
Supports 40 to 80 pounds weight.
Exclusively designed for children between the ages of 5 and 9 years old
Customer Rating- 4.6 out of 5 stars (specially known for its great quality at such a low price)
New Bounce Pogo Stick
Special Features:
Specially designed for smaller kids
Can withstand weights up to 80 lbs.
Perfect for beginner and intermediate riders
Great quality that lasts through hours of fun
Comes in 4 fun and bright colors.
Increased safety with wider stance making it easier to bounce with
Customer Rating- 4.7 out of 5 stars (mostly accredited for its solid and sturdy built)
Think Gizmos Pogo Stick
Special Features:
Impressive jumping sticks for adults and kids
Can withstand weights up to 80-160 lbs.
Made with rigorous safety standards with non-safety pedals and safety foam handles.
Covered in durable foam, it is very well built.
Keep kids jumping and active for a long time by maintaining control.
Excellent way to improve balance and concentration, have fun and regain shape.
Customer Rating- 4.6 out of 5 stars (great product considering quality and price)
Razor Gogo Pogo Stick
Special Features:
Fully enclosed spring system with low-friction bushings
Foldable and portable
Comes with lightweight aluminum frame construction.
Foldable handlebars and foam grips for comfort
Customer Rating- 4.6 out of 5 stars (sturdy built and good quality)
Geospace Jumparoo Boing! JR. Pogo Stick
Special Features:
High quality gloss paint finish
Withstand 50 to 90 lbs. weight.
Comfortable grip and superior safety
Customer Rating- 4.5 out of 5 stars (considered as great gifting option)