"I know I put it in here?" "It just has to be here!" "Where are my keys?" Do any of those sound familiar?
When it comes to purse organization I don't know if any method can be completely foolproof, unless you are never in a hurry, never just throw something in your purse and always take the time to put everything back perfectly.
I know that isn't me, and I would bet it also doesn't include 99% of you! lol
But, purses do not have to be hopeless. There are some really good ways to organize them. There are many purse organizers out there. I have my favorite and that is what I will show you today when I clean out my purse.
Here is my purse "Before" Things aren't where they belong, there are receipts tucked in the sides, etc..
I use a Butler Bag that I reviewed last year. I still love it (although I'd like a spring color). I like having a place for everything in my purse and this helps me do it.
Step 1: Dump everything out of it.
Step 2: Sort it! (just like you sort anything you organize)
Do you use it?
Do you need it in your purse?
Does it serve a purpose in your purse?
purse organizingThis is pretty much of what I decided to keep. Not the little buttons, and add in the coupon keeper and make up/medicine bag.
Step 3: Clean It
Then if possible pull out the lining of your purse and clean it. Even if you are planning to switch out and use your spring purse now and store this (or donate it), you should still clean it thoroughly. Get out all those cracker crumbs and loose pennies, gum wrappers etc, that get caught down in your purse.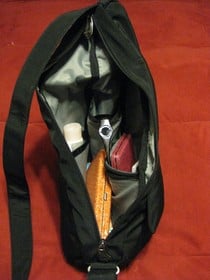 Once you have cleaned it and sorted it, you can start putting things back in. My old pouchee was still in decent shape after a couple of years, but it was dirty and dingy looking. I could have spent some time working to clean it up, but since I'm spoiled and I sell them, I just went and picked out a new hot pink one. lol
Step 4: Reload iI'll be going over my pouchee tomorrow with you in detail and how useful it can be. I start with putting my newly organized pouchee down in my purse. I am showing you how you can switch out for a spring purse if you'd like….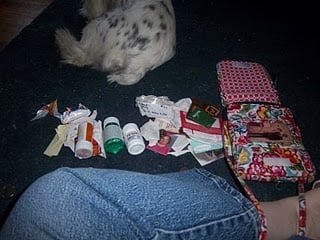 But in reality I am still going to use my Butler bag, so my pouchee will go back in it. I also cleaned out this medicine/makeup bag that I use in my purse. I have my ibuprofen, stomach medicine for my hubby, Benadryl, tiny sewing kit, Shout stain remover, etc.. in here. I did clean out some things I didn't need or that were expired.
Then I put things back in the slots I like them in. I keep my frequent user cards and gift cards in the lime green Card Cubby (which I'll show you later this week) also hand lotion, gum, a phone battery charger and a little multi tool in this side.
My husband calls my purse, "Your bag of many wonders". lol I have my coupon holder (black long thin thing, a note pad, sun glasses, extra reading glasses, my medicine bag (off to left) my flip video camera, a high lighter, lipstick, pen.
That is one thing I really like about this purse, it has all the separated pockets. Before this I have always looked for a purse with organizing pockets in it. So that things can have their own places.
Designer purses are not important to me. What is important to me is finding a purse that is usable and that has organization stamped all over it!
I then tuck my pouchee down in on the side. It has my three (yes… one for joint account, one for my son's support account and one for my business account) checkbooks, money, pen and my phone fits in it too. Then my keys usually tuck down in the space to the right of my pouchee so I can find them easily.
Keeping your purse organized doesn't have to be hard if everything has a place. Rather it is this purse organizer (pouchee) or another one, they are very handy and I do encourage you to try one. Also using things like the Card Cubby or a little bag like I have my medicine in also helps to categorize and organize things.