I was given this Shabby Apple Dress to wear from Shabby Apple and I was thrilled. I wore it when I went out to dinner at the Type A Mom conference. I asked them if they had any long dresses (because my legs would not look cute in a short dress….believe me please) because there is no way I should be wearing one of their cutest ever short dresses (and they are cute as can be!) Ladies if you can wear short little sassy dresses…this is one online store you really do need to check out.
This dress is called Cleopatra. I was very surprised when it came to my door in a padded envelop. I am like…what? There is NO way that I can fit into a dress that fits into a padded envelop! But guess what…I did! This is a cotton fabric and was perfect for traveling. It folds up small and looked great once I got there.
My other concern was if it was going to be long enough for me. I am 5'10″ tall and so many things aren't. They told me it would be. They also told me that it ran a little big. I got a size medium and guess what it was long enough. I had on flats though. I could not have worn any heels. But if you are shorter and want to wear some great heels….this would work perfect.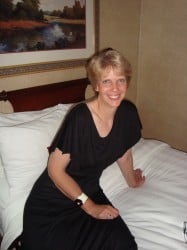 It also had kind of a "wispy" feel to the top of it. It is hard to tell in this picture. But you can see it better when you see the dress on their site. You can see it here.
So this dress was great. It was comfortable and I plan to wear it again when I go to Blog World Expo 09 next week in Las Vegas. Did you notice the cool bracelet? It is from Stella and Dot jewelry. I just love it and want to share so neat jewelry with you.
Thank you Shabby Apple.
Full Disclosure – yes I was given this dress without charge, but was not "required" to blog on it. I did wear it and told people where I got it, not because I was told to, but because I was happy to…as I was happy to write this review. The bracelet from Stella and Dot I purchased myself. I mentioned it because I want to introduce you the readers to a neat company with some great jewelry.