Being able to clear out our garage has been wonderful!! It enables me to be able to make a mud room (coming in the future) and to not have to worry about the bikes scratching our cars coming in and out. Having Storage outside the garage in our new shed has meant many changes. It also enabled Dave to go buy a motorcycle, because now there is room in the garage (ok, so not all the reasons are so great! lol)
Tool Zone
I gave a specific area (back left) to Dave's tools and equipment. We used the pegboard and I also gave him a space on the bottom shelf that he has some workspace.
There is a surge protector plug behind the white drawers so when he is working he can bring out the extension cord and plug in his radio and drills, or other equipment.
I labeled the drawers for his equipment.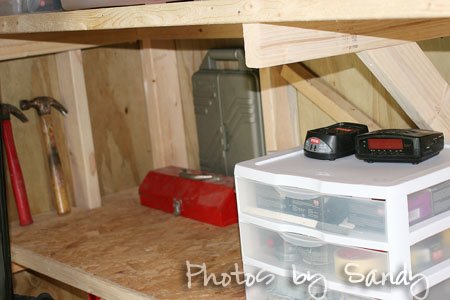 The shelves above have storage items in them that I labeled.
Pegboard for equipment. The wheel barrow isn't hung on the proper kind of hook. I was experimenting. We did have the two black hangers full of chairs where the wb is hung. But I didn't like them there and found another solution for the chairs. I am going to take those two hangers down and figure out a better way to hang the wheel barrow
You will see some more pictures from this area in my video below, but I wanted to get to the loft.
There are three loft areas in the shed. I haven't organized them yet and yes that bothers me! Right now things are just kind of thrown up there. But I'll show you just so you can see. But… there is one thing I did do to organize in the loft, that you'll see in a minute.
Loft above the kid and fishing zones- This has a heavy hitch hauler that we use only on full family vacation trips. I have to figure out a better solution for that. The bin has some golf shoes that Dave rarely wears but wants to keep and paint ball equipment of the teens.
The side loft is kind of a make shift loft right now. Dave really was just storing lumber and board there while he was building the other two lofts, but it is convenient. The umbrella is up there now because it was left open in a storm and broke one of the hinges. Dave thinks he can repair it. (We'll see what happens with that)
This is the only part of the shed lofts that I am excited about. I had another one of those wire shelves (like I used for the temp bike rack). We brought it out and it works great for storing the card table chairs and a few extra lawn chairs.
Beside that we just have the kiddie pool that we use for the dogs in the summer and my son put the extra roll of garden fence up there, plus the two card tables. Those still have to be stored better.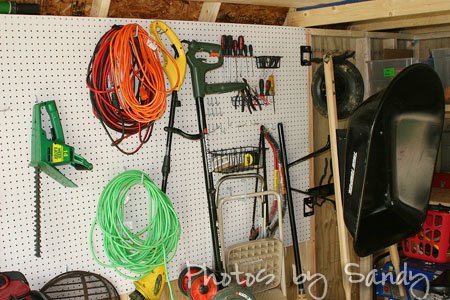 A closer look at my chair storage solution
See the whole shed all at once in my video.