Any change requires decisions. If you decide to transform your home, start with the entrance. Tired of the black entrance door? Pay attention to how many shades modern designers offer.
This will greatly improve the appearance of the house and highlight your uniqueness. Choosing a color for your entrance door is a very important decision. Follow this link to see the best front door paint colors!
Manufacturers offer a wide range of shades. How to choose the most suitable one for your house from such diversity? What color will be combined with the finish of the facade? You will learn about this in our article.
Best front door colors
You have decided to change your home and don't know where to start. What color to paint front door? You can follow Feng Shui, look at fashion catalogs, or choose a color that you like. Color influences the perception of the house as a whole. Let's look at some of the most popular options.
Black
Classic black doesn't lose its relevance over time. It combines perfectly with the snow-white finish of the house. The most popular shades: are Mopboard black, and Jet black, presented by Benjamin Moore. The glossy black door favorably highlights the central entrance.
However, don't think that such a shade is suitable for any dwelling. If there is not enough natural light in your house, an entrance door made black looks gloomy. Also, this option is not suitable for houses built of river stone, which has protrusions.
Green
An excellent choice for an entrance door is green. Perfectly harmonizes with a brick, earthy facade. There are many popular shades: Lichen No.19 from Farrow & Ball, Louisburg green, and Greyhound from Benjamin Moore. You can choose the most suitable one for your home. If the choice is difficult, consult a specialist.
Bright red
The best option for brave individual people. It is proven that the red color attracts good luck to the owners of the house. In combination with the snow-white and brick finish of the dwelling, it will attract attention to the front door. This option will make your home warmer and fill with positive energy.
The most popular shades: are Caliente, burgundy Heritage red from Benjamin Moore. Of course, you should check how many colors are combined with the facade of the house. So you won't look silly.
Deep gray-blue
How about the exterior door color ideas in a pleasant shade of blue? The best combination with the gray, blue or white facade of the house. Popular shades that are current today: Night train from Benjamin Moore. It is also recommended to pay attention to Farrow & Ball, which has a lighter shade.
Sky blue
Do you like delicate shades? A modern solution for exterior decoration. This model will give peace and tranquility to homeowners. You'll want to come home again and again. Use popular door colors for perfect results.
Coral
It is used for doors located on the south side. It will warm your heart, and open it to love. It is quite difficult to choose the right shade, but you can consult a specialist. By achieving a harmonious mix with the facade, your home will stand out favorably among its surroundings. Popular colors are Coral spice from Benjamin Moore or Lei flower from Sherwin-Williams. It stands out prominently on the white facade.
Soft gray
A similar shade refreshes the entrance door. The soft color is represented by Benjamin Moore (Stonington grey). If you want a polished design, try Hardwick white from Farrow & Ball. Your door will look modern and stylish. These color ideas will favorably highlight your individuality.
Dark gray
The entrance door won't be able to remain invisible with the use of this shade. Perfectly combined with almost any facade, gives severity. Popular shades: Railings from Farrow & Ball, Gravel gray from Benjamin Moore.
Stone
Stone shades look perfect on white, stone facades. These are great front door color ideas. The front door will not stand out, but will favorably complement the overall exterior. The house will look warm and peaceful. Popular colors: Grant beige from Benjamin Moore, Stony ground from Farrow & Ball.
Why is the front door color important?
Do you dream of making your home look presentable? Every home is appreciated inside and outside. A properly chosen front door color will tell about your character and hospitality. People who have visited your house for the first time will be able to understand how open you are at the entrance. Agree, it's very important what kind of mood you or your guests come home with.
After your home is renovated, it's also wise to refresh the color of your front door. Choosing the right color for your door will help increase the overall value of your home.
What is the best front door color? It is not at all necessary that the exterior doors merge with the facade. Reasonable use of the presented shades will make it possible to highlight them favorably.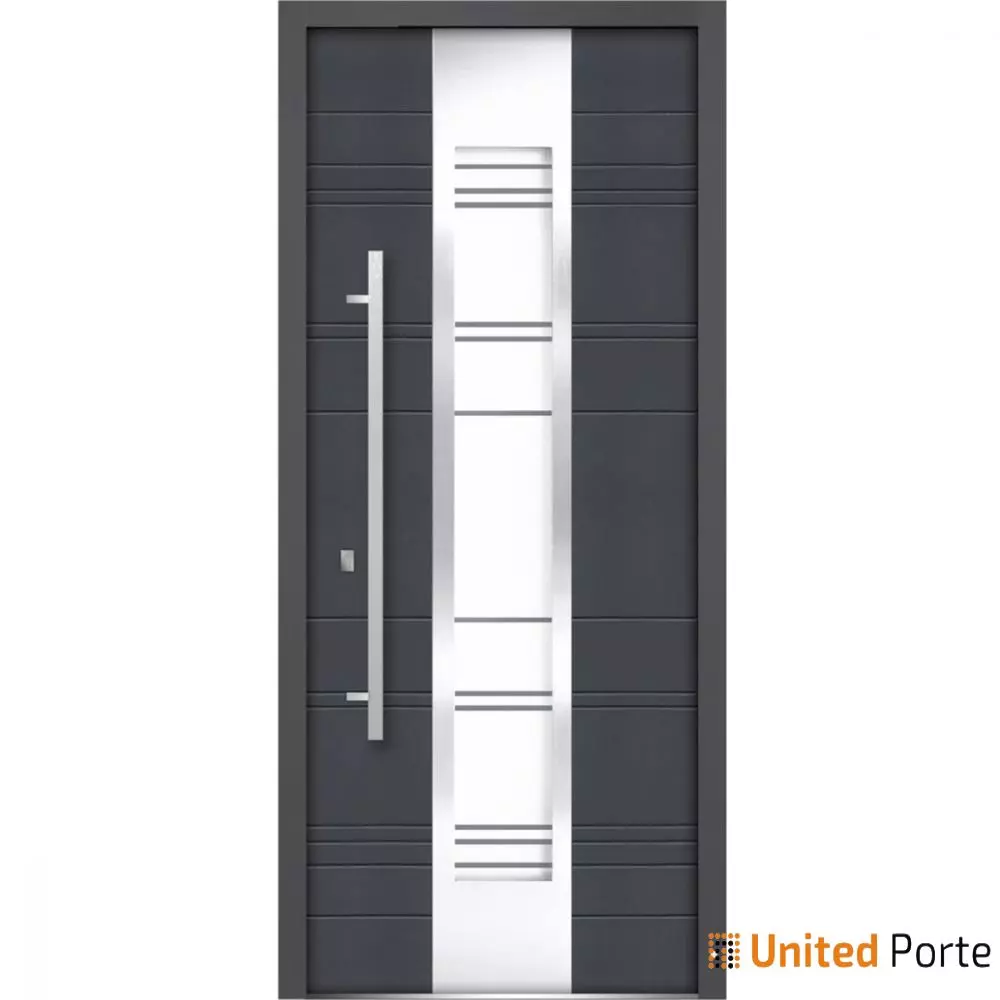 What colors are popular this year?
Modern designers offer a contrasting selection of the entrance area. Bright colors, the use of quality fittings will help you cope with this task. Install a door in a lighter or darker shade from the overall facade, and you'll see how it will play in the background of the house.
This year it becomes habitual to highlight the front door with bright colors. Consider the most popular front door colors:
red;
yellow;
blue;
fuchsia.
Notably, the classic black and white don't give up their positions. It is a fashionable solution for all times for quite a long period of time.
Final words
When decorating a home, any seemingly insignificant detail adds originality and uniqueness to the overall design. The front door creates a first impression of the homeowner.
Whatever your decision about the shade of your entrance area, remember that first of all it should be your choice. Only you will be able to choose the best color to paint a front door.
Every day you will come home, and the doors should delight your eyes. It is possible to dilute the door panel with elements of glass, and plastic. The main thing is to use modern high-quality materials and fittings. In this case, your door will last for decades.
Do not be afraid to experiment on your own or resort to the help of professionals, and the result will bring considerable pleasure!