The atmosphere of a child's bedroom has a direct influence on how they sleep and, eventually, how they feel. Being deliberate while designing your child's room is, therefore, important. You need to keep a few things in mind since maintaining balance and enjoyment may be a difficult task, depending on the atmosphere you want to create and the theme you want to stick to.
To begin, comfort and safety are two of the most crucial features of a child's room. It should be decorated and furnished in a way that they feel comfortable and at home, while they are there.
Secondly, when it comes to a child's bedroom, change is the only thing that stays the same, so while choosing the décor, plan for just that. Prefer to keep the walls neutral when using elements like curtains and introduce color and individuality with decorations.
This way, you won't have to radically modify the appearance of the room whenever your child's interests change. With these concepts in mind, here are five mistakes to avoid while decorating your child's room to ensure it is a good match.
1. Sticking to a specific theme
A strict theme contradicts some of the most significant aspects of a child's bedroom. How things feel and work rather than just how they seem should be given precedence since the space has to be a place where people feel comfortable and at ease. This calls for delicate textures, mellow lighting, and cozy fabrics and colors.
If you use a theme, it should be flexible enough to accommodate the numerous upcoming changes, especially if you have a tween kid as their favorite color or activity may change, the theme must be adaptable enough to accommodate new features.
Therefore, you should think carefully about using too many style components and a significant theme in the space. While they could be obsessed with unicorns one day, that obsession might pass fast. Instead, choose a style that will develop with them.
Wall art and decorations should be easily interchangeable, while shelving should be able to store a variety of items throughout time. Furniture should also be durable and ready for anything that may occur during their playtime or regular use. This can take the form of non-slip tables and chairs with no sharp edges that can resist falls.
When it comes to window coverings, you may have to forego style for practicality. The main objective is to entirely exclude light from the space. This is because even a small amount of light can disrupt a child's sleep. If you choose curtains as your window treatments, use blackout curtains to make sure they completely seal off the room.
2. Adding light-colored fabrics to the room
The fabrics used in the room have a significant impact on the space's décor. However, choosing fabric for a child's room might be difficult. The presence of light-colored fabrics in the room, as well as the parents' investment in them, causes them to become soiled more quickly. With children, there is always the risk of damaging or foiling light-colored fabrics, and the same might happen when caring for them. Therefore, when it comes to children's room décor, spending on light fabrics should be reconsidered. Instead, you might want to use bright hues which reflect upon their youthfulness and innocence.
3. Tacky elements on the curtain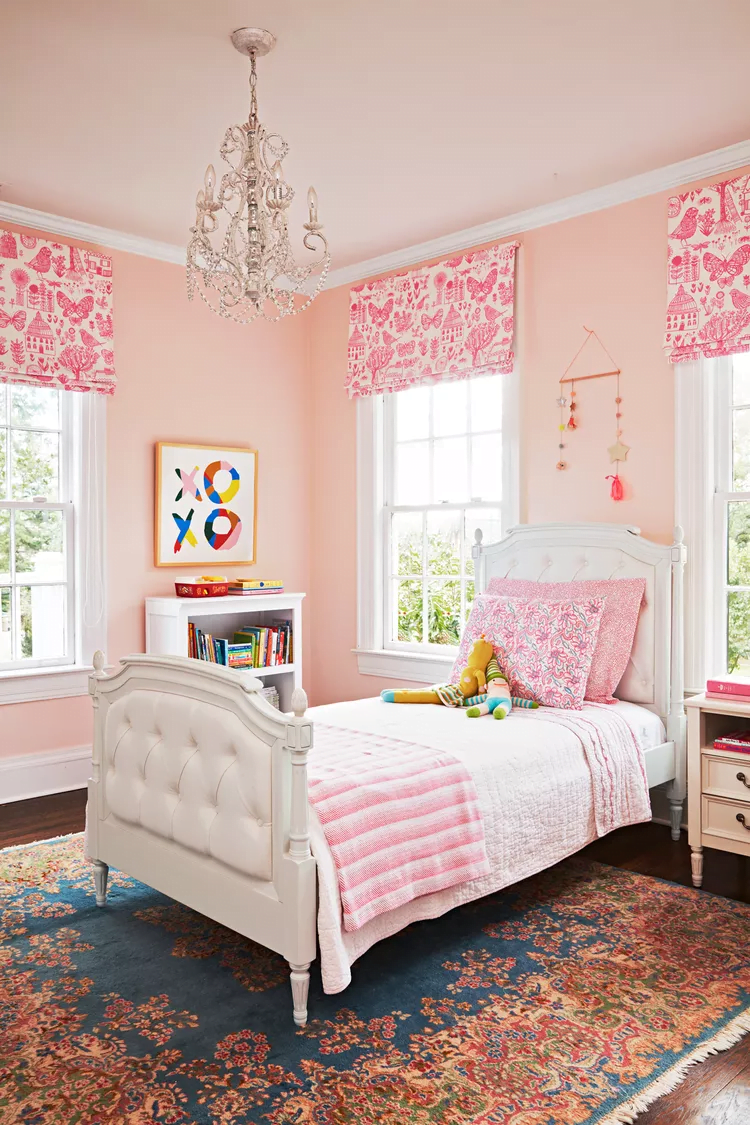 Curtains are one of the finest methods to make a little child's bedroom appear wonderful, but you must be careful with the materials and decorations you use on them. Kids are naturally inclined to disassemble objects, so curtains with tiny components like lace, pearls, pom-poms, or even tassels might be a convenient target.
Children have a tendency of ingesting such items, and because you cannot watch them 24 hours a day, curtains with such embellishments are a no-no. You should rather go with simple draperies. You may use colorful patterns to make them stand out, or you can use sheer materials to create a gorgeous, opaque appearance.
4. Using heavy curtain rods
Because kids like to yank and pull on objects, you might be tempted to choose heavier curtain rods. They may appear to be the most secure option, but when selecting them for a child's bedroom, the reverse should be true.
Heavy or even extra-long, curtain rods might fall on children and damage or injure them if not properly fastened. Plastic or composite wood are two lightweight alternatives you have.
In order to prevent something heavy from potentially jeopardizing your children's activities, they should also be attached to the wall extremely securely. Alternatively, parents could go for roman shades as they are constructed with children's safety in mind, making them safer and out of reach.
5. Not using the available space
A kid's bedroom must feature a variety of components as well as enough space to roam and play, which makes designing a tiny area difficult. Avoid the typical error of not making the most of the space you have. Specially while decorating a small bedroom which may easily become overpowering and uncomfortable for your child.
Functionality needs to come first, especially for shared bedrooms. Choose furniture with numerous uses above beautiful elements. The best approach to maximize space savings is to combine bunk or loft beds with under-bed storage.
Another option is to utilize vertical storage is hanging racks to maximize the usage of the walls rather than the floor. Bright colors may help open up a space and make it feel larger. Finally, keep things simple by choosing small furnishings over large ones.
6. Awful Mattress Selection
We frequently spend far more time selecting a mattress for ourselves than we do for our kids, yet they require healthy sleep now more than ever. As a result, you must consider their favorite sleeping position while selecting the correct mattress for them.
A softer mattress that could embrace their body while maintaining their spine's natural alignment is ideal if they prefer sleeping on their side. If they like sleeping on their stomach, a hard mattress is preferable, whereas medium-soft mattresses are preferable for people who prefer to sleep on their backs. This is critical for their growth and if you don't want them to wake up in agony.
7. The Rug Selection
Designing a space entails combining everything in the proper order, which improves the room's design. Choosing an oversize rug or a rug that is too tiny for the space, on the other hand, might interfere with the overall appeal of the room. A perfect rug for a room has filled most of the flooring, tucked below furniture, and adds to the style of the kid's room. Anything less than this gives the space an unpleasant, incomplete appearance.
Conclusion
Designing a child's room might be difficult. The design of a child's room promotes their growth, both physically and psychologically. The surrounding colors, as well as the components, combine movement and visual help for the youngster as he or she grows. These are some of the most common mistakes made while decorating a child's room. Avoid them and you will make the kids happy.