We all love our wedding dress and only getting to wear it for one day and then never use it again is tough, especially for those who spent really big bucks!
There are several options for what you can do with your wedding dresses.
1) Sell them – on Craig's List, ebay etc
2) Donate them – There are plenty of woman who can't afford a nice wedding dress and would LOVE your generosity.
3) Save them – You can have them preserved by a cleaners
4) Recycle them
For my first wedding I did the whole (preserving) the wedding dress routine. I remember paying $75 at Swann Cleaners back in 1982 (which was a lot of money back then, to me) in order for my dress to be packed up in a box… not to be opened until it was to be used again by my daughter. It was sealed.
So I moved that big box with me to each of my homes throughout my almost 20 years of marriage, never opening it, never breaking that seal. When my divorce was pending I knew (having four boys) that I wasn't going to have a daughter to wear it, and also knew it was out of style anyway. Some of my friends in my neighborhood and I had a fun idea. Another one of the gals also was going through a divorce. We decided to get out our wedding dresses and put them on! (That will have to be another post! lol)
I was shocked to find that mine (opening the seal for the first time in 20 years) had yellowed spots on it. So I couldn't sell or donate it anyway.
What I did with my 2nd wedding dress.
When I married Dave, I knew that even if I kept my dress, the chances of my step daughter wanting to wear my dress was so minimal it was not worth keeping packed away.
I seriously considered donating it, but when I had an offer to make a memory quilt I decided to use part of my wedding dress. I sent my dress off and they used part of the dress in the quilt and they also used part for a pillow.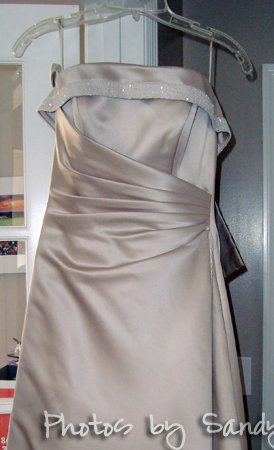 I love my pillow… it captures the bodice of the dress that I loved so much.This is the back of the pillow which reflects that back of the train of the dress.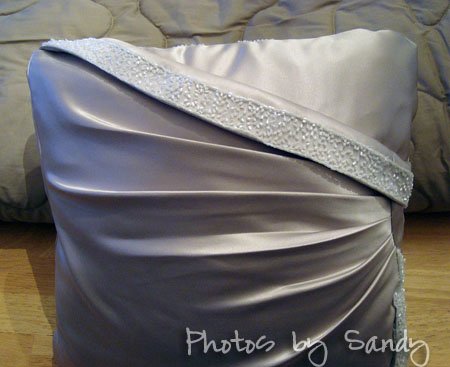 The quilt company sent the rest of my dress back, so I had plenty of fabric. I did had Christmas stockings made for myself and my step daughter that matched by a seamstress here in town.
I got an "S" for my stocking and an "E" for her's.
I also had her make several "silkies" that I will be able to give my Grandchildren (God willing). She made them about 12″ x 12″. The wedding dress silk fabric on one side and then I got a soft flannel with a baby pattern and had her back them with that. You know how babies love the blankets that have that silky feeling on them?
Where is Your Wedding dress?