Whether it's a spare room, a converted attic, or a patio in your garden, a game room is a great way to create your own personal space at home that's dedicated to your favorite hobby – gaming.
There are many advantages that come with creating a space specifically for playing games. It removes the need to fight over who gets to use the television, so your partner or the others you live with can watch their favorite shows while you fight zombies on your PlayStation. It also gives you a place to decorate in whatever way you see fit, without having to worry about it not being in keeping with the décor in the rest of your house.
But if you want to get the most out of your game room, then there are some things that you should consider.
Equipment
Of all the things that you need to consider, what gaming equipment you'll include in your new room is probably what you've already given the most thought to. And rightly so, if there's a particular game you want to play, you're going to need to make sure you have the right hardware.
If you're only interested in playing modern games on a modern console like the PlayStation 5 or the Xbox Series X, then all you really need is the console itself and a quality TV to connect it to.
However, if you want to enjoy some retro titles on original hardware, then you're going to need to ensure that you have a compatible screen or a way of converting an old analog signal into a digital one.
Additionally, if you want to try your hand at streaming, there is additional consideration required. The exact equipment you'll need will depend on the game(s) you want to stream but those planning to broadcast their online poker games will need at least a PC, special software, and a webcam and microphone. However, capture equipment is also necessary if you want to stream content from a console.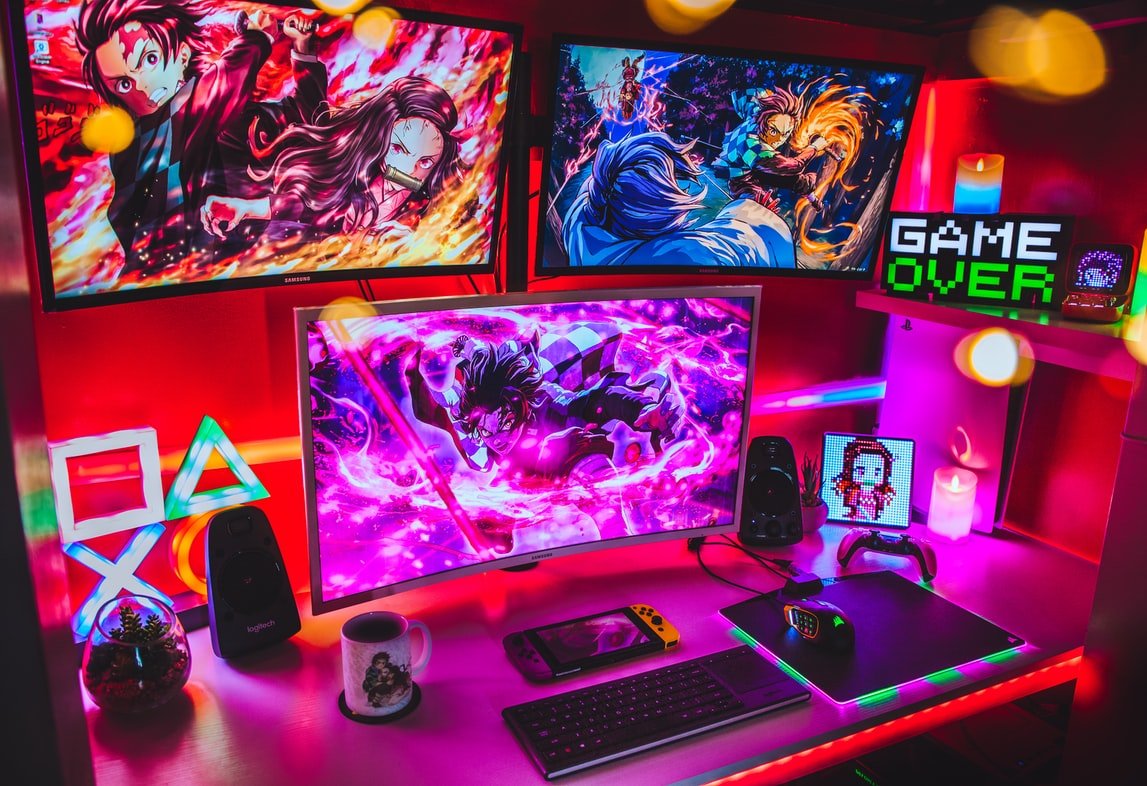 Furniture
You may not have given as much thought to what furniture you're going to put in your game room. Yet, this is just as important as you're going to find yourself sitting on your chosen chair or sofa for hours on end while you play.
Therefore, it's going to be important to make sure you get some furniture that is going to be comfortable and provide you with the support you'll need.
For PC gaming, a specialist gaming chair will likely be most appropriate. It should support your back and allow you to rest your feet on the floor (or a footrest) while also keeping your eyes in line with the top of your screen. Ideally, it'll also have adjustable armrests so that you can keep your arms at right angles.
If you intend on playing console games, then whatever you choose should allow you to sit for long periods without it placing strain on your neck, back, and other joints.
Don't just think about yourself either. If you intend on inviting your pals round to play video games with you, then be sure to have somewhere for them to sit too.
Decoration
You may not care too much about décor for your game room. In which case, keep things simple and apply some neutral-colored paint to the walls.
Alternatively, if you want something to reflect your gamer lifestyle, then why not turn some retro game boxes into decoration using display stands?
Or jump on the bandwagon and get some RGB lights so you can change the mood of your room to reflect what you're playing.
While it may be a little left-field, consider adding some house plants to your game room. They can improve the level of oxygen in the room, which may give you a bit of an edge while you play.
Also, consider the position of lighting in your room as you wouldn't want glare to interrupt your gaming sessions. If you have big windows that let in a lot of sun, consider positioning your screen(s) in a way that prevents them from being hit directly by the sun's rays during the brightest parts of the day.