A lush green garden is an art that can make any kind of place colorful and lively. It gives you a personal space to spend quality time with your loved ones. Most people have fence gates around their garden to separate it from the rest of their property.
If you have a garden, you might need a fence gate as well. There are many fence gate ideas available out there and choosing one from them would get quite hard.
If you own a garden on your property, you probably know how it feels like a whole different place- Away from the hush bush of daily life, a peaceful place close to nature. If your garden has a whole different vibe, considering a separation for that area is not a bad idea.
This separation is usually done by a fence gate. Fence gates not only are quite useful, but they also add major visual delight to your outer space.
The most common ones are wooden fence gates. Wooden fencing along with a gate gives your garden a boundary and protects it from unwanted creatures. Here are 12 beautiful and excellent wooden fence gates for you to choose from. No matter what kind of a house you have, the following wooden fence gates are versatile enough to go with all.
1. Simple and Classic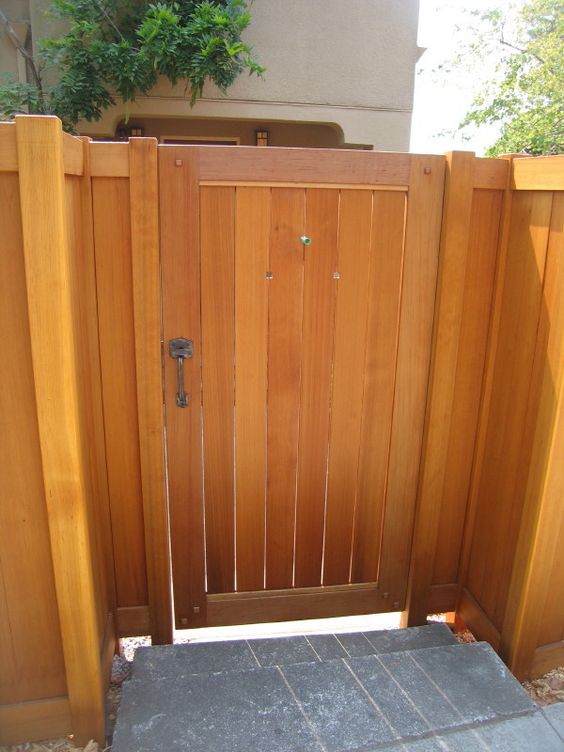 If you are not planning on a fancy fence gate, you can always go with a simple and classic wooden gate. Getting a simple sober fence gate will probably not cost you much and yet, it will add to your home's visual beauty. A simple fence gate can be even made from old scrap wood pieces. However, for a durable and strong one, purchasing new woods would be advised. 
Woods are available in various shades from light creams to dark deep brown. You can choose any color that fits right with the rest of your house. Moreover, ornamental elements can be added to make the gate look more interesting.
2. Touch of Metal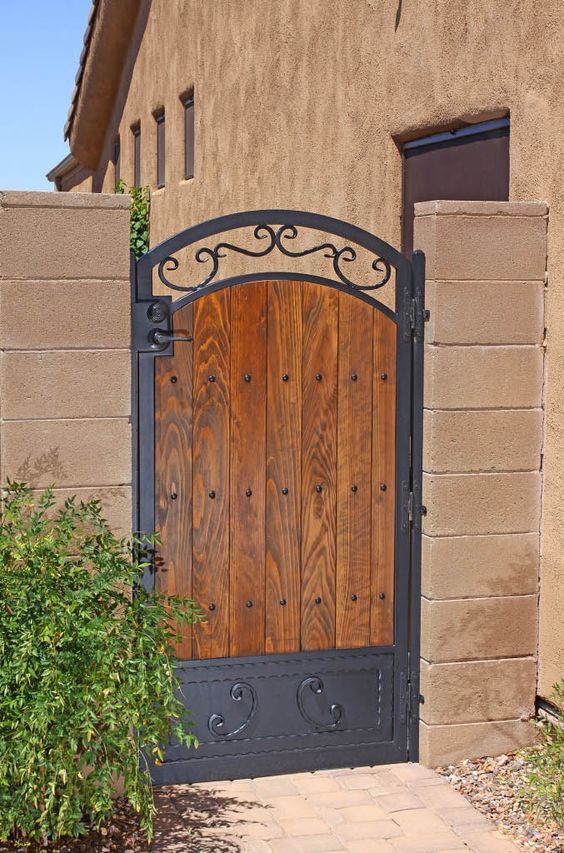 Wooden fence gates with a touch of metal look amazing and give an overall bold look to the gate. A touch of metal can be anywhere in your fence gate. It can be metal borders around your gate or fancy metal hinges that go with your wooden gate. You can also choose your favorite colour from the infinite options.
Moreover, you can also add a fancy artistic metal piece to your gate. This can be in the form of solid design or can be placed in the peek-through space of the door. This is one of the best wooden fence gate ideas as it gives you a unique look with both wood and metal together.
3. Peek-through Gate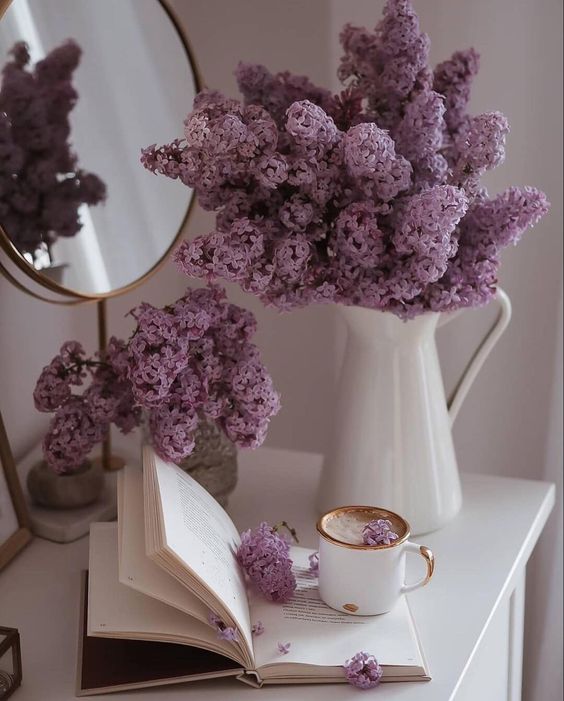 Adding a peek-through can easily turn a simple wooden door into an eye-catching beauty. A peek through will not only give you the benefit of seeing in and out but it will also give you the chance to make the door an artistic piece.
You can add lavish borders to your peek through to make it look heavy and bold. Moreover, the peek-through window can also have metallic or fiber designs and this can add to your gate's visuals.
4. Rustic Design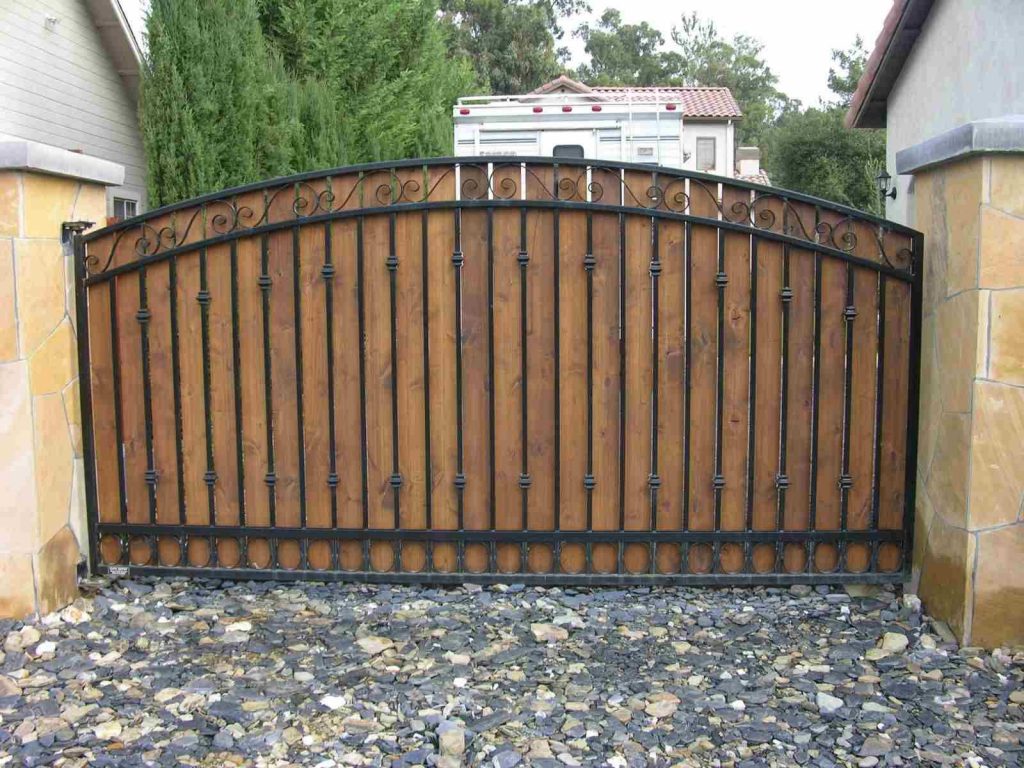 If you are not planning to invest in a wooden fence gate on a long-term basis, you can consider using any of your old wood. Old wooden pieces will give an antique rustic look to your gate. This look will catch attention without even digging a hole in your pocket.
On searching rustic designs, you will find numerous beautiful ones out there. So, if you do not have any old woods, you can buy some from the market for just a few bucks or even for free. If done right, the result out of the rustic old woods will win your heart.
5. Gate cum Fence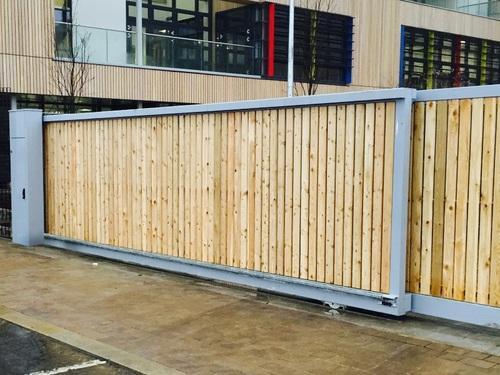 If you are planning to get fencing made along with your wooden gate, you might consider matching them. You can get the fencing and gate the same appearance to give your garden an even look. This simple fence gate idea looks sober and yet beautiful. In this case, a fence gate made of pickets would serve the best. Pick any shade of wood that you like and get pickets made of it, and you are done!
6. Gate with a Shade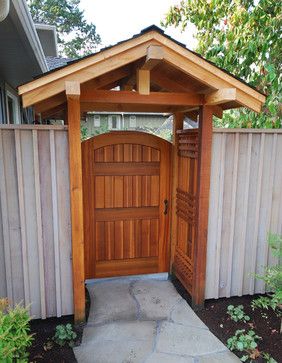 Although it will not be of much use practically, adding a little bit of shade above your wooden fence gate will catch attention. This shade can be flat, gable, or arch. This shade will also give considerable protection to your wooden gate from the changing weather.
Moreover, the shade can be used to add lush vines or tiny flowers to your gate. You can also add ornaments like a cute wind charm under the shade.
7. With a Gable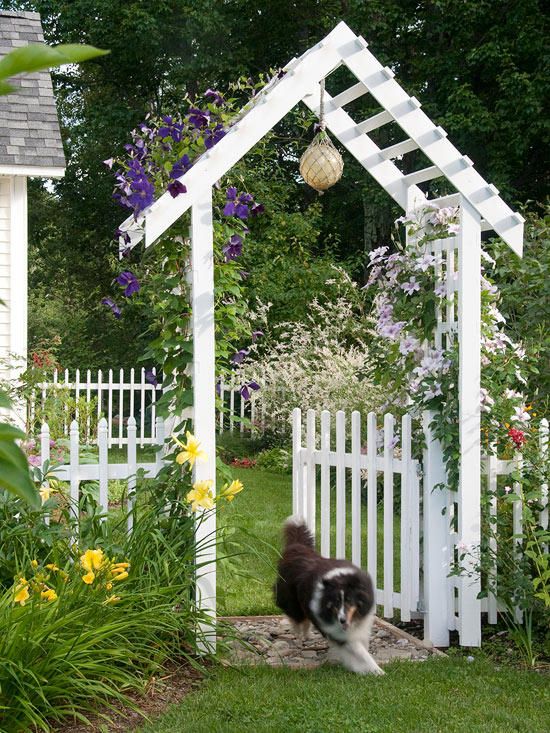 A gable adds up drama to an otherwise simple wooden gate. The gable can also serve you with numerous benefits. You can add lighting to it to keep your garden lightened in the evenings or can add vines and flowers upon the gable to make it fancier.
8. Bold and Heavy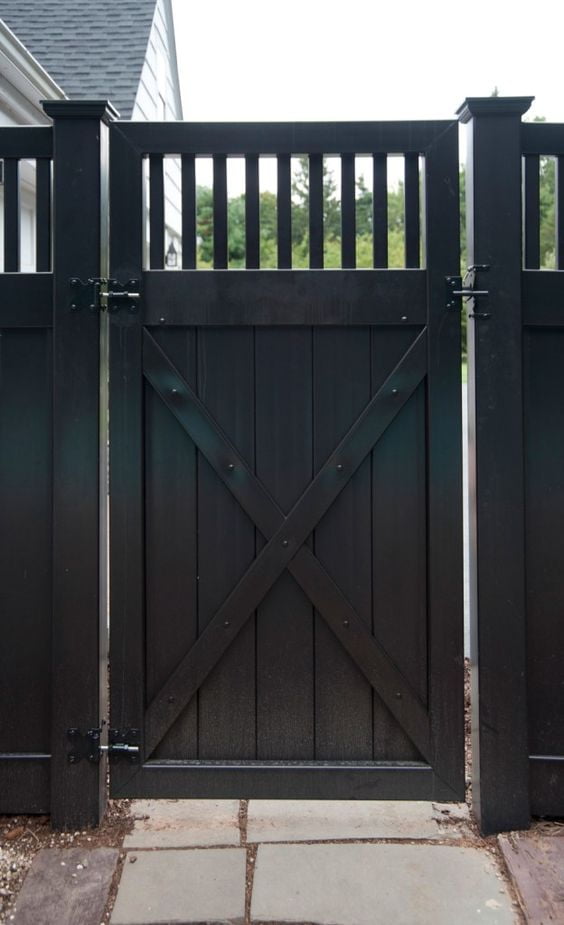 A bold and heavy fence gate just looks rich and lavish and goes with just any kind of house and garden. For a bold look, go with heavy blocks of wood in deep colors like black, dark brown, or dark grey. Moreover, ornamental elements can also be added to this gate for a fancier look. You can add a few metallic artistic pieces or fancy hinges for that matter.
9. Tiny White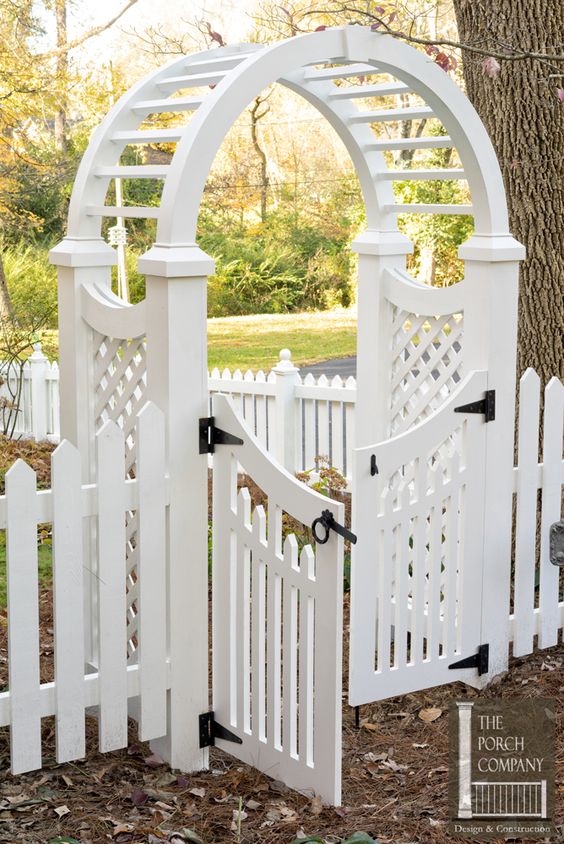 White is the color for fairy and soothing vibes. If you have a fragile garden full of colorful flowers, having a fence gate that matches its vibes would be just perfect. In such a case, a tiny white wooden fence gate is something you need. White is a color that would go with every type of house. Moreover, a white gate with white fencing will also add to the beauty of your garden.
10. Flowery Fancy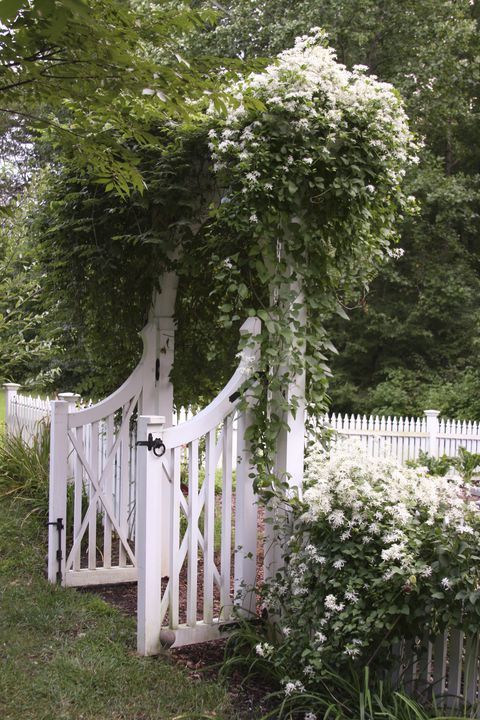 If you love colors and cannot get enough flowers in your garden, why not add them to your fence gate too? Having a gate with flowers and vines is legit one of the most beautiful fence gate ideas you can ever find. You can have a simple wooden gate with an arch made above it for the flower vines to grow. Once the vines have grown, they will eventually wrap the arch with tiny delicate flowers.
You can also go with a gable or a square shape above the gate for the flowers. Moreover, you can either have lesser vines hanging from the arch and give a clean look to your gate, or can have plenty of vines on your gate to get a cuter messy look.
11. Match it with your House
This is for those of you who are just looking for a fence gate that goes with the rest of your house. No fancy flowers and ornaments, just something that matches your house. For a matching look, you can go with a fence gate that matches your main gate or the doors of your house.
If you cannot do matching with the doors, you can also prefer color-matching. Get a simple fence gate made from the color that best matches your house.
12. Sliding or Bi-fold Woods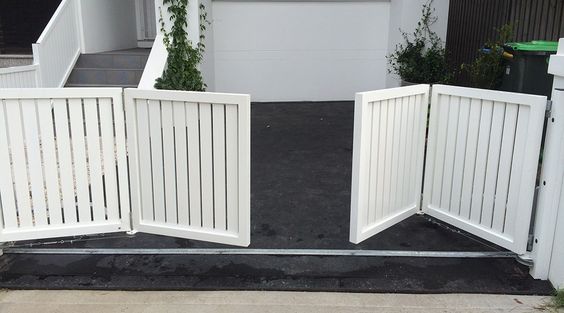 A unique fence gate idea is to have sliding woods or bi-folding ones. You can get your wooden gates customized to open in a sliding manner. This will give a sleeky and royal look to your house. There are various options to choose from when you plan on a sliding or folding wooden gate. This is not a common choice people go for. So, if you plan on it, it might get a little hard to find the right gate, but it will be worth it.
Moreover, if you are also adding fencing around the garden, it can be simple, flat, and wide wooden blocks.
Final Word
All these wooden fence gates can be easily made from a local hardware shop. For a fancier fence gate, you can go with your creativity and get some ornamental elements added.
At last, having a fence gate for your garden can never be a bad idea. And if you already have one, turning it into an art piece is always a great idea.