A beautiful garden plays a vital role in shaping our environment. We should plant trees around us to control the warmth around us and give us fresh air, which we all need at this timer, where everyone is suffering from global warming.
Therefore, a garden or a backyard will be more than enough. Plant trees, shrubs, potted flowers, flower beds, and many more to make it look beautiful and greener.
We all love to spend some time in our garden, backyard patios, etc. We feel more open here, and it also makes us feel calm and relaxed, especially when it is winter, and the sun is sparkling bright. Therefore, it will be a wise decision to makeover your garden and backyard. You can either change it, introduce new plants in it, or add some other features—a pond.
Garden pond ideas are the things you should think about. A pond not only helps to beautify your garden, but it also makes its habitat as well. Ponds will help you grow fishes in it and help you grow different plants and flowers around it.
Therefore, we have come up with some great ideas and designs you can go for. Please choose what suits and work for it in your garden or backyard to make it happen. So, let us begin and walk through our recommendation of some gorgeous garden pond ideas and designs for you.
Here are Some of the Best Backyard and Garden Pond Design and Ideas
1. Shallow Pond in Open Garden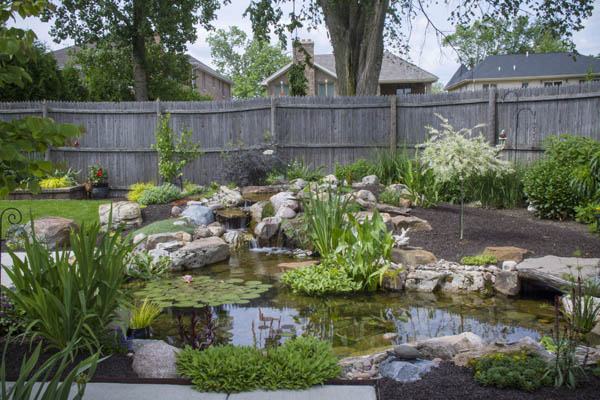 If you have a small house and a small garden in front of you, this one will suit you. A small pond surrounded by rocks and stones gives it a more realistic look. You must dig just a bit of depth and place stones around its surface, and you are ready to go.
You can either use plants according to your wish, or you must wait for weeds to grow from nowhere. Weeds can harm your pond and fishes as well if you have some in it. So, we would suggest you go with the selected plants and flowers and out fishes in it so that your pond can stay fresh and clean for a longer time.
2. Right Depth Pond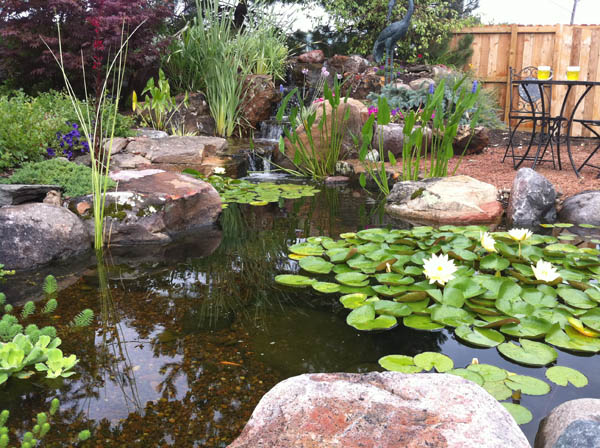 If you have some space in your garden where you have sitting arrangements, then the garden pond idea is for you. It will be a charmer in your garden.
All you need a comfortable chair, books, and a cup of tea to enjoy your afternoon here in front of this beautiful garden pond. A pond with stagnant water will not thrive much, and the water will also become stinky. Therefore, a running water source is necessary for your pond.
3. Squeezed Elliptic Pond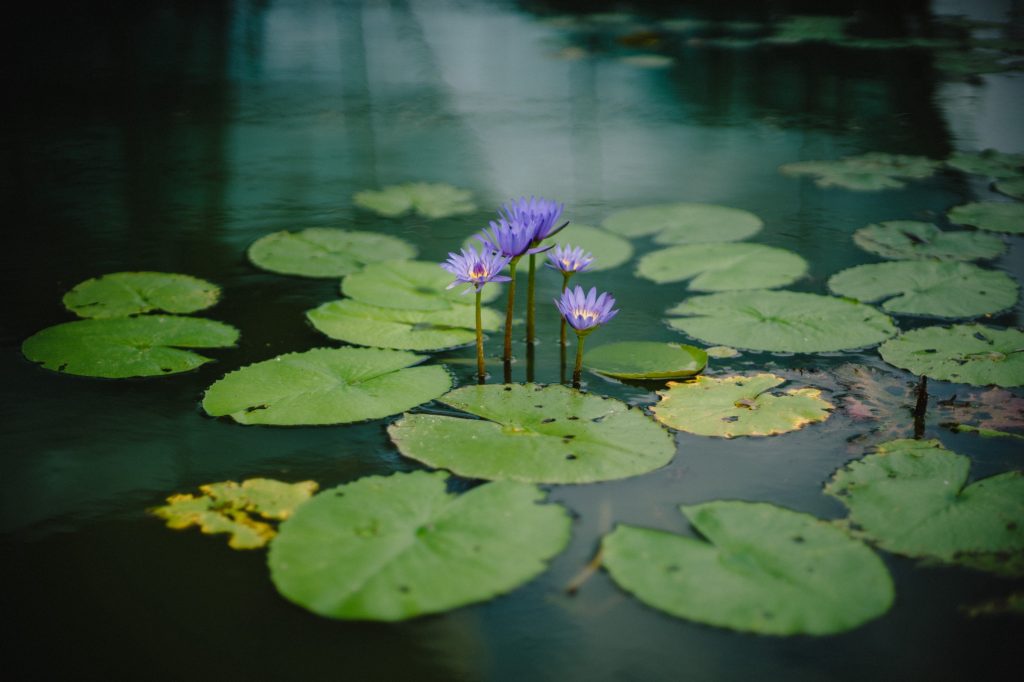 In this modern world, a modern designed garden pond idea will be an appropriate choice. Rather than suing stone to give it more like a traditional look, use cement and tiles to make your pond look modern. Surround it with greenery and some flowers and then see how beautiful it looks.
4. Large Pond for Larger Gardens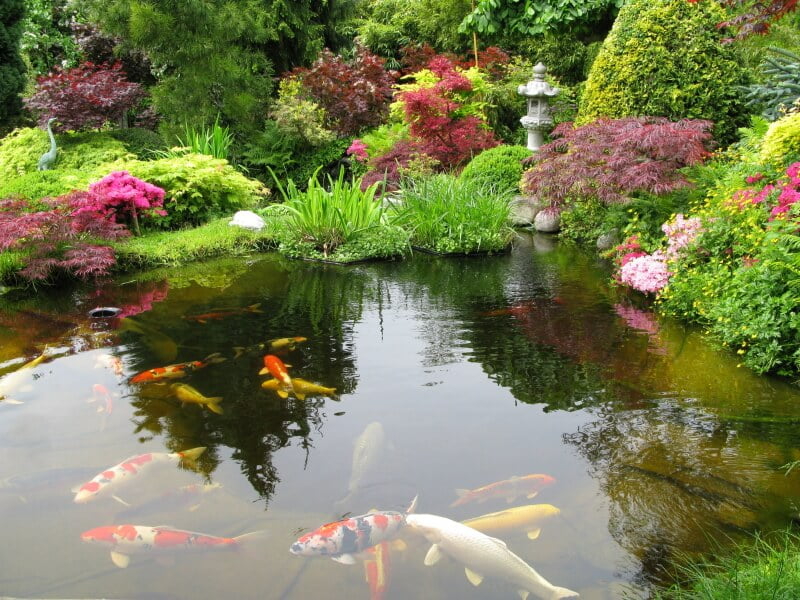 Especially for those who have a farmhouse-style home. A bigger garden will require a bigger one. A small pond is not going to work for a big house.
It will be more suitable at the corners so that you can plant more greenery around it without worrying about getting damaged by people passing by.
5. Natural Garden Pond Idea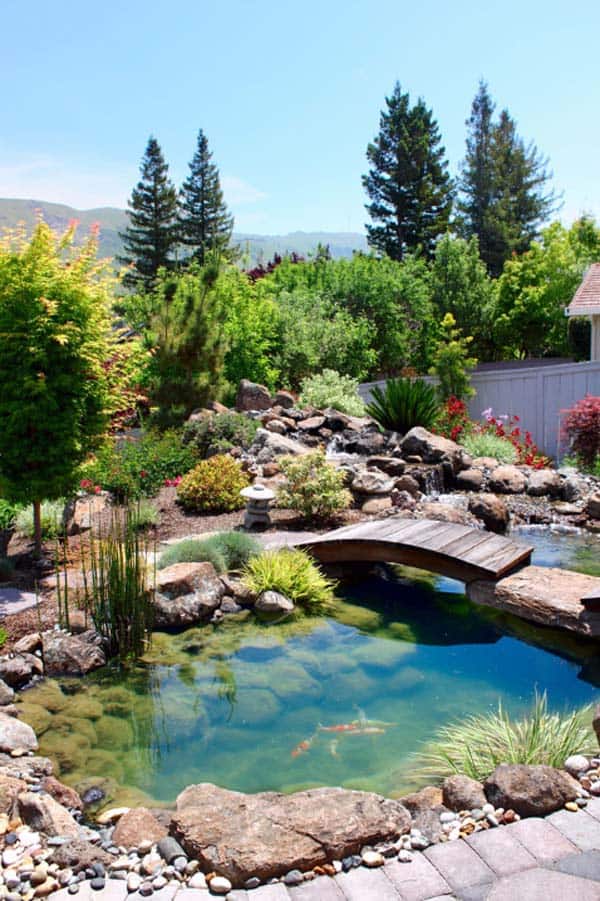 Are you living in a village area? This is going to be a plus point for you. Generally, we have more open houses in village areas, and unlike cities, each house is separated by some distance. That is why these types of kinds will suit you.
Fishes will also thrive there among water plants and trees as well. So, it is going to be beautiful on its own.
6. Pond for Garden with Trees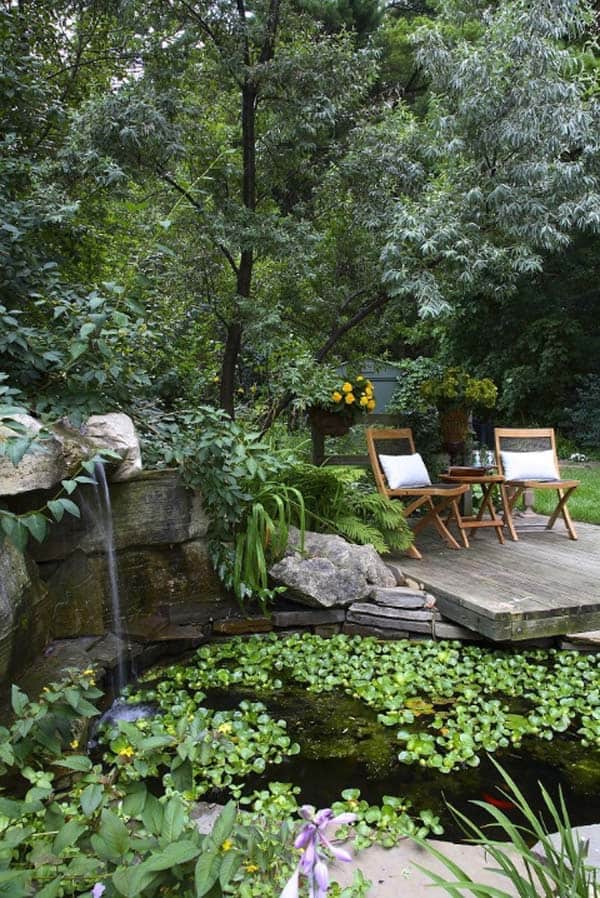 If your garden has more trees covering all the gardens, this calm pond will be a perfect choice. Along with this pond, make a tank fill water fitted with a motor to circulate water continuously. This will keep your pond fresh, and if you want, you can also install pond fountain with lights to give your pond a better look.
A pond in a shady area look uniquely attractive and have a different kind of uniqueness as well.
7. Modern Garden Pond Idea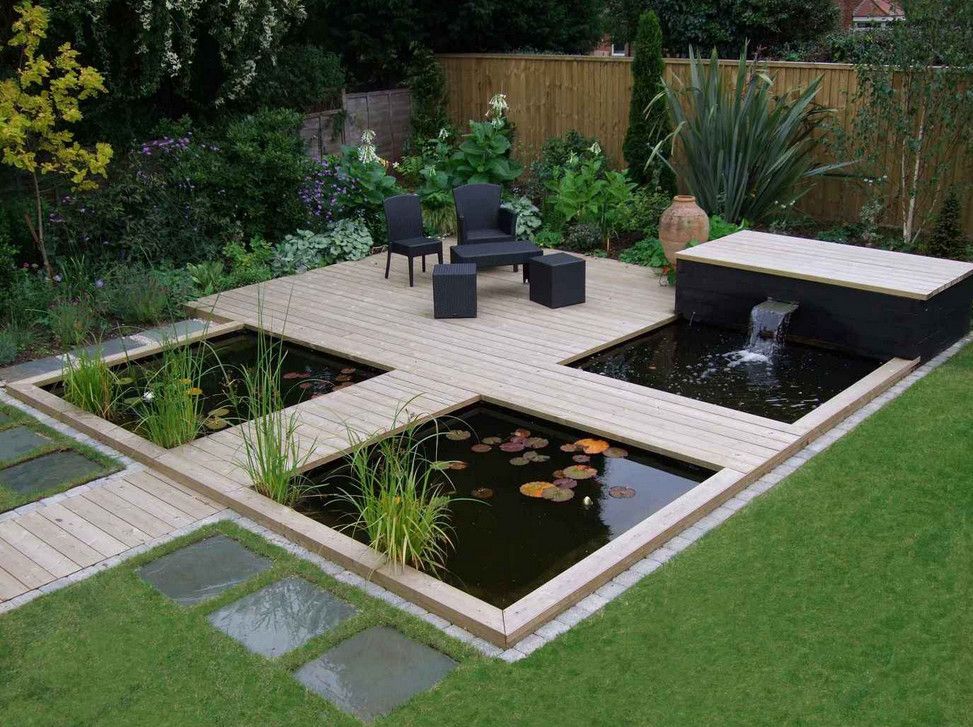 People usually think that they can only make ponds around their houses if they have space. And that is where they are wrong. You can make a pond even if you do not have much space, and this pond is proof of this.
A pond beneath your sidewalks is going to be a mesmerizing thing but watch your steps. This will look like a villa, and walking over it will give you a pleasurable feeling.
8. A Small Fountain Pond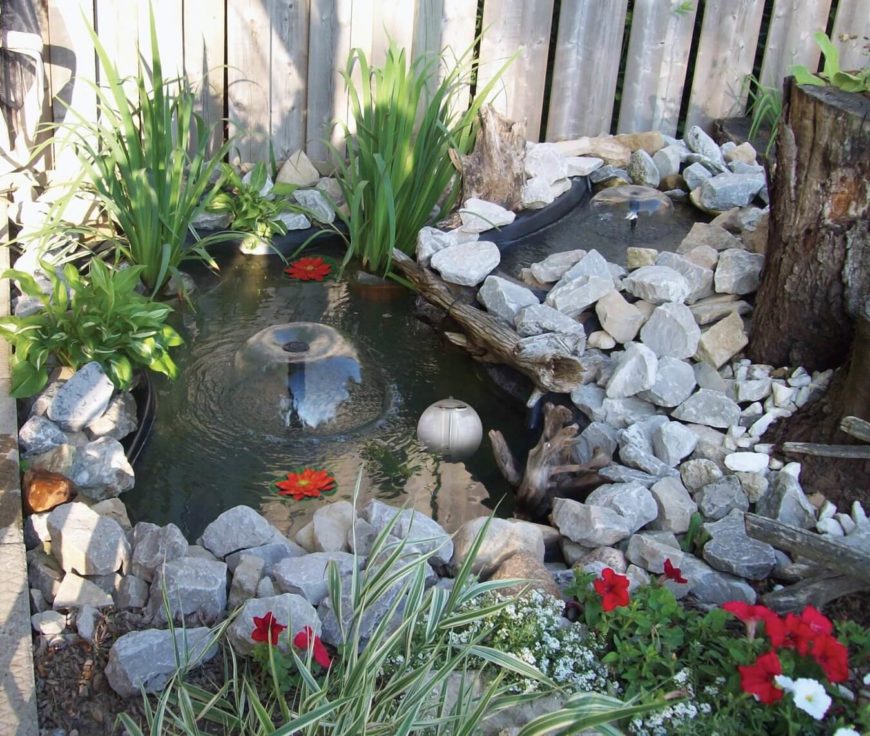 A pond with running water looks unique. It enriches the kind with fresh oxygen and helps the plants and animals grow fresher and healthier. Located at the corner of your garden, it will soon make its area where you will have plants and animals thriving coherently.
Put either a small fountain in the middle or at the extreme top of the boundary of your pond. You can also use lights to make it look more beautiful at night.
9. Garden Pond idea For the Corners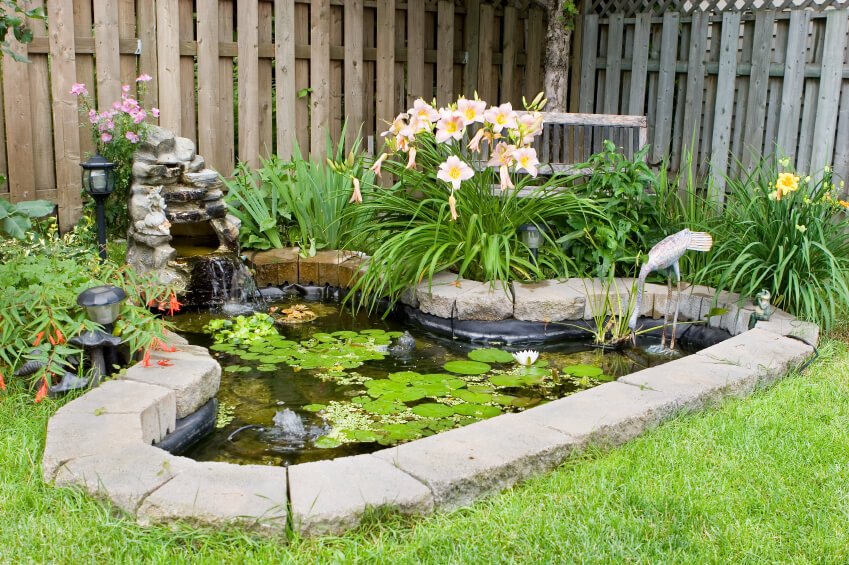 If you search for garden pond ideas, you will find most of them for the corners. Because it is something that anyone can use. It will be situated at the corner, away from any disturbance, and while its maintenance, it will also not affect the oath to your home.
This pond here has a humanmade waterfall made up of rocks placed one over the other. Birds will easily get attracted to it, and you may get some rare sight of seasonal birds as well. You can make more than one pond of this type if you wish.
10. Garden Pond with Flower Beds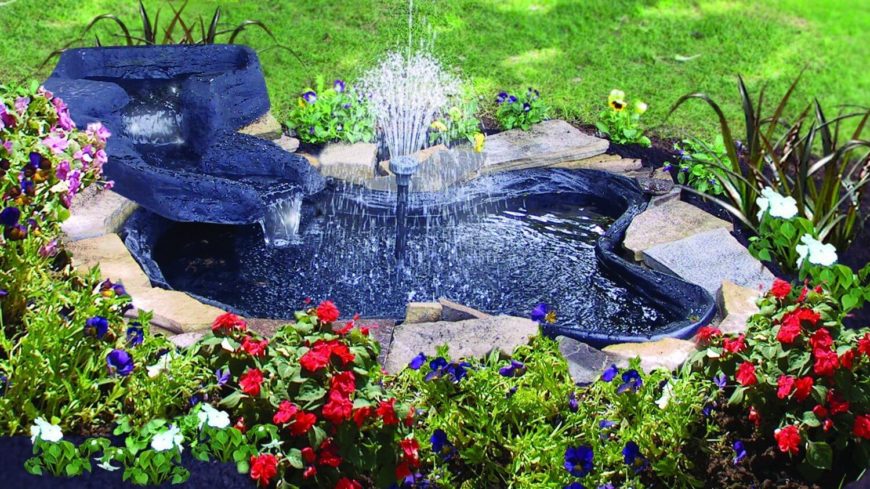 This one looks lovely. A beautiful tiny pond surrounded by colorful flowers and grasses. This could be a fabulous makeover for your flower beds. You can make a pond in the center of your flower bed, and this will be a perfect garden pond idea for you.
This pond with a fountain in the middle will cherish up if you put some colorful fishes, and if you make it big then water like will also give an extra edge to it.
11. Simple Garden Pond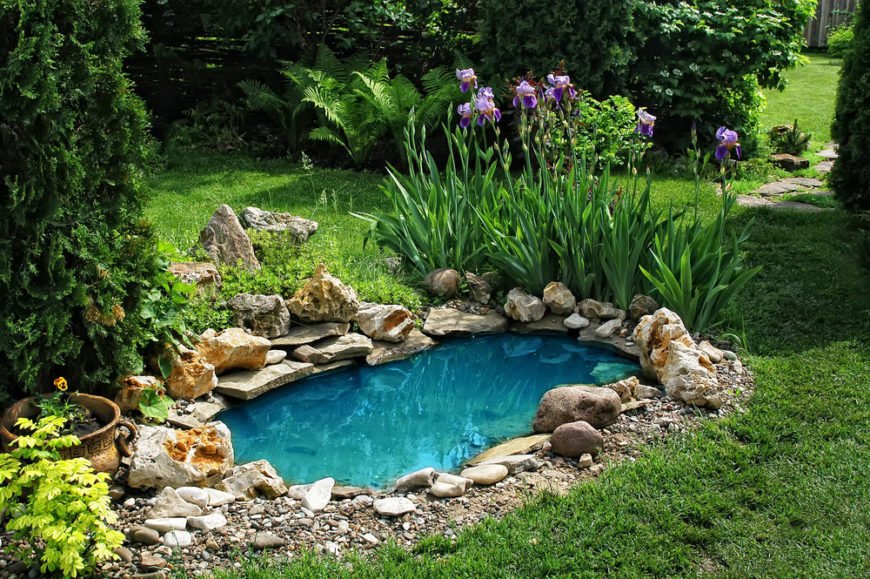 One of the most straightforward garden pond ideas you can have. It will look bright in open gardens, and when it has fish, it will look even more beautiful.
So, make it the one for your garden, and once done, you will love spending time around it. Have your book with a cup of tea, and enjoy your moment.
12. Pond Along with Your Home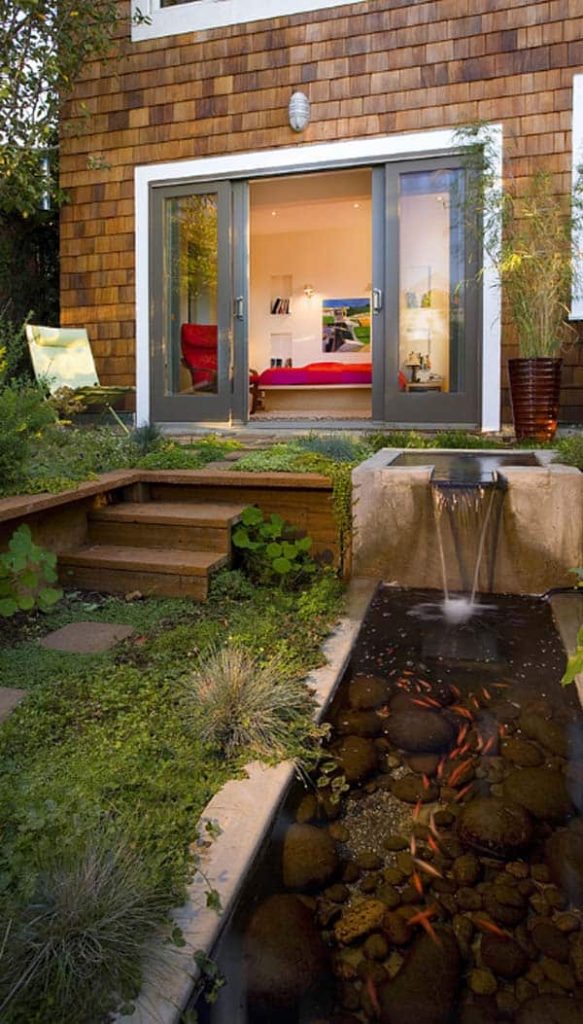 Imagine a beautiful and cold evening sitting on your stairs of your doorstep and feeding fishes of your pond, peaceful, right? So, why not make it real. You must dig in some ground, make it hard with cement, and then make a water pipe connection for continuous water flow. Your pond will be ready to thrive.
Use some lights to make it look more magnificent, and according to the size, you can increase the number of fishes as well.
13. Circular Garden Pond Idea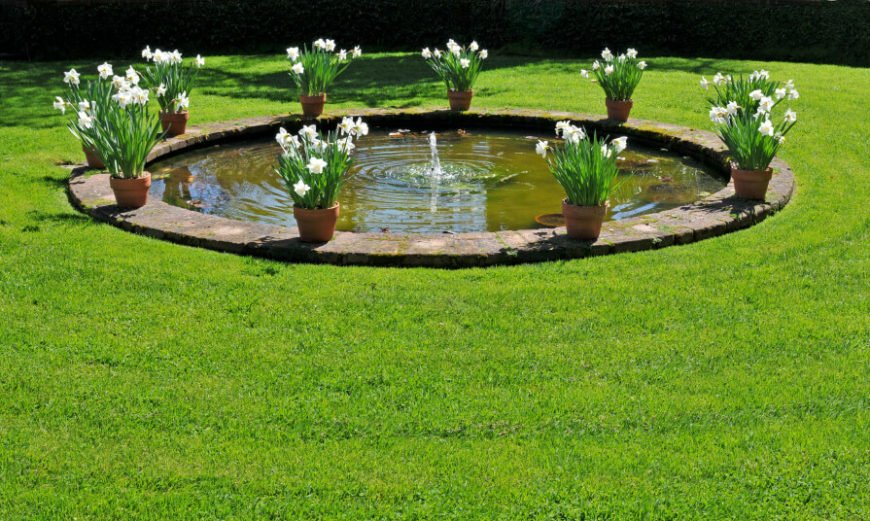 A simple round pond and a small fountain mounted in the middle of it. Surrounded and decorated with potted flowers on its circumference separated by an equal distance. This is going to be a simple garden pond idea for you.
You can use fountains with lights to make it more gorgeous.
14. Pond with Water Plants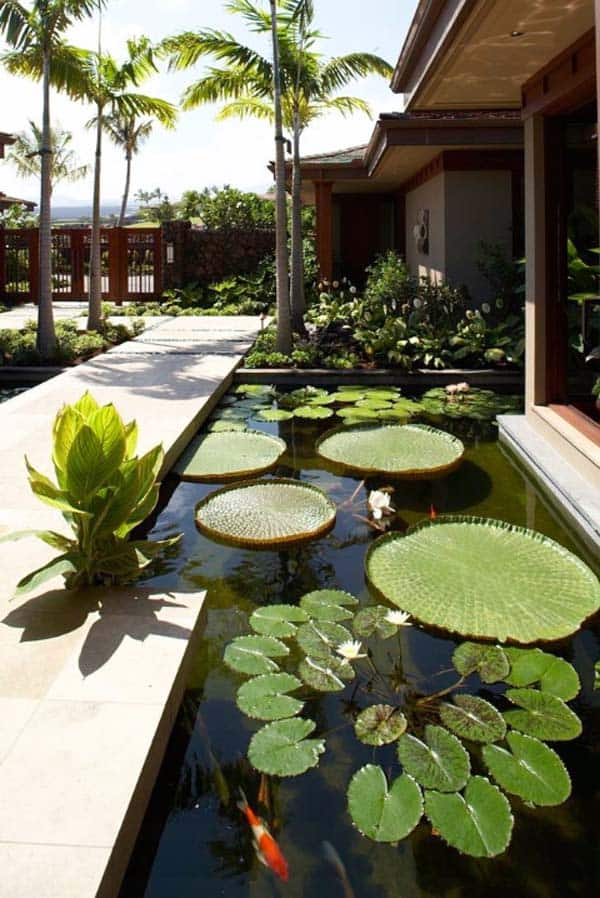 If you have a pond or are willing to have one, it does not mean that you must buy fishes. It looks good if you have fish in your pond, but it is not a requirement. You can have water plants as well. They will also keep your pond fresh and clean the way fishes do.
This garden pond idea is a perfect example of it. Unlike fishes, you do not have to worry about their foods as they make their own. So, this is going to be a unique but effective garden pond idea to use.
15. A Garden Pond with a Small Stream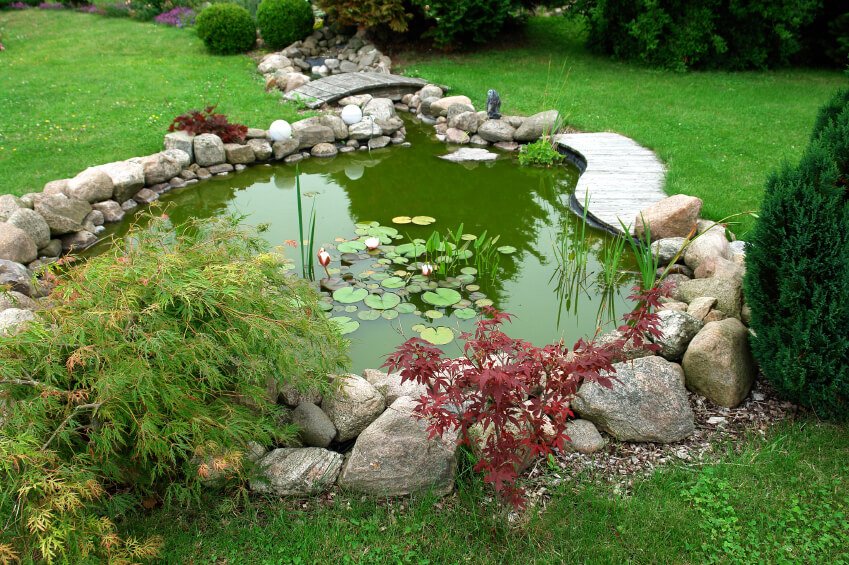 If you have a big budget and want to spend it on your garden, this garden pond idea is for you. It would help if you made a pond with a great depth and from it take out a stream and make a path for it wherever you want it to go. This will give your garden a unique look.
Along with streams, you can plant flowers and different shrubs to make it look more diverse. This will attract some birds as well, and if you have fish in it, they will also roam around your garden, which is a good thing for fishes.
Conclusion
Make ponds according to your garden. Use plants and fishes both, and if not fishes, then water plants will also work for you.
Fishes are not compulsory. Use your garden effectively and make sure the maintenance of your home is regular. Please keep it clean and neat. Always use medicines to make your pond healthy.