Having a patio is one of the best things you can have in your home. Apart from the additional space, you can use the deck to enjoy your yard away from your home, without physically moving away. With that, you may want to ensure that you allow your space to be relaxing and updated, so you can truly enjoy what it has to offer.
As you update your patio, it would be excellent if you could incorporate 2021 trends into it. This way, you can refurbish your space, which you know can look nice even after many years. Along with this, it might help to give your patio a fresh new start, especially if you've skipped on updating it for decades already.
Moreover, listed below are the 2021 trends that can breathe new life into your patio.
1. Add Bean Bags
A patio's traditional seating is swings, sliders, and other standard outdoor furniture. To give your deck a new look, you might want to consider adding bean bags as they're fun, great outdoors, and would be a crowd favorite, especially during parties and other events.
As you transform your patio with bean bags, ensure that you place them strategically with each other and avoid overcrowding them together. You should also check the bean bag sizes and see if they'll match your current design. Ideally, a bean bag shouldn't be too large to steal the attention away from everyone or too small that only a limited number of people can sit on it. Moreover, you should also pick the right color so that it'll blend perfectly in your patio, without making it look like a forced decoration.
2. Include Outdoor Kitchen
The year 2021 has enabled more people to cook, especially that they have plenty of time staying at home due to the pandemic. While cooking indoors would be a traditional way to whip up dishes, adding an outdoor kitchen will help spruce up your cooking experience, allowing you to have a new environment to make your meals.
You can choose to add a wet bar and outdoor grilling station, wherein you can freely cook your favorite sausages, for instance, without worrying about the smoke it'll produce inside your home. As you design your outdoor kitchen, ensure that they're weatherproof to withstand intense wind, rain, and sunlight. Moreover, it'll be wise to keep your electronics inside as it can damage your appliance and cause electrical hazards in your home.
3. Add A Tank Pool
Having a pool in your patio would be helpful to lower the heat, along with giving your yard a great new ambiance. However, if you don't have enough budget to have a regular pool for your patio, you might want to consider adding a tank pool that can provide you with similar benefits, minus the cost. This way, you can freely dip into the water and allow your patio to have an upgraded look. It'd be like hitting two birds with one stone.
As you add a tank pool, you should consider repainting it into something trendy and one that matches your exterior well. This way, you can mask the tank's appearance, giving your patio an instant boost and relaxation spot.
4. Construct A Day Bed Paradise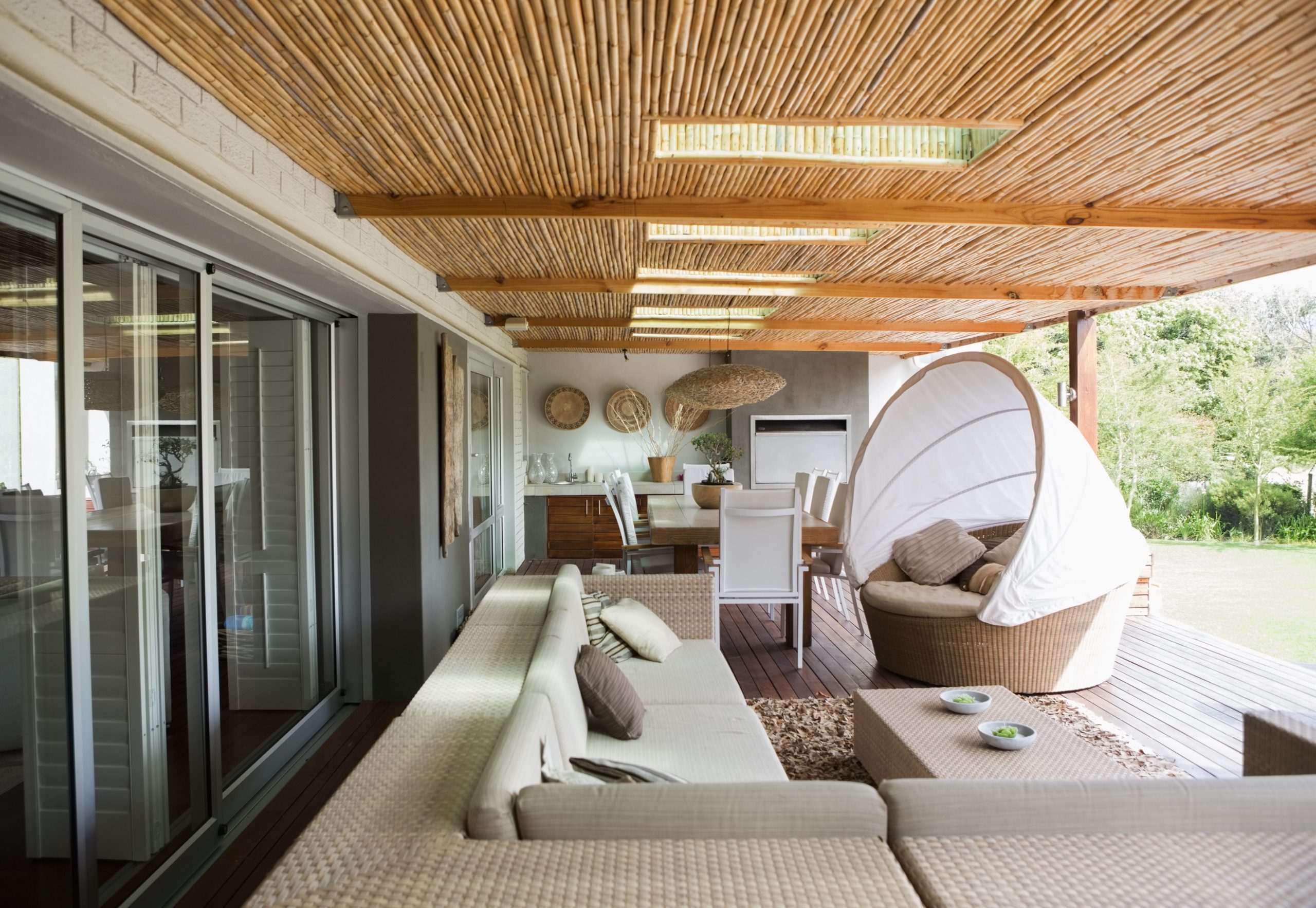 If you'd like to spend most of your time at your patio, where you can be comfortable to sit and sleep in, you should have a dedicated day bed space, allowing you to chill any time. While adding a hammock would be doable, having a day bed would make your patio trendier and livelier. Ideally, you should create a day bed paradise wherein you don't just add a plain old bed, but also design the entire spot for pure relaxation and bliss.
As you add a daybed to your patio, try to surround it with relaxing decorations, such as an outdoor rug, a side table, and a tropical chandelier, which can all instantly boost its appearance. This way, you can experience paradise, without having to leave your home. Also, you can choose various tropical themes that you can pair with your favourite drink during the hot summer days.
5. Incorporate Entertainment Area
Since most people are spending most of their days inside their home, adding an entertainment area in your patio would be great as well.
Since the pandemic started, people are forced to stay inside their homes to prevent them from catching the virus. With that, people might run out of indoor ideas and bore themselves out easily. To keep everyone sane, adding an entertainment area will be beneficial.
You can begin adding an outdoor cinema—you bring out a projector, light it into a blank wall, and play your favorite movies. You can also choose to add a fire pit wherein everyone can gather together and roast marshmallows. You could even add a water slide during the summer to keep everyone busy and escape the summer heat.
As you add an entertainment area, try to maximize the space you have and ensure that everyone can benefit from them. This way, every member of the household gets to enjoy the great outdoors.
Conclusion
While some people see a patio as a boring place wherein you just sit around and do nothing, there are plenty of ways you can breathe new life into it. This way, you can give your patio a new look, transforming it into a place everyone would look forward to going to every day.