Working from home can be a distracting affair. In such a scenario, it's always great to have a dedicated workspace at home that will keep you focused all the time. A well-set-up workspace will always inspire creativity and allow you to get down to business.
But wait before you start brainstorming any home office ideas; always consider who will be using the space so that you can create a space that reflects their personalities. Here is a list of home office ideas to help you maximize space and productivity.
A home office is the best chance for you to showcase your favorite decor styles. From pastel colors, gold finishes, and rustic wood to elegant lighting, there are limitless options to arrange a utilitarian setup filled with style.
So if you are also working from home and need some office design ideas that fit well with your style, then keep scrolling for inspiration!
Visual Inspiration
Everyone has a unique sense of style, and your home office should definitely be a reflection of that. This home office idea is a great way to add some aesthetics to your workspace while also displaying your personality.
Nothing can provide more visual inspiration than art. Imagine a unique piece of handmade artwork of your favorite family moment, a frame of a holy verse that inspires you the most, or even a simple landscape painting of your choice, which can add so much character to your office space.
On days when you feel less motivated, artwork can ignite that inspiration in you. When choosing an artwork, make sure it resonates with your personality. Make sure the artwork is such that it keeps the creative flow going without breaking the flow of your work or cluttering your workspace.
Open Air Workspace
Nature gives a sense of calm and often helps in calming the mind and body. So if you are someone who loves a splash of nature, then you no longer have to leave the comfort of your home office.
Yes, you heard that right. You can get the benefits of a cool breeze on a warm day by simply setting up your desk and chair close to a door or window that opens to a backyard or balcony space.
To align your workstation with the breezy feel and natural lushness, choose see-through decor materials like sheer white curtains that will bring the warmth of the sunsets into your office space.
To add a subtle natural feel to your decor, consider using minimalistic textures, patterns, and organic colors. The home office idea will not just keep you motivated throughout the day but also increase your creative flow at work.
Make a Monochromatic Moment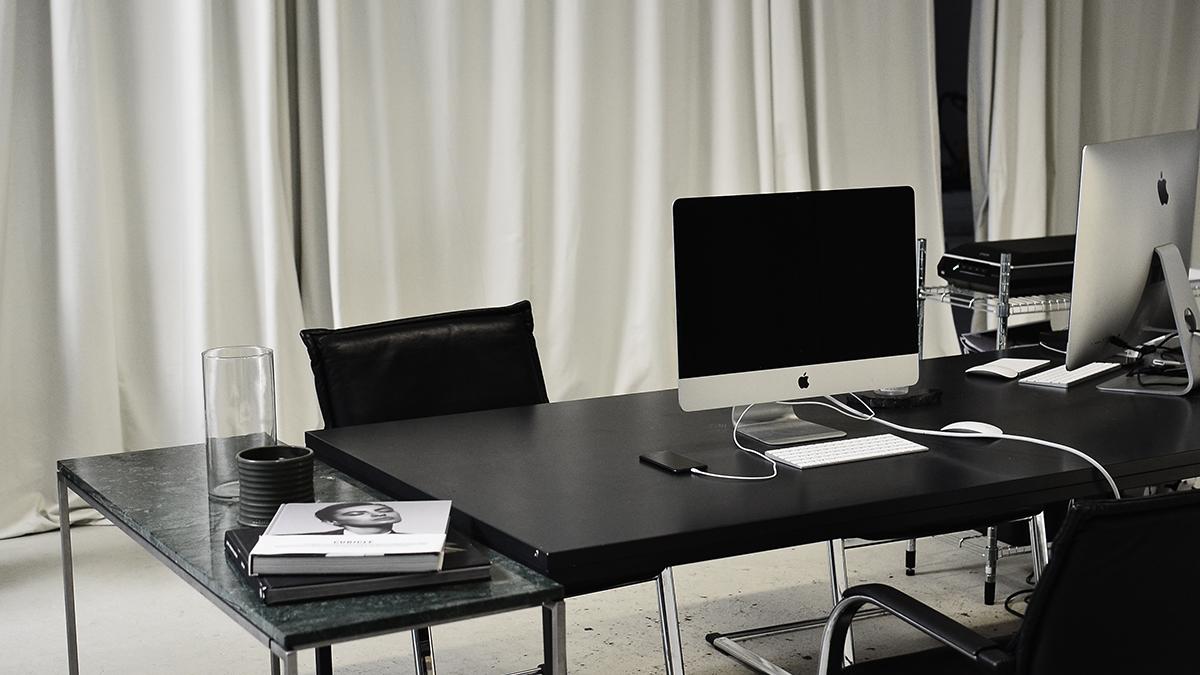 When it comes to contemporary home decorating, using neutral hues is definitely not a new concept. Homeowners are gradually diverting toward a distinctly monochromatic color palette to achieve the perfect modern home office.
The best part about incorporating a neutral color scheme is that it gives you design flexibility and allows you the liberty to add trendy accents that stand out visually. A neutral home office design gives the interior a relaxed and modern vibe at the same time.
A white home office is the perfect blank canvas on which you can paint a productive and creative work environment! This home office idea is perfect for people who are looking for home office ideas for small spaces because neutrals help you create the illusion of a breathable and larger space.
Find The Rug
The best possible way to ground your space is by adding a colorful area rug to heighten the visual interest. A rug is the best pick for all those who are looking for home office ideas on a budget. If you've been looking for that one element to add a pop of color to your room, a colorful rug is your answer.
Pro tip: Your rug design should be in harmony with the decor theme you have in mind. Make sure you choose a rug design that brings you joy when you look at it. A satisfying rug design can definitely have a huge impact on your working behavior.
If you have minimalistic home decor then a poppy rug would be the best choice. But if your home office has statement furniture pieces like a colorful table or a bold lounge chair, then make sure the rug you choose is from a neutral palette.
So if you want an office space that keeps you away from external distractions, then a rug will be the best way to absorb all that unwanted noise.
Final Note
The new normal has almost blurred the lines between working from home and working from the office. Most of us struggle to strike a balance between working and leisure hours. A dedicated working space will not just improve productivity but also help you maintain a healthy work-life balance.
Important Note: Don't forget to organize your office space to put your mind at ease. These home office ideas will inspire you to design a work-friendly space at your own home.