A wrong sports bra can hamper your blood circulation around the chest area while extensively exercising. You don't want that to happen to you.
Rather, you read about the best things to look for in your next sexy sports bra. This way, you will end up buying a sports bra that fits and one which wouldn't irritate you while moving around.
7 Things That You Need To Considering Before Buying A Sports Bra:
Buy a branded one 
Do not just go and buy any sports bra from a local shop. The best preference here is to buy a branded sports bra. It will come with a guarantee and other ergonomic features.
Plus, you get it replaced without paying extra if there is any default on delivery. That is, if you're buying online from a branded store.
Branded stores often have multiple options in colors, sizes, and other types of sports bras. Local brands do not have enough patterns, designs, or options. Branded sports bras are best to don a stylish bra and turn heads while exercising.
Types of sports bras
Buy a compression bra if your breasts are small. Buy an encapsulated sports bra for large breasts. Otherwise, you can buy a high-intensity bra too. Buy a combination sports bra if you want to enjoy the mix of both features.
However, if you're still in a fix, it is best to consult your physician or trainer at the gym. They will guide you the best about the sports bras that would look as per your breast shape, matching your stamina and metabolism to work out.
A bra with a soaking wick
You will be prone to sweating around your breast area when you are doing a workout. It is most likely to happen and irritate you more if you don't use the bras with a soaking mechanism.
So, go for the bras with a soaking wick that absorbs the sweat to a certain limit. This helps in controlling your body temperature. If that happens, you can work out for more hours in the gym without feeling tired or too sweaty.
Look out for the adjustable straps
Pull-over bras often lose straps after intense sessions. These do not hold onto for long when jumping, pulling, pushing, or moving around at the gym. You need a better bra that you can adjust as per the intensity of the workout.
That's why it's the best advice for you to look for a sports bra with adjustable straps. These also hold the breasts in place, and the workout won't pressurize the chest to bounce.
A bra that fits your cup size
A sports bra needs to support your breast size. You don't want it to be too small and show too much or too big and fail to support your chest and back so that working out on trampolines won't be a problem.
That's why we recommend that you get the measurement of your breast and cup size before locking on the sports bra. This way, you wouldn't make a wrong decision while buying even an exclusive, branded, or luxurious sports bra.
When the sports bra fits your cup size, the breast won't bounce unnecessarily when you are working out in the gym. So, you won't be sitting around adjusting the cleavage either. You can comfortably work out in the gym or at home with a well-fitted sports bra.
Buy either a low-impact or high-impact one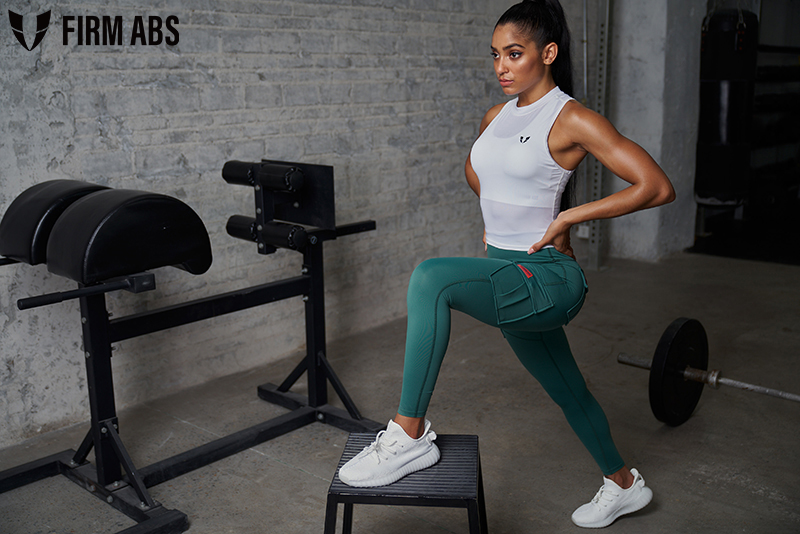 No single sports bra can fit all the gym and workout needs. Some bras are for low-intensity workouts like Pilates, cardio, or simple Yoga Asanas. While other sports bras give you a boost to perform high-intensity workouts pretty well without feeling tired or fatigued.
In fact, high-intensity bras also help your boobs from the high pressure and bounce of the movements. That is why the breast area doesn't ache when you end your workout session for that day.
Test the bra first for assurance in the trial room
Despite all the points stated above, this one is the most important. You seriously do not want to end up taking the wrong sports bra home. So, better it out in a trial room and see if it fits your body shape and exercise needs for the day.
However, the trial option might not be available when buying a sports bra online. Make sure to check that option out when purchasing online.