Gardening is not merely cutting out the overgrown bushes. It is art, too, if you have an artistic mind. There are many such garden wonders created by gardeners around the world. In ancient kingdoms, gardening a palace was done with ardent skill. 
These shrubs and bushes were not any random shapes but sometimes even sculptors of kings and queens. We can see many bush sculptures in ancient paintings too. 
But this is not history either; many people preserved the skill of sculpting bushes and shrubs. Bush sculptures are famous even to date. Many places with beautiful architecture and careful gardening still equip beautiful bush sculptures. 
There are many such sculptures you can still see around, thanks to the internet. Now because of the internet, you can see what the most beautiful bush sculpture has ever been made. Let us get into some unique bush and shrub sculptures that you need to see!
Outstanding Shrub & Bush Sculptures
1. The Beauty and the Beast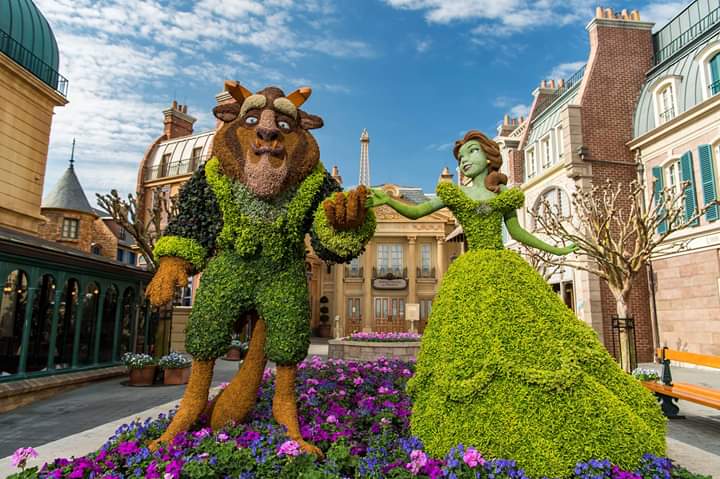 The most talked and famous bush sculpture around the world you need is this sculpture of beauty and the beast.
Located at Disney World, it stands as an example for many bush artists to take motivation. Disney World has many topiaries present throughout its establishment. A topiary is a bush or shrub sculpture.
2. Finding Nemo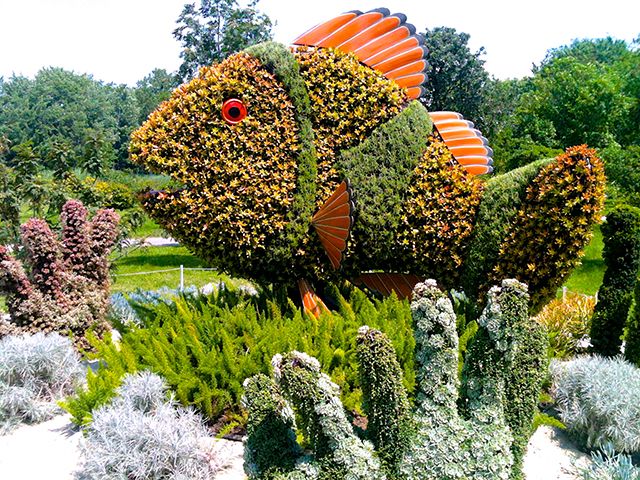 Almost everyone has either seen or know about Finding Nemo, at least. This movie has reached into people's hearts, and it is not that easy to forget it. Not as easy as how Dory forgets!
This picture inspired not only many other cartoon films but also inspired various kinds of art. This specific topiary flaunts its inspiration from the movie Finding Nemo, and you can even spot it right after watching it.
3. Cinderella Dance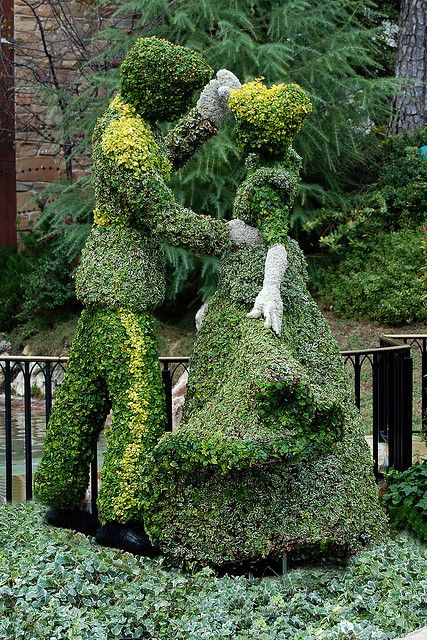 As said earlier, Disney world has topiaries all over the establishment. These topiaries are of the characters that they have created. Disney proudly flaunts its famous characters in their creative way.
Random sculptures would have been just bland, but topiaries, as such, are unique. Just like the beauty and the beast bush sculpture, this topiary is famous for its precision too.
4. Bush Couch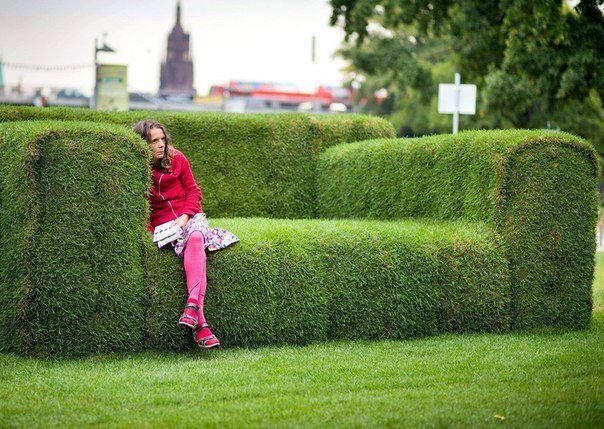 Ah! Couches are love. But have you ever tried a green couch? No Kidding. Instead of cutting wood and making a couch out of it, you can make a couch out of the alive bush!
A substantial warm, fresh, and green sofa that makes you feel united with nature. Bush sofa trend to date and many gardens have this topiary, which makes them unique.
5. Surreal Topiaries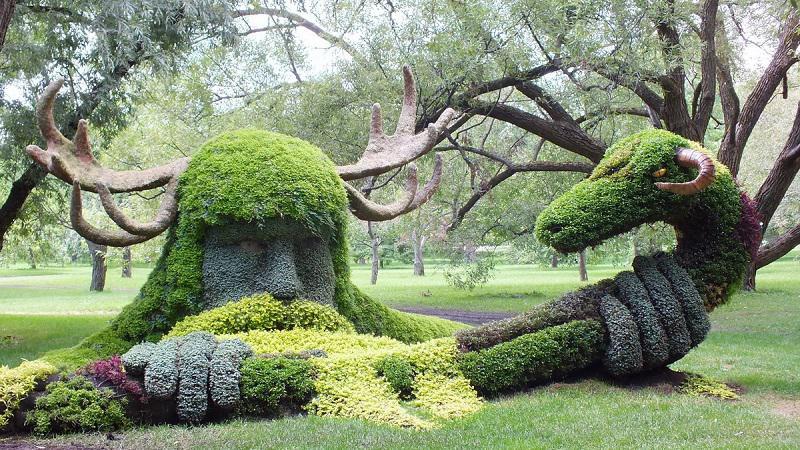 Montreal garden has the most surreal sculptures you can ever find on this planet. They took the art of topiaries to the next level. With a pure sense of imagination and craft, they have topiaries that you will never imagine someone would create. This beautiful bush sculpture is one of such wonders that they have made.
6. Cultural Bush Sculptures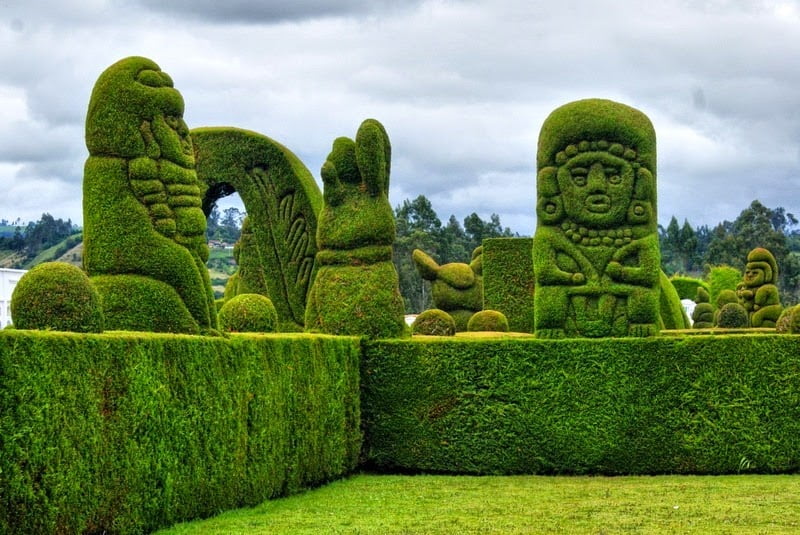 Ecuador has such beautiful sculptures that reflect their cultural heritage. Being a culture-rich area, they embrace their culture in the form of various art forms. 
They have not left topiaries out of the list; in fact, they have made beautiful topiaries that flaunt their cultural heritage and beliefs. It is indeed a wonder to see someone do such aesthetically pleasing topiaries of cultures.
7. Green Animals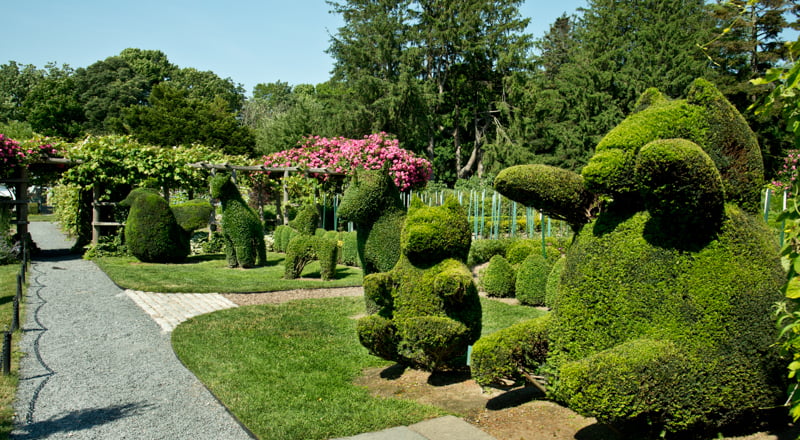 Animals are one of nature, and when you can make animals and plants unite with a pure sense of art, it is a wonder! This garden in Rhode Island, named after its sculptures, has topiaries of animals. Shrubs and bushes are shaped into different animals.
And it is a worldwide attraction. Many tourists who visit Rhode Island compulsorily visit this garden to see its beauty.
8. Lady and the Tramp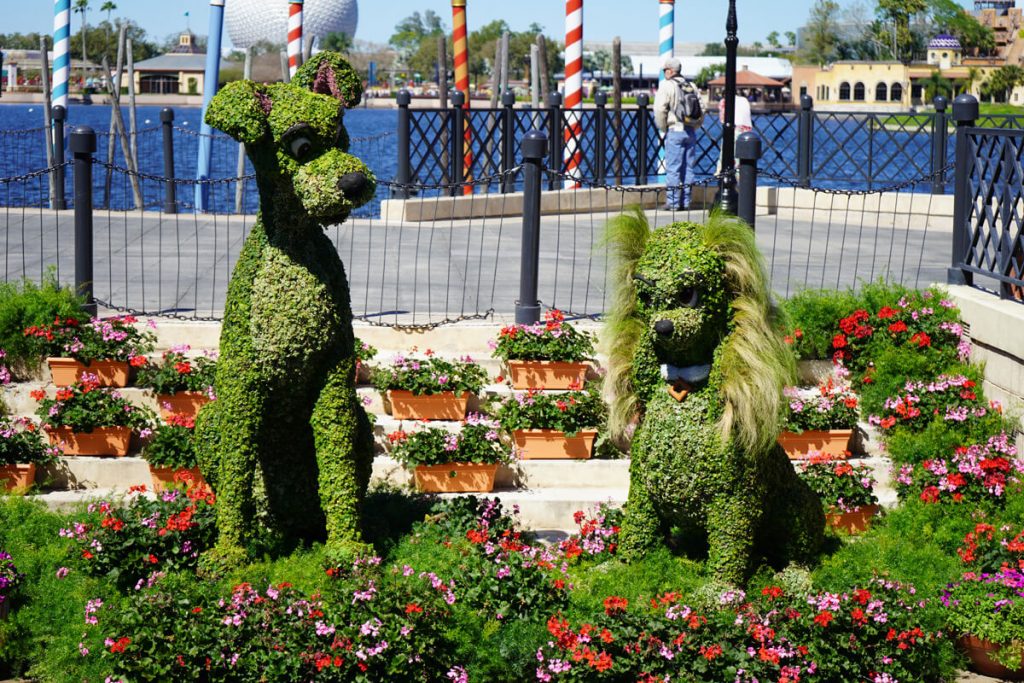 Lady and the Tramp are again one of the old Disney classic movies. As said above, Disney world's topiary garden has a full collection of topiaries of these Disney characters. This one shrub sculpture of lady and Tramp is exceptionally shaped well.
So, well, that it is too accurate. You cannot move your eyes away from them if you know the characters well. Such is the precision of Disney and its amazing topiaries.
9. Kermit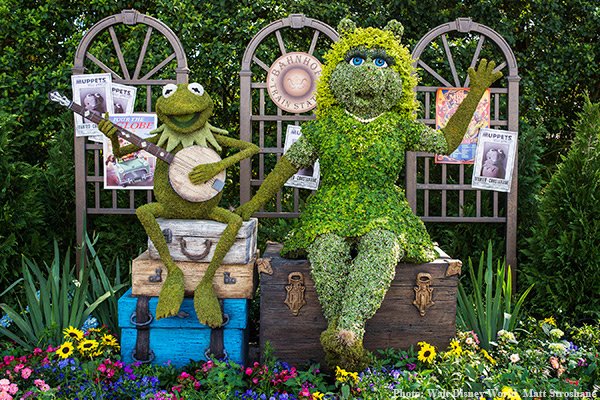 Who does not know Kermit? If you are one of the GIFs and memes users, you must be familiar with this frog that has too many memes. This frog's expressions and poses suit our daily lives and the messages we send. Kermit has a bush sculpture of it too. 
This bush sculpture is so accurate because the frog is green in color also. It looks precise as they have put extra effort into decorating it to look like a real sculpture.
10. Sleeping Bird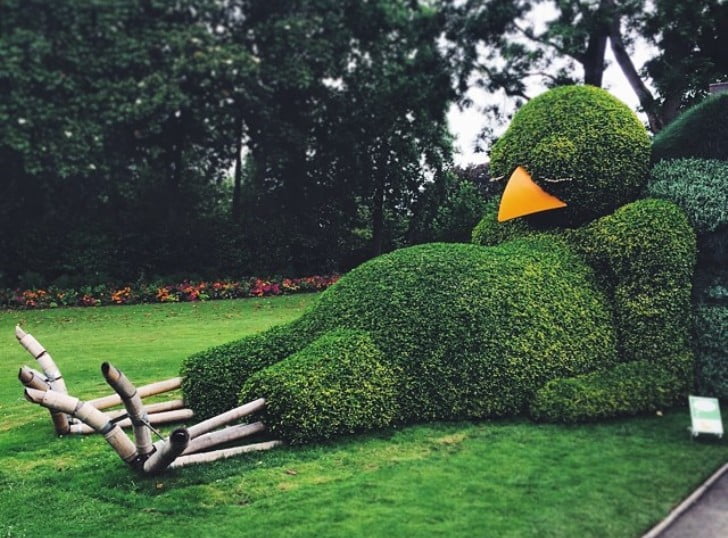 If you are looking for mesmerizing topiaries, this one by Claude Ponti is something you should not miss. It is not only an exceptional work, but it is also too cute! It is a vast sleeping bird, and you have seen nothing as big and as attractive as this bush sculpture.
It is an excellent piece of art and a thoughtful one. One might want to see it with their own eyes after looking at it.
11. Sparrow Topiary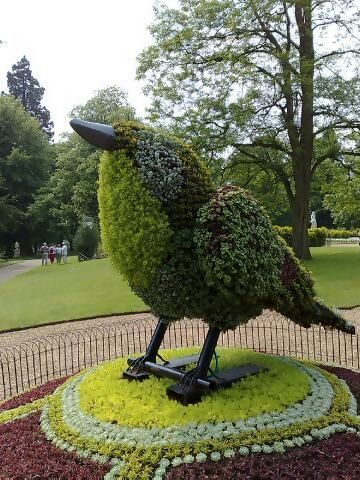 Like Clause Ponti, many other gardeners around the world tried to create bird topiaries. Bush sculptures are not easy tasks, and birds have a complex structure and hard to make with a bush. But again, Rhode Island has made an entire garden of green animals.
It is common to have a bird bush sculpture regardless of the work and thought it takes. This one art is a shrub sculpture of a sparrow. It is precise and gigantic. 
12. Cat Hedge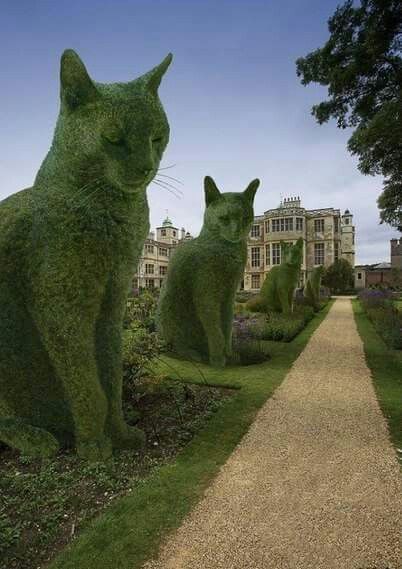 These cat topiaries are arranged around the entrance of a palace. The trend of cat topiaries rose after this beautiful picture that surfed up on the internet. People instantly fell to this idea of a Cat sculpture.
The ancient Egyptians made many sand sculptures of cats, but this is a more bizarre and beautiful thing to do. Cats are, well, royal! And these topiary cats flaunt their royalty accurately!
13. Swirly, Swirly!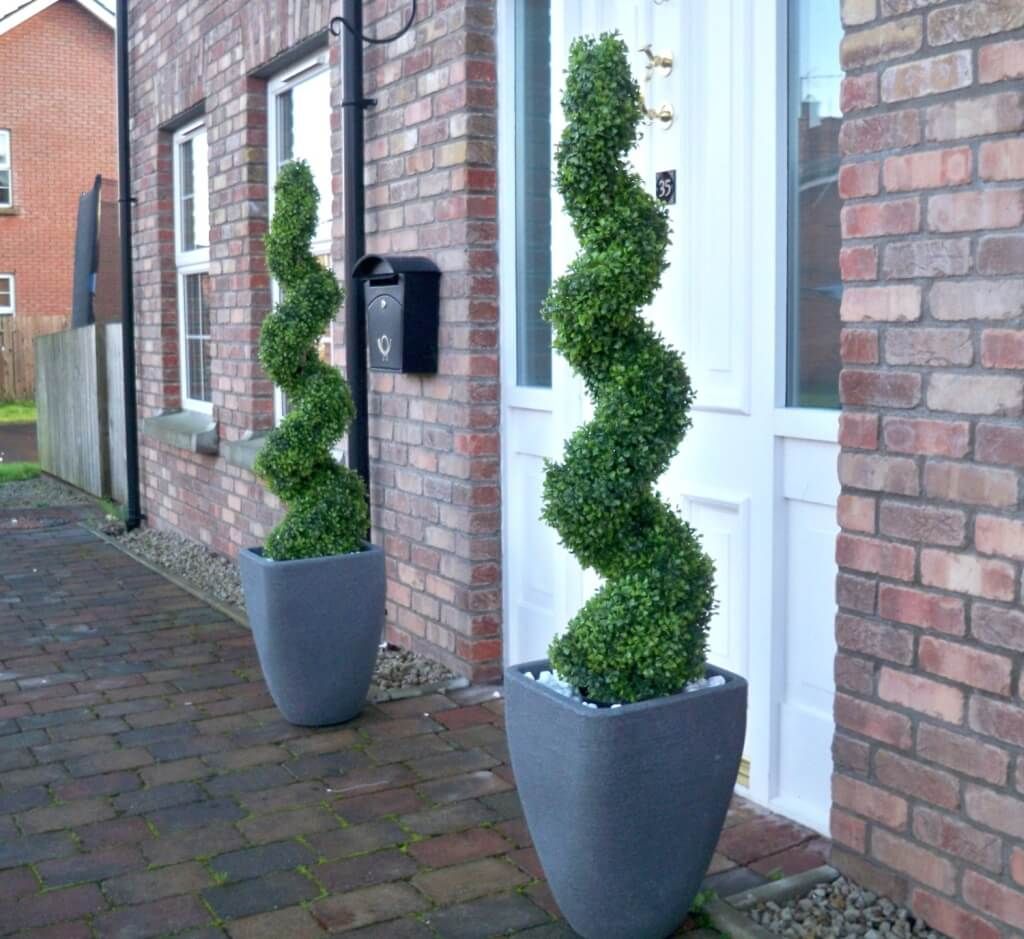 African topiary is famous for its cultural heritage and unique ideas. Apart from sculptures of culture, they worked weird thoughts like swirly trees. If you are familiar with the works of Tim Burton and other fantasy art, you might be familiar with swirly trees.
African topiary made these swirly trees once into life by their skills and making swirly shrubs.
14. Shrub Maze!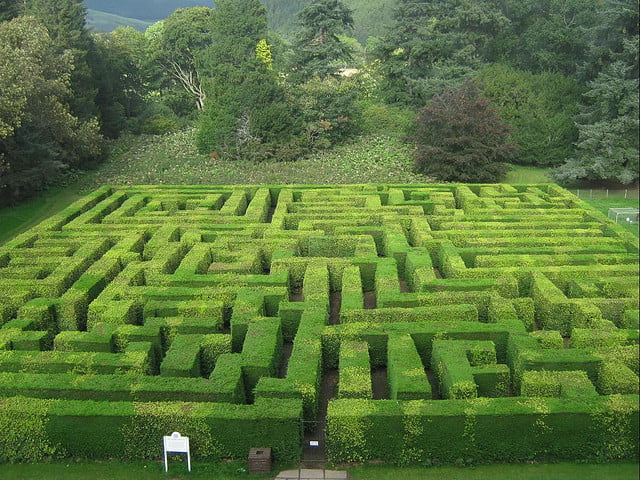 Have you ever played Vice city, the GTA game? Well, if you have, you might already be familiar with Shrub maze because that comes into my mind as soon as I read the term. Even Rockstar games' LA Noire has such mazes to find some mystery in between the bush maze.
It is fun to build such a Mache with bushes; it is scary and thrilling to play around. Even Stanley Kubrick's famous shining has one such bush maze. And the whole Harry Potter 4th part's climax is shot in a bush maze. 
15. Waterfall Sculpture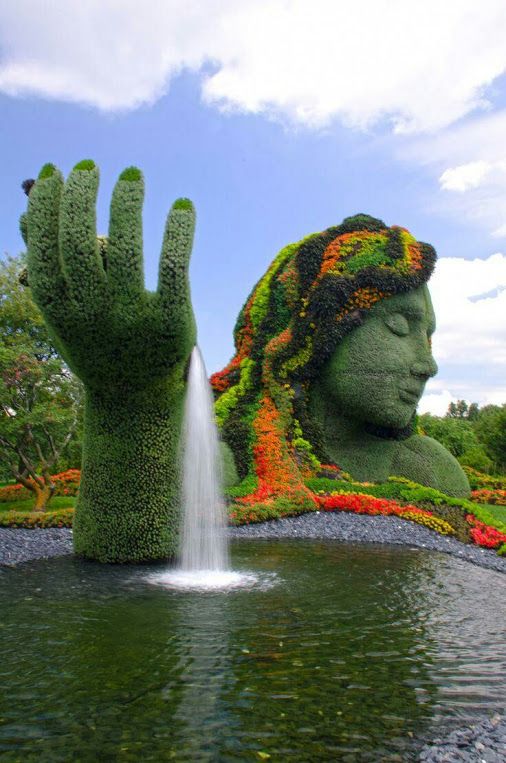 In Montreal's botanical garden, there is a bush sculpture of a lady, and from the lady's hands, a waterfall slides down. It is one of the wonders to look at. Everyone visits this famous topiary botanical garden to look at this amazing lady and her waterfall.
The birds chirping, sitting on her as the waterfalls; it is the most scenic green sculpture you can ever see. If you visit Montreal, you know what to see!
16. Piano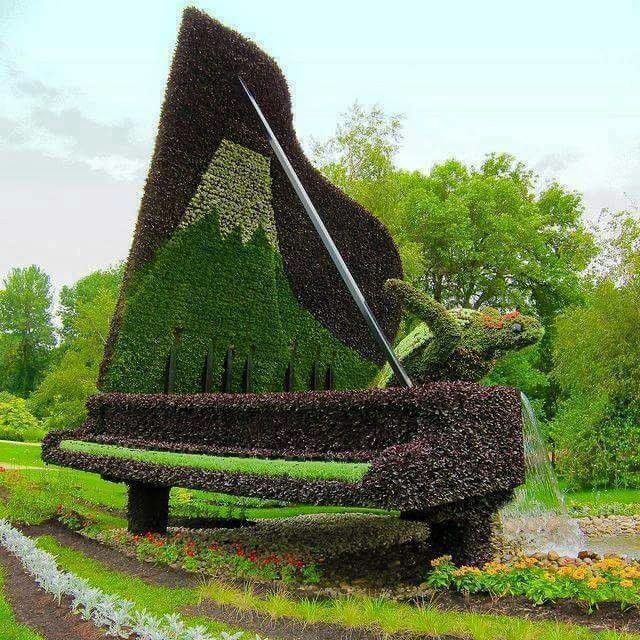 When you think artists have done enough topiaries, you must look at this Piano topiary! Yes, these artists made a piano out of bushes and shrubs. And not a normal one, a gigantic one! It is as big as it is beautiful.
One cannot avoid looking at the color combination and the plants they chose to make it look like a genuine piano. The precision in the choice of plants and design flaunts our pure creative mind.
17. Bowl of Flowers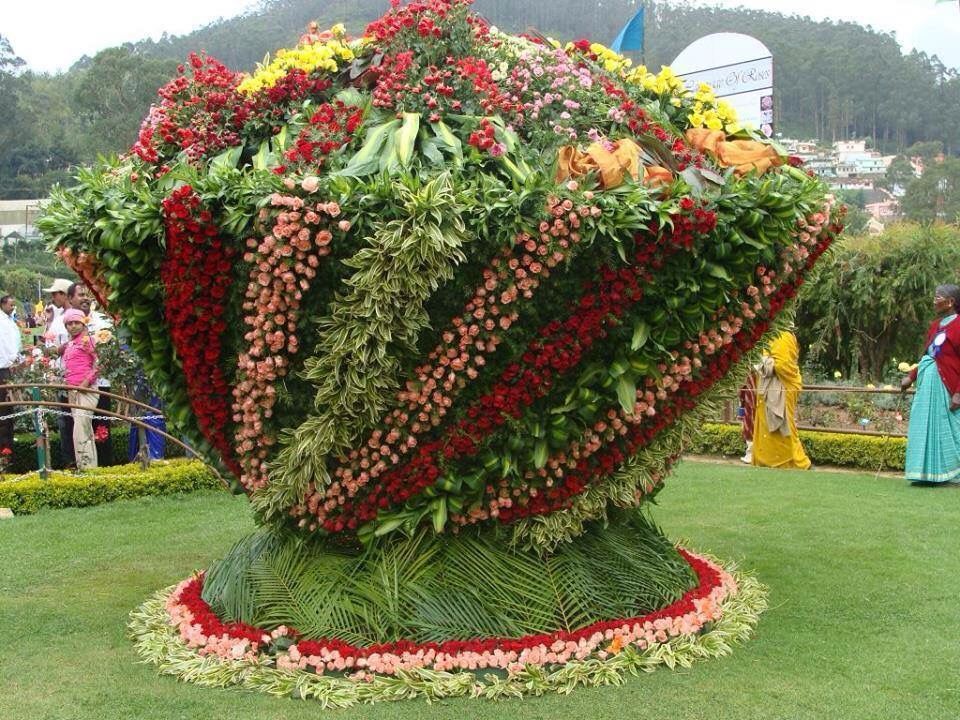 If you think you have seen everything there is, look at this topiary that looks like a bowl of flowers! No one writes about topiaries without mentioning this bowl of flowers!
It is a historical and aesthetically superior form of art. It is famous around because of the use of flowers and the precision in its shape of a beautiful bowl.
18. Owl Topiary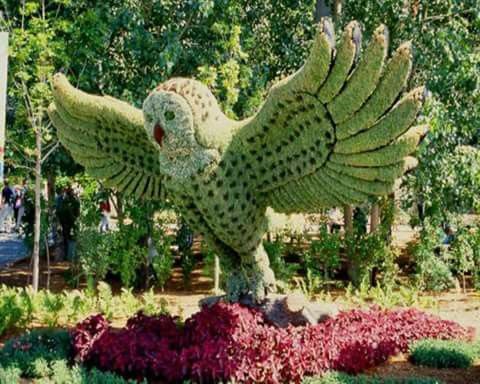 Owls are considered cute because of their hoots and cartoon depictions. This artist decided to make a cute shrub sculpture of an owl! No one would finish off without talking about this owl topiary. It is vast and yet justifies the attractive depiction of a typical pop-culture owl.
Wrapping Up
You can find different kinds of bush and shrub sculptures all around the world. Most beautiful ones are in the Disney world, but you can still find many even around you.
It is one of a superior form of arts and visually pleasing.