We all are longing to enjoy a lovely Sunday evening, which eventually turns into night, with our friends and family, and what else can be better than enjoying the same in your back yard with sizzling BBQ and drink or maybe a warm cup of coffee and some snacks.
The times are complicated, and taking proper care of our mental health is equally important as taking care of physical health. We must have a calming session of sitting out in nature in our backyards.
What else can be better than wooden decks to top it all? It does more than just making us feel happy by connecting us to nature while enjoying our outdoors and not feeling claustrophobic in a closed room.
I can go on and on about how unique wooden decks are. With its exceptional nature, changing grains, and most importantly, the warmth, nothing beats the excellence of a characteristic wood deck. Past the look, there are different advantages as well.
Firstly, let us discuss some decking material available in the market to suffice the purpose. Earlier, choosing a material for making decks was easy because woods are considered the only ones, but as time passed, we now have a large variety of woods available for us.
We can even go for nontraditional materials such as aluminum and plastic decking material. Pressure-treated woods, tropical hardwoods, redwood, or cedar. Composite decking material, plastic materials such as PVC, polystyrene, etc.
Wood is a versatile material to fabricate and plan with; it is utilized for a wide range of open-air applications, from decks and pergolas to gazebos and playhouses. Even aesthetically, wood offers an assortment of grain and colors.
Yet, it can be customized according to your wants and needs, enabling you to hold the wood grain surface while accomplishing a tone that will complement your home. Building a deck for your own is a straightforward and affordable option. It happens to last longer while being sustainable.
In case you do not have a deck in your yard and are planning to spice up your outdoor décor with some new and refreshing ideas, look no further because we have got you covered! Here is a series of some brilliant ideas for your deck designs in all shapes and sizes. I hope you find the perfect one!
14 Wooden Deck Ideas
1. Spice Up Your Wall with Arrange-able Plants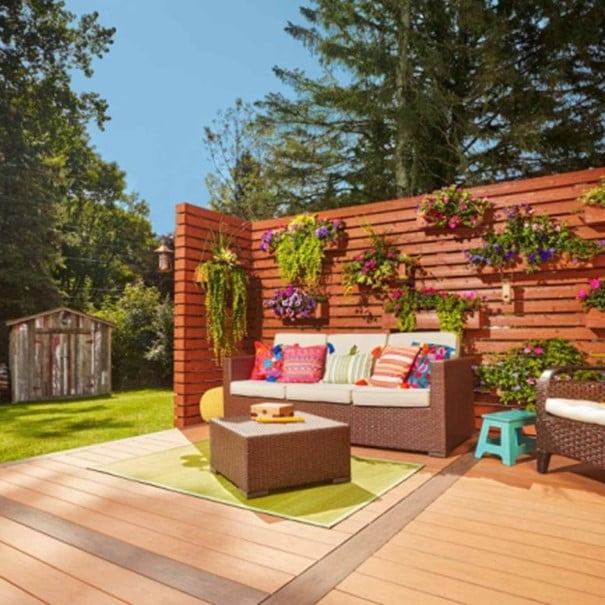 If you plan on making a ground-level deck and want to separate it from the surroundings or maybe need some privacy, you can build a fancy wall or a living wall that can act as a divider and a shield from the surroundings, neighbors, and passers-by.
You can decorate your living wall or divider with some pots readily available in the market and plants some herbs, climbers, fruits, and veggies, spices just some steps away from your kitchen.
You can even build these plant pots yourself and add a drip watering system, which will save you lots of resources like water and money, and you do not have to stress over missing a day of watering or losing every one of your plants even if you take some time off.
2. Isle Deck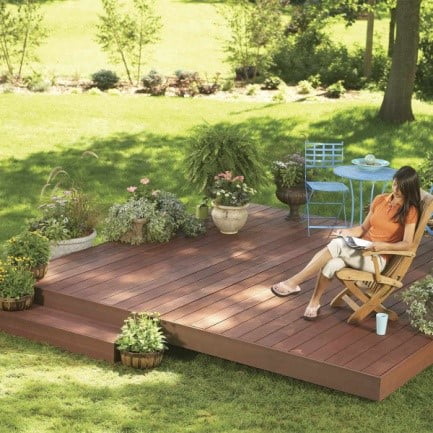 This deck is built with composite decking and latent fasteners. It requires minimal to zero maintenance and can be put together very easily and goes along with any set up quickly, without any footing or ledger boards.
3. Outdoor Living Area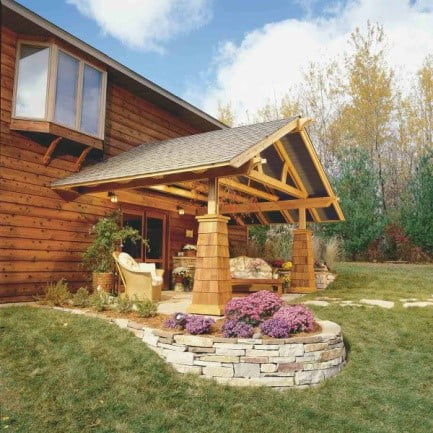 You can turn your deck and expand your house to make it an outdoor living area. Building a frame around your deck, adding natural wood beams and massive-looking wood piers, and attaching it to your house can make it a protected outdoor living room for you, which will connect you to nature. You can always play with the interior and set your mood right.
4. Grillzebo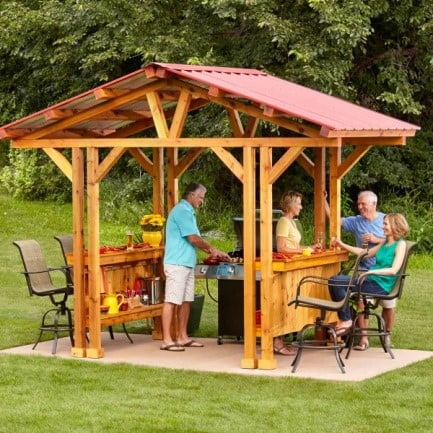 If you are looking for an outdoor setup but with tight spaces, you can go for a Grillzebo. It gives your yard an aesthetic look, which is very affordable; this may even fit into your current backyards without any hassle.
It will complement your parties, BBQs while you can accommodate some warm lights, a table, a few chairs, wineglass racks, and even a cooler. Grillzebo sounds like an affordable luxury.
5. Restyle your Concrete Porch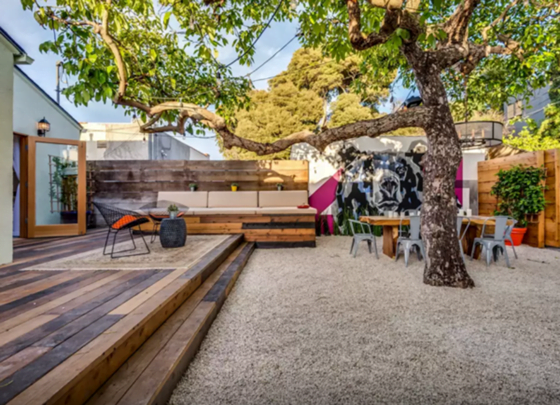 Has it been a long time since you last gave your porch a new look? Has it started looking like an eyesore? Often renovating porches and patio is not a pocket-friendly option; you can save yourself from all that cost and mess just but screwing up some woods and turning it into a deck. These will make your outdoors look prettier than ever before.
6. Airy Screen Deck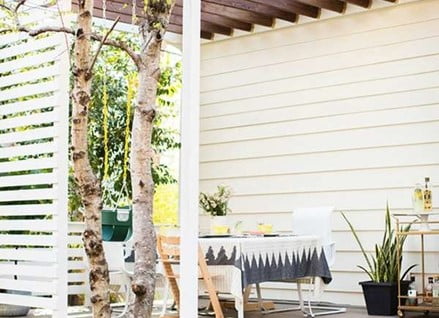 Sometimes adding a screen can make the place look a bit claustrophobic, and omitting it can cause trouble to your privacy, but you do not need to worry because we have got you covered. An airy wooden screen is a perfect solution for you. You can make a screen by arranging the wood in such a manner that allows the air to pass through it quickly.
7. Make your Game Edgy with Edged Plant Decks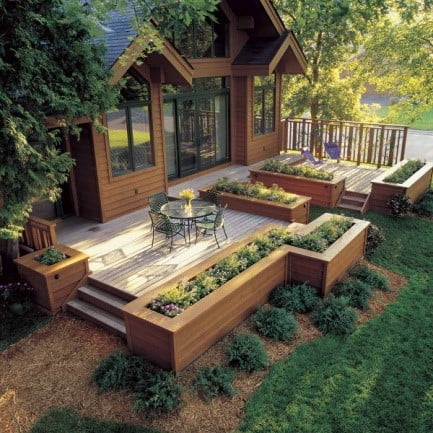 When you plan on getting a deck built or building a new deck, you can notch up your game with a first-class deck and throw in some railing planters, stairs, railing, chairs, living wall, etc., to your plan. The greenery will go well with the wooden work, making the deck a go-to place to relax and chill out.
8. Wood and Ceramic Tiles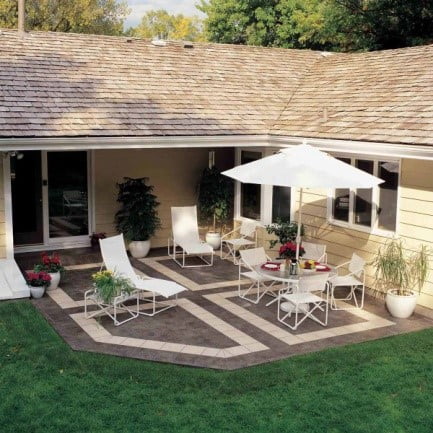 If you are bored with the regular wooden decks and want to make it look a bit more attractive and creative, you can use ceramic tiles and some wooden blocks to give the floor a new and classy look. You can add colored tiles to give it a more colorful and vibrant look.
9. Framed Deck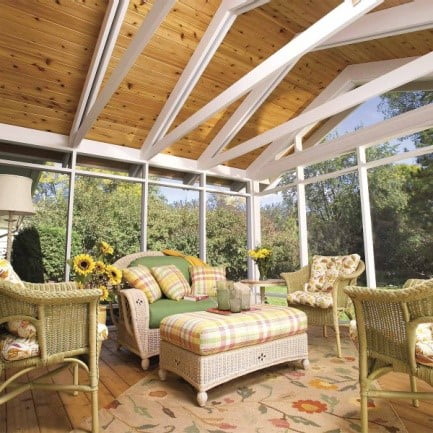 You always have an option to add a spacious and airy deck to your beautiful home. All you need for the same is a wooden deck and built a complete frame around it. You can even leave some space for windows.
Now decorate the interior the way you want to, you can make it look warm and friendly by adding a fireplace, fewer couches, a throw blanket, and a snack table, or you can change it into a party ground by adding a BBQ table, some wine glass racks, a fridge… Building it might need some time, but you can modify it the way you want once done.
10. Oasis with a Deck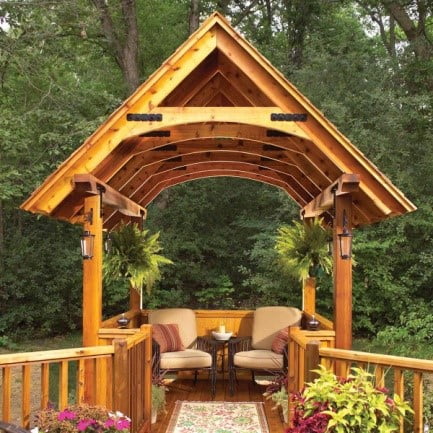 Building a shelter over your mainstream deck can provide it a new look. Accessorize it with some hanging pots and adding flowering plants too it. Place some chairs and a coffee table; play with the decoration to give yourself a fantastic retreat!
11. Platform Decks with Glass Railing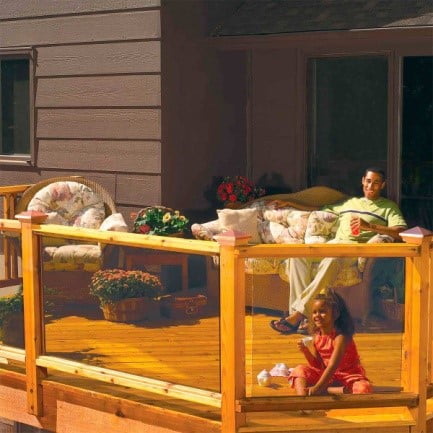 Having kids around your house is a matter of responsibility. This deck idea will ease it up for you a bit. You can give the classic platform deck by adding a handsome railing that provides a wide-open view. The tinted glass is healthy and safe, and it adds flair to your outdoor space.
12. Stone 'n wood Deck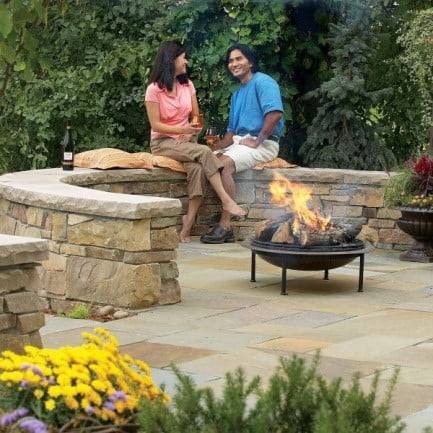 Construct an attractive deck and surround it with a veneered stone wall that provides both privacy and seating. Adding stone to your structure will make it both classic and modern. The stone will go well with the wooden frame of your deck, adding a bit of color. You can decorate it with plants to complete the look.
13. Garden with Deck and Pond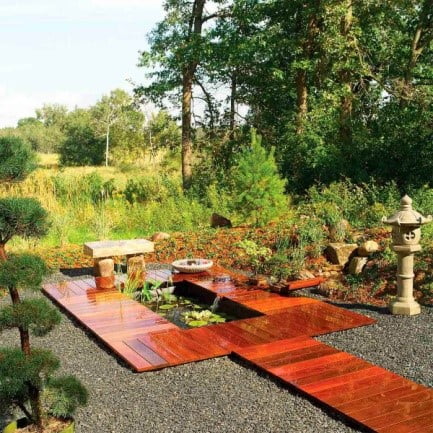 The building has always been a retreat for people. An easy to build pool and easy-care deck can give your garden a bomb look. It is not a tough job to build a pool. All it takes is some digging and a useful DIY guide, even for a novice, and it does not require lots of expertise and tools yet looks unique and modern.
14. Mix and Match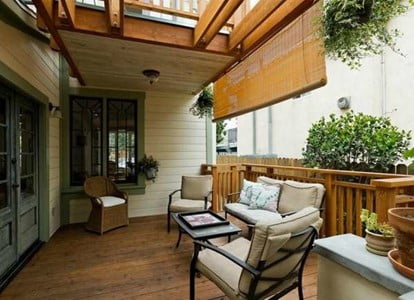 When you are building something, you have ample room for creativity. You can always make your deck look different yet attractive by playing with the flooring pattern, the material such as stones, marbles, ceramic tiles, and different woods available in the market.
You can even add some wooden or glass railings, decorate it with platters and flowers or maybe make it your garden kitchen. Pick out stylish, durable deck balusters and other accessories to finish your deck.
You can modify the deck by adding different furniture types such as chairs, snack or coffee tables, wine racks, fireplaces, lamps, and BBQs.
Get out there and show your creativity!