If you are a lawn and yard lover, you must be knowing how much time, effort, and patience it takes to grow grass on them so, it is fair to make sure that we maintain it well.
For this, what comes in handy is a gas string trimmer. You can cut the grass, edge your garden, and keeps the weeds at bay.
These come in a wide range of models including, electrical models and gas models, and many handle variations.
They are sold as Straight Shaft or Curved Shaft models, and depending on your requirement, size of your yard, and considering their pricing and design, and you can make your final purchase.
So, to make things easier for you, in this article, we will provide Straight vs. Curved Shaft trimmers, in which there will be a clear distinction between the two models so that you can easily compare between the two and make your final purchase quickly.
How Does the Shaft Works?
Let us first understand the inner workings of the shaft. In both straight and curved shafts, the cutting head is connected to the motor by a shaft.
In both, the shaft is where the handle and the throttle are mounted. If you are using an electric version, the engine, or the power source, is present at the top, while the cutting string rests at the unit's bottom.
A drive cable runs the shaft's length within the metal shaft, spun by the engine, and turns the cutting head at the other end of the trimmer. The curve or straight driveline of the shaft thereof influences the drive cable.
In a curved shaft, the driveline is curved, which can lead to breakage over time. Straight shafts tend to be more durable as this curve does not exist.
Before getting into too much detail, let us quickly compare them both.
Straight Vs. Curved Shaft Comparison Table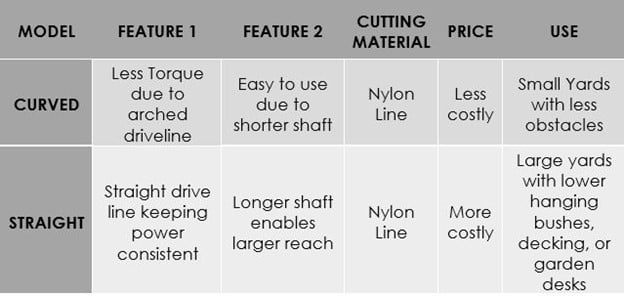 Pros and Cons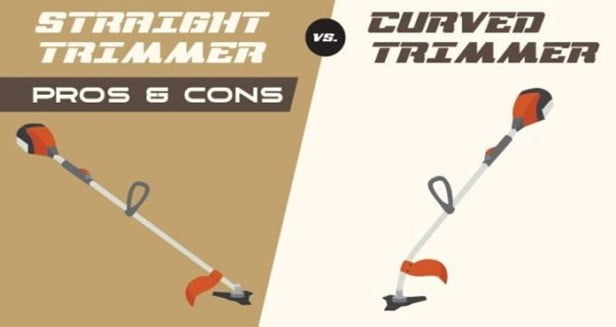 Firstly, let us now have a look at the pros and cons these models have to offer.
Straight Shaft
Pros
More Powerful
Heavy duty
Less Vibration
Multiple head choices
It helps in clearing hard to reach spaces.
Versatile
Cons
Cumbersome
Heavyweight
Throws debris.
Expensive
Curved Shaft
Pros
Affordable
Lightweight
More control
Easy to store and transport.
Best for small yards
Cons
Not blade capable.
Short reach
It is challenging to get under decking or bushes Hard to keep the head level.
In the following topics, we will see more about the design and function of Straight and Curved Shafts.
String Trimmer Straight Shafts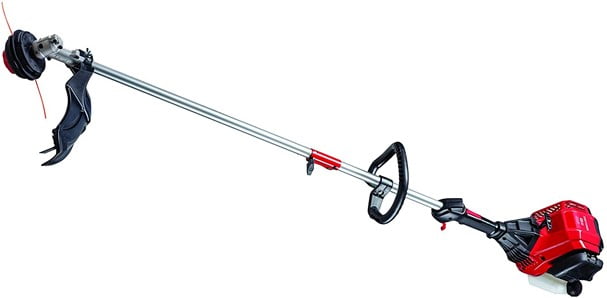 A straight- or leveled-line string trimmer shaft is more versatile than the curved shafts. Trees and shrubberies make it challenging to cut the grass. The straight shaft trimmer being extended and sturdy makes it possible to reach under these low hanging trees and bushes and most used commercially.
It has overall flexibility to maintain a variety of different jobs. But it is also cumbersome, making it difficult to carry and transport them, but it is very much durable than the other models.
No products found.
Along the same lines, we could add that most straight shaft models come with interchangeable heads for a range of purposes without losing the power of the tool itself. Of course, these advantages make it more expensive as well.
Let us discuss more the design of Straight Shaft trimmers.
Design
A gas Straight shaft trimmer is powered by either a 2 or 4 cycle engine administering rotating heads. The handle grips are found between the engine and the head of the tool.
It has more extended reach but makes you lean forward, which may cause strain, especially if you are a tall person.
Straight shaft trimmers also have more powerful engines, making them bulkier and heavier than their counterparts. Therefore, it becomes cumbersome to use them and challenging to carry or transport them.
As they have more power, they tend to make more noise and vibration. But a straight trimmer is more flexible.
It has greater reach, making it possible to cover more extensive and more elaborate yards and lasts longer than others. You also get a more precise cut with these trimmers.
Use
They have greater reach as compared to curved shaft trimmer. This makes it easy to get under decking, desks, low hanging bushes, or edging the driveways.
They are more potent than the curved ones due to the length of the shaft. They are instrumental if you have a large property or must clear heavy bush.
Straight shaft trimmers also run blades.
They can accommodate more giant heads and use heavy lines as they are powerful enough.
They last longer than the curved ones as their drive cable will not have to flex as much.
They also vibrate less, plump, and extra smoothness and reduced vibrations make the parts last longer.
String Trimmer Curved Shaft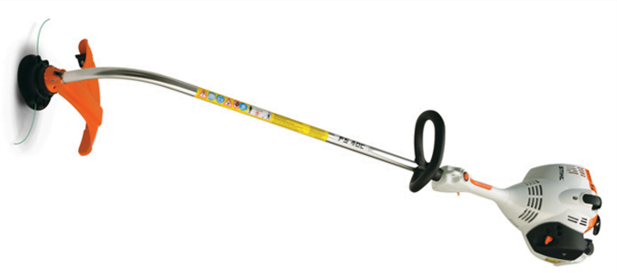 The Curved trimmer Shaft is lightweight, less expensive, and better- balanced than its counterpart. As curved shafts have arched driveline, it generates less torque and cutting power than a Straight shaft would allow.
Curved shafts generally will not accommodate attachments. Also, for taller people, it becomes more challenging to use them. They will be forced to bend over, which is very uncomfortable. They also come in the way when trying to get under the decking, lawn furniture, or underbrush.
These curved trimmer shafts are a preferred choice for our shorter folks or people who have a smaller area to manage because of their reduced weight and length. These are also preferred when you require less heavy-duty trimming.
Design
If you look inside, both curved trimmers and straight trimmers look alike. Only the shaft is different. A curved trimmer has a slight curve, while the straight trimmers have longer and completely straight ends.
This gas Curved trimmer has a 2-cycle engine that powers a rotating head to which a nylon string attachment is connected. Necessary trimming can be done effortlessly and quickly because of its simple design.
In this case, the drive cable needs to be flexible to accommodate the curve in the shaft. As the drive cable must always bend and spin within the metal shaft, this directly affects the durability of the drive cable.
Uses
Easy to store and move or carry around.
More cost-effective as compared to Straight Shaft.
Simple structure, ideal for essential backyard maintenance
Has basic design, built for people with a smaller stature.
Perfect for getting rid of annoying weed and stubborn blades of grass.
Do well as precision tools and are designed to be lightweight, so you will not get tired quickly.
Which One to Choose?
The answer to this question varies from person to person based on their need and budget. Look at your situation and the need of your yard before making your final purchase.
If you have a massive yard with many low-hanging bushes, a Curved shaft will not do any good for you. And you should better go for a straight shaft trimmer. Similarly, a Straight shaft will be a bit too excessive in a small yard with few obstructions.
A curved shaft trimmer, in this case, would be both economically affordable and prudent. It will keep your lawn and yard well-trimmed and give you years of usage.
Conclusion
Let us summarize this straight vs. curved shaft argument by giving brief information about their benefits and weaknesses. Also, while buying, do ask yourself some basic questions, like how big is your yard? Will you use these tools daily or not? Are you tall or short? 
Homeowners who do not use these tools daily should go for Curved shafts. They work well for small yards, are lighter, and are more balanced, providing better maneuverability.
These are a smatter option if your trimming needs primarily focuses on grass and weeds. And of course, the best thing about them is they are cheaper and easy to invest in.
If you have a larger and more functional area to take care of, going for a straight shaft trimmer is the best choice.
Perfect for professionals who need to pick up such tools multiple times in a day. It is more functional, durable, and sturdy, getting your job done quickly and rapidly.
Straight trimmers also save you from stress on your lower back as you are likely to spend less time bending over.
It accommodates a variety of attachments, opening this trimmer to a variety of applications. So, that was Straight vs. Curved shaft. Which one would you choose?