The usual basic garden sheds are outdated. Modern houses require modern implementations. Those common structures with some essential flowers aren't enough. They are quite dull and boring. If you want something different, then having garden sheds is the right choice for you.
Garden sheds can create a charming yet subtle focal point for your backyard and additional living space. Some pop of colors, some cute props along with patience, and voila! That is all you need to make your garden shed.
Sounds interesting, right? Garden sheds can amazingly transform the entire vibe of the place significantly. Let's check out some fantastic options of the top 15 garden shed ideas you can implement in your backyard.
Best Garden Shed Ideas
1. Cottage Style Garden Shed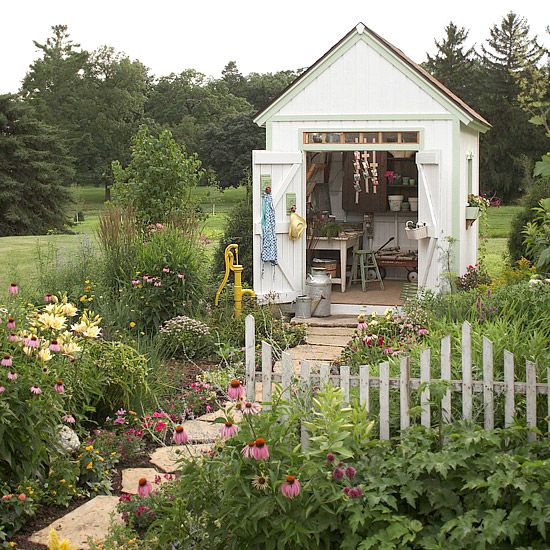 A common notion that people have that garden sheds can just be used as a storeroom and nothing else. That is entirely wrong. A perfect cottage-style garden shed idea is the best choice if you want versatility.
It can be used as a comfortable workspace, a destination to relax and chill during the evenings, or a lovely homely place to arrange a get together with friends and family. It will act as a great eye-catcher if your garden is filled with flowers and grasses. It will provide a whole sunny vibe to your entire backyard.
2. Salvaged Shed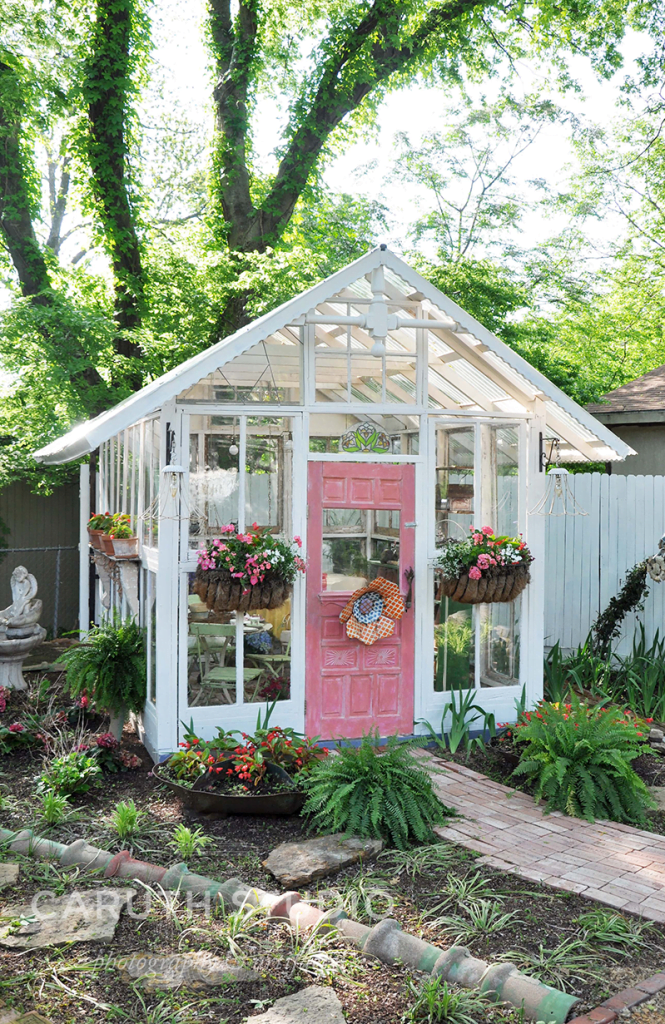 If you want some vintage vibes in your backyard, this is undoubtedly the most appropriate choice. The window trim and the cupola perched on the roof are incredibly beautiful as a garden shed.
Furthermore, suppose you already have a storage shed. In that case, you can quickly transform it into something like this and give it a completely different look altogether. In addition to that, sweet, bright colors apparently will look much poppy and bright, which is excellent if you have a small-sized shed.
3. Glass garden Shed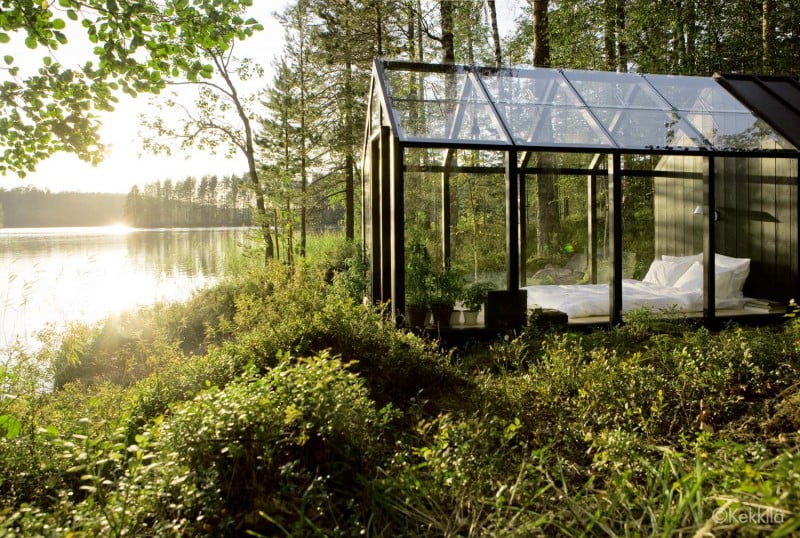 This is undoubtedly the prettiest option out of all. Glass windows and doors are certainly the most breath-taking designs out there. This can act as a storage as well as a greenhouse area during the colder months.
Furthermore, you can also store your plants inside for a better design. A subtle and airy design can look beautiful with majestic scenery in the background. Excellent form outside as well as inside! This is great for people who live in the countries. White or yellow flowers in the garden can make the entire vibe breathtakingly beautiful!
4. Farmhouse Garden Shed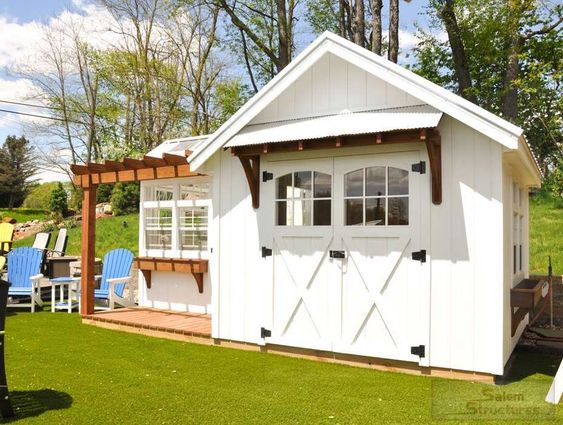 Were you missing your farmhouse in the countries? Well, this garden shed can make it up. Farmhouse garden sheds can be old school for the youngsters out there but can never go out of style. The design is quite gorgeous and practical.
Furthermore, this is relatively easy to implement. You can choose fundamental material to build this up in a few hours. This will provide you with a mini farmhouse vibe. Late-night bonfires in the garden with your loved ones can surely make memorable nights.
5. Rustic Garden Shed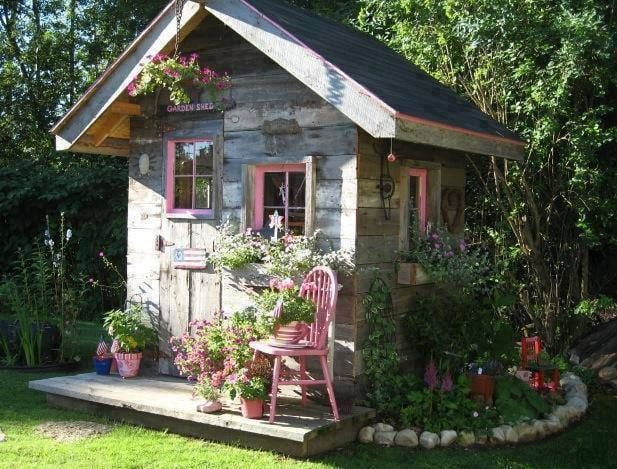 This is another subtle yet innovative garden shed idea. Opt for this design if you have large, towering trees in the background. This will complement the entire background since this traditional cottage design will eventually give some forest vibes.
Excellent for the nature lovers out there! Try incorporating some light colors as the doors
6. Modern Shed Design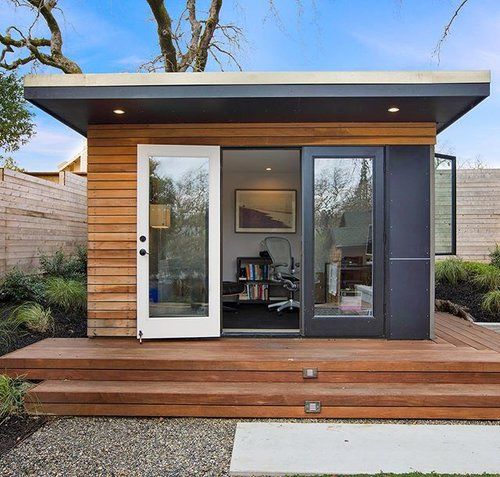 This can also be your office place during those work from home days. With white flowers on the outside along with cold breezy air, your office would be quite comfortable and fresh. In addition to that, the color contrast will give a downright luxurious feel.
Those white doors can add a different spice to the entire house when the entire property is essential. Therefore, this is another easy shed idea that you can implement with the least efforts.
7. Charming Cottage Shed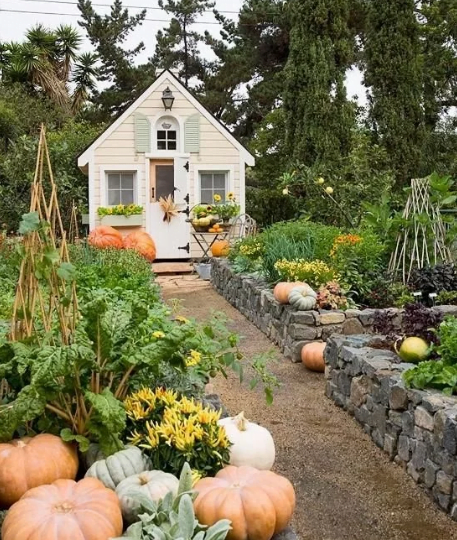 As exactly evident by the name, this is a cute yet charming garden cottage sheds an aesthetic vibe. Excellent for some chill evenings with the children. It is excellent for small occasions as well. Furthermore, if you love gardening and spend time with plants every day, then this could be your best shot.
<
The beautiful, charming cottage shed can add a fresh flow of feeling to the entire environment with gorgeous flowers and plants all around. Try implementing a swing outside it. You can buy a few good ones from Amazon.
8. Matching Garden Shed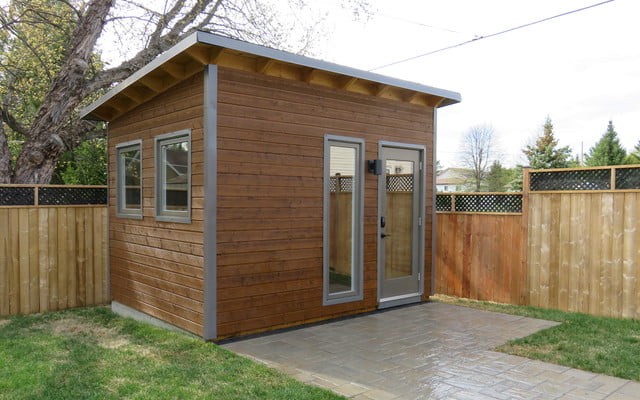 Try incorporating the colors into the Shed. Brown tones look amazing here. Why? This will blend with the landscape. This is the appropriate choice for people who do not like anything extravagant with their garden sheds.
This will portray as a formal yet classy garden shed. You can also try adding some birdhouses near it to give a homely feeling with birds chirping outside. Keep in mind that the entire vibe will fall at a place only when the color coordination matches the landscape.
It can either typically make or break the entire feel. Therefore, the color choice is quite a crucial factor here. Try getting some professional advice regarding the color choices here.
9. Open Air Garden Shade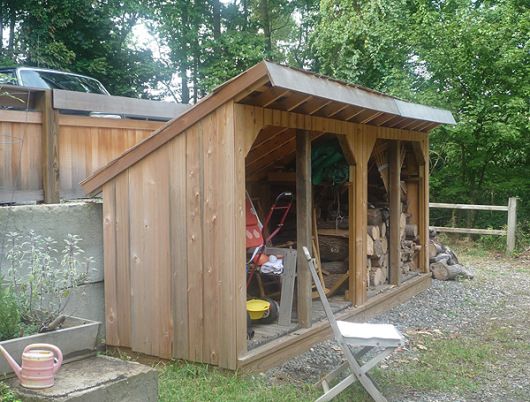 This potting Shed makes it easy to access the tools stored inside. This is for people who want a full-fledged garden workspace. These do not look very overwhelming or extraordinary yet make the best fit for a gardening workspace.
Therefore, bored with your usual working home space? This can give you a new environment and can uplift your mood any day. The plant-loving people will indeed have no complaints here!
10. Antique style garden shed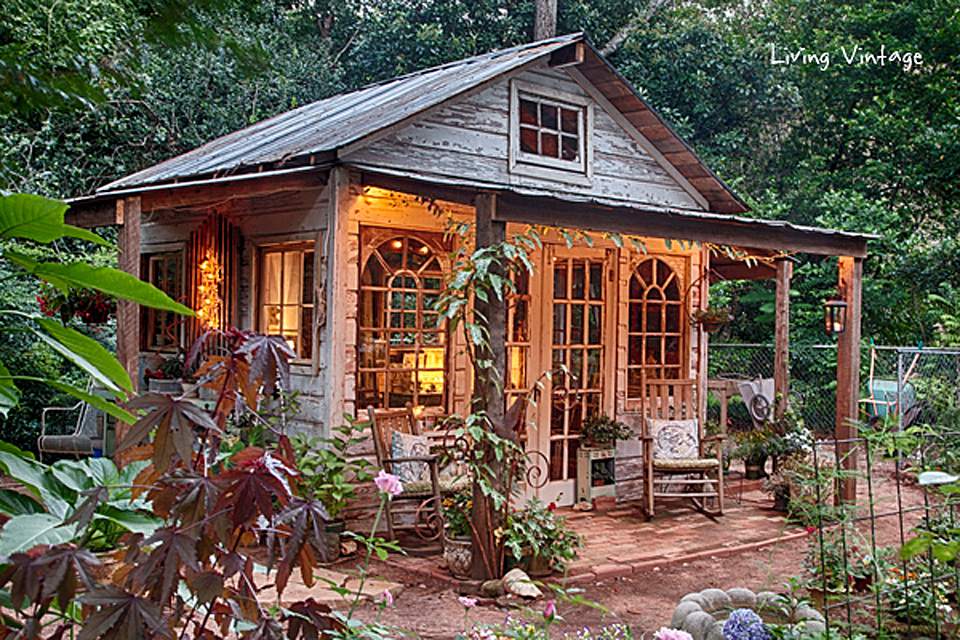 This might seem a bit spooky to some people, but such a garden cottage shed is undoubtedly an antique feel. This was majorly done by the previous generation people but is undoubtedly still very prominent until now.
You can try adding some antique props outside the place that compliments the vibe.  The order and definition of this entire Shed are the real deal breakers here—another excellent choice for people who love such antique interiors and vintage hues.
11. Potting Station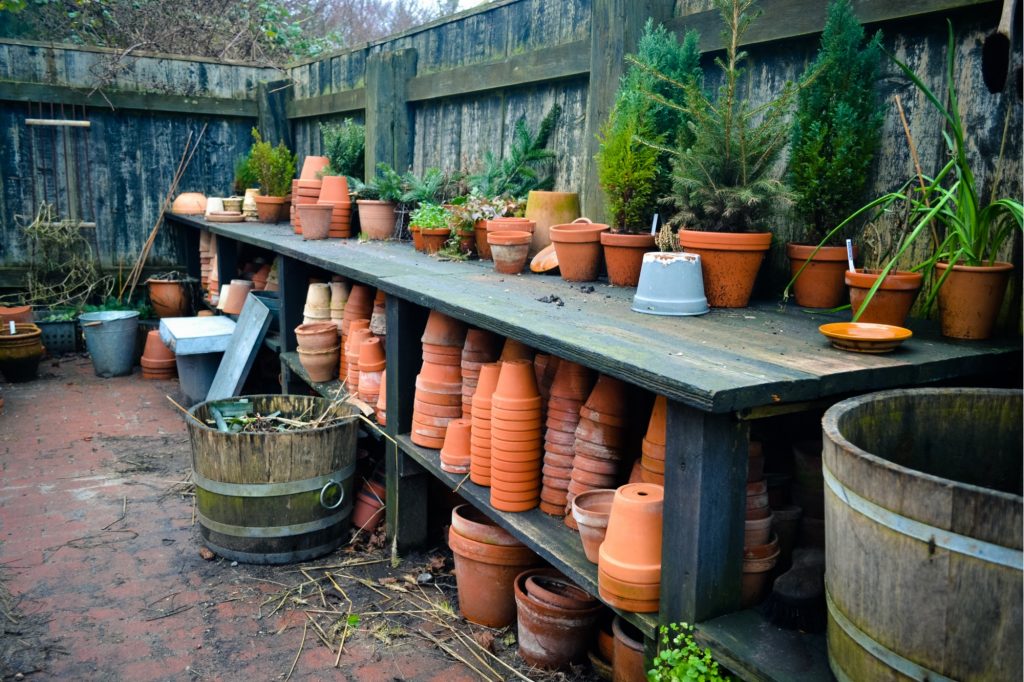 If you are using your garden shed to relax and keep your gardening tools, why not place some of your garden pots inside the Shed? Since this is more open, there will be adequate light and rain provided to the plants. You can start by planting them today and watch them grow gradually. This acts as a great display piece as well.
12. Gingerbread Garden Shed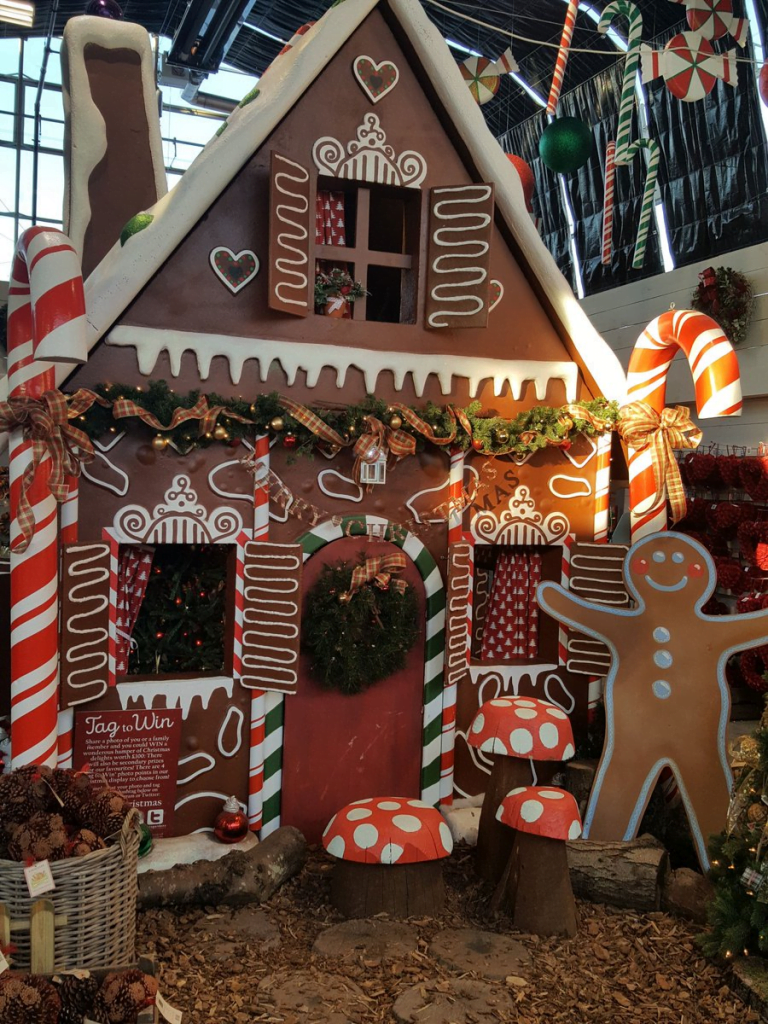 This is an amazing garden shed choice for kids. This whimsical garden shed can be easily implemented with just patience and a tinge of creativity from the within. Candies and those cute ornaments are a must here.
Impress Life Holiday Candy Cane String Lights, 10ft 20 LED 3D Plus Twinkle Lights, USB &...
【More in line with your Beautiful Life Decorative】In Saint Nicholas Day celebrations, candy...
【Double Power Supply】The candy cane string lights are powered by low voltage and will not...
【You SHOULD NOT miss the 8 flicker Modes & Timer Settings】With multi-function remote control and...
【Just the right length & right size】10 ft sliver plated copper wire and 20 LED bulbs, the candy...
★★★★★【WARNING】 Please REMOVE the BATTERIES when you use USB power. DO NOT soak battery...
You can also try painting the outer portion of your house with any random color that suits the props. It doesn't matter if they aren't aligned. The real feel should be imperfect and cute! You can try these prop gingerbread candies from Amazon.
13. Romantic Farmhouse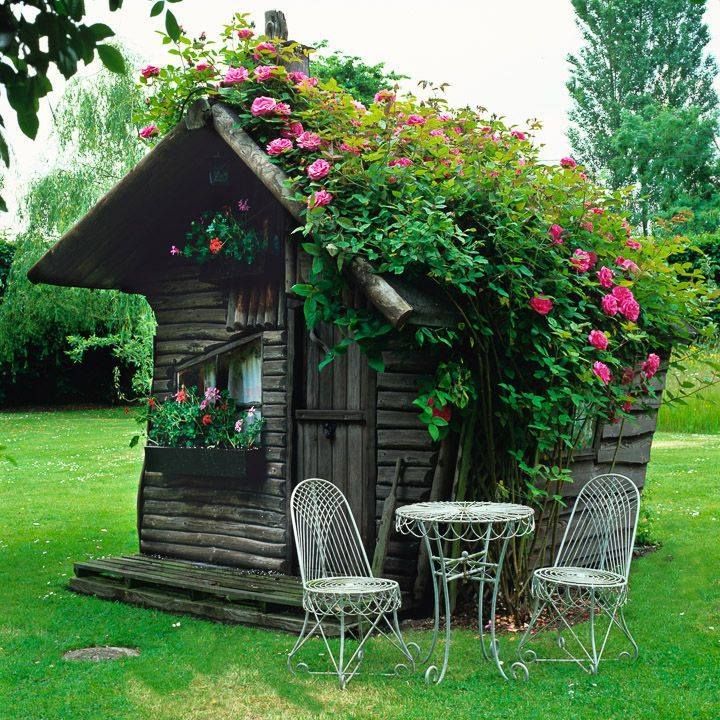 Want a cute lovey-dovey place to spend some quality time with your significant one. Well, then this is the one. Paint it with gorgeous white and add necessary intricates and props to make it more gorgeous.
Best part? This does not require much space. The look on the inside is so overwhelming and beautiful that you don't need a large space to create this romantic farmhouse.
14. Storage Shed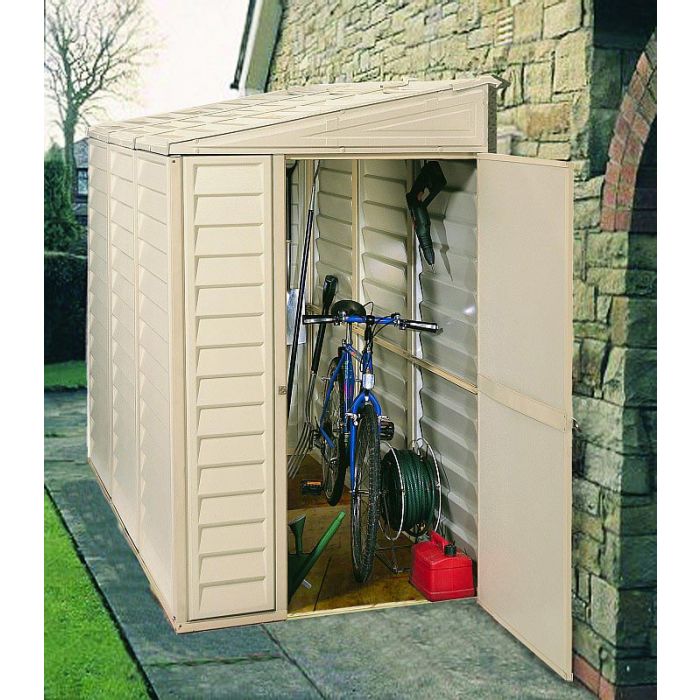 Need just average storage shed to store your lawnmowers and other gardening tools? Then this is the one. This is small yet quite handy—best for the garden lovers out there. Trimming of grasses is an everyday thing. T5herefore all the tools right near to the garden are quite convenient.
15. Luxurious Garden House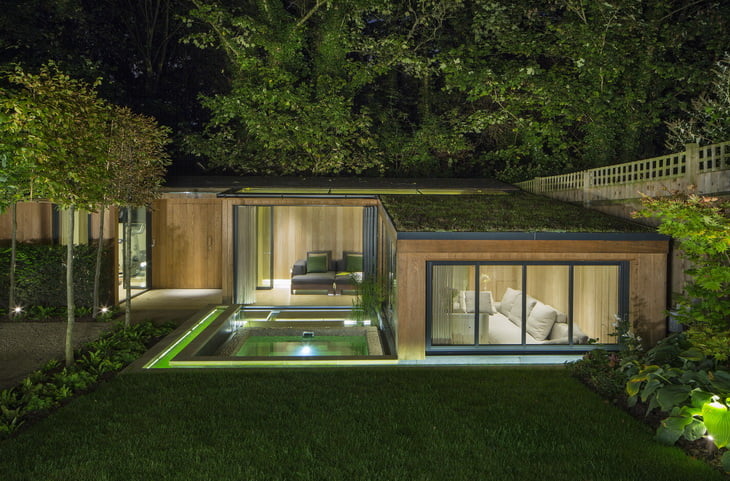 If you have adequate space, then why not go all out and make something gigantic yet sleek? This garden shed idea is fantastic for such people who have a large garden space and want something extravagant.
This will also complement the entire house as well if the colors are properly coordinated. Try making the designs less intricate and work on the interiors with large glass windows.
In addition to that, if you go with all-white or pastel, you can try adding some poppy color flowers like red or purple to make the full view mesmerizing—a fantastic choice for the early morning tea with your family.
Final Words
Having a gorgeous garden is a dream for many. With so many easy options available out there, investing some time and effort in this can drastically change your backyard's entire look. Best Part?
These small efforts can also fetch you some compliments regarding your decor choice. We hope that this entire post helped have some of the best types of garden shed ideas. Therefore, gear up and start working on it right away to make your backyard top-notch!