Everyone loves fresh apples falling from trees. It is worth watching them grow and ripe and then falls into our hands.
Though many people could not grow them in their garden due to several reasons, they often lose the chance to eat these fresh apples.
Many people are not able to grow apple trees because of space unavailability.
Now, the problem of space can be avoided because we have come up with its alternative.
Bonsai Apple Tree
imagine if you could plant a miniature apple tree that can produce fresh apples just like the actual apple trees that people plant in their backyard or garden. You can grow a bonsai apple tree on your own.
An apple bonsai tree is one of the most remarkable trees you will encounter. And the most important thing is that it can bear and produce the same flowers and apples just like an actual apple tree but less in size.
In this guide, we will discuss how we can grow them in our house. For this, the most important thing is to maintain the proper routine of apple bonsai trees, and then only you will be able to grow them on your own.
So, the very first thing that is required is an apple bonsai tree, apple bonsai seeds, bonsai pot, balanced fertilizer, clean water, and wires. The wires are responsible for the wiring of the tree so that it can grow well.
How to Maintain Apple Bonsai Tree?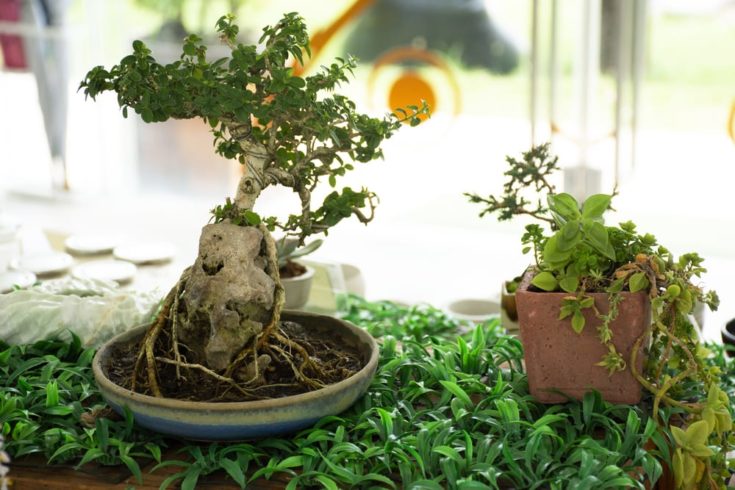 Growing a bonsai tree of your own is an easy task, but maintaining it is a tough nut to crack. So, the most important thing is to learn the right ways of maintaining it, and only then will it grow better.
An apple bonsai tree is one of the perfect choices because it has dense foliage and numerous green leaves. Therefore, many people often choose the apple bonsai tree to grow in their homes.
The main point that is needed to be noticed that the right amount of sunlight should reach the apple bonsai tree. It needs no less and no more than the right amount of sunlight, and therefore you will have to do a lot of research in your house to find the right place to plant it. Once you finalize the place, you will have to get a tray or pot on which you will plant the apple bonsai tree.
Now comes the most important thing, and it is watering the plant. Also, if you want, you can plant the bonsai tree outside of your house, but you will have to maintain the sunlight.
The apple bonsai tree needs to be watered every day without missing a single day because it absorbs a good amount of water daily. Also, it should be planted in a large pot so that it can easily absorb the water.
Fertilizers
Another important thing in growing the bonsai tree is the fertilizer because it plays the most important role in its plantation. Fertilizers are required to provide enough minerals and nutrients that the plant needs. 
Not only this, but also the fertilizers help in preventing the plant from getting spoiled by the insects. Therefore, fertilizers are essential in the growth of the apple bonsai tree as well.
Perfect Plants Liquid Bonsai Fertilizer | 8oz. of Premium Concentrated Indoor and Outdoor Bonsai...
🌿 VIBRANT GROWTH — Fertilizing Your Bonsai Plant Leads to More Growth, AND a Deeper Colors
🍎 HEALTHY PLANTS — Filled With Essential Nutrients that Your Bonsai Tree Needs to Stay Robust...
👨‍🍳 SPECIALLY FORMULATED — NPK and Application Instructions Are Specific To Containerized...
💧 CONCENTRATED MIX — You Only Have to Apply a Measured Amount to Your Water Before Watering
⚙ RESEALABLE BOTTLE— Our Liquid Bonsai Fertilizer Will Keep Its Effectiveness for Months
Feeding the Apple Bonsai Tree
Feeding the plant is the most important thing, and you must take care of the things that have to be avoided so that the plant can grow well. So, now we will be discussing all those things that can be fed to the plants and what are those things that you need to avoid.
So, the only thing that you need to feed them is the balanced fertilizer that can provide the plant the right amount of each nutrition.
Pruning
Pruning is another important thing that is required in the proper growth of a plant. It does not matter which plant you are growing because dead leaves and dead branches are needed to be removed in every case.
All these steps are required to grow the apple bonsai plant successfully, and this is how you should take care of the plant.