The word 'Bonsai' is a Japanese term, and the term means 'planted in a container. This form of art was adapted from an old Chinese horticulture method, later renovated under some Japanese influence.
Bonsai trees are beautiful and magnificent, and their existence has been around for over a thousand years.
People prefer keeping little bonsai trees at their homes to bring a realistic representation of nature because nature is something which has become very difficult to find these days.
Few people find bonsai trees to be auspicious, and unfortunately, few do not consider them to be so. Let us read the article below to gain some extra knowledge about the bonsai trees.
What is a Bonsai?
Bonsai is a shrub. It is an art, rather a growing ornamental tree that is often found as a potted plant in many houses.
As mentioned above, this art originally belonged to China, but now, along with the time, the world knows the bonsai trees as a Japanese version of traditionalism.
These trees are kept in the houses to produce natural scenarios, which has become scarce by now! The Japanese people created these bonsai trees to bring some small natural trees which would exactly look like real-life trees.
Are the Bonsai Trees Genetically Small?
No, the bonsai trees are not genetically dwarfed plants. But the plants having smaller sized leaves have got the ability to design themselves according to the compositions.
Any plant with a wooden trunk or stems can grow real branches in a container that is too successful because its roots get restricted inside the containers, and that is why it will not be able to store any amount of food.
By this, the tree will not grow any taller, and the smaller leaves altogether will create a beautiful bonsai tree.
What does Bonsai Tree Means?
You all know well that the bonsai trees are a perfect replica of nature which comes in a little model and are often found at various houses, especially the ones who love and embrace nature in his/their ways.
If you see the photographs of these little trees, you may not find the features of a real tree, but it is a fully grown tree with all its features but in a small presentable size.
These little bonsai trees do not take much space and are perfectly suitable for any corner of your house.
Bonsai Apple Tree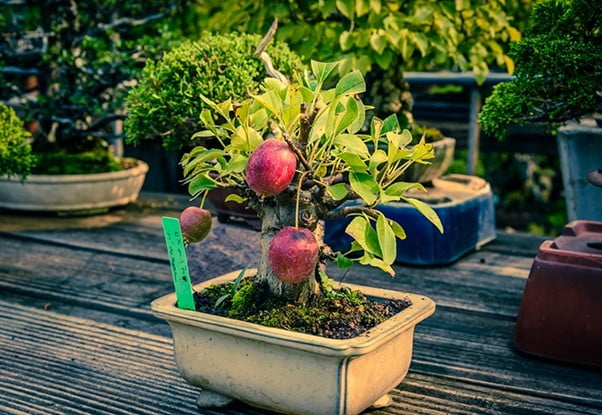 A Bonsai Apple tree is nothing but an outstanding bonsai tree just because of its uncountable green leaves, dense form, and lovely little flowers.
Did you ever imagine having such an apple tree with small flowers and mini apples growing just on the top of your dining table?
Trust me, this would add a bit of authenticity to your dining table, and your guests will undoubtedly fall in love with this strange idea. It would surely be an incredible one!
In the tropical regions of America, these are known as Monkey Apple or Pitch Apple tree. This can be grown both in the indoors and outdoors as well.
Conclusion
Planting bonsai trees would bring you happiness and peace of mind, but few people also consider it to be bitter!
It is your choice how you want to bloom things on the path of your life with proper maintenance and care.
It is kind of a gardening interest for nature lovers, and this activity is filled up with enthusiasm.