It has been awhile since I shared posts from those of you who have posted on my linky. I'm going to start doing that again. I haven't been commenting on your posts like I used to. I can make excuses about gmail and having to sign out of one account to get into another account to post…. which is a pain in the arse… but that doesn't happen when I try to comment on all the post. It has just been a matter of time, and how little of it I have. But I need to make it a priority. You guys take the time to come here and post… I need to get myself to your posts and check them out! Thanks .. all of you who do come and link up. Stephanie posted last week on her spring cleaning of her pantry. It looks great. You can find her entire post here: How Sweet It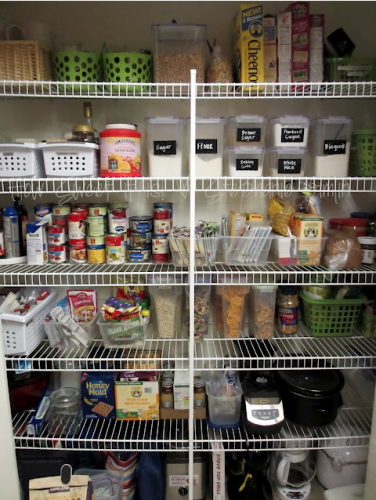 I love that Carrie has been working on a 12 week challenge in her house. She already has a really organized space like enclosed deck etc. but, has revamped things and completed some new projects. It's really inspiring. Check out the rest of her post My 12 Week Organizing Challenge Recap
saving 4 six
Link up to my Linky Party! I'd love to see your Easter, organizing or DIY projects!
1) Link to your specific post – not your blog
2) Please Link back to my blog with my button or link (url code under button tab )
3) Blog post related to Organizing or Cleaning or DIY or crafts or decorating are WONDERFUL!
4) No sales pitches or web sites.
5) Feel free to link up more than 1 post.
6) By linking up to my post, I might use your pic (with link and credit to you) next week in my post!
Looking for other link parties? I have a whole list of them. Thumbnail via day above and keep scrolling down to find a more extensive text lists by day on my link party list. If you aren't sure how to link up… see my link party tutorial here. It is simple. If You Are On A Reader and Want to View All the Great Link Up's on this post