I had thought I might have the kitchen completed, but I still have more to go over with you this week. I am going to work on that dreaded plastic storage container cupboard, enclosed patio, pots & pans, and drawer organizing. I am going to extend the linky that we have been using for the last 2 weeks for one more week.
Check Out My Featured Bloggers This Week
DaNita from Delightful Order reorganized & moved her Medicine Cabinet
This time she has reorganized her medicine cabinet and moved it. Why? Because she read a post on Jen's blog, iHeart Organizing from a guest blogger who was a pharmacist. The Pharmacist, Melissa stated that Medicine Cabinets are NOT for Medicine. Why? Because of the heat and humidity in our bathrooms. They also should not be kept above the stove or refrigerators because of the heat. So check out and see where DaNita stored her medications.I love all her cute labels! She has links that you can make her printables too.DaNita is getting double kudos this week! I really wanted to show you her medicine cabinet because I just did that 4 part series on the medicine cabinets, but you HAVE to see this pantry! OMG! It looks like you walked into a model home on the Parade of Homes or something. How I WISH this would work with my family!Isn't that amazing? I also love this. I was doing this behind my pantry door also before their new lunch boxes got too fat to put back there.If she isn't a Tupperwear dealer herself, I bet her Tupperwear lady LOVES her!!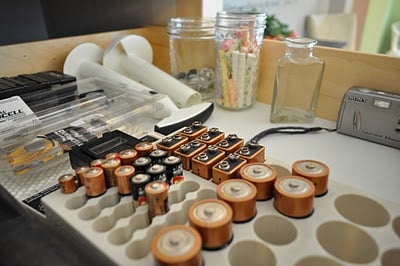 She also has those great looking baskets that she has things stored in.delightful order pantry Now, you have to go and see the rest of what she did in her pantry. Look at her pantry door too! So cute!!
Becky from Organizing Made Fun reorganized a set of drawers she has in her kitchen.Notice the label on the edge of the drawerLove this battery organizer drawer. Looks great doesn't it?Then if you have any chalkboards around, you have to have chalk right? I love this idea. So simple, but looks cute and easy to do.
There are more drawers that she organized, be sure to check them out on her blog, Organizing Made FunBe sure to stop by both of my featured bloggers today and give them some "comment love" and mention you saw them here!
For those of you who were featured this week, please pick up your button (code below the button) for your blog!
If this code isn't working, you can pick it up off my sidebar. (I'm having trouble with these codes on my actual posts.. sorry)
But this week I encourage you to start working on your kitchens! I'll be working on some fun labeling and organization of kitchen cupboards this week.
(You can also pick up this button off my sidebar, if this one isn't working right for you…)
Rules
1) Link to your specific post – not your blog
2) Please Link back to my blog with my button or link (link just above underneath my button)
3) I'd love if you'd follow me on google and/or FB. The google is new and I'm trying to build it
4) Blog post related to Organizing or Cleaning
5) No sales pitches or web sites.
6) If I feature you I will use one or more of your pictures with a link back to your blog.
8) Feel free to link up more than 1 post.
Be sure to check out my list of link parties
If you have a link party.. please link it up! Underneath the daily buttons there is a list of text links I have compiled too! (Many more there!)
If you aren't sure how to link up… see my home decor write for us guidelines here. It is simple.
This will be open until Saturday night April 16, 2011 This link party has been continued from the last two weeks.