Someone who is seriously into gardening or wants an indoor garden would know about artificial grow lights for sure. Giving the right amount of natural light to your plants to grow efficiently can be a difficult task, or sometimes, it may become impossible in specific regions.
This is the reason artificial lights have come so drastically in use. If you wish to use such lights for your plants, then here is a detailed review of California Lightworks Solarstorm 440 for you.
California Lightworks is a US-based company specializing in plant grow lights and offers various products in the line. One of its popular plants that grow lights is Solarstorm 440. You would find many varying reviews on this product from people, and you may get confused about buying it. So, here is a detailed solar storm 440 review for you to make the right decision for yourself.
What Is California Lightworks Solarstorm 440?

California Lightworks offers lighting with specific spectral colors combined with UV-B supplemental lighting. This innovative approach has made the brand quite popular in the plant growing industry. From large scale plant growers to home gardeners, California Lightworks has a product for every kind of customer.
The Solarstorm 440 is an LED-based grow light designed to cover an area of 3'×3′ for bloom and up to 6'×6′ for veg.
Features of Solarstorm 440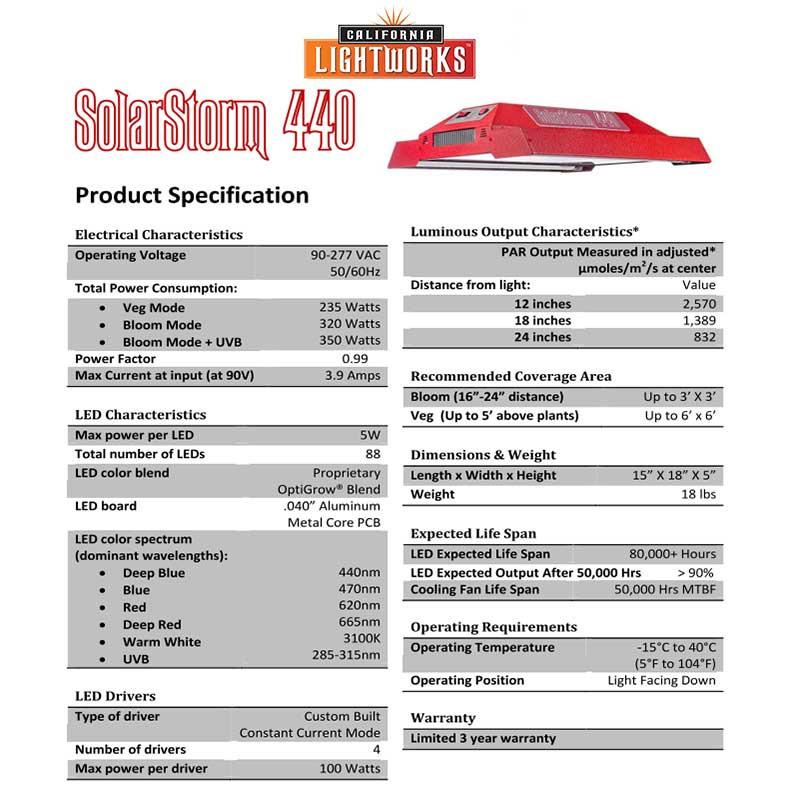 144 OSRAM LEDs
The California Lightworks uses the lighting solutions of OSRAM, one of the leading companies out there, to provide lighting solutions. OSRAM provides lighting solutions for both household and commercial purposes. Having OSRAM lights in your solarstorm 440 grow light must be considered one of the best things about the product.
In total, 144 Light Emitting Diodes (LED) bulbs are placed into two high-powered boards. This ensures that your plants get light exposure to only the spectrum necessary for healthy plant growth and production.
Also, a massive benefit of having LEDs in your grow lights will be efficient energy usage. LEDs will not add too much to your electricity bill. LEDs are also considered a cool lighting source.
Moreover, you can change the temperatures needed at each stage for your plants using LEDs. Growers can do this as the color of the light changes its temperature too. So, this means that one grow light (solarstorm440) can replace various wave spectrum lights.
Both red and blue spectrums can be used at the early stages. However, the red end of the color spectrum has the cooler and longer wavelengths, which can give the yield you want to your plants at the production stage.
Bloom and Veg Coverage
Solarstorm 440 offers 3times;3-foot coverage for flowering, which is producing stage of plants. In the production stages, plants require more concentrated light. This gets possible with this model as it throws the light-concentrating on the plants downward than doing the outward dispersal. This assures that the plants get sufficient lighting.
On the other hand, 6times;6-foot coverage is offered by this grow light for non-flowering, that is, veg. This area ensures to give the sufficient light required to plants in their later stages of growth.
Use Of UV-B T8 Tube
First, UV-B (Ultraviolet-B) tubes are fluorescent lightings capable of emitting UV-B rays. This lighting is provided in the grow light for the very late stages of plants to get higher potency production.
UV-B rays are why we humans get skin burns sometimes, so it is not preferable for regular use for plants. This can cause damage to the upper plant cells, so one must make sure that this light is not used regularly.
When working with these lights, it is recommended to go with sunscreen and sunglasses for humans. Also, specific instructions for the usage of this light, given in the manual, must be followed every time.
Great Safety Features
Manufacturers of the California solarstorm 440 understand the risks associated with the product very well. This is the reason there are various safety features inbuilt in this product to keep you relaxed. Their grow light has a three-ground wire, fused power input with overvoltage protection. This overvoltage protection will keep you from tension when you are not around.
In case your fans stop working correctly or venting gets blocked, they also offer over-temp thermal shut off. This feature will not let your small space get hot quickly and would help in maintaining the temperature.
Long Lifespan of LEDs
While providing highly concentrated light with both red and blue spectrums, the OSRAM lighting used in solar storm 440 also offers a total working time of 80,000 hours. This benefit makes the product an affordable yet powerful grow light for plants. So, even if you use the lights for long hours, the lighting will still serve you efficiently for a good time.
Dual Fan System and Panel Heat Sinks
Every panel in the product has its heat sink. The heat produced by the active LEDs and UV-B rays gets caught up in the heat sinks. This feature ensures that the heat does not escape the light and disperse in the area.
Also, the dual-fan system provides and ensures proper airflow in the area. This helps in maintaining the temperature and not letting the area get too hot.
Three Years Warranty and Customer Support
Manufacturers of the Solarstorm 440 provide a three-year warranty to their customers that protects them against any construction defect or material error. Also, they have a local team of representatives that are always available for customer support. From your queries about the product itself to their return and replacement policies, you can ask them anything, and they are always ready to help you.
Excellent customer support and warranty makes this product and brand more genuine and trustable. With a full three-year warranty and call-away customer service, you do not have to worry about your investment in this product.
What Is Missing?
Though all the features mentioned above and benefits make the product more desirable and perfect, not every product can offer everything. As there are pros, there are also some cons that come with everything. Not mentioning the cons in the solarstorm 440 review would be not fair.
The main problem with this unit is that they do not offer any ratchet hangers. The product does provide hanging wires, but no overhead hanging system is offered. However, it is not such a big problem, and you can get your hanging system constructed in the area where you wish to keep the grow light.
Another thing that may bother you is that its light gets very concentrated. Over concentrated lighting also sometimes hinders the growth of plants. Although, the possibility of adjustment of lighting by LEDs can serve as the solution if done correctly.
What Do the Users Say?
If you go through the solar storm 440 reviews on the internet, you will find the coolest and positive comments on the product. Customers seem to be happy with this grow light more often.
However, not getting a ratchet hanger with the product can be seen on the internet. But there are possible solutions to this problem, and if you can take any of those solutions, the product would work great.
Conclusion
Now that you have read the Solarstorm 440 review in detail with all its pros and cons, you might have made your decision. But before you go any further with your decision, you should analyze if you need this product. After knowing the Solarstorm 440 review, it can be used professionally and is excellent for severe gardeners and growers.
If you have a small area to cover, this grow light can be one of the best options. It will make your plants healthier, and they will bloom in no time. With UV-B light, also, you will not have to worry about your plants at all.