In today's time of modernization, electric and battery-powered chainsaws are very much in fashion. If you have ever planned on buying one, you may have heard about the company Greenworks.
However, choosing the right one from the various products that it offers may put you in a dilemma. So, here is a detailed Greenworks 40V chainsaw review so that you can decide efficiently for yourself.
A chainsaw is legit one of the essential household maintenance tools when you have a garden or a backyard in your home. A chainsaw can be used for many tasks, from cutting timber and wood to tree felling, pruning, and bucking.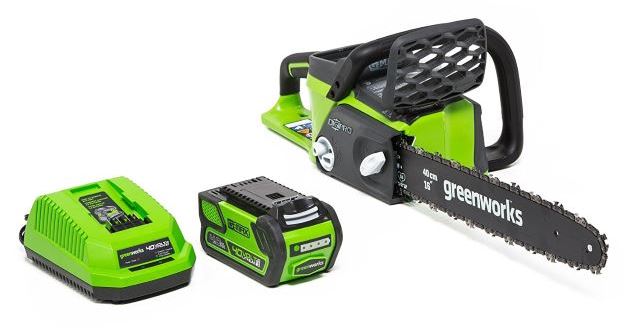 So, choosing the right chainsaw is also crucial. One such chainsaw that can do multiple tasks is the Greenworks 40v chainsaw. It also has made its place in the market. If you try to find out, you will get to hear various reviews and opinions about the product.
Deciding based on those opinions may not be practical. But do not worry because we have got a Greenworks 40v chainsaw review with all the facts for you. Keep reading, and you will know everything that you need to know.
About Greenworks 40V Chainsaw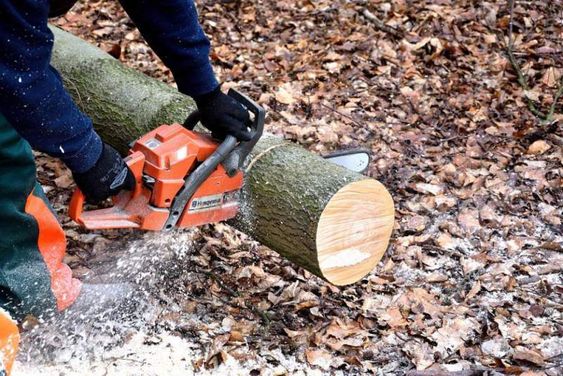 The company Greenworks tools have been producing outdoor power equipment since 2007. Their electrically powered equipment, both corded and cordless, has a huge name in the market.
From commercial users to household users, Greenworks produce products that everyone can use. A chainsaw is legit one of the essential household maintenance tools when you have a garden or a backyard in your home. A chainsaw can be used for many tasks, from cutting timber and wood to tree felling, pruning, and bucking.
Greenworks 40-volt chainsaw is a 16-inch-long tool, the largest one in the 40-volt series. With a weight of around 10lbs, this chainsaw can give 150 cuts in a single battery charge.
Most people think that an electric chainsaw is only useful for light work and can only be used only quickly.
However, the 40-volt series of the Greenworks has proved that electric chainsaws can also be heavily used, that too for a long time. All the chainsaws in their 40-volt series can give around 75 to 150 cuts in a single charge.
Features and Benefits.
Every product has its specialty and some features. Features are the thing you should be reviewing when you are looking for a particular product. Here, we have listed all the Greenworks 40v chainsaw features, which will help you make a more efficient decision for yourself.
Brushless Motor
A brushless motor runs longer and more efficiently than a brushed motor. A brushless motor also makes less noise, which makes it preferable. Writing the Greenworks 40V chainsaw review and not mentioning its powerful brushless motor is impossible.
The motor of this 40v model gives 30% more torque, ultimately serving a fantastic cutting performance. Even heavy and professional jobs can be done with this chainsaw because of the brushless motor.
40 Volt Battery
The chainsaw has a 40-volt lithium-ion rechargeable battery. This lithium-ion battery is undoubtedly one of the reasons for the popularity of the product. A battery-powered chainsaw that has a good quality, the long-lasting battery has a shallow maintenance requirement.
You can take it with you anywhere you want with no trouble and use it efficiently as long as it is charged. Users say that this 40-volt battery has been relatively quick in charging itself. You can get 150 (4×4) cuts with a single charge of this powerful battery.
Also, you will see an indicator on the chainsaw to show you the battery left. So, you can quickly check how much battery you are left with.
Easy Consumer Use
This battery-operated Greenworks chainsaw relieves you from the burden of complexly operating any other gasoline chainsaw. You will have to prime and choke your engine before you start working with a gas-operated chainsaw. On the other hand, the 40-volt chainsaw has an electric push start. That is, you can start it immediately.
Clean filters, the right oil, and its ratio, every small thing needs to be checked before working with a gas-operated chainsaw. With the battery-operated Greenworks chainsaw, you only must check that you have charged it up for your day.
Electronic Chain Brake
Chain brakes were not so common to find in battery-powered chainsaws. However, with rapid modernization in technology, chain brakes are now available on battery-powered chainsaws.
Greenworks 40-volt chainsaw offers an electronic chain brake. This means that you can instantly stop the chain from spinning anytime, and it is an advantageous feature for sure.
16-inch Bar Length
Today in the market, there are only a few cordless chainsaws available with such long bar lengths.
Usually, one chooses to have 2 inches more tool than the surface that needs to be cut. So, a bar length of 16 inches will easily be able to cut many things for you. From timber to trees, almost everything can be done with this tool.
Moreover, if you wish to cut something more than this length, you can use additional cuts, for that matter.
Tool-free Chain Tensioner
Chain tensioning is a part of regular maintenance. By usage of the chainsaw over time, the chain will loosen up and will not work efficiently.
To make it work efficiently, you must tighten it. However, too tight and the chain will have the risk of binding and too loose. It would fall out of track while you use it.
All these problems will not occur with the Greenworks 40-volt chainsaw as it offers tool-free chain tensioning. You can loosen or tighten it up only with the help of a knob. You must twist the knob accordingly. Without having to pause during your work, you can adjust your chain anytime and anywhere quickly.
Automatic Oiler
An automatic oiler is provided with this 40-volt chainsaw that will feed your chain and bar from time to time with oil. Oil is an essential element to keep your chain and bar at the position and efficiently working.
It keeps the tool from overheating and binding. Electric saws use the same oil as the gas ones. So, it would also be easy for you to find oil for the product.
Moreover, the chainsaw also offers a translucent tank that shows the level of the oil left in it. So, when the oil level goes down, you can refill it anytime.
Maintenance and Warranty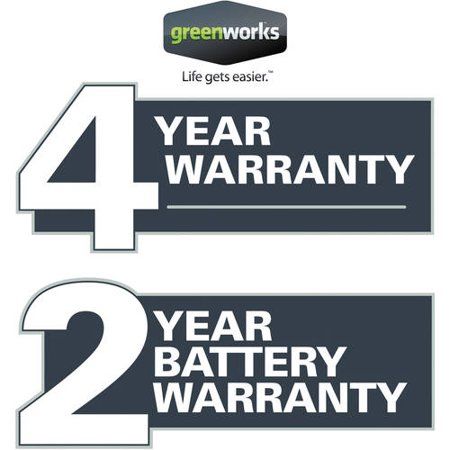 Manufacturers suggest not using any chemical solvents while cleaning the plastic parts, and it should also be dry and clean. No oil or grease should be on the handles. It is also suggested that no extra lubrication would be needed in the Greenworks chainsaw. Moreover, a full manual is provided with the chainsaw to refer for maintenance.
When it comes to the warranty, you will be relieved to know that you will be given a four-year warranty on the product and a two-year warranty on the battery alone. The four-year warranty protects you against poor construction, that is, any damaged parts or any defect.
However, a four-year warranty only applies to a consumer. In case of commercial purposes, the warranty period narrows down to 90 days.
Conclusion
By going through this Greenworks 40V chainsaw review, you have now probably known everything you need to know about the product. The above information would help you efficiently in analyzing whether you need the product or not.
If you go through the reviews and opinions of its users on different websites, you will find varying reviews and opinions. However, the overall opinion you find would be on the positive side of this product.
Users have mostly complained about one matter, and that is its maintenance. But maintenance can be done correctly with some basic knowledge about its parts and the manual's help (provided with the product).
Having a cordless chainsaw can serve you with various benefits. These 40 volts 16 inches chainsaw is easy to maintain and handle while working. It also gives ease of use and is quite dependable.
Though it cannot be used for the whole day on a single charge, if you have various short-time jobs to be done, then this chainsaw is perfect for you.