It is important to decide which kind of pot is best for a particular indoor plant. In general, plants are stored in pots that are made of different materials.
Factors like plant type, humidity, moisture are enough for the healthy growth of a plant in one pot. A point to keep in mind is the strength and durability of the material used in making a pot. Two factors decide what is best for that indoor plant.
How often the plant requires watering.
How much moisture a plant needs to survive in a pot.
Plant containers come in a wide variety of prices, sizes, colors, shapes, and materials. Each specific container has advantages and disadvantages of its own.
Materials like ceramic, clay, plastic, wood, terra cotta etc. are used in preparing pots for indoor plants. Out of them, we will focus on ceramic, plastic, and wood material for a good pot. A good indoor plant hanger depends on the quality of the material used in a pot.
Ceramic Pots for Indoor Plants
It is of two types. They are Glazed ceramic and Terra Cotta Ceramic.
Glazed Ceramic Pots
Glazed ceramic containers or stoneware are prepared by fine texture, light colored clay and then they are glazed. It requires high temperature to be burned which reduces the pot porousness and creates problems in a pot. A pot is cracked when they are exposed to extreme cold conditions.
Advantages:
It is very attractive.
Can hold up to high freeze temperatures than another ceramic type.
Longest durability pot among all available in the market till they are taken proper care mainly not exposed to the cold climate very often.
Air and water movement is good for a ceramic pot through its side.
This leads to the better and healthy growth of plants.
Disadvantages:
Expensive pots.
Easily broken when they are hit or fall on the ground from height.
Cannot shift from one place to other because of its delicate nature.
They do not dry easily and quickly.
They restrict the passage of air at that time.
Terra Cotta Ceramic Pots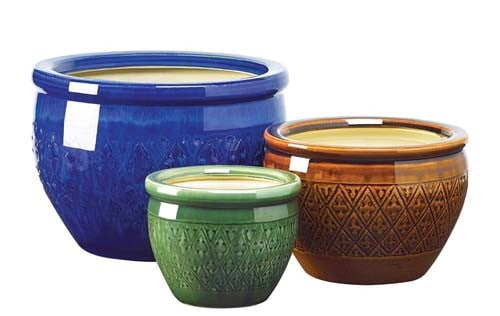 One of the most common used materials for preparing pots. They are not glazed pots. It is versatile which favors plants of any shape and size. Terra pot can be as small as two diameters in width to as large as they can. The colour is a reddish brown colour which gives an earthly feeling to gardeners or plant owners. It is more fragile than other pots. They are permeable.
Advantages:
Attractive colorful pots.
Most used pots for indoor plants by gardeners.
Less expensive than glazed ceramic pots.
Disadvantages:
This loses moisture and soaks water from outside as they are fragile.
Extra care is required when they are used in cold climates. They survive only when they are placed upside down.
They have low tolerance towards winter.
These pots cannot freeze.
More expensive than plastic and fabric pots but of no use.
Easily destructible.
Plastic Pots for Indoor Plants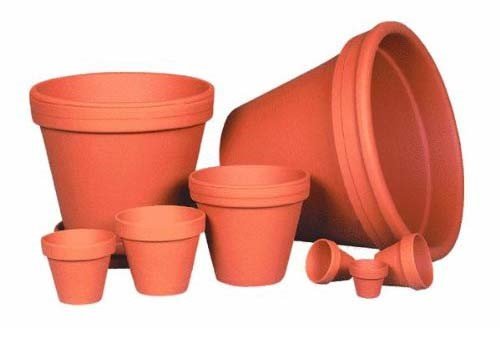 Containers or pots or stoneware made by plastic are less realistic and durable than fabric pots. It has thicker decorative styles. Plastic pots or containers are found at every home as they are famous for commercial use. Plants brought in the nursery or market are stored in a plastic container as they are very cheap and easily available.
Yes, it is not good for plants growth, but people still favor using them because they last long for a while. Thicker versions of plastic are far better than the normal version. It can be mold to any shape and size as per the need.
Advantages:
They can hold up to freezes very well than terra cotta ceramic pots.
They are very attractive.
Cheap and best for the common man.
They are strong and cannot break easily.
Once purchased can be used for a very long time.
Perfect for people who forget to water plants regularly.
They hold moisture for a longer time.
Light plastic pots are easy to move.
Disadvantages:
Less durable than fabric pots.
If they are placed outside, then the design and decorative paint faded easily.
Paint might vanish if they are placed between 3-5 years which is a bad sign.
Heavy plastic pots are difficult to move which can be an advantage or disadvantage for that time and plant.
They provide little or zero insulation.
Wood Containers/ Pots (Alternative)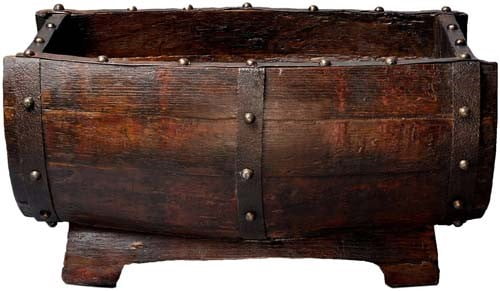 Wooden containers are suitable for indoor or outdoor plants. They are generally available in square or rectangular. Still one can make a container of any shape which fulfil the requirements of a gardener for their plants.
Advantages:
Cracks appear very rarely on these wooden containers despite they are placed outdoors during the cold season.
Tolerant towards cool climatic conditions.
They take time to dry which keeps the soil moist and it is a good sign for plants growth.
Disadvantages:
The danger with wooden containers is they easily rot.
To overcome this use plastic containers along with a wooden one.
Leave some holes for drainage of water in the plastic one.
A weak drainage system affects the plant's growth and health.
Knowing about different potting materials which are best for your plant and garden is not enough. As they need to know potting tips to extend the life span of a pot.
Potting Tips for Indoor Plants
For ceramic or plastic pot ensure that they are drainage holes.
Use pebbles in a tray to lift the pot from the water level which solves the waterlogged soil issue.
Correct pot size is mandatory.
Fast-growing plants prefer deeper containers.
Slow growing plants prefer shallow containers.
Always seek help whenever required.
A small piece of advice to all out there to do proper research before they purchase a pot for indoor plants. Proper maintenance is required to maintain a good shape of the pot or container.
Do not go for cheap ones as it leads to double work and loss of money. Be wise and spend once to buy a perfect pot that improves the growth of your plant.