If you have indoor plants, you know how much of a change they bring to your house. They act as pieces of natural decors and have other advantages.
Some plants could work as insect repellers along with attracting the attention of guests you welcome.
Nowadays, almost everybody accedes with indoor plants' perks, and many among them also implement it.
The only problem with indoor plants is that they can consume a bit of the house area, especially if you have too many of them.
And in case you have a small house or live in an apartment, it becomes an even bigger problem as the area consumed by small plants could have been used to fit in some other necessary equipment.
This forces the people to choose between having these beautiful green and fresh plants inside the house or the important stuff. And sadly, most of the people must go with the important stuff.
But with problems, there also comes a solution. And we have one for this problem too. If the plants are using too much of your house's essential and limited ground space, then why not hang them in the air? We can do this with the help of plant hangers.
Having these plant hangers indoors and the plants look very beautiful and allow you to manage your space even more efficiently.
There is one specific type of plant hanger that outshines the rest of the indoor plant hangers. It is a Macramé plant hanger with an elegant look, a compatible design, and an easy installation procedure.
Macramé hangers are the first preference for most people who want to have indoor plants. These plant hangers contribute a lot to the house's decorative look, and hence it complements the plants in making the house look more attractive.
Macramé plant hangers are so beautiful that you do not need to reason like a shortage of area for having plant hangers.
But,
What is Macramé Plant Hangers?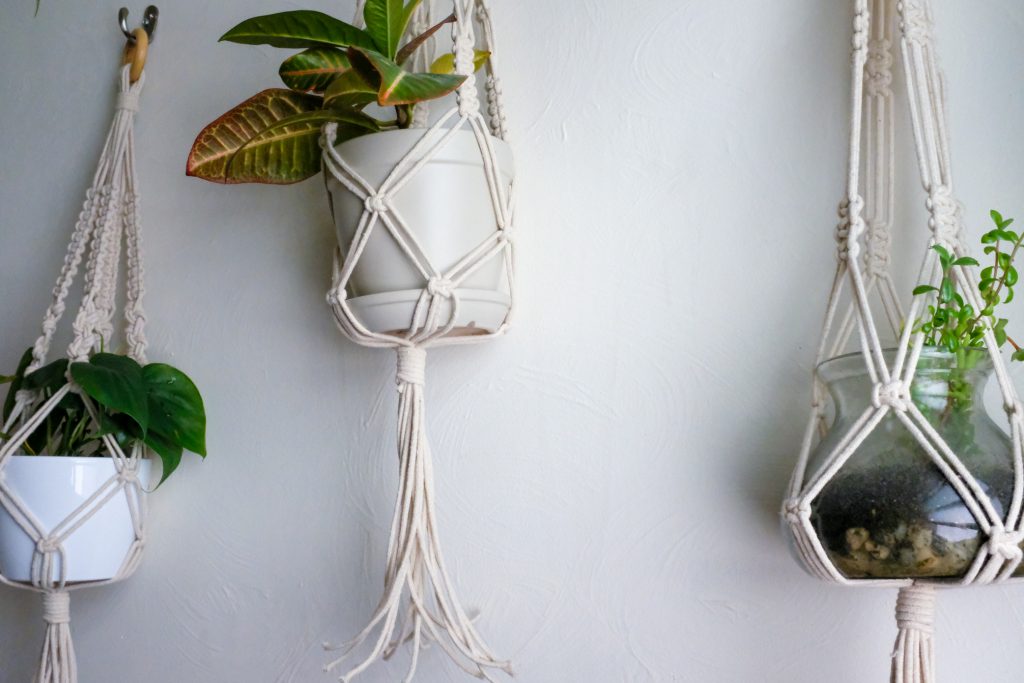 Macramé plant hangers, just like any plant hanger indoors, are used to hold plants. This type of plant hanger is made from fabric, combined into a rope, which holds the plants.
These plant hangers are more attractive than any other type of plant hanger and are more durable and flexible than any other type of plant hanger.
Given how simple they are, you can make one for yourself. But with the options available in the market, trust me, you would not want to make one for yourself and instead straight off buy the one you liked the most.
Let us discuss some types of macrame plant hangers indoors.
Types of Macramé Plant Hangers
Plant hangers come in many variants, and you can choose from a lot of selections after deciding which one is the best for you. You can also have one from each variety to give your house some dynamism and complexity. It is totally up to you.
Simple Macramé Design
If you are buying a plant hanger for the first time and want something simple and do not want to take any risk, then this variety of Macramé designs is best for you. You will have a white rope tied to a hoop in this type of hanger, hanging with the hook.
These plant hangers have knots within themselves to give them a bit of decorative initiative. You will want to go with the simple type of plant hanger if you want your plant to get all the attention.
Decorated Macramé Design
If you want your plant hanger to be not so simple and grab others' attention, then the best thing to buy would be the decorated plant hangers. These plant hangers are decorated with add-ones like wooden, plastic, or metal beads.
These beads give your plant hanger a new element, and your plant hanger becomes a very adorable thing to look at. It would also be more costly than the simple plant hanger.
Colorful Plant Hangers
Your plant hanger does not need to be white. It can come in various colors of your choice and complement your house's environment even better.
Before choosing a color or a mix of colors for your plants, you should see the surroundings of the room you want your plant hanger in, and after that, you can select a color according to your observation and critical thinking.
Let us find out the factors that decide the weight-bearing capacity of your plant hangers indoors.
Best Macramé Plant Hangers Indoors
Now that we know how to know your plant hanger's weight-bearing capacity let us know four of the best Macramé plant hangers that you can find for your house.
These plant hangers are all reliable and can bear heavyweight. They also will suit or fit into your house quickly and will help you with the ground space.
Growneer 5 Packs Macramé Plant Hangers with Hooks
This is a simple Macramé plant hanger that fits most plant sizes and looks great. It is made of pure cotton and has four legs supposed to be stretched out when you must place the plant inside it.
As already mentioned, it comes in a pack of five, and each has a unique design, different from the rest.
It can be either hung adjacent to a wall with the desired hook or hung with the ceiling. It is totally up to you.
The only limitation is that it is only suitable for round pots and if your plant is in a pot other than round shape, you will have to switch the pot to round round-shaped to use this indoor plant hanger.
Timeyard Macramé Plant Hanger/Shelf
Having this plant hanger indoors gives your house a different look. This is probably because this is not like ordinary plant hangers indoors.
These plant hangers serve as a shelf and come with a flat disc-shaped bottom made of premium quality wood, which is appropriately polished.
You can place your indoor plants in these plant hangers. It can support more than one plant at a time (depending on the plant's weight and size) if you think what I am thinking and fear that the plant may fall off the flat surface in case of any disturbance.
This concern is covered as the plant hanger comes with a raised edge that prevents the plants from falling off the shelf. Having these plant hangers indoors will add a new look to your house. These plant hangers may steal all the attention that your plant is supposed to have.
Protitous Macramé Plant Hanger 3Pcs
This is a very modern and very stylish Macramé plant hanger that you will want to get your hands on if you like the modern look in your house. These plant hangers come in black color and are more attractive than the traditional, white-colored Macramé hangers.
As already mentioned, this plant hanger comes in a pack of 3 and bears the weight of your three indoor plants.
It is 37 inches in length and can be hanged to a ceiling or a wall (whatever suits you). It supports pots of almost all shapes and sizes, and therefore it is a go-to option if you have pots that are not round.
Given the fact that these plant hangers are black, they look lovely on the light background created by the pot. You can hang all the three hangers consecutively or in places you like.
Mkono Macramé Plant Hangers 4 Pcs
These plant hangers come in packs of four and suit pots of any shape and size.
The fascinating fact about them is that they are made from jute, and that gives them a very natural brown color that goes very well with the light color of the pot in the background.
It has wooden beads in it, which makes it even more attractive.
Given the fact that they are made from jute, they are very durable and robust. They can last up to years, and you do not need to be worried about your plant falling on the floor (as it is the fear of most people most of the time).
Factors Deciding the Weight-Bearing Capacity of Plant Hangers
The amount of weight of the plants that a plant hanger can bear is dependent on a few factors. These are-
Thread Material
The material used for making the thread of the plant hanger is the most decisive factor of its weight-bearing capacity.
If the thread is fresh and has more tensile strength, then it can undoubtedly bear more weight. But if the thread does not have much tensile strength, then it cannot do the same.
Width of Rope
The rope's width and binding style can also play a significant role in determining how much weight the plant hanger can bear.
If the rope is not wide enough or the binding is not strong enough, then the plant hanger would not hold heavier plants and face the threat of breaking any time.
The Plant
Last is the plant's weight combined with the weight of the soil and the pot that you are looking to put in the hanger.
If the plant, along with the weight of soil and pot, is too much, you will have to think judiciously of your options, and if the weight isn't that much,h then it's not that big of an issue at all.
Conclusion
These are some of the best plant hangers to go with. If you have any of these four plant hangers indoors, you are sure to have more space in the house and a more beautiful house as all these plant hangers also act as pieces of decor.
If you are starting to grow plants indoors, it would be best for you to select from these four as they are all tried and trusted and have positive reviews attached to them.
Almost all of them are available online (on Amazon and other online stores). Make sure to check prices at various locations before making a purchase.