We see something like this…and we CAN help.
I just read this post that Monica – Mommy Brain Reports wrote about her (and my) dear friend Melissa – Consumer Queen . I couldn't believe it. You can read her post from earlier today as she is just learning the news. This is what us bloggers do. If something it out of our control….writing helps us deal with it.
This all happened today. She had over 2 feet of water in her house. Everything is ruined with her big lawn that cared with the best zero turn mower.  She called the insurance company to find out that nothing is going to be covered. This is the house that they just moved into a couple of months ago. Her mother needed help and they needed to move them in with them. So they had to find a bigger house Her husband @ConsumerKing has Ankylosing Spondylitis which is a degenerative disease that causes much pain and can be debilitaing.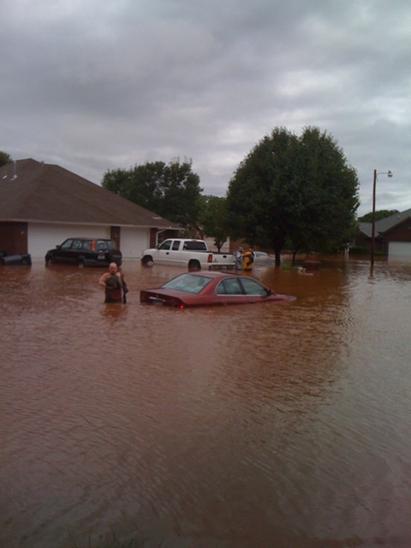 He isn't able to work and because of this she has to work full time in order to get medical insurance for the family. He just had a hip replacement a couple of months ago and has to walk with a cane. That is him out in the water. He just recused a woman and her daughter from the flood waters. Unbelivable!
Thank goodness they are all safe. That is the most important thing. Monica told me that she got a call while she was at work with her kids screaming and crying that the water was rushing into the house from everywhere. Her boss drove her home to find the firemen getting her family and animals out. They are staying with her mother in law….but realizing everything is gone, even their lovely above ground pool…and no money to replace it.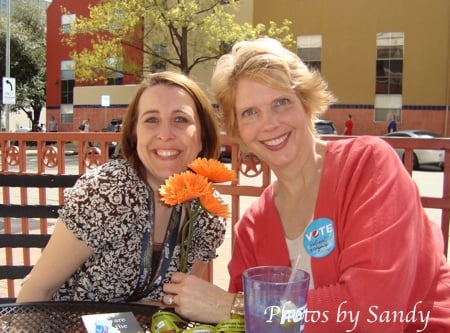 Devastating!!! The house will have to be gutted. Everything replaced. Can't even imagine.
Donations.
We can help. Even if you could donate $5 or $10…it will add up. Monica started this campaign and I can assure you that it is completely up and up. I know them both personally and it is no scam. Promise!!
This is Melissa and I at SXSW this year.
Thanks for anything you can do to help her!