Whether you're a new homeowner or someone who's been living in a house that has lived through three generations, everyone agrees that taking care of the lawn is a big and tiresome task. While others have enough space intheir budget to hire professionals to tend to their lawns, some of us are trying to hustle between making it to work and keeping our homes beautiful. Some people just don't have enough minutes in a day to spend on lawn care.
And if you fall right into that category, no worries! The lawn care industry broke through with one of its biggest inventions ever, zero turn mowers!
Gone are the days where you have to push a rusty lawnmower from the garage and almost break your back just trying to get the engine running. The zero turn mower is here to help you save your time and effort. Now you can just literally sit back and let the machine do all the work and still have enough time in the day to do other things.
But today, there are a plethora of zero turn mowers available on the market, and going through each and every one of them can become a really bothersome task.
Our Picks For The Best Zero turn Mowers
That's why we did the work for you! Keep reading down below to find out everything you need to know when picking one out for yourself, along with our list of the top 10 best zero turn mower for this year.
If there are any issues homeowners commonly face when buying lawnmowers, it's usually because they are oversized and sometimes overpowered. Unless you live in a castle with sprawling grounds or you own a landscaping business, you may agree when we say that the average homeowner usually just wants a compact and durable mower to do the job. And this is exactly why the Troy Bilt 383cc is our top pick in this list.
The Troy-Bilt zero turn mower was built for families who want to trim their lawn in a quick and efficient manner without having to clear up a large space in their garage. The Troy-Bilt is smaller than other models, but it is surprisingly durable and is made of very high-quality materials. It comes with a five-height adjustable deck and a manual power take-off that ensures fast blade engagement. It's also very comfortable with its padded seat, and the controls are smooth enough to guarantee an easy and enjoyable experience.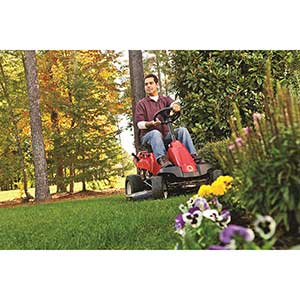 The mower is powered by a strong OHV engine that delivers enough torque to cover a small to medium-sized lawn. It also has a relatively good handle on different kinds of terrain. Although it's not as fast as other mowers, its six-speed transmission system is enough to power through varied terrain with efficiency. This mower also boasts the same 18-inch rear wheels and caster wheels that many larger models have.
The only complaint from buyers is that they wish the seat could be higher to support the back fully, but other than that, the hundred some odd positive reviews online speak for themselves. Overall, the Troy-Bilt is an easy pick if you're looking for a durable and easy to use zero turn mower that can also fit a relatively meager budget.
The Ariens 915223 IKON-X mower is one of the best heavy-duty zero turn mowers around. Before we get into the technical bits, let's first take a look at its design. Ariens is another long-standing company with lots of credibility when it comes to creating some of the best mowers in today's day and age. And we're happy to say that it looks like they really took the time to build this particular model. The IKON-X mower has a sturdy Kawasaki fabric desk made from a 10 gauge steel frame for guaranteed enhanced performance. This steel frame helps ensure that the foundation is strong and totally resistant to stress.
Unlike the Troy-Bilt, the IKON-X comes with a higher backseat that is well-padded, maximizing comfort and offering full support for your back. Together with the backseat, the padded armrests help as well in reducing user fatigue and allowing mowing to become a relatively relaxed and laid-back task. This is extremely helpful if you're going to be mowing a large lawn, and it's going to take some time. They also made it a neutral cream color, which is a bit different from the usual black color schemes you'd find on most other mowers.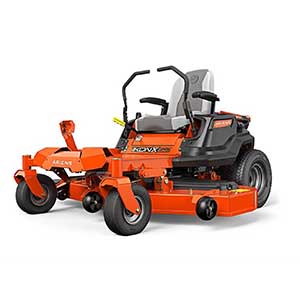 With regard to its engine, this mower is equipped with a powerful Kawasaki FR V-Twin Engine. It also has a dial operated cutting height that allows you to really customize the cutting height to your preference. Other features such as the industrial style dual arm deck hanging system and its 4.5-inch fabricated deck make this mower practically the best choice for any sort of mowing-task at hand.
The IKON-X is surely an impressive zero turn mower and deserves a fair mention in this list, especially with its slight flair for design and added comfort features. And if there is any downside to this machine, it's probably the fact that this particular model may not be available in some states such as California.
However, if you don't live in those areas – you're in luck!
For those who are in the landscaping business, the Husqvarna MZ61 is the perfect zero turn mower all around. For one thing, this mower can endure long working hours and can be exposed to rugged working conditions. Yep, you heard it right! This zero turn mower is one of the few models designed to mow hills and rough terrain. It also has features catering to the needs of any landscaper, such as a comfortable seat belt to provide some extra safety when operating the machine on a hill or incline. Its padded seat is an added comfort as well, making sure that the operator avoids fatigue during longer jobs.
The MZ61 also features a 61-inch cutting width, which is the best option for landscapers because this means you will be able to easily cut grass on large estates. The larger cutting width also shaves down the time it takes to mow an area which will decrease the number of hours spent in a day on one area and as a consequence, increases the number of customers you can take on.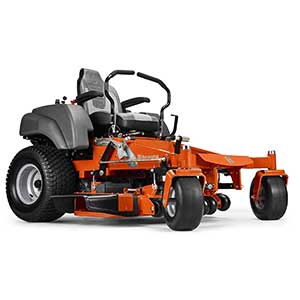 If we're talking about the engine, Husqvarna is another household name that doesn't disappoint. This machine boasts a 27 horsepower Briggs and Stratton engine, which implies top-notch quality off the bat. The engine is also fuel-efficient, allowing you to save a lot of money on fuel.
The Husqvarna MZ61 is, without a doubt, one of the best brands in the market geared towards professional mowers. The only con is that if you're looking for best zero turn mower for your house's lawn, this model might be a bit too overwhelming. Even though the brand still holds up to its name and this product is equally well-made!
Similar to the Troy-Bilt, the Ariens Zoom 34 is another fantastic compact zero turn mower in this list. The reason why this one was also included is because of its simplicity. Sometimes, a simple solution is all you need for all your lawn care problems. The Zoom 34 is an excellent lawnmower for a small to medium-sized lawn, which makes it a perfect tool to own for someone who lives in the suburbs. It also has a design similar to the Apex 60 Kohler, although this one is far more simplified. It has a tubular steel frame deck with a 34-inch cutting width to start things off. The smaller cutting width makes it a practical choice so that you can avoid flowerbeds and rocks.
Also, another bonus is that its small size and compact design allow for easy storage in any size of garage or shed. It's a robust mower that can surprise anyone with its incredible durability. The engine, on the other hand, is less powerful – with an innovative Kohlera 19 HP. Though, admittedly it's more than enough for this particular model to be swift and get the job done quickly.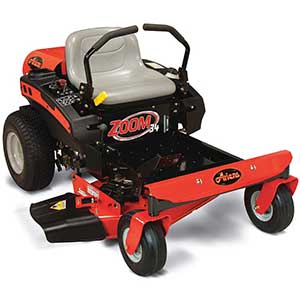 One of the best selling points is its super-sized wheels, and intuitive controls that make it easy to use and let the person enjoy a smooth ride while mowing.
We love the simplicity of this model so much that the only downside we can see is that you can't use the Zoom 34 to mow a bigger lawn (and we're talking about estate-sized lawns). But if you're not looking to mow acres upon acres, then the Ariens Zoom 34 is a perfect fit!
The Troy-Bilt Mustang 46 really pays homage to the loyal Troy-Bilt customers. This brand keeps its users at heart when they produce their products, and we'll tell you why! For one thing, the Mustang 46 lets you mow any lawn no matter what size. Yep, it doesn't matter whether you have a tiny lawn outside your house or a gigantic football field of a front yard. The Mustang 46 will do the job.
In fact, it ensures you with a premium lawn mowing experience with each and every use. It has an almost identical design similar to the first Troy-Bilt model mentioned in our list, save for one significant difference. This model has a much higher backseat! The comfort is well-noted in the all-around padding and full-back support that the Mustang 46 offers.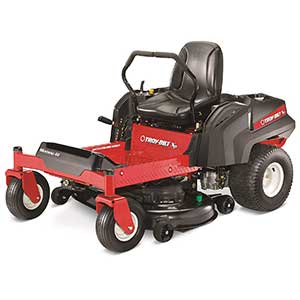 Now, let's talk about the engine. This machine is equipped with a powerful 24 HP Briggs and Stratton V-Twin engine and a versatile transmission system that lets you move around on practically any sort of terrain. And because of its zero turn radius, it's almost impossible to tip this mower over, even when taking a dizzying 360-degree turn.
The best part is the fact that the Mustang 46 has a three-year warranty on major parts and a lifetime warranty on the frame! Now that is the sort of dedicated customer service that we all deserve. We can obviously see their commitment to customer satisfaction here, so it's no doubt that this model is an excellent choice for practically any task at hand.
Again, try to think of the Mustang 46 is as the Troy-Bilt 388cc's older brother. It's got everything that the younger lacks, but it doesn't mean that the younger is any less good. And although the Mustang 46 is a bit more complicated to assemble, it's definitely a worthwhile purchase!
The Poulan Pro P46Z prides itself on two things – its ergonomic design and its long-trusted brand name. Most people know that Poulan Pro is almost synonymous with durability and efficiency, and they didn't disappoint with this model either. First of all, the P46Z has a compact design considering its somewhat bigger size (when compared to the first mower mentioned). This design allows the mower to target the tightest areas without any added difficulty. Its seat is padded and comfortable enough for both shorter and longer mowing times, and its handles are completely covered as well for an easy, comfortable grip.
When it comes to the engine, Poulan Pro met our expectations and teamed up with Briggs and Stratton, who are known for their many years of experience in crafting some of the best engines. They equipped this mower with a powerful 22 horsepower variant. This strong power-house cuts down on the mowing time and helps you move efficiently across your yard. The cutting width is at 46 inches, which is a considerable amount, and you don't have to worry about damaging other plant life due to its ergonomic design. The mower also offers six different cutting heights that you can choose from so that you have all the flexibility in the world at your fingertips.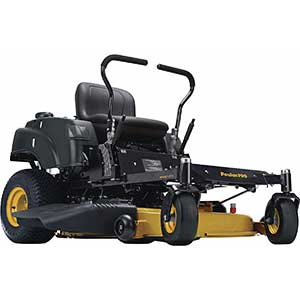 The only con that we can think of is its size. Admittedly, it's a bit larger compared to the Troy-Bilt, and so it might take up some space in your garage or shed. But this may be totally negligible if you have a relatively large space available. In conclusion – its durable, effective, advanced, and is still within a budget price-range.
The Snapper 2691319 360z Mower is definitely one of our favorites, enough so to have made it onto our shortlist. This particular zero turn mower decided to focus on the important accessories rather than emphasizing power, and we don't mind that one bit because it is so totally worth it!
The Snapper also addressed one of the biggest problems of a traditional mower – the pain of having to change direction constantly. With this lawnmower, you can mow facing forward, in reverse, or even sideways without turning it once! This makes it so much easier to go around rocks or trees. And it also has a well-thought-out design, being built with a tubular steel frame that is robust and ensures a reliable mowing performance, no matter the weather.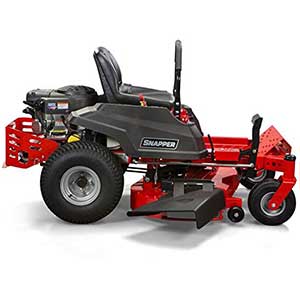 The engine is powerful enough to promise a seamless job even when mowing for an extended period of time, which definitely adds some bonus points. The Snapper can easily be used to mow both big and small lawns. And as a bit of added convenience, you can also say goodbye to carrying your tools around with you because of the integrated rear cargo bed! This basically acts like a glovebox of sorts for your zero turn mower where you can store your phone, tools, or practically any other stuff.
Another cool feature is that the rails allow you to attach ATV accessories, and there are also two predetermined cut-outs that enable the easy insertion of a conventional or removable tailgate. However, one of its best-selling points is its 13 adjustable cutting positions, which offer far more flexibility than the other models we've looked at so far.
The only potentially negative aspect of the Snapper is that it may be a bit too big for those of us who have small garages. However, it can be snuggly fit if you have a larger home or a big shed you can store it in.
Overall, the Snapper is a great choice, especially if you're looking for a flexible and beginner-friendly zero turn mower!
Husqvarna is already a household name when it comes to zero turn mowers (and we've even featured another one of their models on this list). In fact, they are one of the best in the market, and this model is no exception to that reputation. The Husqvarna 967277401 52-inch 25 HP Kohler zero turn Mower is said to be setting new standards across the industry.
From the design itself, it looks like it can take on anything that it faces. The structure is supported by a sturdy welded frame that screams durability and strength. The seat also has high-back support and armrests, which are both padded for a bit of extra comfort. And during low light conditions, its bright orange color contrasting the darkness makes it hellishly easy to spot, no matter where you left it.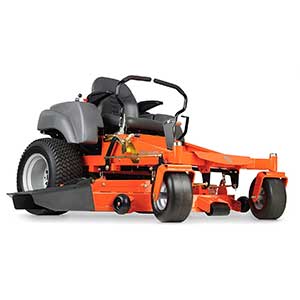 For the engine, Husqvarna went with a classic Briggs and Stratton 25 HP engine that maximizes power as it operates. Its fuel capacity is also well-adjusted for longer jobs, which provides for a bit of cost-savings on the user's end. The zero turn transmission system also ensures a longer life for the mower. And due to its zero turn radius, you can expect no lean or tip, even when taking the sharpest corners and turns.
The cutting deck is undeniably heavy-duty and spans 52 inches, which makes it easy to cover a bigger patch of land. The only difficulty that most buyers encounter with this machine is that the control system can be a little complicated to handle at times and may create a bit of confusion for people new to zero turn mowers. But it's all nothing that can't be learned and practiced!
To summarize, we would say that this particular zero turn mower works best for professionals who are looking for a heavy-duty, reliable, and efficient tool to add to their landscaping business' arsenal!
The Apex 60 Kohler is actually one of the more overkill models on our list when it comes to features, but it's not necessarily a bad thing! Although the question you should probably answer for yourself is, "do I really need all of these features at the end of the day?"
Let's start off with the physical appearance. At first glance, the Apex 60 looks like a very comfortable armchair, with blades, on wheels. And despite the bit of humor on our part, its high-back padded seat and armrests ensure optimal comfort at all times. In addition to this, it even has self-adjusting belt technology and roll-over protection that will keep you planted flat on the ground, even on a steep incline.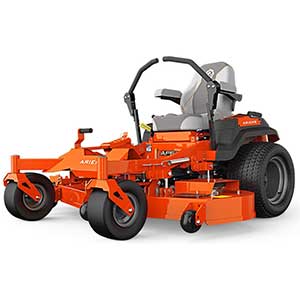 The machine itself is built with a fully tubular steel frame, which provides for the much-needed durability that this work-horse mower is known for. The engine is a powerful, professional-grade 25 HP Kohler 7000 V-Twin that can cover large areas in the blink of an eye. Combining the sturdy structure and the reliable engine itself, you can rest assured that this mower will be around for a very long time, especially if well-maintained.
It also has some nifty added features such as an LED headlight kit to keep you going even in low light conditions and a mulch kit that helps you return nutrients to your lawn while you keep your yard looking professionally manicured. The operator-controlled chute baffle allows precise control of the flow when it comes to side discharged grass clippings. While the trailer hitch enables your mower to act as a sprayer or spreader while on the go. For this model, the cherry on top is probably the lawn striping kit that helps you create that crisp and aesthetically pleasing striped effect seen at ballparks when giving your lawn a make-over.
The Apex 60 Kohler definitely doesn't hold back when it comes to the accessories, durability, and its very wide applicational range. The only con that we see here is that it may be too much for the average household that just needs to mow their small front yard once every so often.
Last on the list is one of the smallest zero turn mowers that we've reviewed – the Swisher ZTR2454KA. But don't let its meager size fool you because you'd be surprised at what this machine has to offer. First off, its small size and shorter height contribute to its lower center of gravity, making it easier to maneuver around your lawn. It also has a sleek and compact design, built from materials that make it comparable to a miniature tank in terms of its durability. And Swisher's rapid control system also helps the user navigate and move with graceful ease, whether you're a beginner or a professional landscaper.
Even though it's quite a bit shorter than other models, this mower is equipped with a super impressive 24 horsepower Briggs and Stratton engine. Which is powerful enough for home or even business use.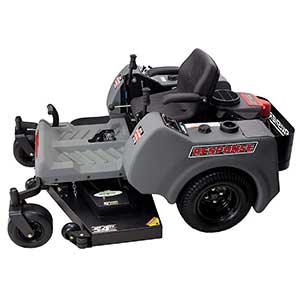 This mower's foot assisted deck lift is probably one of the best features in its arsenal. It lets you change out or sharpen your blades without using a jack lift or lift machine. It takes out the hassle of maintenance and helps your work become even more efficient. The 54-inch deck that's also included with this mower is incredibly helpful when it comes to giving the mower a high degree of versatility. It takes down a considerable amount of grass with each path it takes.
Overall, the Swisher ZTR2454KA is an amazing mower by our standards, and it should also definitely be one of your options as well.
Things to Consider Before Buying a Zero Turn Mower
Engine Power (HP)
Power plays a big role when it comes to picking out a lawnmower. Engines in zero turn mowers are rated by horsepower, and the more horsepower you have, the quicker and more efficient your work will be.
However, just because stronger is better doesn't mean that you absolutely have to pick a high-powered engine. This all depends on the size of your property. If you have a relatively small yard, you probably won't need a lawnmower with high horsepower.
But if you do landscaping, it's recommended that you get a high-powered one to help you get through the work much faster than you otherwise would!
Cut Width
Figuring out the proper cutting width for your mower is just as important as picking the right engine. The cutting width or mowing path is a feature that you should take note of and invest in. Most homeowners may think that having the biggest cutting width will make it easier to mow the lawn, and while this may work for some, it's not necessarily true for others.
Having a large cutting width can do more harm than good to your lawn if you have garden areas or other plant life that can get caught underneath the blades. The best choice is to pick a cutting width that isn't so big that it can reach through to unwanted areas while being small enough so that you can maneuver through corners and tight spaces.
Transmission
When contemplating over all of the different transmission options, you may be faced with quite a dilemma. Do you buy a cheaper and more affordable lawnmower with a weaker transmission or a more expensive model with better transmission? When it comes to this, you should always be ready to pay a bit of extra cash. Remember that a high-quality investment is what you're really aiming for.
Buying cheap now can cost you a lot later on when the machine breaks down, and you get handed a sky-high repair bill!
Now, when it comes to figuring out which transmission fits you better, it all boils down to the size of your property. If you're only going to be mowing an average-sized lawn, a lower transmission will do. But if you're going to take the demands of a full-time landscaping business, you're going to need a higher and more robust transmission.
Fuel Capacity
The same principle applies when looking at the fuel capacity of the zero turn mower that you're going to buy. Many homeowners' lawns only require a few minutes of mowing, so a mower with a smaller fuel capacity would definitely suffice.
However, similar to the transmission, you may need a bigger tank if you're going to be mowing more than two acres of land. You wouldn't want to stop in the middle of work and then go back and forth to fill up the tank, would you?
Weight
It may seem like common sense, but it's actually a good factor to consider. You may want to choose a mower that isn't too heavy, especially if you're going to be doing lots of regular landscaping work.
This is because you may have to transfer the machine from one home to another and the lift jack or lift machine should be able to easily lift your mower for transportation. If the machine is too heavy to lift, this will be difficult when it comes to the cleaning time, and you'll have put in lots of time and effort just to clean the underbelly of your lawnmower.
Comfort
Last but not least, comfort is also a factor that you should really put some thought towards. Nobody wants to sit on a very uncomfortable mower, so make sure that the design of the seat fits you well.
Keep in mind that you'll be sitting on the machine for a few minutes to maybe an hour a day, and so it's best to ensure that the seats are padded and go all the way up to the back for full support. And having some comfortable armrests won't hurt as well!
But if you're only going to spend a few minutes at a time mowing your lawn, you can always opt for a standard mower chair so long as the other features of the particular mower make up for it.
Frequently Asked Questions
What is a zero turn mower?
zero turn mowers are one of the greatest advancements in the lawn care industry. They are basically a lawnmower that you can sit on while you use it. This lets homeowners take care of their lawn without exerting much effort, allowing them to save lots of time. These mowers get their name from their ability to turn on a zero degree turn radius.
How do I lift a zero turn mower?
The most efficient and safest way to lift a zero turn mower is to use a maintenance lift or lift jack. This allows easy access to the bottom of the machine when sharpening the blades.
These machines are heavy and can cause harm or be damaged if you attempt to lift them yourself without proper equipment. However, some zero turn mowers come with a foot-assisted pedal that allows you to lift the machine without a piece of maintenance equipment being required.
Do zero turn mowers have brakes?
Most zero turn mowers don't have brakes, but they have neutral levers. Each lever indicates a speed. If you want to slow down and stop, place the lever into the neutral position. As long as the lever stays neutral, the mower won't move forward. This may differ for certain models, though.
What are the different types of zero turn mowers?
There are three sub-categories among zero turn mowers. The first one is the residential model, which is best used for properties that are between one or two acres. This is the best fit if you're only planning on mowing your front yard over the weekend.
However, if you live in a larger estate, the prosumer option is the better choice. It's much more powerful and can cover more land in a short amount of time with mindfulness to fuel usage.
For landscaping business owners, the commercial-grade zero turn is the most recommended. These are heavy-duty zero turn mowers that can handle long working hours, steep inclines, and different types of terrain.
However, the type of mower that you should buy will depend entirely on what you need and, of course, the size of your property.
Can I use a zero turn mower on hills?
Most zero turn mowers cannot be used on hills, particularly on steeper ones. Although these mowers are built with versatile caster wheels for quick maneuvering around lawns, curved edges, and walkways, it's still not advisable to try and ride them uphill. Though, there are certain mowers that are built specifically for mowing on an incline.
Who has the fastest & best zero turn mower?
The Scag Cheetah is a zero turn mower from the Scag family. It is the fastest and the most comfortable model among zero turn mowers. It can go up to the speed of 16 mph and features a dynamic coil-over shock suspension system.
Which is better: a zero turn or riding mower?
The main difference between a zero turn mower and a riding mower is that the former can turn on a zero degree turn radius. Determining which is better depends on the user and the type of mower he or she needs. If they want a faster model, a zero turn mower is generally quite a bit faster than a riding mower in most cases.
How many hours is a zero turn mower good for?
How long your mower lasts depends on how well it's been maintained. An average mower can last up to 2,000 or more hours before any repairs have to be done. But, it should be mentioned that some brands and models have already beaten this record. And today, many zero turn mowers can last up to 12 years without any major issues.
What is the best time of the year to buy a lawnmower?
A zero turn mower is a seasonal item, and the best time to buy a seasonal item is when its demand is at its lowest. Lawnmowers are usually on sale around September, and early fall just after summer has ended. Homeowners should take advantage of this period to buy a mower that can fit their budget and needs as closely as possible.
Is buying a zero turn mower worth it?
Yes, yes, and yes! Most homeowners who buy a zero turn mower are completely satisfied with their purchase. Taking care of your lawn can be a tiring and time-consuming process, and zero turn mowers cut down both the time and effort it takes to get the job done. They are built with efficiency in mind and are sure to last you almost a lifetime as well!
Who produces the best commercial zero turn mower?
There are many excellent lawn mowers available on the market that can fit your budget and needs. But if you're searching for a commercial-grade mower, then you would want to invest in the best. Among the many brands out there, three stands out the most: Husqvarna, Ariens, and Poulan Pro.
Husqvarna is a brand that most business owners can confidently invest in. Their mowers have a lot of variety and can fit the need of businesses ranging from a local landscaping company to a multi-state corporation.
Ariens is also another great company to go to in case you can't find a Husqvarna that can't fit your needs. They build durable machines that can work quickly and efficiently. What most people like about this brand is that their mowers work far quieter than others.
Lastly, for those staying within a budget – Poulan Pro is a fantastic choice. They offer models that have all the excellent benefits of a great commercial-grade mower while still maintaining a friendly price tag. Their machines are often used for landscaping work and maintaining small to medium-sized properties.
Conclusion
Lawn care shouldn't become a chore. In fact, as homeowners, we should do everything we can to make it fun. And picking up a best zero turn mower is one of the best ways to do so!
While the Troy-Bilt 382cc is definitely the number one in our hearts, every single option on our list has amazing benefits to offer in practically any applicational purpose. The bottom line is that the zero turn mower that's best for you should be the one that fits your needs to the tee. You don't have to buy a high-powered lawnmower if your lawn isn't as big as a country estate. And you also shouldn't settle for a smaller mower just because it's cheaper when you're going to be cutting two acres of grass.
We hope that our guide helped you make sense of everything you need to consider when picking our a new mower. And hopefully, we were able to give you the inspiration to check out some of the models that we've presented on our list of the 10 best zero turn mower available in 2021!