Remember getting a beautiful fence gate to enhance the look of your home? Mosaic tiles, available in a tremendous range of varieties, help you restyle your homes. To achieve the desired style, you need to consider the tile material, pattern, and finish. The tiles provide you the freedom to create a rare aesthetic appearance, as you can transform the look of a usually painted wall into a much decorative piece of an image.
Wall Tiles for Various Applications
Mosaics come in different textures, like wood, natural stone, and much more. Thus, you can choose the right tile to match the other decorative elements in any room, such as the floor, carpets, furnishing, and cabinetry. Tile installation is a marvelous way to add a modern touch and a bold feel to almost any wall in your home and yes it includes your enclosed patio too.
Let's go through some significant aspects and trends in mosaic tiles that helps setting up rare tile design ensemble for your walls:
Select the Right Tile for Your Wall
As you decide to shop for wall tiles to make an interesting design theme for your interior space, you may be confused due to the wide-ranging varieties of mosaic tiles. So, we have jotted down some crucial considerations to select the best wall tiles for your home restyling projects:
Materials
Always prefer durable and easy to clean tile materials, like ceramic, porcelain, glass tile, and natural stone tile for your tiling installations. These materials are versatile, as you can also use them in wet areas, like your bathroom, shower area, pool, and spa. Peel and stick tiles are another popular option as they can be easily installed.
Patterns
Select geometric repetitions that create an interesting outlook. Mosaic tiles are available in beautiful patterns like a hexagon, herringbone, chevron, penny tiles, along with the usual subway, square, stacked square, and more.
Finishes
Apart from well-known glossy and matt-finish tiles, you can also go for some off-beat kinds of tile finishes as per your interest. Tile finishes like iridescent, crackle, frosted, honed, polished, and more add an indifferent feature and a rare style statement to your tiled walls.
Budget
Fix a budget for your remodeling project, and then start your search for wall tiles to fit in the budget. Mosaic tiles are available in various price ranges. Determine the area to be tiled and the number of tiles as per the size first.
Design Preferences
Selection of patterns or shapes and finishes of your wall tiles to suit your decorative theme and the desired texture. Get inspiration from an innovative design idea before you opt for the perfect tile, creating the magic you deserve.
Follow the Trend To Create Walls That Stand Out
Along with the technical factors, go for wall tiles that suit your aspirations. Set your aims first. Do you want a vintage-style elegance for your room or a stylish and modern appeal? You get suitable mosaics to meet your design needs. Ensure you shortlist tiles to create a focal point within the room, better than paint or wallpaper.
The following are some wall tile design ideas you can consider as inspiration for your next remodeling project:
Wall/Backsplash Tiles for Kitchen
Tile the backsplash of your kitchen or other walls with unique tile patterns like arabesque, hexagon, chevron, herringbone, linear, or even subway. These patterns add a tremendous feature to the backsplash and enhance the appearance of your kitchen.
Wall Tiles for Bathroom and Shower Area
Select tiles suitable for wet areas, such as porcelain, ceramic, glass tiles, or marble mosaic tiles. You can tile the area above your washbasin, around the bathtub, or the shower enclosure. Try to create an accent that makes your bathroom a place that you would love to visit.
Creative Wall Tile Application Ideas for Added Elegance
There are some other walls in the interior and exterior space that you can tile to achieve a catchy accent and a unique style statement. Here are some creative ideas to beautify walls that you may miss out on:
Walls Around Your Mirrors
The mirrors in your bathroom or bedroom deserve some extra decorative elements around, and wall tiles can serve the purpose effectively. You can choose smaller shapes, such as geometric patterns – teardrop, hexagon, linear, and trapezoid; you can also try large-format porcelain tiles if that suits your decor theme.
Walls Around Your Pools and Fountains
The water bodies in the exterior space can be made the focal points by implementing tiles in patterns or shapes such as brick, subway, stacked square, modular, penny, and pebble. Prefer tile material that sustains continuous exposure to water and moisture, such as glass tile.
Walls Around the Fireplace
Creating an accent to walls around firewalls would be a way to add a contemporary look to the entire room. Choose the bold color, intricate shapes, and a catchy design idea to beautify fireplaces.
Walls in Your Balcony
If you wish to make your balcony a favorite place for hangouts, try tiling the walls in that area with unique trends like pebble tile patterns. Choose tiles that look close to nature to match the elegance with the garden in the exterior space.
The Wall Forming Your Entrance
The wall at the entrance can be beautified by using a suitable marble tile or other natural stone tile options like travertine and slate.
Tiles To Create Accent Walls
Accent walls add life to any room. May that be your living room, bedroom, study, or home office; if you choose the right tile, the walls look absolutely stunning and grab the attention of your guests and visitors.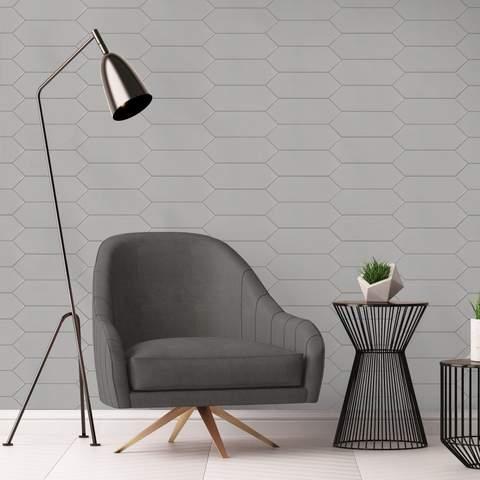 Modern 4X12 Large Diamond Gray Subway Glossy Porcelain Tile – MTO0456
Choose bold colors and an eye-catching pattern, just like this subway hexagon porcelain tile in gray color, to style your space. Browse through this exclusive collection of wall tiles to explore a tremendous range of variety, to shop for the appropriate tile that meets your preferences and aspirations in terms of unique design ideas. Also, choose the right grout to highlight or merge the tile borders artistically.
The Takeaway
This article takes you through some innovative mosaic tile design ideas to beautify walls in various parts of your home. We hope that the style ideas to glamorize your walls discussed in this article would inspire you to choose the best tile varieties for your next installation.