Setting up a functional home office usually doesn't take much effort. Essentially, all you need to create a workspace is a sturdy desk, a reliable chair, and a tidy corner with enough space.
However, if you want to create a productive area that doesn't sacrifice comfort for functionality, it's definitely worth putting in a little time and effort to spruce your chosen space up a bit.
From the coziest lighting setup to the perfect plants for your home office, below you will find eight trend-worthy ideas for creating a truly comfortable work-from-home space – a relaxing area that doesn't detract from the ultimate goal of maintaining a high work rate.
Try an adaptable lighting system
Choosing the right lighting conditions can be quite tricky. Warm colors are great for a cozy atmosphere, but colder shades are often preferable when productivity is a primary concern. Seeing that each end of the spectrum has its own benefits, why not use both?
Whether it's color-changing LED bulbs or programmable smart lights, take advantage of the latest lighting technology to create adaptive illumination for your office. A variable lighting system will allow you to have warm or cool colors whenever you please.
Use soft touches
Although it might not add much to your productivity levels, don't underestimate how much of a difference a well-placed pillow can make. Softer textiles or soft green touch like terrariums are excellent for enhancing the coziness of any workspace, provided they don't impact your productivity negatively.
When they're used sparingly, pillows, throws, loungers, and other comfort-focused decors can provide a much-needed sense of relaxation. They add a cozy element to any office's atmosphere, provide an option for stress management, and make visitors feel welcome.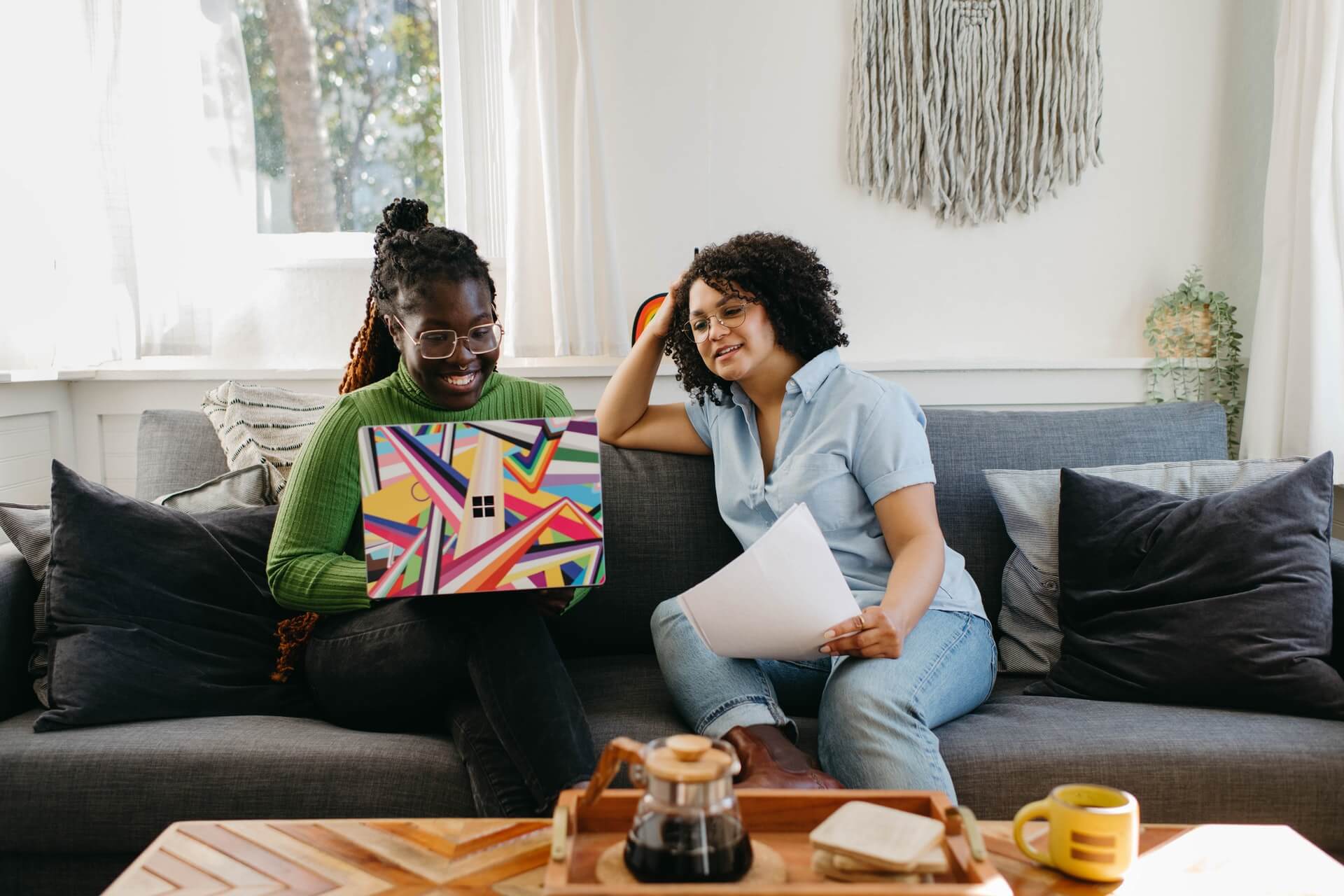 Go green
Spending long hours indoors is great for maintaining an efficient level of work, but it's also wise to maintain a connection to the natural world. Channel the outdoors and add some color by decorating your office with house plants and other flora.
Aside from weekly watering, most indoor plants don't need much maintenance. However, if you don't have the time to maintain a few natural plants, artificial plants are also a viable option to consider. Either way, a little green goes a long way.
Get a new desk
Sitting at a desk for hours on end is taxing on the human body. According to multiple studies, alternating your position between sitting and standing can improve blood pressure and provide relief from back pain.
Nowadays, many modern desks are designed with both sitting and standing in mind. Because these 'hybrid' desks mitigate discomfort, they have the additional benefit of increasing overall health, wellness, and productivity.
Find a good view
If you're fortunate enough to have a room with a view of the outside world, take full advantage of your access to natural light. Your office space will feel more open, and the close proximity to nature can foster a sense of relaxation in times of stress.
Spaces with less access to the outdoors can still benefit from natural light. To alleviate the feeling of being in an enclosed space, use light colors for interior walls, airy curtains with pastel shades, and the aforementioned addition of some natural greenery.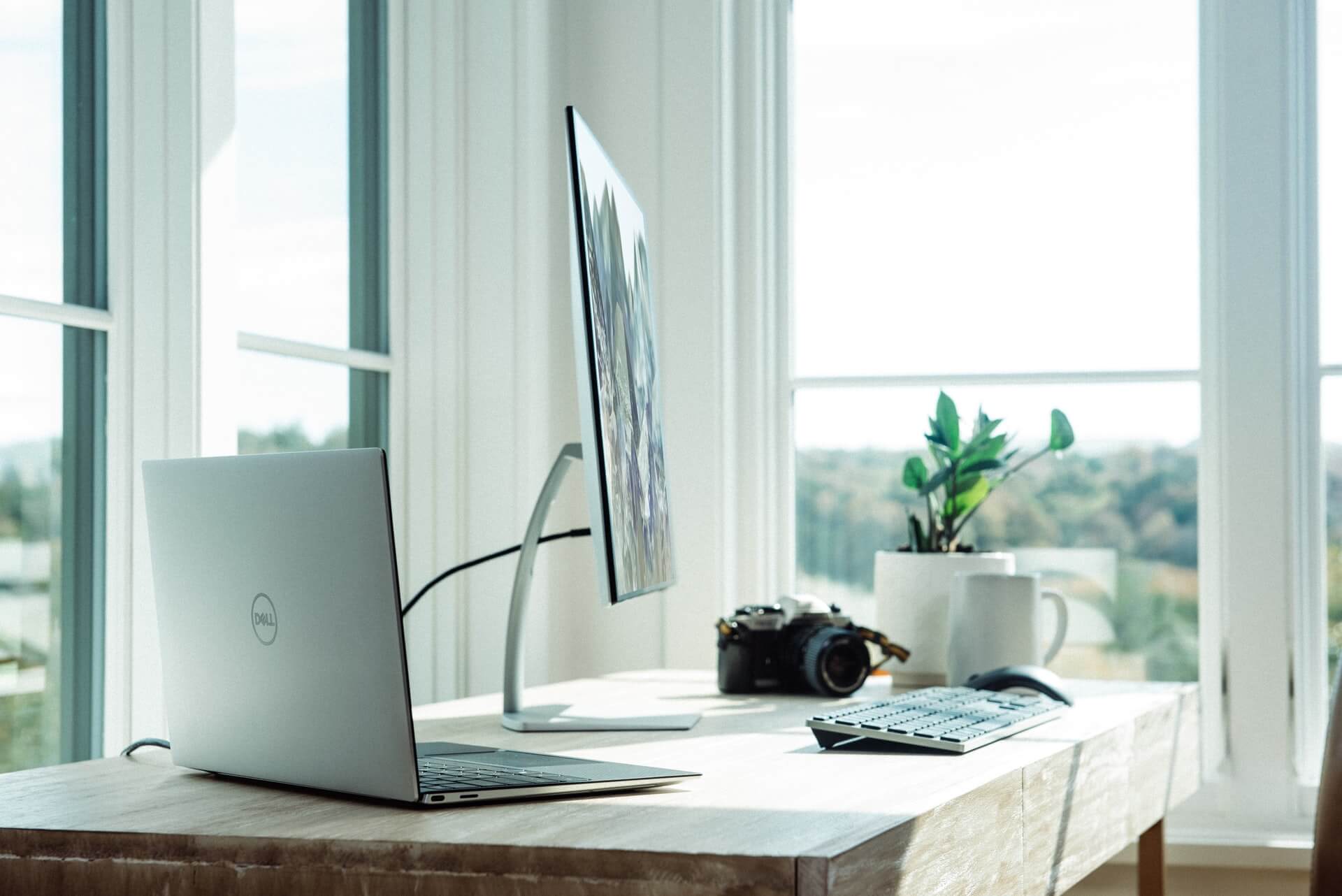 Utilize vertical space
Storage space is a critical consideration for any home office. The space you've chosen for your office will require a unique storage solution, which means that cupboards and cabinets need to be customized according to a case-by-case basis.
The smaller the space, the greater the need for optimal organization. Floor-to-ceiling shelves are excellent for utilizing every inch of a tight space, while wall shelves and hanging decor elements are useful additions to any office.
Become a minimalist
There's something comforting about an office space devoid of clutter. Without unnecessary decor clogging up the environment, a clean office can even go as far as inspiring creativity; freeing the mind from any immediate distractions.
Minimalism as a holistic strategy is favored by many of the world's most successful interior designers. Typically, it incorporates an open floor plan, simple furnishings, and plenty of natural light.
Find a balance
No matter what your final choices are in terms of decor, the overall design of your workspace should invoke a sense of equilibrium… as if everything is where it should be, all your needs can be met, and every inch of space is taken into consideration.
You don't want to have too many things cluttering up your work area. Too much coziness will put you off doing work, but you also don't want to work in a barren environment. Work out what type of balance your office needs, create a suitable floor plan, and focus on decor that brings positivity without procrastination.