Terrariums are the new favorite gift items of this generation. These are super cute, totally customizable, and very affordable options that currently top the list of the most trending absolute essentials for any household, office desk, or home workspace.
With the lockdown nowhere near its end and most organizations shifting to work-from-home mode, apart from comfy pajamas, you also need to incorporate some fantastic terrariums in your surroundings.
Terrariums are essentially glass or plastic vases, jars, bulbs, and/or bubbles that portray immensely creative and decorative nature scenes such as miniature gardens, mountains, or even tea gardens.
The plants, waterfalls, rivers, trees, and other elements of a miniature showpiece can be arranged as per your terrarium ideas, with any possible combination of soil, grass, plants, flowers, rocks, sand, and any sort of greenery you could possibly want to incorporate in your garden. Terrariums uplift your mood while also providing a magically aesthetic appeal to the room environment, like something out of a fairytale.
Since terrariums are so addictive, nobody can stop at just one! This makes it super difficult to design and materialize your perfect terrarium idea. But you do not need to fret because the easiest and the most productive DIY Terrarium idea guide is right here. We will guide you on building your perfect fairytale small terrarium garden to achieve just the right mood-setting for your personal space – your lovely home.
Best Small Terrarium Ideas
For a miniature ecosystem, also known as a terrarium, that you want to incorporate in your space, the first thing you need to be mindful of is that the container needs to be transparent.
It is essential not only for the aesthetic appeal but also for the exposure of the flora inside to the outside environment. All the botany and gardening enthusiasts out there will vouch for the fact that plants need their environment to be as natural as possible for a healthy lifespan.
That being said, it's not like there are any rules and restrictions as to what you should or should not do for your miniature garden. However, you can mix and match many combinations and layout all your terrarium ideas to create the best small terrarium garden for yourself.
Here is a step-by-step guide to assist you in every task to get started on your personal mini garden terrarium idea.
Container:You have to decide whether you want an open or a closed container to grow your miniature terrarium inside. You can choose a container with a lid and one that is big enough to grow your small plants – ferns, succulents, etc., and still have one open space at the top to curb moisture and ensure air circulation. Apart from this, you also need to emphasize the material of the terrarium – whether it will be made of glass or plastic.
Pebbles or grit – The bed of the terrarium is the most important feature in any small terrarium idea. You can use gravel, stones, pieces of rocks, pebbles, or traction grit. Apart from providing support, they also take care of the water drainage system.
Charcoal layer – Totally optional but so refreshing! Charcoal attracts all the impurities and keeps the water and air fresh inside the terrarium. This is one of the best things to incorporate in your terrarium ideas checklist if you want a long-lasting and always fresh terrarium garden for yourself.
Potting Layer – Now onto the task of actually building up your terrarium ideas and materializing your desired products. You need to apply a layer of soil in which you will plant your terrarium flora. There is a special soil mix available according to your planting needs – for succulents or cacti, that is entirely different from the soils used for moss and ferns.
Listed below are some of the best terrarium ideas to incorporate a bit of nature into your life without burning a hole in your pocket.
1. Glass Garden Terrarium Ideas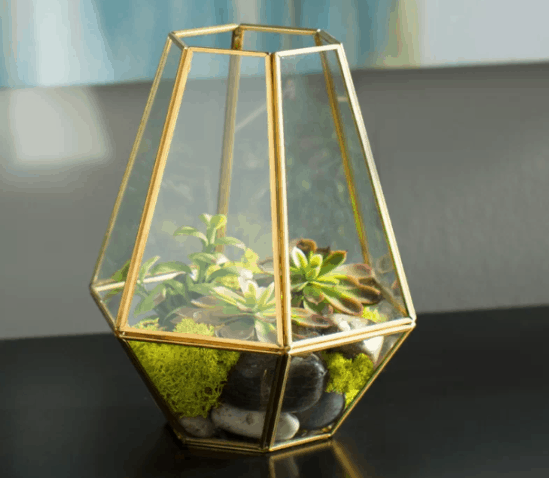 For the best terrarium ideas, sites like Pinterest and Etsy offer amazing collections to choose from. You can browse through a plethora of plant varieties, cage aesthetics, and design options. One of the most popular terrarium ideas in the market at the moment is the Glass Cage Garden Terrarium choice. Available in several sizes and suitable for almost any plant, glass garden terrarium ideas feature a lot of DIY selections with accessories ranging from vines to glitter.
To facilitate a glass garden terrarium idea for your workspace or home decor shelf, the first thing you need to decide is the type of plant and the terrarium's internal aesthetics. The main purpose of a glass garden terrarium idea is to provide an unhindered view of the garden's internal scene.
Whether you want to use your DIY terrarium as a pretty centerpiece on a table, a little office pick-me-up, or only as a creative decorative piece, there are many ways you can put your own spin on your mini garden. You can customize it by browsing through terrarium ideas with cute mini waterfalls, plastic plants, or even real ones, moss, gravel, or ponds.
2. Wide-Mounted Jar Mini Garden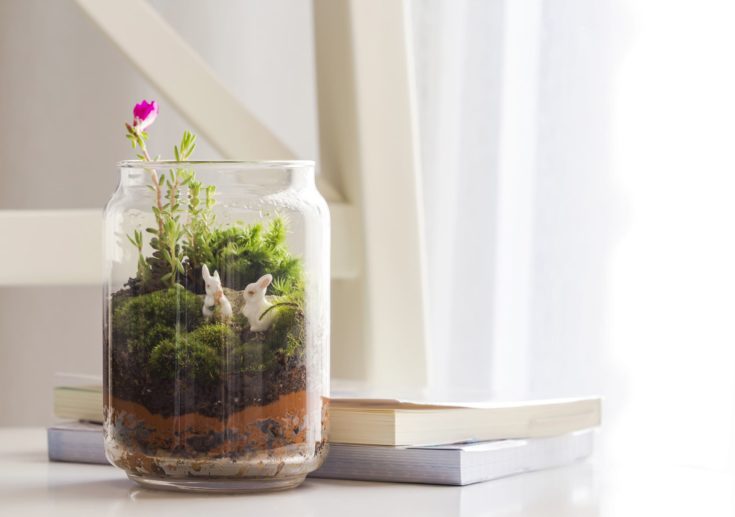 The Wide-Mouthed Jar Mini Garden is one of the best terrarium ideas, which comes with two special little bonuses. There are two little rabbits available inside the jar, which provides an adorable look and is considered a great addition to the children's room. 
3. Bubble with Air Plant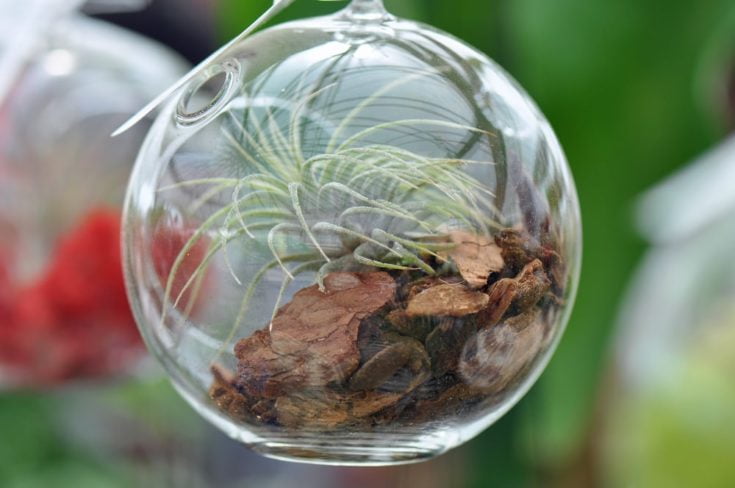 This small bubble terrarium consists of a living air plant, which is a perfect small terrarium idea. The air plant inside it doesn't require any kind of maintenance or watering as they absorb all their required nutrients from the air. That's why it is considered a perfect gift for those users who don't remember to water their plants regularly.
4. DIY Hexagon Mini Garden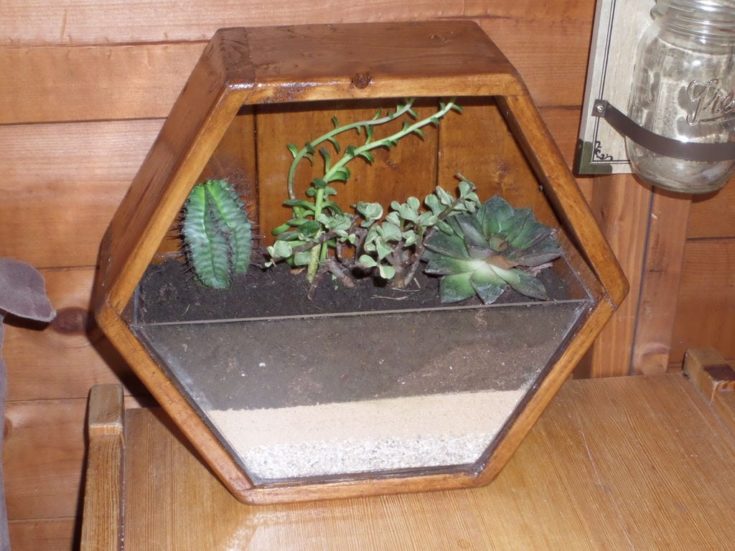 The Hexagon Mini Garden is small and a very good looking geometrical shaped terrarium idea which you can create easily. You just have to cut the panels in a hexagon shape and then fit the backplate. Then, fit an acrylic window in the bottom space. You can also apply the wooden stain paint to give it a darker look. And, at last, add the plants inside the acrylic frame, and you are done.
5. Succulent in a Garden Cage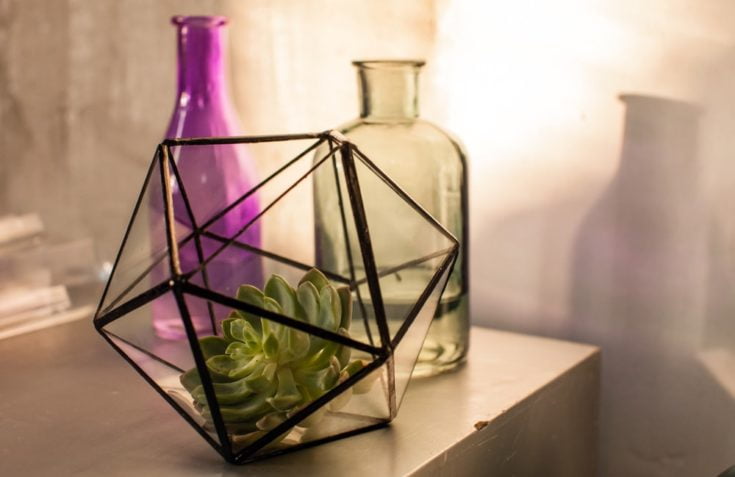 It is one of the most good looking small terrarium ideas which you can use. A solitary succulent is encased inside the geometry shape. One of the most important points is that you don't need to water the succulent regularly. It just needs proper lighting. It would be considered a perfect gift for minimalistic lovers.
6. Cactus Cage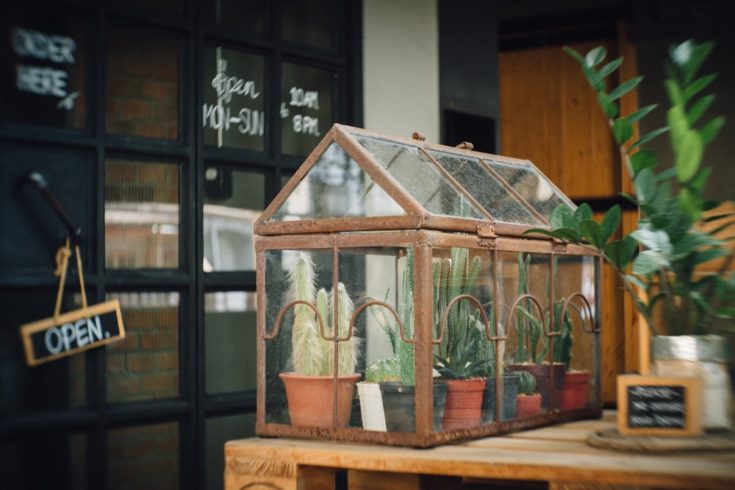 The Cactus Cage is one of the best terrarium ideas, and it looks very cute because there are a number of small cactus potted inside the cage. It is considered a perfect addition to a patio garden.
7. Hanging Planters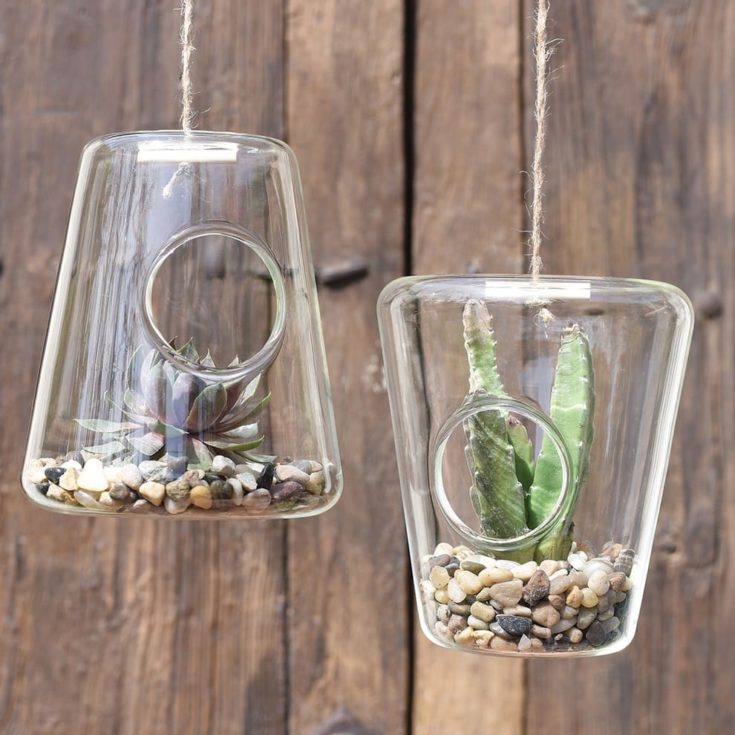 These Hanging Planters are considered as one of the best small terrarium ideas because of their unique shape. You can easily hang them in any corner of your house or beside the windows. You can also give them to your loved ones.
8. Terrariums with Water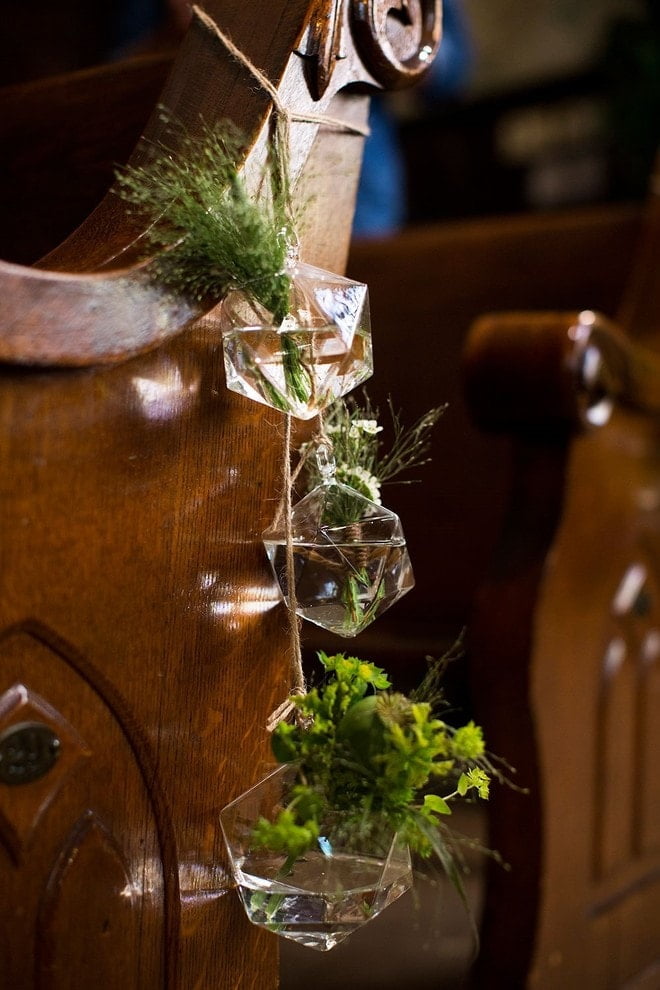 These are very small and super cute terrariums, which consist of small flowers and water inside them. You don't have to provide extra water on these plants as water in them is enough to make them hydrated. You can hang it on the wall or along with the garden patio.
9. Terrarium Planter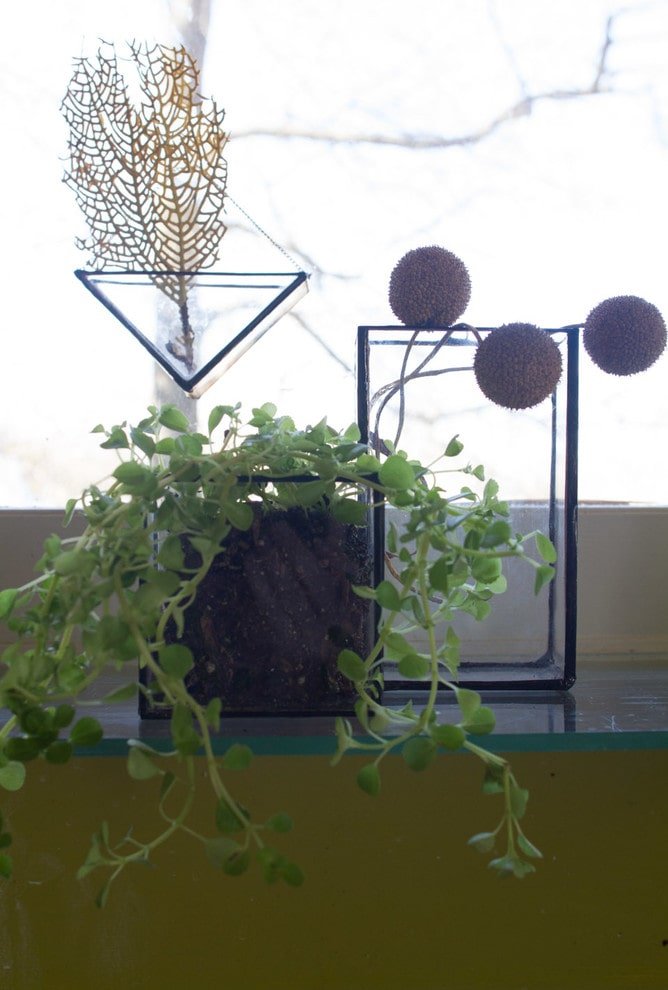 These Terrariums are quite larger in size and are perfect for placing them near the windows. They can provide very stunning scenes, and it is guaranteed that these terrariums can bring a new look to the room where you place them.
10. Cork jar Ideas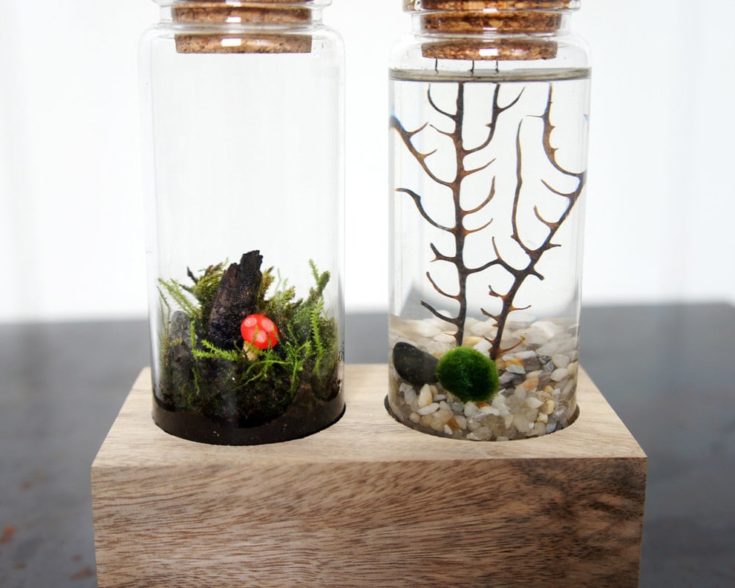 The Cork jar is one of the best small DIY terrarium ideas which you can create of your own. The small plants look very pretty when placed inside the cork jar. You can also give it to someone as a birthday gift.
11. Lightbulb Garden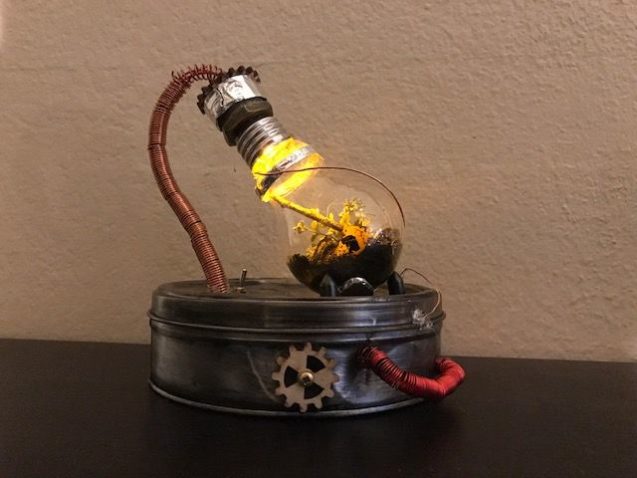 The Lightbulb garden is considered one of the best small terrarium ideas because of its unique look. It would be ideal for those people who love machinery and industrial decor. This terrarium idea can also create a minimalist look where it is placed.
12. Tiny Garden with Sand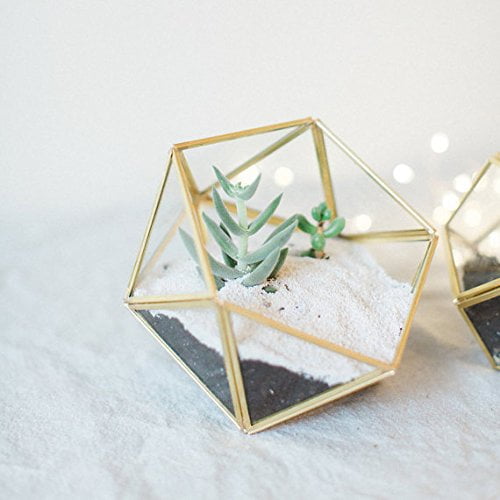 It is one of the smallest terrarium ideas which are mentioned in the list. This tiny terrarium consists of different colors of sand along with a succulent plant. It is so small in size that you can use it as a paperweight also.
Final Words
So, these are some of the best small terrarium ideas which we can find. It completely depends upon you which kind of terrarium you like. We hope that you have found your perfect terrarium for your house.
This is all about this topic, and if you have any questions or you want to review any of the ideas, we would love to hear from you. You can simply paste your review or queries in the comment box below.